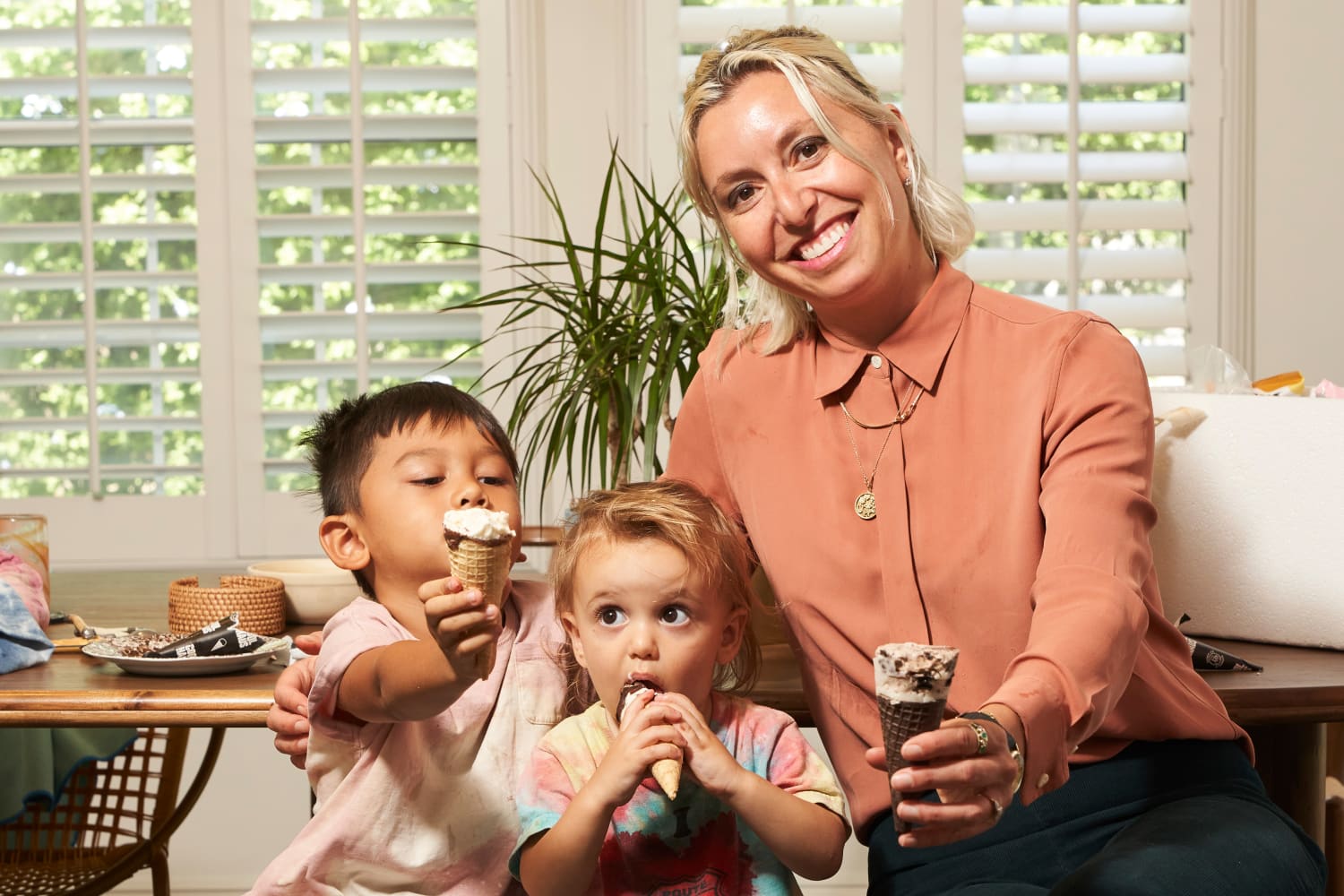 Name: Natasha Case
Location: Los Angeles, CA
Number of people who eat together in your home: Four (Natasha and her wife, Freya, plus their two children, Remy, 4, and Nico, 1)
Avoidances: None
Natasha Case always has ice cream at home — and her son Remy knows it. "He literally just wakes up and asks for ice cream in a cone. It's the first words out of his mouth. I'm not kidding," she laughs. His favorite flavors? Strawberry, chocolate, and mango (the kid clearly has taste).
In 2009, Natasha Case and her now-wife, Freya, started Coolhaus when they brought an ice cream truck to Coachella. Up until that point, the idea had been more of a passion project than a business, but people went absolutely wild for them at the music festival — and the rest was history. The women- and queer-owned company is known for their unique flavors, novelty products, and their incredible ice cream sandwiches (and as a total ice cream fanatic, I can honestly say they're the best I've ever had). Today, the ice cream empire's treats are in upwards of 6,000 grocery stores nationwide.
I recently talked to the architect-turned-entrepreneur about what she eats besides ice cream, the struggles she faces in feeding her family of four, and why she prioritizes nourishing foods versus "healthy" foods.
What does the CEO of an ice cream company eat every day? Is ice cream always on the menu?
I'm almost always tasting ice cream and cookies. Rarely does a day go by that I don't — but I also rarely eat a whole serving. I almost think of ice cream and cookies like a writer may see words on the page. It's professional. It's a very difficult obligation, but I will definitely say it's always enjoyable and I always crave it. If I don't do that for a day or two, I miss it.
Do you have a favorite product or flavor from Coolhaus right now?
Street Cart Churro Dough, our new cones (especially Cookies & Cream lately!), and the dairy-free Snickerdoodle + Horchata sammie.
Okay, what are your favorite things to eat besides ice cream?
I'm very into gardening — I'm always looking for what I can grow. Right now, that's zucchinis and cucumbers, and often it's lettuces. So it's a lot of California produce, but then I've also been very into dairy and gluten lately — good bread and really good butter or French-style cheeses. And then my other signature is sprouted nuts. You soak any cashew or walnut and then dehydrate them and they're super crunchy and they're twice as good for you. That's my signature snack that I serve when guests come over.
I'm also really well-known for my cocktails. I make great dirty gin martinis with blue cheese olives that I stuff myself. Or right now we're into fresh, skinny margaritas.
Where do you get your bread in Los Angeles?
Clark Street is my current favorite baguettes in LA, but I'm also impressed with Tartine at Whole Foods, if you can't get to a bakery.
I read recently that you started Coolhaus with your now-wife on what was your second date. Did entrepreneurship and love blossom at the same time?
I was working on the intersection between food and design for a long time before I met Freya. But a few weeks before we first started dating, I started making ice cream sandwiches named after architects, which was the start of Coolhaus as we know it now. Actually on our first date, I brought her an ice cream sandwich that I had made, but it melted. I was thinking of it as more of a passionate hobby than a business at that point, but Freya saw the potential. I think that was part of the intrigue of our romance — having this cool idea together that we could take to the next level.
And then we just, I don't know, we just fell in love. We had so much in common. We just complement each other so well. We felt we had known each other for so much longer, just being on the same page about a lot. And then as we were starting a romantic relationship, we started to take the business idea more seriously and I think really saw the potential to not only make better ice cream novelties, but also make products that we feel represented us as women, millennials, queer woman. Freya's a woman of color. And so, we thought, "Why not us? Let's do that."
Do you remember the flavor of the ice cream sandwich you brought Freya?
I do remember! It was Ginger Cookie Meyer Lemon.
Amazing! Can you still buy that flavor?
It's funny, I was just talking to someone about the flavors we want to bring back. We still have the Meyer Lemon — we made it for the W Hotel in Aspen with a pie crust and blueberry swirl. And then we have the Ginger Molasses Cookies, usually for the holidays. You'll be able to get a version of that hopefully soon.
And both of you also own a gin company, Future Gin, correct?
Yes, plus our two friends; it's women- and queer-founded. It's very California: botanical, Meyer lemon, avocado leaves. It's inclusive and accessible and good for almost any gin cocktail that you like.
When you're not eating ice cream and drinking gin, what's important to you and your family when it comes to food choices?
I think having things that are more about where they come from and how they're made, then a blanket statement of what's "healthy" and what isn't. So many people could say that eating bread and butter isn't "healthy," but I find it nourishing if it's really good, fresh bread. Freya and I also try to be less wasteful. We're always trying to figure out how to repurpose things or how to save them or make dishes with what we have rather than constantly just buying things.
And then I believe in indulgence, obviously. I'm in the business that indulgence is okay. You just want to have good indulgence with real ingredients. And then when you indulge, you indulge — no holding back.
What's the biggest struggle you have in feeding yourself and your family?
I think Remy is definitely on the pickier side — he always wants sweets. I don't think we gave him as adventurous food as baby Nic out the gate. And also, he is that age where they get picky. That's just reality. Baby Nic's more consistent, I would say.
But there's a thing with kids. You really just watch what they eat for a whole week — not in a day — because sometimes it feels like they're eating nothing in a day. It's hard not to panic, but they're obviously going to eat again. They're not going to starve themselves. And then sometimes it feels like they are just eating everything. Baby Nico drank a whole mango lassi last night. It was truly crazy.
How has becoming a mother in the last four years changed your relationship with food?
I think as a mom I really appreciate eating together — the ritual and the routine. That's the thing that I'm really more aware of.
Is there a dinner recipe you can make that everyone will love?
Everyone in the family likes Japanese food. I mean, baby Nico will eat anything. She probably would be fine with the raw seafood right now. But Remy loves roe and seaweed and he loves green vegetables. Remy will also eat almost any leafy green, and he loves mushrooms — I try to work those into a pizza order if we get takeout.
So yeah, there are things everyone will eat. Although I will say — speaking of the baguettes — we have a really good baguette for brunch this weekend. And when no one was looking, Remy ate out the whole center, so maybe sharing with him isn't always the best idea.
Smart guy. And what are some everyday dinners that you and Freya love?
Dinner's usually a protein and veggie. We also like meal delivery services where you make a simple recipe. During COVID, we were ordering direct from restaurants. We did this luxe-y one where you could order direct from all these Japanese restaurants. The minimums were high, so you definitely have to plan what you're getting — but we got some live lobsters for $12 a pound and incredible salmon and oysters. It was really cool.
What about breakfast and lunch?
Freya is a huge leftovers person so she'll always want to do that. I've just been so into having really good bread, pasta, really good French or Italian cheese. I'll make very, very simple sandwiches — even just a ham and butter one.
Okay, last question: What's on the horizon for Coolhaus?
We're rolling out the dairy and dairy-free cones — they're amazing. And then we're working on more dairy-free novelties and mini sandwiches.
Thanks so much for talking with us, Natasha! Follow her on Instagram, and check out Coolhaus online.
The Way We Eat is a series of profiles and conversations with people like you, about how they feed themselves and their families. We're actively looking for people to feature in this series. You don't have to be famous or even a good cook! We're interested in people of all backgrounds and eating habits. If you'd like to share your own story with us, or if you know of someone you think would be great for this series, start here with this form.