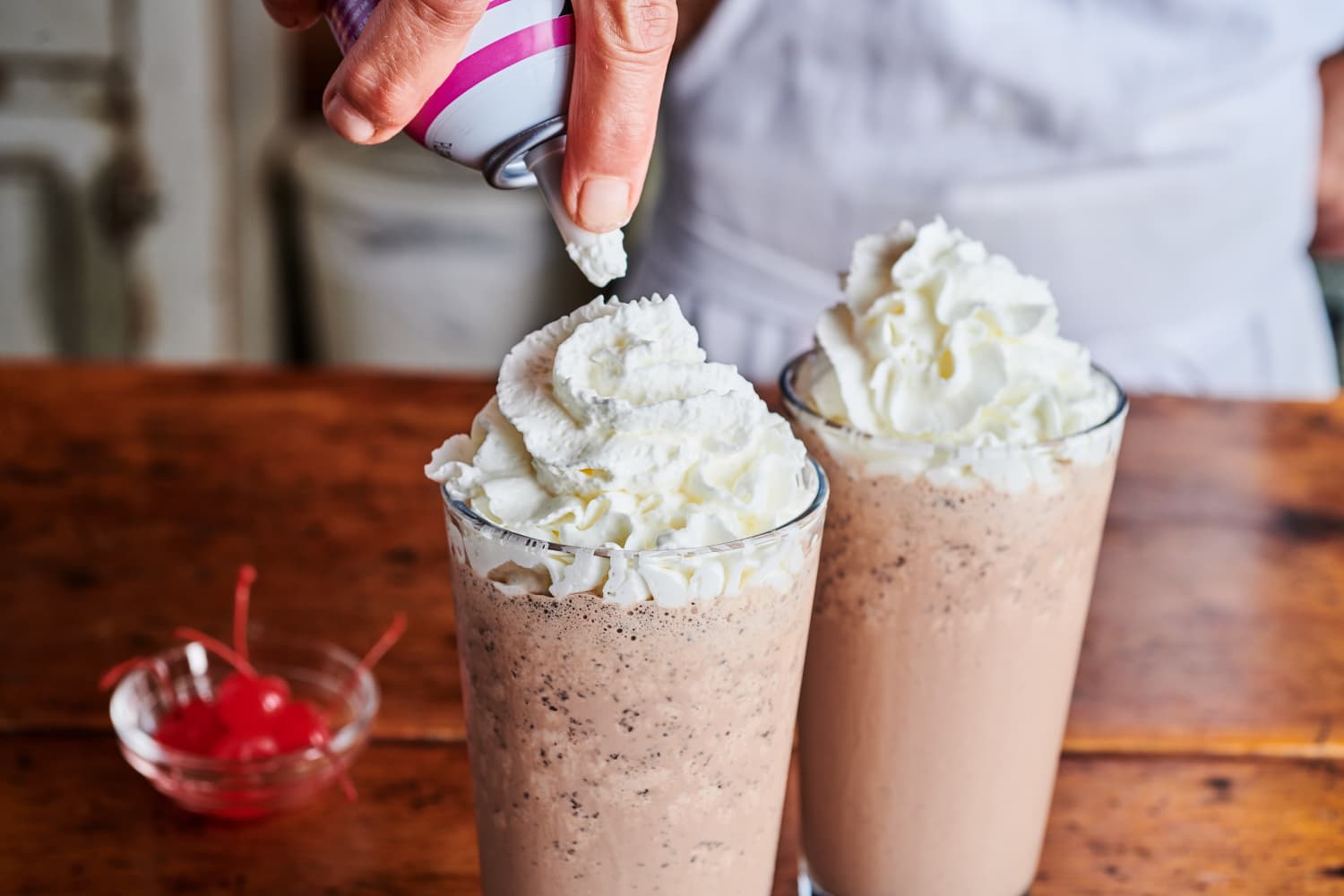 We independently select these products—if you buy from one of our links, we may earn a commission.
Whether it's a slice of apple pie or an ice cream sundae, no dessert is complete without a dollop of whipped cream. And while nothing will ever quite match up to homemade stuff, sometimes the convenience of the can just wins out.
With it still being ice cream time and pie season on the horizon, we decided to explore the store-bought canned whipped cream options. Here are our thoughts on the best ones to buy. Want to see our far-and-away favorite?
How We Selected the 6 Brands and How We Tested Them
It used to be difficult to find more than one or two brands of canned whipped cream on grocery store shelves, but much has changed. For this test, we selected six brands of canned whipped cream that can be found at most grocery stores across the country. All the brands included were found at three major grocery stores in New York City. Also, to keep a fair playing field, we didn't sneak in a homemade version.
In a move that was possibly more fun than actually tasting the whipped cream, we shook the cans one by one, then squirted each one into a bowl, filling it as high as it would go. We assigned each brand a letter, and then lined them up on the kitchen island. A team of (vaccinated!) tasters then dipped sliced strawberries into the whipped cream or used wooden sticks to test it plain. In addition to flavor and sweetness, we assessed how quickly each whipped cream would last before it started to deflate, and lose its thick, airy texture. While some brands were labeled as sweetened light whipped cream, there wasn't a significant difference in texture or taste with the other "regular" brands.
While we felt certain none of these could actually pass for the real thing, this taste test was about finding the next best thing. And we did!
The Best Canned Whipped Cream: Natural by Nature Sweetened Light Whipped Cream
When you can't have homemade, this is the canned whipped cream you want to have handy. Of all the brands we tested, this one tasted the closest to the real thing. It is thick yet airy and super creamy, with just the right amount of sweetness. Some testers noted that it tastes like ice cream!
The Easygoing Crowd-Pleaser: Cabot Sweetened Light Whipped Cream
Cabot whipped cream has become a common find on many grocery store shelves — and for good reason. One taster noted that "everyone would like this, it's easygoing whipped cream." It tastes super creamy with a balanced flavor that's not too sweet or too quick to deflate.
Buy: Cabot Sweetened Light Whipped Cream, $2.99 at Fresh Direct
The Fancy Infused Option: Isigny Ste Mère Crème a la Vanille de Madagascar
While we spotted this brand at multiple stores, it was the first time we've noticed it before. We also immediately realized it was more expensive than any of the other brands. This one had a light consistency with a balanced flavor that wasn't too sweet. As the name suggests, it has a slight vanilla bean flavor which would make it a great apple pie topping.
Do you have a favorite brand of canned whipped cream? Let us know in the comments!