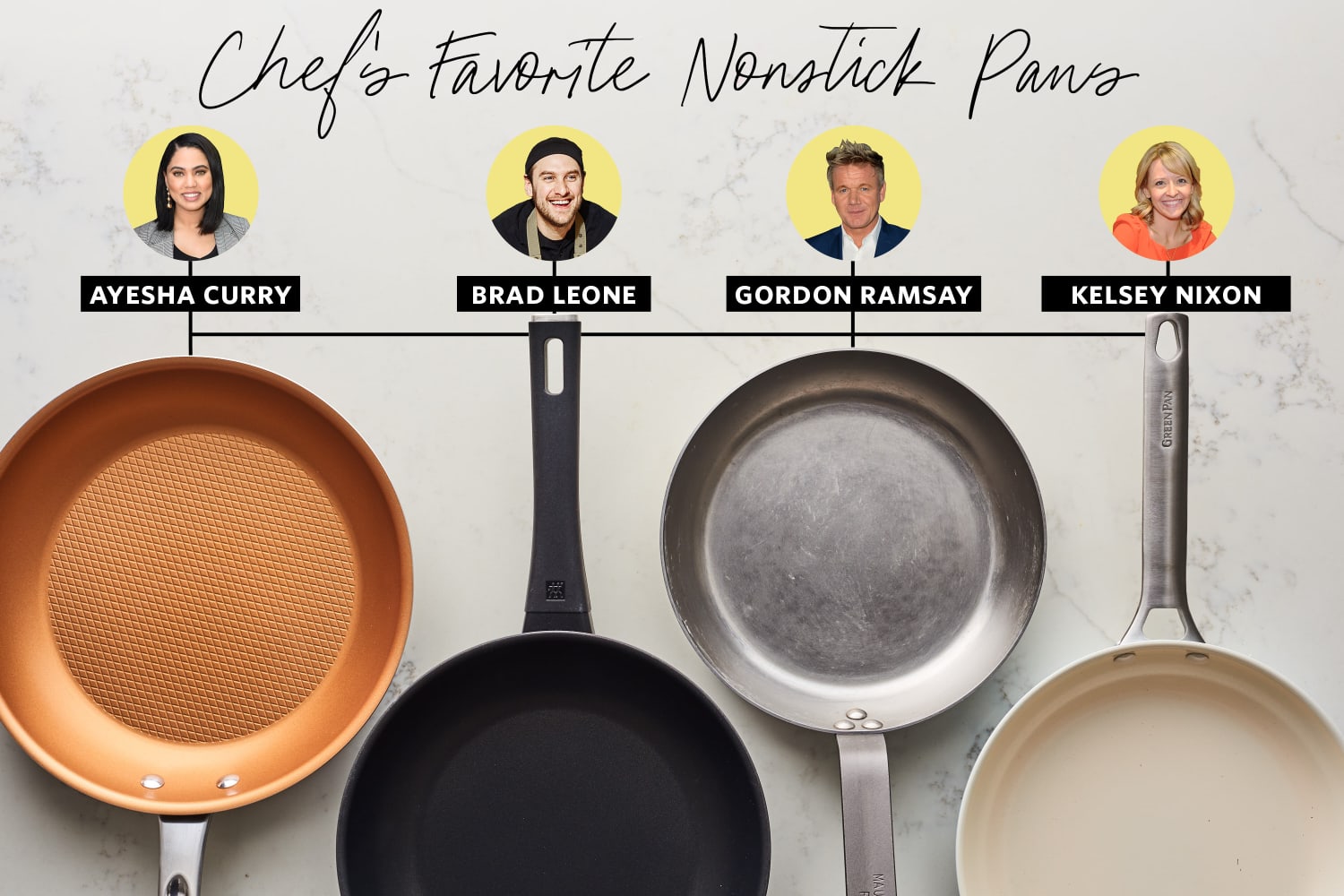 We independently select these products—if you buy from one of our links, we may earn a commission.
More often than not, you probably find yourself reaching for a nonstick pan simply because things don't stick to them. With a trusty nonstick pan, you can sauté, sear, steam, and stir-fry everything under the sun and not have to stress too much about the aftermath because cleanup is pretty much guaranteed to be a breeze (in theory). But in an unfortunate sea of some not-so-great nonstick skillets, what makes one great?
We did some digging to find out which nonstick skillets some of our favorite celebrity chefs like the most. Then, we tested them out for ourselves. Here's what everyone had to say about them — plus our own two cents.
Ayesha Curry's Favorite: Ayesha Curry Porcelain Enamel Nonstick Skillet
Ayesha Curry doesn't just put her name and face on some pots and pans before shipping them off to QVC. If you follow her on Instagram, you see that she genuinely cooks with each and every item in her line, making delicious dinners for her hungry family of five. In fact, you've probably seen this very skillet on her stove (the Brown Sugar is her favorite colorway in the collection). Not only does Ayesha cook with her own products, but her parents do too! So of course, we had to give this skillet a try.
Ayesha's skillet differentiated itself from the others we tried because of its diamond textured surface which, according to the manufacturer, ensures "long-lasting, high-quality nonstick for faster heating, better browning, and easier food release." While we agree that this feature is great for searing and browning, we noticed that the textured bottom trapped little food bits where the other pans we tested did not. Our Studio Food Editor, Jesse Szewczyk, wondered if the texture would imprint itself on something like a crepe, for example, where visual appearance is important. (At least for a food stylist!)
We docked a few points because it's not dishwasher-safe, and we were skeptical of how light it was. (Seriously, you pick it up and almost throw it through the ceiling.) One bright spot, though? This particular skillet is oven safe up to 500 degrees, which is great for getting a one-pot-dinner nice and golden-brown under the broiler — and not something you can say about all nonstick pans. Also, you can't really beat this price point for a set of two.
Rating: 7.5/10
Buy: Ayesha Curry Porcelain Enamel Nonstick 2-Piece Skillet Set in Brown Sugar, $31 for a set of 9.25-inch and 11.5-inch skillets
Brad Leone's Favorite: Zwilling Madura Aluminum Fry Pan
We came to the conclusion that this nonstick pan is Brad's favorite based on the fact that he penned an article for Bon Appétit explicitly titled, "Zwilling Is the Best Non-Stick Pan We've Ever Used." Yes, the Internet is rife with hyperbole, so let's see what Brad has to say.
"The quality is high, which is why these are also what we use in the BA test kitchen." he says. "In terms of the metal itself, Zwilling got it right. The titanium heats quickly, which is a nice change of pace from a cast iron. It's a really good conductor, and the fact that the handle is metal too is a considerate detail. It lets you move the pan into the oven if you're making shakshuka, without the fear of a plastic handle melting. Don't throw it under the broiler, but it's definitely cool for oven use, finishing, or warming."
(Note: Brad later told us that he also loves HexClad skillets and this "old-fashion style of nonstick"!)
When we gave this forged aluminum and granite pan a whirl, it behaved as expected. Jesse described it as "middle of the road," because it gets the job done, but there wasn't anything particularly unique or exciting about it. Major points for the "Duraslide granite coating" which claims to be 40 times more durable than tradition PTFE nonstick coatings. This is a pan that you won't have to replace often (provided that you care for it properly and don't use metal utensils while cooking).
As Brad mentioned, these are oven-safe, but if you read the fine print, that's only true in temperatures up to 300 degrees. So don't even think about turning on the broiler to finish off your shakshuka. But you can throw it in the dishwasher and it has a "stay cool" handle that works really well.
Rating: 8/10
Buy: Zwilling Madura Aluminum Fry Pan, $45 for a 9.5-inch pan
Kelsey Nixon's Favorite: GreenPan Ceramic Nonstick Frypan
"My GreenPan set is a workhorse in my kitchen! The pieces look as good as they function (so pretty!), sliding out everything from eggs to fish fillets. I like that they're made from natural ceramic yet still broiler-safe. It's my favorite nonstick — especially given the fact that they can go in my dishwasher and I don't have to worry about not using metal utensils with them."
Kelsey pretty much said it all here: Your food will literally slide off this pan to the point where it's almost shockingly satisfying. We made pancakes for a crowd on this skillet last weekend and didn't even have to use a lick of butter. The ceramic nonstick coating feels durable and is apparently safe for use with metal utensils. (We recommend playing it safe with wooden or silicone tools to keep the cookware looking good for longer though). GreenPan is also oven safe up to 425 degrees. Lastly, we love that this pan isn't so heavy that you'll feel like your arm is about to break while wielding a full skillet dinner to the table. (But it's also not too light.) And cleaning-wise, this couldn't be easier to wipe these down. They also go in the dishwasher if you've made a bigger mess than expected.
Rating: 9/10
Buy: GreenPan Ceramic Nonstick Frypan Set, $60 for a set of 8-inch and 10-inch pans
Gordon Ramsay's Favorite: Mauviel M'Steel Carbon Steel Skillet
In a video on Gordon Ramsay's YouTube channel (with more than 5.2 million views), the Master Chef dishes on his favorite kind of frying pan: "A high-quality nonstick one with a thick, heavy base, which will distribute the heat evenly." He then goes on: "Look for an oven-proof frying pan with a metal handle if you want to cook like pros by finishing off your dish in the oven or under the hot grill. Just don't forget, when you take it out, the handle will be hot." He doesn't flat-out name the brand, but we identified the pan in the video as Mauviel's M'steel Carbon Steel Skillet. This kind of skillet might seem like a departure from what usually comes to mind when you think of a nonstick skillet, but it's still nonstick, nonetheless.
When this pan arrived, it was covered in sticky wax that could have totally been mistaken for a packaging error. However, the pans are coated with beeswax (!) on purpose to prevent the pan from rusting. Before the first use, simply wash off any wax residue with hot water and season the skillet with an unflavored oil. (Here's a video from Mauviel on how exactly to do that.) Once that was done, we got to cooking with it and were really impressed.
Again, while it's not the kind of nonstick pan that you'd usually think of, Mauviel's care notes assure that these carbon steel pans are naturally nonstick. We were actually a bit surprised when everything we made in it just glided right off. This swanky, commercial-grade pan made us feel like Master Chefs (for lack of a better comparison). You can use this on all types of cooktops, and throw it into the oven up to 680 degrees (what?). Of course, this one is hand-wash only though.
Rating: 9.5/10
Buy: Mauviel M'steel Carbon Steel Skillets, $70 for a 9.5-inch pan
Your turn! What's your go-to nonstick pan?