Vegetarian Pumpkin Chili is loaded with flavorful spices, colorful veggies and beans. Sautéed onions, peppers, jalapeño and sweet potatoes are seasoned with a blend of warm spices and simmer in a pumpkin and fire-roasted tomato sauce. This meatless chili recipe will serve 10 generous 1 cup portions.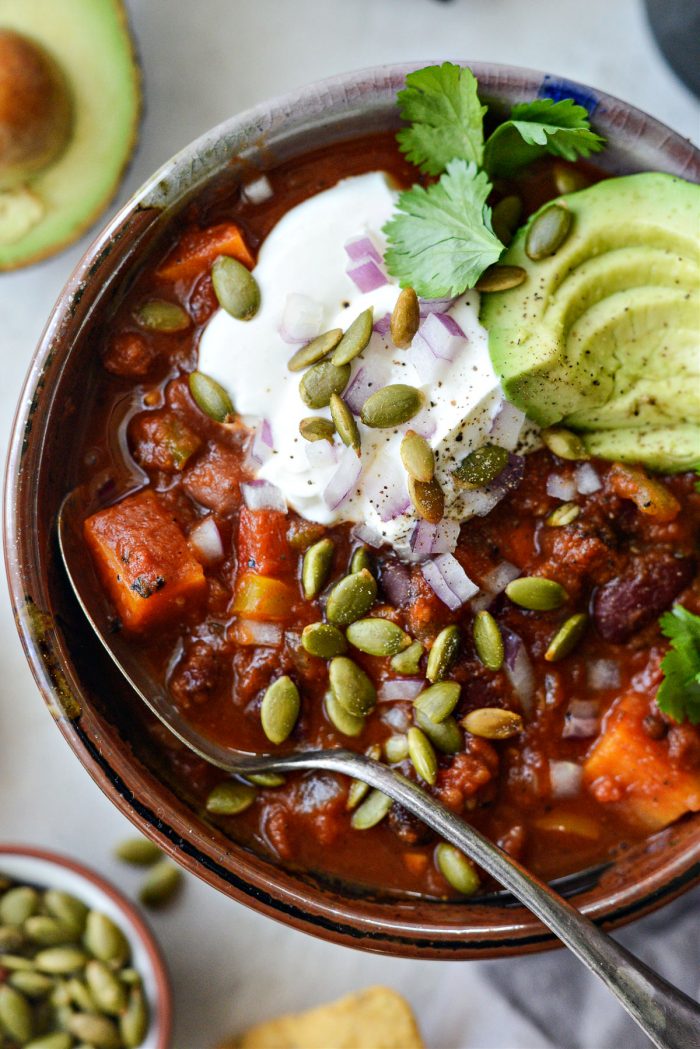 Meatless chili So good you won't miss the meat.
I love this time of year because I make chili at least once a week. Sometimes it's a white chicken chili, taco chili made in the slow cooker and then there's my classic beef chili recipe which never disappoints. On the menu this week, is this loaded vegetarian pumpkin chili. Sautéed onion, bell peppers, jalapeño with a trio of beans and sweet potato. Those simmer in a warmly spiced, pumpkin and fire-roasted tomato sauce. Healthy, flavorful and satisfying.
Sounds dreamy doesn't it? It is.
This chili recipe makes a ton and is great for portioning off and freezing for later.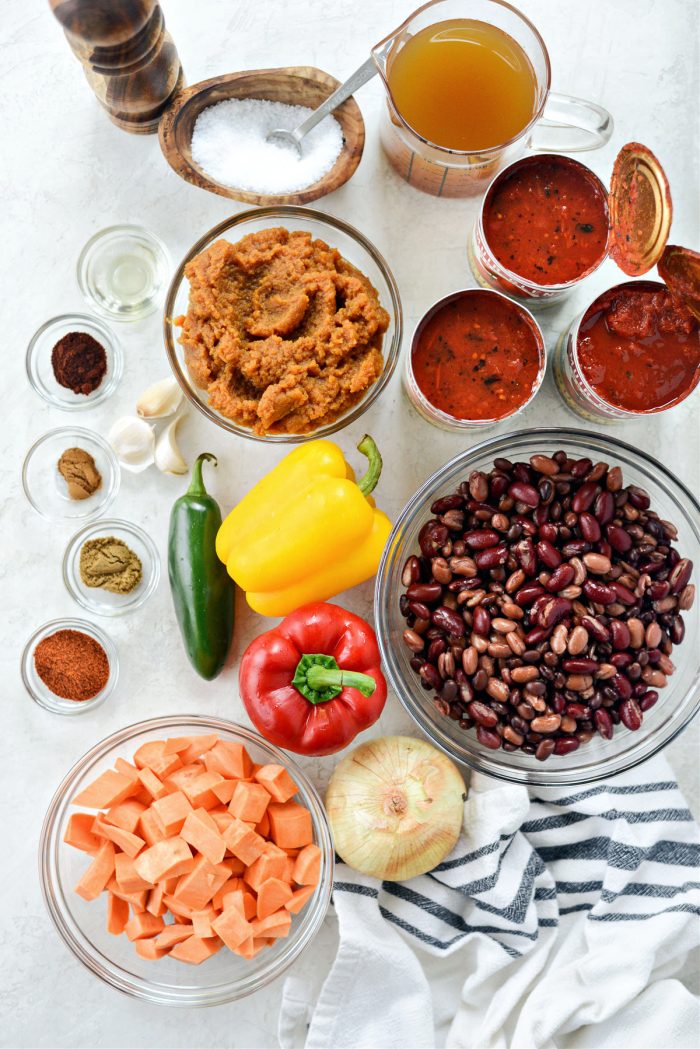 To Make This Vegetarian Pumpkin Chili You Will Need:
olive oil
yellow onion
red bell pepper
yellow bell pepper
jalapeño
garlic
kosher salt
chili powder
chipotle powder
cumin
cinnamon
crushed fire-roasted tomatoes
low-sodium vegetable broth
pumpkin puree
sweet potato
tri-bean blend (red kidney, pinto and black beans)
freshly ground black pepper
Measure and add 2 teaspoons extra light olive oil and then add in 1 medium yellow onion, 1/2 a yellow pepper, 1/2 a red bell pepper, 1 seeded and dice jalapeño and 3 cloves minced fresh garlic.
Season with 1/2 teaspoon kosher salt, stir and sautè until tender.
Once soft, season with 1 tablespoon chili powder, 1-1/4 teaspoon ground cumin, 1 teaspoon chipotle powder and 1/2 teaspoon ground cinnamon.
Stir to combine and cook 1 minute.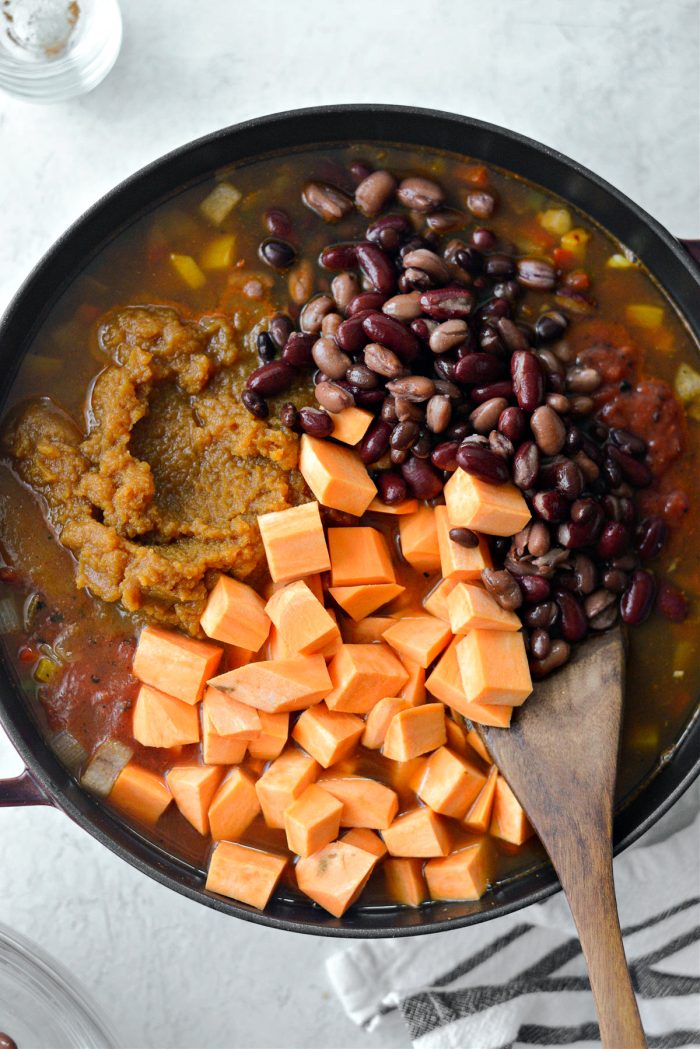 Next, add 3 (15 ounce) cans crushed fire-roasted tomatoes, 1 (15 ounce) can pumpkin puree, 2 cups vegetable broth, 1 peeled and diced sweet potato, 3 (15 ounce) cans rinsed and drained tai-bean blend.
Thoroughly mix to combine.
Cover, bring to a boil and then reduce the heat to medium-low and simmer. Stir often for 1 hour or until the sweet potato is tender. The time will depend on how small or big your pieced of sweet potato are.
Once the sweet potatoes are tender, uncover and taste test the chili. Adding black pepper and more salt as desired. This makes a lot of chili, so for me I add another 1-1/2 to 2 teaspoons of kosher salt.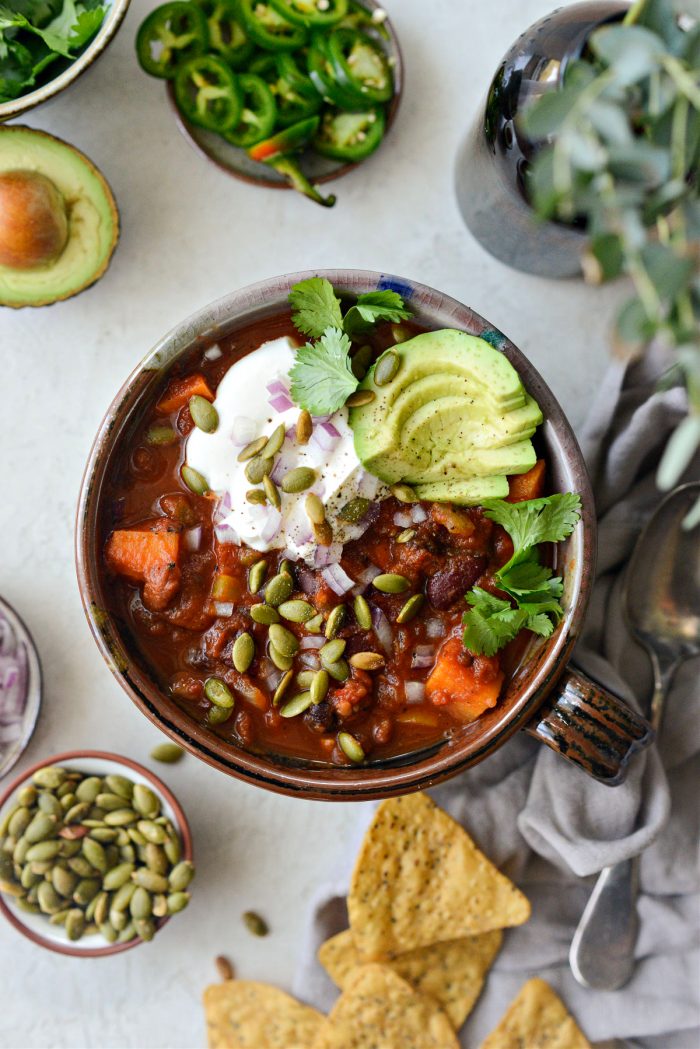 Ladle chili into bowls and top with your favorite toppings.
Optional Chili Toppings Include:
avocado
cilantro
green or red onion
sour cream, plain nonfat yogurt or dairy free alternative
toasted pumpkin seeds
tortilla chips (I love sweet potato tortilla chips with this recipe! SO GOOD)
How To Freeze Chili And Reheat Later:
COOL: make sure the chili is completely cool before freezing. Never place hot or very warm items in the freezer (or fridge!) as it can thaw and negatively affect the nearby food.
PORTION: when cool, divide chili into portions. Whether it's a single serving, two or four, portion the cooled chili into either freezer safe bags or air-tight containers. I prefer using freezer safe bags and removing as much air as possible, this helps with storing.
FLATTEN: once portioned, lay flat on a rimmed baking sheet and freeze for a few hours. Like in this post.
STORE: stack the flat frozen chili portions vertically or horizontally saving so much freezer space. Store chili in the freezer for up to 6 months.
REHEAT: I prefer to thaw frozen chili overnight in the fridge. However you can soak in a sink of lukewarm water for 20 to 30 minutes – flip every so often and change out the water at least once or twice. You can also defrost in the microwave until thawed. Lastly, add thawed chili to saucepan or dutch oven and heat until thoroughly heated throughout.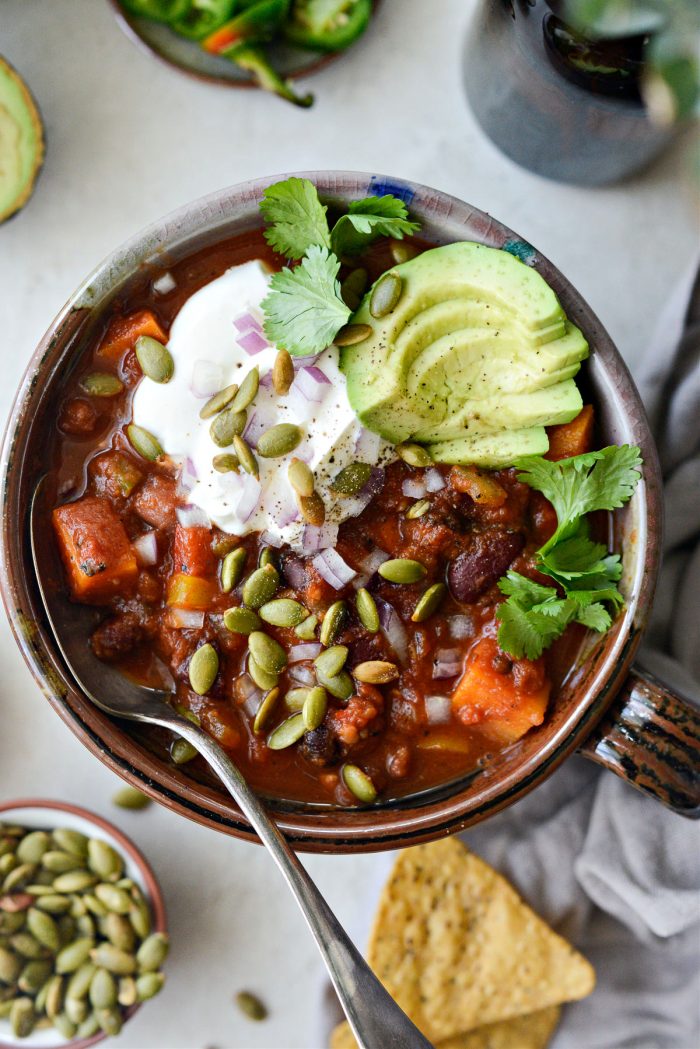 Enjoy! And if you give this Vegetarian Pumpkin Chili recipe a try, let me know! Snap a photo and tag me on twitter or instagram!
This post may contain affiliate links.