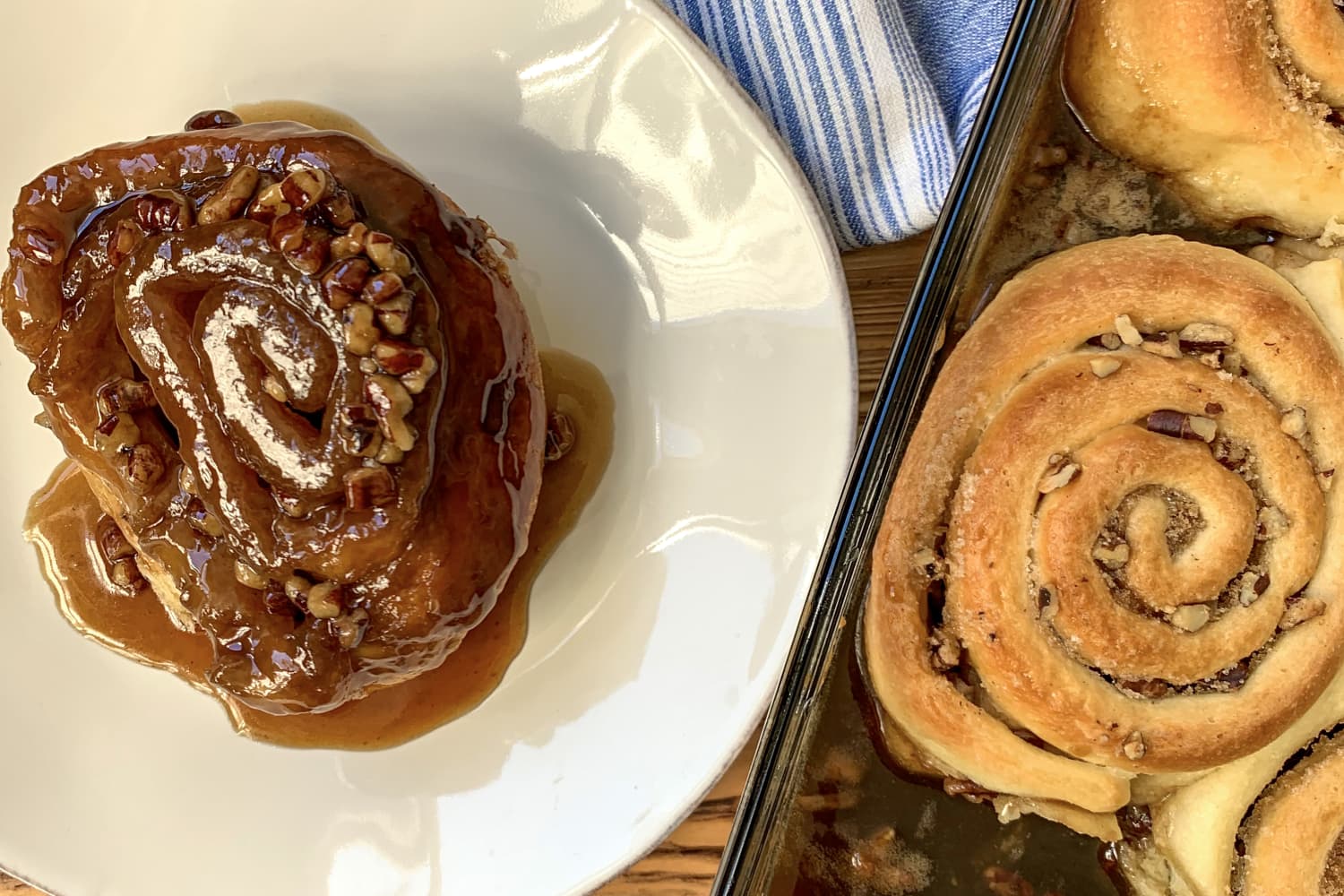 We independently select these products—if you buy from one of our links, we may earn a commission.
When I moved to Boston after living in Paris for about a year, I immediately missed the easy access to the perfect baguettes and pastries I had feasted on (even with a student's budget!). And while I never did find a baguette that was just as good, the saving grace came from working in the South End near Flour Bakery.
This neighborhood bakery, which has now expanded to multiple locations, shot to stardom when owner Joanne Chang won a Throwdown with Bobby Flay episode with her famous sticky buns. The buns are equal parts gooey pecan-studded caramel and soft, pillowy bun, and even though I don't live in Boston anymore, I've been able to recreate the magic at home, thanks to Flour's first cookbook.
As someone who literally edits and stares at recipes all day long, I appreciate well-tested, well-written cookbooks and recipes, and Flour's cookbook is one of them. There are both volume and weight measurements, cues to when you can make something ahead, and super-descriptive instructions so that you feel like you are safely guided through each step and will never go astray.
The sticky bun recipe, with its multiple parts, is a beast to make, but if you dutifully follow along, it will reward you with the best sticky buns of your life — ones that makes you happy you invested the time. Here's how to do it.
How to Make Flour Bakery's Sticky Buns
You'll want to start by making the brioche dough, because it needs to be refrigerated (you can even do this the day before). The recipe makes a double batch, but don't halve it: It won't be enough dough to knead well in the stand mixer. Just make the full batch and stash half away in the freezer for a future batch of sticky buns — you'll be glad you did. The dough starts out very dry until the butter is added in, and goes through a really long mixing time. Set a timer and follow the cues and I promise the dough will be easy to roll out after it's chilled.
Next, toast some pecans, make the sugar-cinnamon filling, and finish by making a batch of the famous sticky goo. The goo is a mix of butter, brown sugar, honey, cream, water, and salt, cooked on the stovetop just until the sugar dissolves. And no, it's not a typo that it calls for 1 1/2 cups of light brown sugar for just 8 sticky buns. The goo completely coats a 9×13-inch baking dish and makes enough to spoon generous amounts over each bun when serving.
Once the dough is rolled out, filled, and cut into the buns, let the buns rise in the goo until puffy, then bake until golden-brown. Let cool at least 20 minutes before even attempting to take them out of the pan, as you don't want to mess around with molten-hot goo. Eat the buns warm (the only way in my opinion), preferably with a strong cup of coffee or tea.
If You're Making Flour Bakery's Sticky Buns, a Few Tips
The reprinted recipe online isn't as easy to follow as the one in the cookbook. Here are a few things to know if you're baking from that version.
These sticky buns are a great weekend project to tackle if you want something that rivals anything you can pick up from a bakery. Trust me: Nothing smells better while they're in the oven, and you'll lick every drop of goo from your fingers as you eat them.
At Kitchn, our editors develop and debut brand-new recipes on the site every single week. But at home, we also have our own tried-and-true dishes that we make over and over again — because quite simply? We love them. Kitchn Love Letters is a series that shares our favorite, over-and-over recipes.