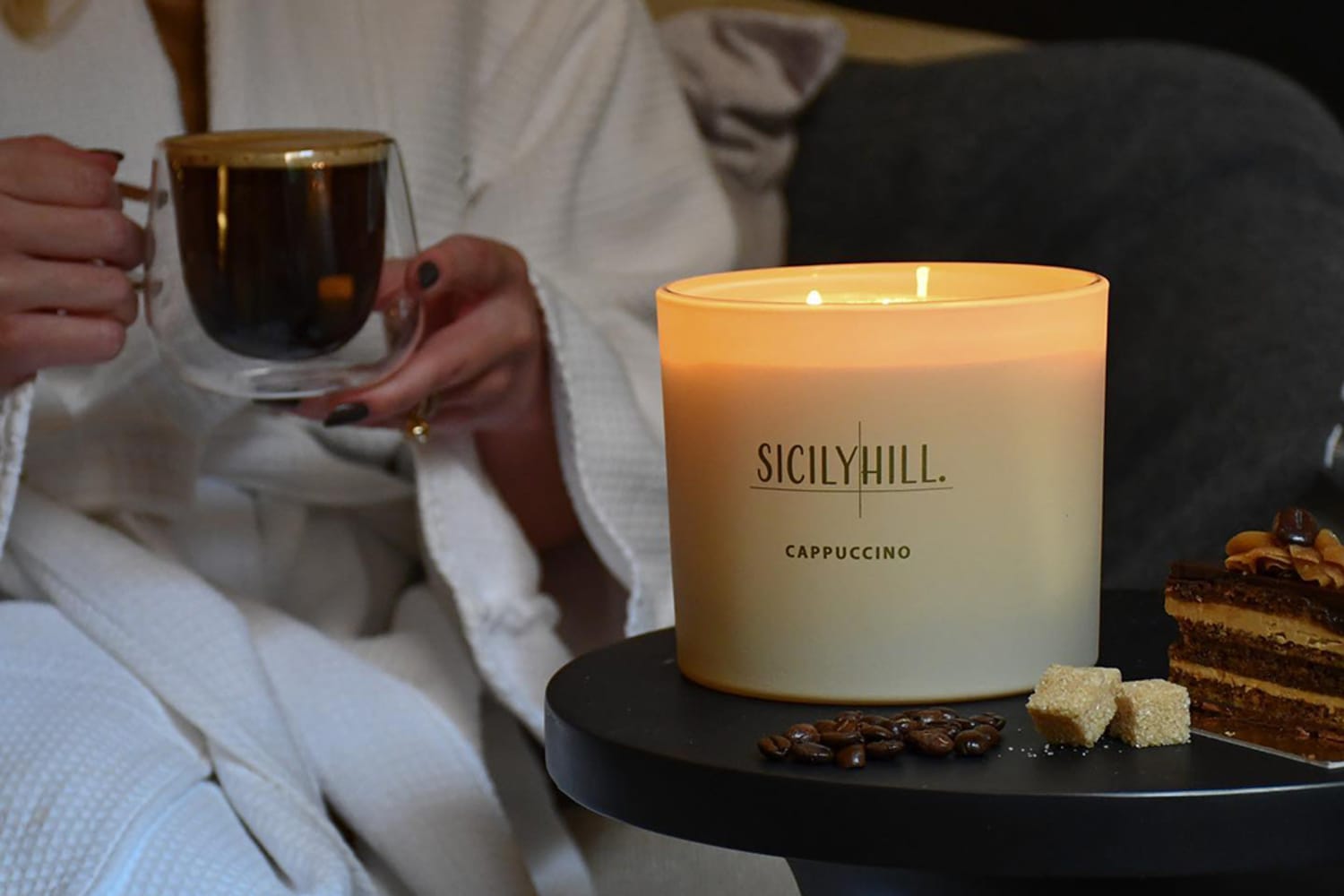 We independently select these products—if you buy from one of our links, we may earn a commission.
Like many people, a trip to the cafe is one of my favorite pastimes. What can I say? I love warm drinks and people watching. But as the world changed a year and a half ago, those visits went from frequent to non-existent. And while this was an activity I truly had no problem putting on hold for the time being, I still missed this part of my routine. There's an ambiance, a special air to your favorite cafe that you just can't replicate at home — or at least you couldn't. Say hello to Sicily Hill's Cappuccino Candle, the ultimate coffee lover's candle that'll make any space feel like it's been transformed into a cafe in minutes.
With notes of espresso and caramel, this candle might sound like a simple enough scent profile, but Sicily Hill's take on this combination is like no other. The second I opened up this candle, I was hit with an explosion of fragrance — not in a cloying way, but in an "I can NOT wait to light this" kind of way. The best way I can describe this scent is to say it's like the lovechild of the smell of your favorite roast brewing on a fall morning and your beloved local bakery around the holiday baking season. It's just magic.
Now, let's talk about what I think really makes this candle stand out among the rest: its size. This candle is marketed as an oversized candle, and that it is. Coming in at a whopping 26 ounces (!) this is quite literally the biggest candle I've ever owned. Thankfully, it's also the candle I've been able to own the longest (it's nice to see that actually go hand in hand). Sicily Hill's candles boast an all-day burning power, and while I've never gone that long with a burning time, I have kept it burning for hours on end. Even with how long and often I was burning it (which was more than a couple of times a week), this candle lasted me six months! That alone was enough to justify it becoming my go-to candle, and the fact that it's also clean-burning, naturally soy-based, and 100 percent paraffin-free was just the icing on top.
At $69, I'm well aware that this is a pricey candle. However, when you take into account that most luxury candles fall well within the $30+ to $40+ price range and can come in at a quarter of the size for this price, this candle is less of a splurge than you might think. Add to that its gorgeous tan votive and iconic handbag-inspired packaging (no gift-wrapping needed with this setup) and Sicily Hill is truly in a league of its own. So if you're looking for a cafe-inspired candle — and a scent that will have everyone asking, "What's that smell?" with stars in their eyes as they walk through the door — give this candle a try. I promise you won't regret it.
Buy: Cappuccino Triple Wick Candle, $69