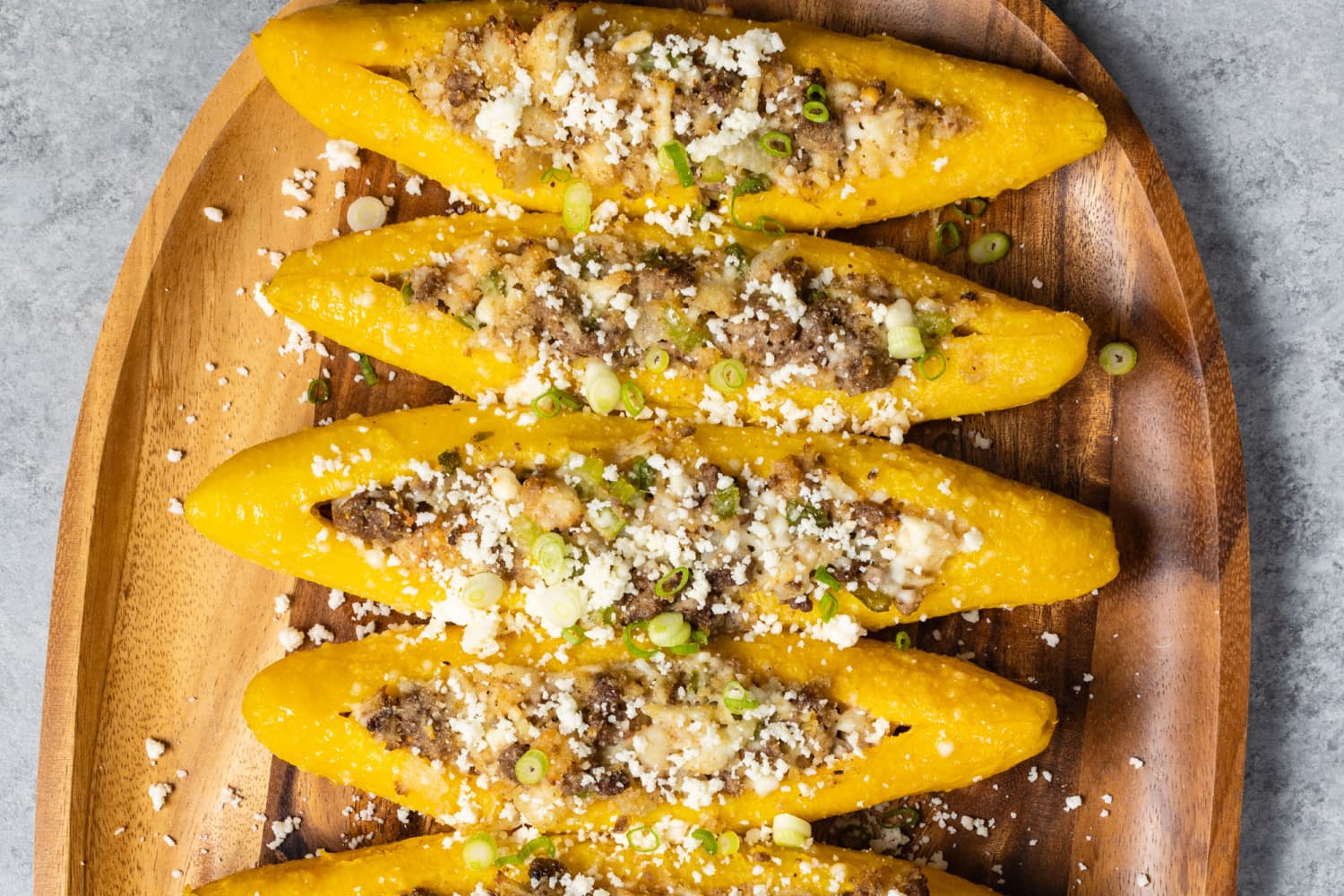 As an adult, I am constantly conflicted about what type of cuisine I love to cook. I grew up in different parts of Southern Louisiana, so I tend to lean on Cajun/Creole recipes, but as a first-generation American born into a Honduran immigrant family I also feel a responsibility to represent that cuisine that ties me to my roots.
This dish — Cajun stuffed plantains — is an ode to that fusion and a delicious way to showcase my cultural background. Plantains (plátanos) are essential in every Honduran meal, so there is no way I could leave them out! The banana trade was big business in my family's hometown of Puerto Cortes, Honduras, where growers delivered their fruit to the coastal steamers for export. There's also a Louisiana connection: The Vaccaro Brothers of New Orleans, who founded The Standard Fruit and Steamship Company (which is now Dole), dominated the banana trade. For me, the plantains represent what people see on the outside, but what you get on the inside is pure New Orleans.
In Louisiana we stuff the hell out of everything: stuffed shrimp, stuffed crab, stuffed bell peppers, stuffed mirliton, you name it! Here, I stuff the savory-sweet plantains with a mixture of beef, crab, and shrimp. I start by making a quick shrimp stock with the shells and heads of the shrimp, plus some aromatics. This is a great way to make the most of those tasty bits, and the delicious shrimp stock helps flavor the filling and is poured into the pan with the plantains as they bake.
For the filling, I start with the classic New Orleans trio of onions, bell pepper, and celery, then add seasonings (Creole seasoning is key here) and the proteins. That mixture gets tucked into the plantains, then I brush them with a little honey to add some shine and a little extra sweetness. This recipe makes a lot, but the leftovers freeze well, so you can have Cajun stuffed plantains for lunch or dinner when you're not in the mood to cook.