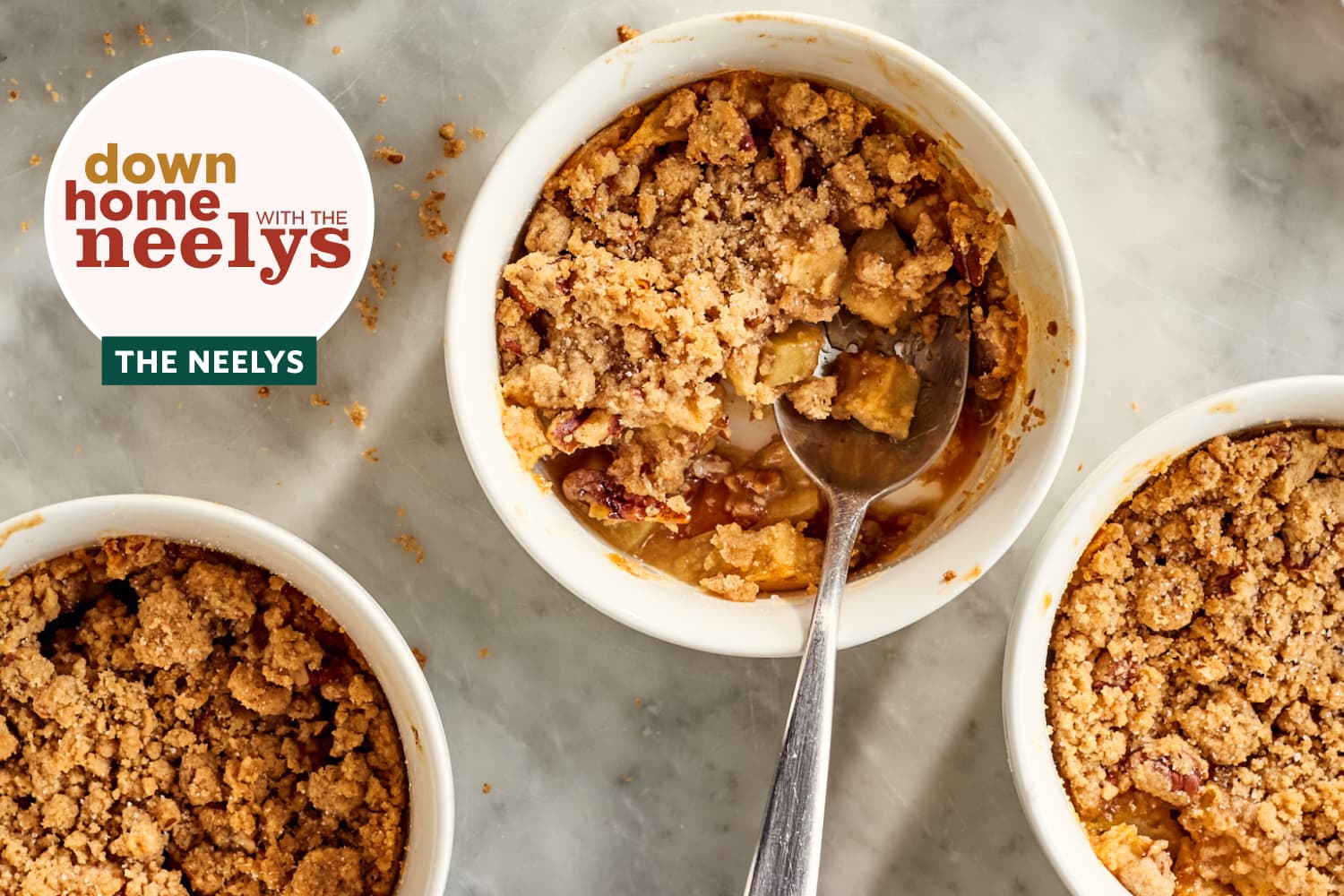 Patrick and Gina Neely became famous for their multiple barbecue restaurants in Tennessee, as well as their popular Food Network show Down Home with the Neelys. In addition to its hundreds of five-star reviews, the Neelys' individual apple crisp recipe stood out to me for a number of reasons. First, pecans are included in the topping, which is fairly standard, but also in the filling, which I've never seen before. The filling also includes maple syrup in addition to brown sugar, which I thought would give the crisp a deeper, richer flavor. And rather than bake the crisp in a square or rectangular baking dish, the Neelys call for baking the mixture in individual ramekins, which sounded cute and also cuts down on baking time.
How to Make the Neelys' Apple Crisp
Preheat the oven to 350˚F. In a bowl, add the apples, pecans, flour, brown sugar, maple syrup, and lemon juice, and stir to combine. Transfer the mixture into eight ramekins.
In a separate bowl, add the flour, brown sugar, cinnamon, and salt, and stir to combine. Add the butter and use your hands to break the mixture up until it forms into small clumps that are the size of peas (do not overwork it). Stir in the pecans, then sprinkle the topping evenly over the filling. Bake for 35 to 40 minutes.
My Honest Review of the Neelys' Apple Crisp
I love the fact that this crisp is cooked in individual ramekins — it's great for entertaining. Plus, to fit into the ramekins the apples are chopped more finely than they are for many other crisp recipes, which gives the filling a great texture. I also loved the pecans in both the filling and topping, which resulted in a really nice texture.
My biggest criticism of this recipe is that I found it to be way too sweet. While I loved the idea of maple syrup, the flavor got lost in baking, and combined with the brown sugar it made for a crisp that was a bit cloying. The crisp begged for a scoop of vanilla ice cream or whipped cream for the sole purpose of cutting the sweetness.
If You're Making the Neelys' Apple Crisp, a Few Tips