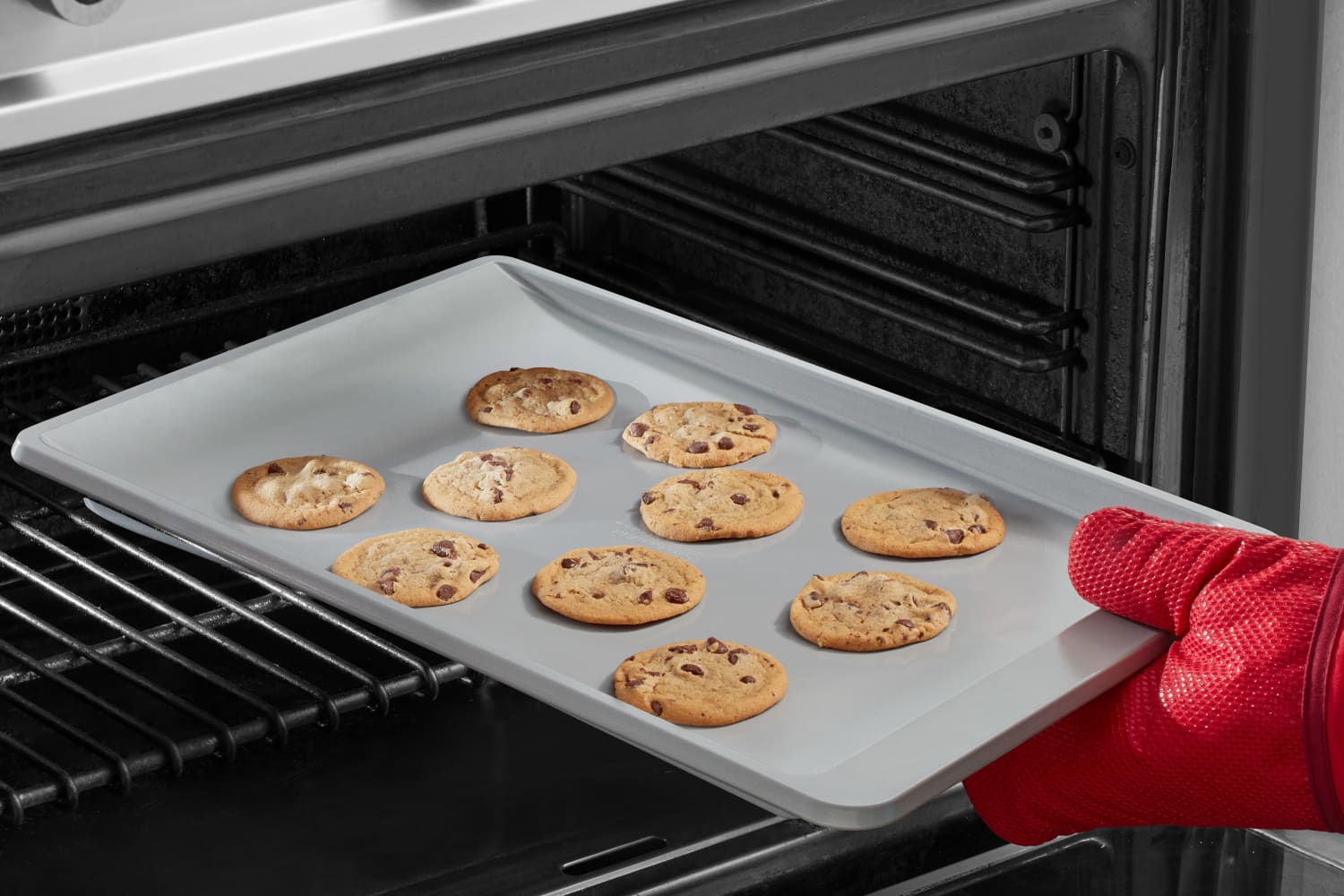 We independently select these products—if you buy from one of our links, we may earn a commission.
It's the holiday season, which means it's time for twinkling lights, movie marathons, cozy drinks — and lots of cookies! If you bake up a storm every December, you know there are a few baking essentials to have on hand to make things run smoothly. We're talking cooling racks, baking mats, mixing bowls, and of course, reliable cookie sheets. If you're anything like myself, your collection of baking sheets are old and burned, and you always wonder if it's time to give them a refresh. Well, once you feast your eyes on this cool invention from KitchenAid, you'll want to grab one right away. The Nonstick Cookie Slider might be the ultimate cookie-making tool because of its sloped edge that allows your freshly baked cookies to glide right off the surface and onto a cooling rack in one motion!
Psst… this ingenius Nonstick Cookie Slider is currently on sale for $21.95 (originally $24.99). Head on over to Amazon and add to cart ahead of your holiday baking projects!
Made of heavy-duty aluminized steel and a premium nonstick coating, this sheet pan will not only help with cookie release, but it will also be a sturdy, reliable addition to your bakeware collection.
The nonstick surface is so smooth, that cookies will seamlessly slide off. Just tilt your pan and let them glide onto a cooling rack without having to dirty a spatula or risk dropping a cookie while transferring. The sleek surface also lends itself to being easy to clean as any stuck-on bits will come right off. Plus, the Cookie Slider features extended handles to ensure a secure grip when taking it out of the oven with mitts on. And, because it has a light color, it'll help distribute heat to bake cookies more evenly without burning the bottoms quickly.
Many customers raved about how this unique sheet simplified their baking routine, praising its shape, heavy-duty design, and impressive nonstick qualities. "The bottom end is left rimless so all you have to do is tilt the pan and the cookies slide right off. Could not be easier," one customer wrote, adding that they don't need a spatula to remove cookies.
Several reviewers also appreciated the heaviness of the pan to avoid warping in the oven. One person called it "vintage KitchenAid" because it features "heavy steel, an impeccable nonstick coating that did not 'break' at the points where the metal was creased, and a balanced profile that makes handling easy."
While it's obviously designed for cookies, you could also use this pan for a variety of baking and even roasting. We can see it being perfect for making dessert bars as well as roasting veggies and one pan dinners, all of which you could just slide off the pan! Snag one of these Cookie Slider baking sheets now to make your Christmas cookie adventures even more enjoyable.