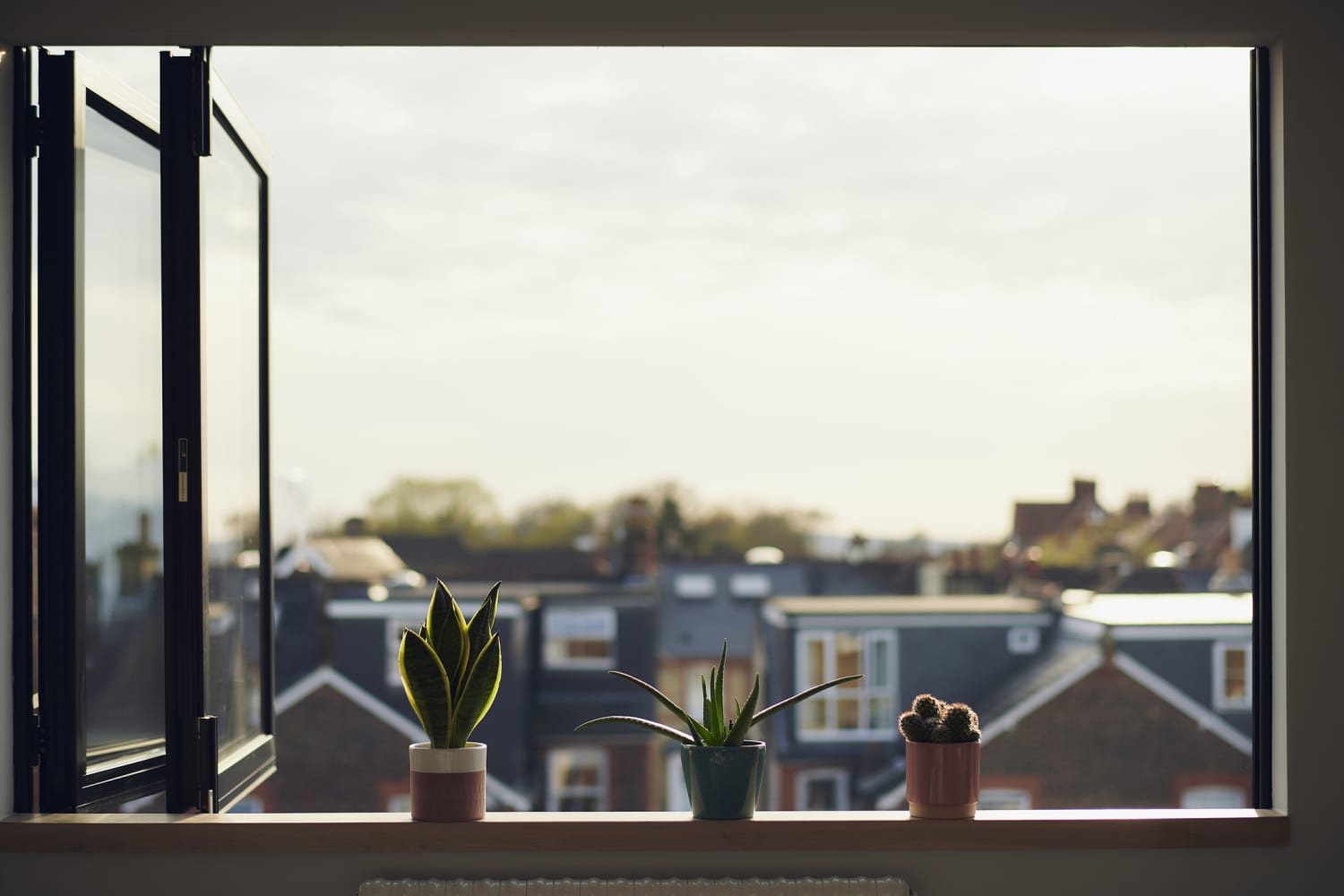 Some months into the pandemic, the leaves on the sycamore outside of my second-story apartment dropped. As an American living abroad in the Netherlands during a global crisis, I felt vulnerable behind our towering, seven-and-a-half-foot-tall windows.
In my old house, in Oakland, California, I'd positioned a large money plant in our bedroom's bay window, a barrier between my indoor activities and the world at large. In the Netherlands, I did the same. Even during the day, I resorted to pulling shut the heavy drapes before doing my virtual dance classes. Then, I noticed my neighbors — and everything changed.
Across the way, a cheery bunch of tulips had been propped on a brick windowsill. It was a carefully curated display that I've learned is commonplace for the Dutch. Throughout the Netherlands, the famously narrow row houses tend to feature enormous windows, which let in what little sun falls on the Low Lands. What's interesting is that most street-level residences offer little to impede passersby from peering inside.
Traditionally, this setup enables parents to oversee kids playing outside as well as comings and goings on the street, in a neighborhood-watch kind of sense. (It also has the reverse benefit that, should a house be vacated for a vacation, for example, neighbors and passing friends of the homeowner can keep an eye on things because they have a clear view of would-be burglars.)
These windows are not just bare, though. These sills are usually decorated for the neighbors and for people to enjoy as they pass by. Instead of blinds or other opaque coverings, many Dutch households favor small items, such as statuettes, crafts, and flowers — faux or real — displayed on their windowsills. Like life-sized shadow boxes, these tableaux are sometimes framed by sheer, decorative curtains. The windows are "passionately decorated," noted the late Hernán Vera, professor emeritus of sociology of the University of Florida, in the paper "On Dutch Windows."
Strolling through Maastricht, where I'm living, I've seen whimsically painted bear figurines and windows flooded with jesters and red, green, and yellow garlands celebrating Carnival. Such decor ends immediately at the German border, just 13 miles from Maastricht, and it tapers off nearly as fast when traveling into Flanders, a fifteen-minute bike ride to the west.
For the Dutch, these windows still draw a line between public and private life. They entice openness and delight neighbors, but they're also a "territorial boundary"— where the outside world ends and home life begins.
To me, these window displays seem less like boundaries and more like reminders that there are people behind these windows. For the nearly two years in which I've lived abroad — much of it in coronatijd (meaning, corona time) — I've felt removed from all cultures, far from my native home and excluded from my adopted one. My Dutch-language conversation skills are negligible. And in Maastricht, a university town, I am no longer a student, yet not as mature as the elegant women who flood the shopping district, wearing double-breasted wool coats and tasteful heels even on cobblestone streets. But the city's open windows have invited me in, if just for a glimpse of students letting off steam with a living-room dance break, or weathered knuckles tending dinner beneath a semi-frosted pane. Although I know it's rude to gawk directly into a stranger's home, I can't resist a surreptitious peek into others' lives.
Outside my window today, the Friday morning market has blossomed on the street beneath my apartment. The sycamore is once again foliated, blocking my easy view of the buildings opposite. Still, I remember how hopeful my neighbors' cherry-red bouquet felt, a sign of life as the seemingly interminable winter stretched into a dark, snowy spring.
When I return to California, I'm going to take the Dutch approach: I'll adorn my new window with a panel of stained glass that I inherited from my grandmother. And it won't just be for me. When I sit among its casted rainbows, I'll know that they're slivers of beauty destined equally for my community outside.
How do you decorate your windowsill? Share your ideas in the comments below.