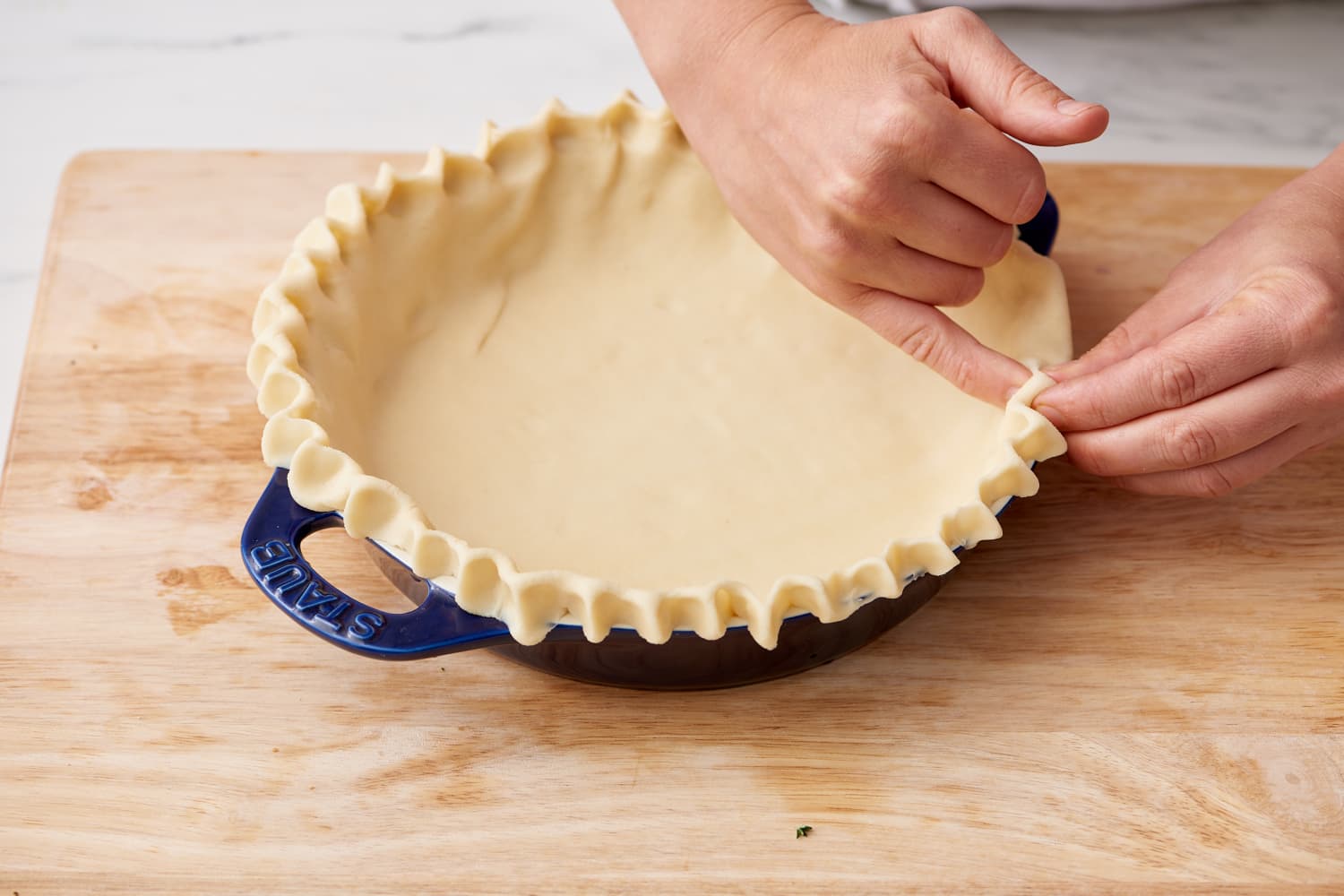 We independently select these products—if you buy from one of our links, we may earn a commission.
There are as many different pie plates out there as there are pie recipes. Or so it seems. There's no real standard size (some are deeper than others, some are wider), and some are way more decorative than others. What you probably care about the most is the material, though. There's glass, ceramic, and metal. Before we get too far into talking about the best pie plate, let's take a quick look at the difference between these materials.
Which material — and, more specifically, which actual pie plate — is best? We took a look to see what other food pros and home bakers have to recommend. And then, as always, weighed in with our own two cents. Here are five of the best pie plates for home bakers.
1. OXO Good Grips Glass 9-Inch Pie Plate
The Best Pie Plate, According to Wirecutter

The folks at Wirecutter have tested 19 pie plates since 2013 and ultimately picked this glass option. They went with glass because it's inexpensive and conducts heat gently and evenly. They also like that it allows you to check the doneness of the bottom of your pie. More specifically, they liked this OXO glass plate because it's made of thick borosilicate glass (instead of the also-common tempered-glass), which means the dish can go from freezer to oven with a lower risk of breaking. Also: This plate is two inches deep and held more than most of the other glass ones they tested.
Note: The OXO plate that Wirecutter picked actually does not come with a lid, but the lid-less option is currently sold out. And a lid is nice to have, anyway!
2. Williams Sonoma Goldtouch Nonstick Pie Dish
The Best Pie Plate, According to Cook's Illustrated and Epicurious

The testers at Cook's Illustrated didn't like glass as much as Wirecutter because it struggled with release issues when it came time to serve. Instead, they picked this metal dish, which is extremely thin so it heats quickly and evenly. They said it baked crusts perfectly without ever over-browning. They also liked its super simple lip, which meant they could do their own crust-crimping. And did note that the metal surface can cut or scratch when you're slicing up the pie, but that this was not a huge issue.
Testers at Epicurious came to the same conclusion as Cook's Illustrated. Their tests involved making a blueberry pie and a Key lime pie in each pan. This pan did the best in both tests, but did especially well with the berry pie, producing the most even results and crisp crust of all. They noted that the slices came out incredibly easily. They also noted the scratching issue but said the scratches didn't seem to have any negative effect on the utility of the dish. Note: Williams Sonoma recommends using wooden or silicone tools when serving.
3. Pyrex Glass Bakeware Pie Plate
The Best Pie Plate, According to Serious Eats

Stella Parks, the baking pro behind BraveTart, gave her list of the 16 essential pie-making tools and mentioned that she has a stack of these Pyrex pie plates at home. She says glass and aluminum pans produce superior crusts (because they heat up faster, which allows the dough to puff up nice and lightly). She also recommends disposable aluminum pans if you don't want to worry about getting your plate back.
4. Pyrex Easy Grab Glass Pie Plate
The Bestselling Pie Plate on Amazon
The bestselling pie plate (plates, actually, you get TWO!) on Amazon has more than 7,000 reviews and a 4.8-star rating overall. Happy shoppers note the depth and width, how easy the pans are to clean, and the nice wide rim (which means you can pull it out of the oven with getting your mitt in the pie).
5. Emile Henry Artisan Deep Ruffled Pie Dish
Kitchn's Pick for the Best Pie Plate
This is actually a hard one! Because we see the merits of glass, ceramic, and aluminum. They're all so different! And it does kind of depend on the pie you're making and what you're planning to do with it. For example, we love the Williams Sonoma option for a simple graham cracker or cookie crust. The OXO glass one is nice for fruit or custard-based pies. But if we had to pick just one, we're actually going to diverge from everyone on this list and pick this ceramic Emile Henry dish (we also like this ceramic dish from Great Jones!).
First of all, it's gorgeous, so it's sure to elevate anything you make. We also like that it's so fluted, taking the pressure of novice bakers who might be intimidated with crust work. It can also go straight from the freezer to the oven, which is handy if you tend to freeze your fruit pies before baking them. And it can go under broiler, which glass can't do.
Do you have a pie dish you love? Tell us about it in the comments below.