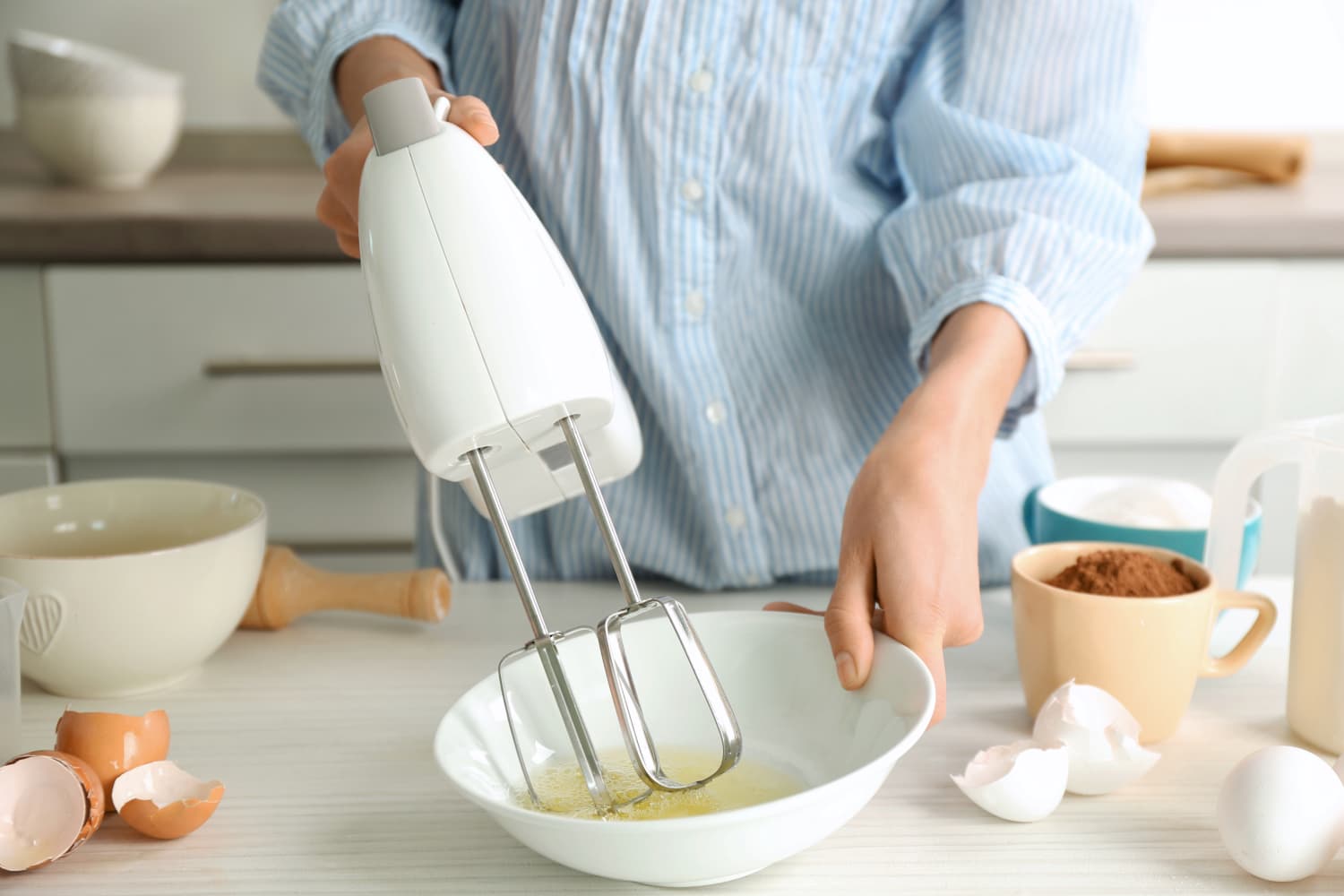 We independently select these products—if you buy from one of our links, we may earn a commission.
Holiday baking season will be here before you know it. (Plus, we're willing to be you've been baking a lot more than usual these last few months.) Which means you're going to need a good hand mixer that you can rely on. Ideally, the best hand mixer. Whether you already have one (but it sounds like a jet that's about to take off any time you turn it on) or you're looking to get your first one, this story can help you.
We looked at the top-rated hand mixers from various sites to see why testers and shoppers liked each one. These rankings all considered how the tool feels in the hand, how quiet (or noisy!) it is, how well it mixes, and more. These are the very best hand mixers on the market right now.
1. Breville Handy Mix Scraper
The Best Hand Mixer, According to Wirecutter and Good Housekeeping
The folks at Wirecutter whipped up four cakes, 16-dozen cookies, four batches of pizza dough, and several bowls of seven-minute frosting in order to pick their favorite hand mixer. They said this top pick is super consistent with thick doughs and light batters and can easily be switched between the nine various speeds, and they liked that it comes with more attachments (and a snap-on storage case!) and features (a light that shines into the bowl while you work! Rubber-coated beaters!) than other mixers. It's worth noting, though, that this model is not cheap (especially compared to the other options on this list). If you're not going to use it all that much, maybe consider their budget pick, which is still pricey but definitely less expensive: the Cuisinart Power Advantage Plus 9-Speed Mixer.
Our friends at Good Housekeeping picked the same splurgy mixer that Wirecutter liked. It earned good ratings for whipping egg whites, mixing cake batter, kneading bread dough, and more. One other thing they really liked about this model: It automatically recognizes which attachment you've put in (beaters, dough hooks, or whisks) and adjusts its speed to the optimal level for each task at-hand.
2. KitchenAid 5-Speed Ultra Power Hand Mixer
The Best Hand Mixer, According to Cook's Illustrated
The Cook's Illustrated editors gave this mixer a perfect score for design, light mixing, moderate mixing, and heavy mixing. They even compared it to a sports car because it's light, maneuverable, and efficient. It has five powerful speeds, which Cook's Illustrated says is plenty to cover the bases in most recipes. Fun fact: Cook's Illustrated picked this mixer a while ago and then stood by their pick when they refreshed the story a few years later.
3. Cuisinart Power Advantage Plus 5-Speed Hand Mixer
The Best Hand Mixer, According to Consumer Reports
Consumer Reports picked the baby sister model of Wirecutter's budget pick. Instead of nine settings, this one has five. Testers said it excelled with stiff cookie dough and whipped heavy cream into lofty peaks super quickly. They also liked that because the wire beaters don't have those center posts that most beaters have, it was extra easy to clean off batter and various goo. The one ding? It's louder than other models they tested.
4. Hamilton Beach 6-Speed Electric Hand Mixer
The Bestselling Hand Mixer on Amazon
A great budget pick! The bestselling hand mixer on Amazon is just $20! It has six speeds and comes with three attachments (two beaters and a whisk), plus a storage case. With about 40,000 reviewers, happy customers say it's a "a lovely little hand held mixer" and "hands-down one of the best handheld mixers I have ever owned." It's worth pointing out that it's smaller and not as powerful as some of the others on this list, but for infrequent bakers it'll get the job done.
5. Cuisinart Power Advantage Plus 9-Speed Mixer
Kitchn's Thoughts on the Best Hand Mixer
There are so many great mixers out there. Even the cheap, small ones will get you through a decent amount of baking sessions. We really do love that Breville option, but honestly we're having a hard time suggesting anyone spend that much money on a mixer. Our next pick would be the 9-speed Cuisinart Power Advantage Plus, which again, was Wirecutter's budget pick. It makes quick work of all mixing jobs and comes with several attachments. It's still around $80, though, if if you're looking for something even less expensive, we suggest the 5-speed Cuisinart Power Advantage Plus. It's around $40, makes quick work of whipping cream, is easy to clean, and comfortable to hold. So it's a little loud? It's not a blender that's being used to make morning smoothies while the rest of your household is asleep.
Do you have one of these mixers? Another one you love? Tell us in the comments below!