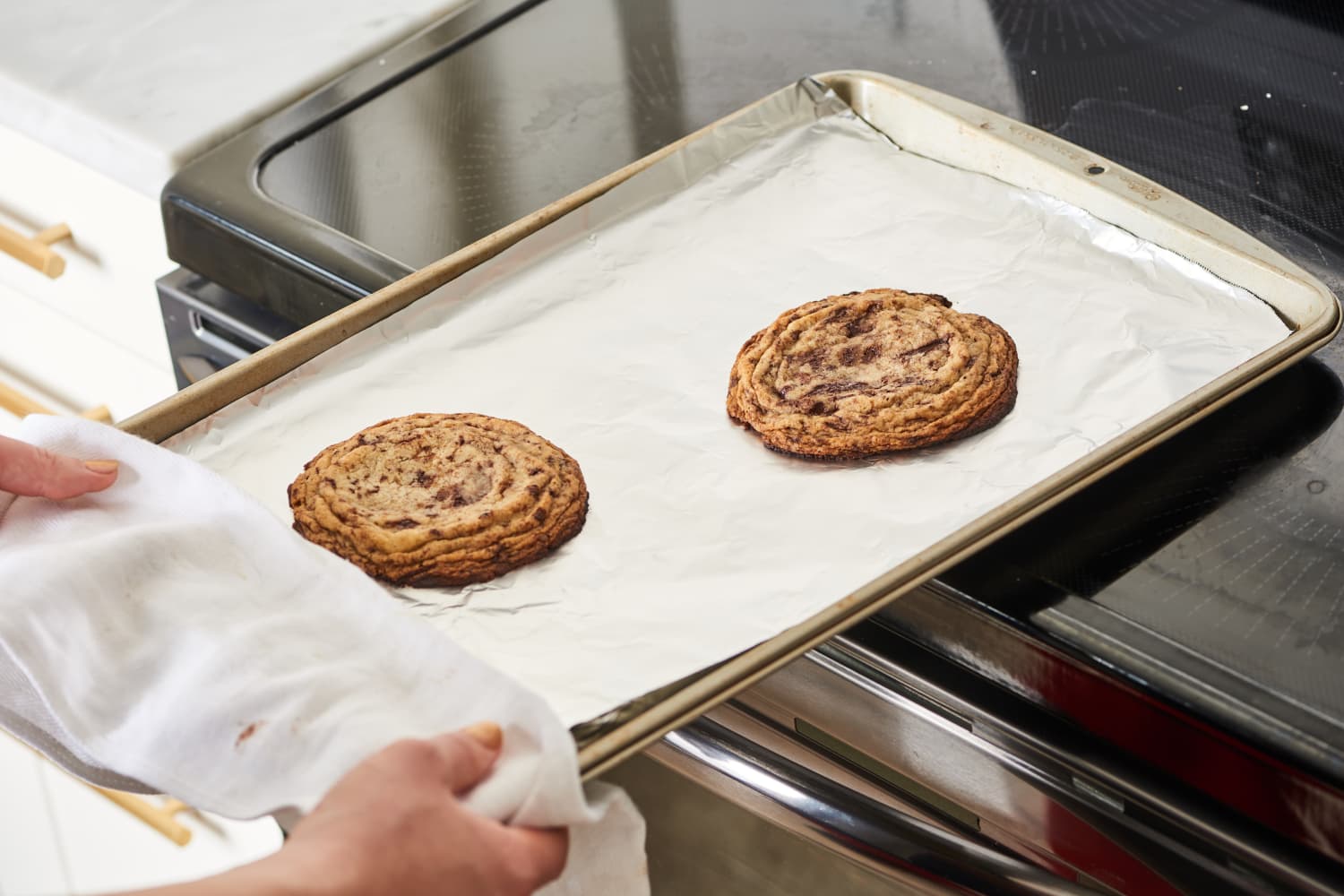 We independently select these products—if you buy from one of our links, we may earn a commission.
It's surprisingly hard to find a good cookie sheet — one that doesn't warp, discolor, or cook unevenly. And yet, every home cook needs a good cookie sheet or two (or three or four). Because even if you're not a huge baker, you'll need something for miracle sheet pan dinners, roasting veggies, freezing fruit, and more — especially with fall in full swing.
First, A Note on Baking Sheet Terminology and Sizes
Baking sheets! Cookie sheets! Sheet pans! Although there technically are differences, these terms are often used interchangeably and we'll use them all freely in this post. The differences between them basically comes down to the edges. (Cookie sheets will have one or two raised edges so that the cookies can slide off the other sides easily, for example.) But all of these nominees have four raised edges, which means you can toss veggies with (slight) abandon and roast juicy meats without worrying about messes running over.
As for sizes, they are pretty standardized. A full-size sheet pan is 26 by 18 inches, and these are generally too large to fit inside most home ovens. The next one worth mentioning is the most common size — a half-sheet pan, which is 18 by 13 inches. And there's quarter-sheet pan that's 9 by 13. There are also jelly roll pans, which clock in between a half-sheet and quarter-sheet pan, usually around 15.5 by 10.5 inches. There are deviations, but these are the standard and most typical sizes.
1. Nordic Ware Baker's Half Sheet
The Best Baking Sheet, According to Wirecutter and Cook's Illustrated
The editors at Wirecutter spent more than 45 hours testing 15 sheet pans and cookie sheets. They made cookies, pizzas, and fries and ultimately picked this one because it continues to lay flat and bakes evenly. They say that, while other pans may work just as well, the price on this guy is really hard to beat. And, actually, they've found that more expensive pans don't hold up nearly as well.
After making way too many jelly roll cakes, sugar cookies, roasted chicken thighs, and parsnips, Cook's Illustrated editors picked the same pan that Wirecutter picked. Surprisingly, they liked nearly all of the eight they tested (all priced around $25 or less), but ultimately chose this one because it was the sturdiest, hard to scratch, and nicely fit their favorite cooling rack (the Checkered Chef Cooling Rack) inside.
2. Chicago Metallic Nonstick Jelly Roll Pan
The Best Nonstick Cookie Sheet, According to Food & Wine
The editors at Food & Wine also chose the Nordic Ware Baker's Half Sheet as the best cookie sheet. But for the sake of mixing things up, we're going to talk about their pick for the best nonstick sheet. This option, from Chicago Metallic, didn't warp or buckle in their tests and editors liked that the coated surface of the pan has a fine-grained texture that helps prevent the spreading and flattening of cookies that can happen with other nonstick surfaces. Just know that you'll have to keep an eye on things, as it will brown cookies and veggies faster than a traditional baking sheet.
3. Vollrath Wear-Ever Half-Size Sheet Pan
Kitchn's Favorite Cookie Sheet
Clearly, Nordic Ware's Half Sheet pan is a winner. (It gets the thumbs up from Good Housekeeping, too.) And don't get us wrong, we do like it. We have a few in our Test Kitchen at the office and in our editor's own homes. But we've got to vote for the Vollrath Wear-Ever Half-Size Sheet Pan. Our Editor-in-Chief, Faith Durand, is a longtime fan and she got many of us hooked. It's a true half-sheet pan, incredibly durable, easy to clean, and comparably priced against the Nordic Ware option.
4. Great Jones Holy Sheet
Kitchn's Favorite Nonstick Cookie Sheets
If you want a nonstick cookie sheet, we recommend paying up for this blue stunner from Great Jones. Yes, it's pricey (for a sheet pan) but several Kitchn editors have them in their home kitchens and are obsessed — even months into using them. The Holy Sheet is made from aluminized steel, which means there's steel sandwiched between aluminum. And it has steel rods running through the rolled edges. This makes the pan resistant to warping, but it also makes it quite a bit heavier than other aluminum sheet pans (just something to keep in mind). Oh, plus it's gorgeous.
Do you have a favorite sheet pan? Tell us about it in the comments below!