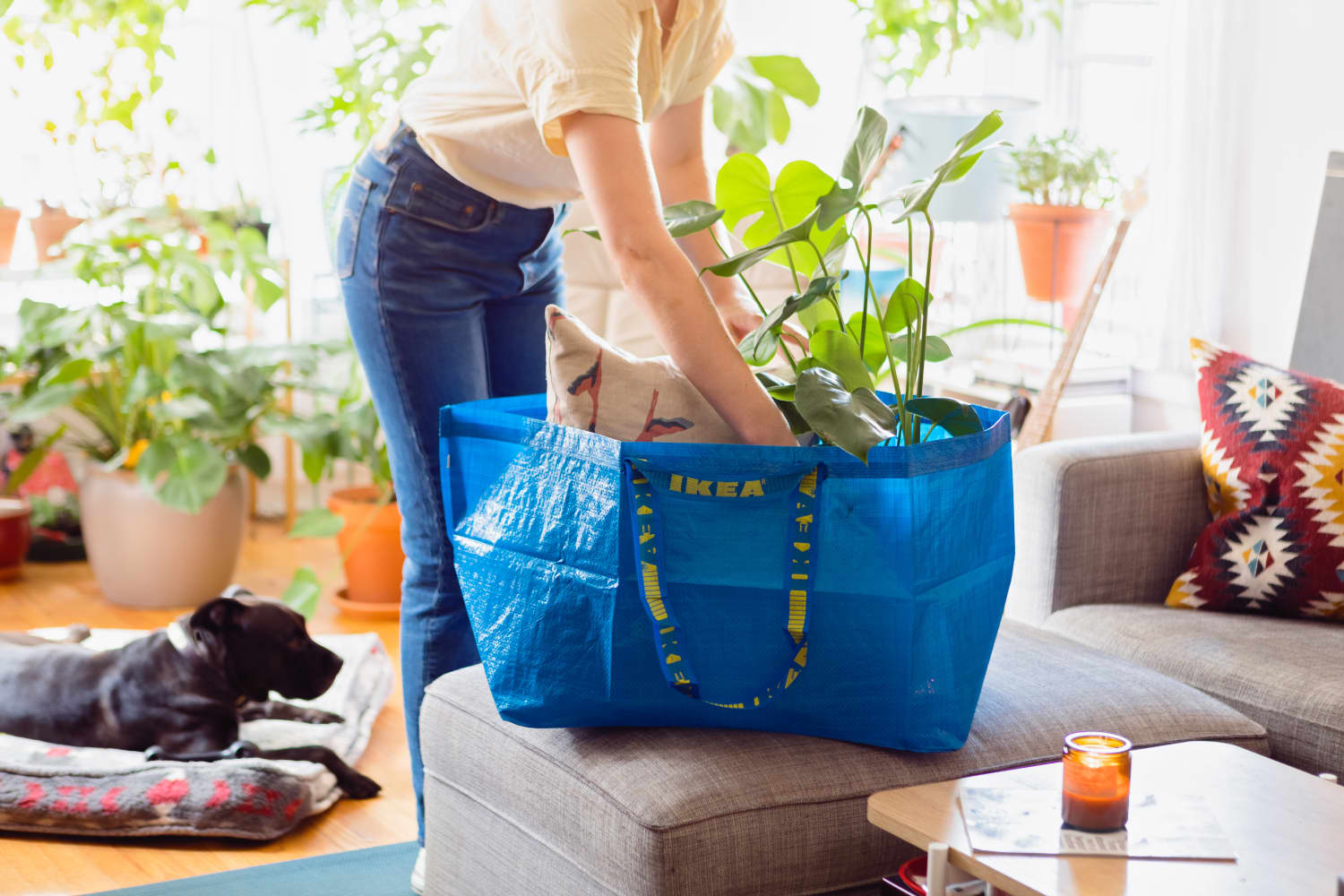 Of course you know IKEA is a treasure trove for inexpensive organizing solutions and Scandi-chic furniture. You're also probably aware that their cafés serve some pretty delicious — and rightly famous — meatballs. But there's a whole other category of IKEA finds you may be missing out on: their grocery section! IKEA's grocery section sells all sorts of Scandi-inspired treats, including meat- and plant-based mains, snacks, condiments, chocolates, and more.
What to toss into your big blue bag? We asked a bunch of U.S.-based IKEA employees what grocery items always make it in their bags, and were surprised by the answers (apparently the mustard is not to be missed!). Here are the six best grocery items at IKEA, according to people who work there.
1. HJÄLTEROLL Muesli, $4.99
"I'm German American and grew up eating a lot of muesli. The IKEA muesli tastes so authentic and brings back so many great childhood memories!" — Sarah Molitor, Interim Communication & Events Specialist at IKEA Columbus, OH
2. SENAP Mild Mustard, $2.99
"This under-appreciated condiment is actually quite versatile and extremely tasty on its own! It is perfect for marinades and dressings, as the texture is quite creamy and not too grainy. The consistency is substantial enough, so it can hold its own but doesn't overpower. The flavor is on-point too! It is a mix between a French and Dijon-style; not too vinegary or spicy but has perfect balance. I have given bottles as Christmas gifts (they fit perfectly into stockings!) and although people initially laugh, they always ask for more. Once you try it, you will use it often. It is the perfect mustard." — Emily Lux, Loyalty Manager at IKEA Memphis, TN
3. SMAKRIK Flavored Canola Oil, $2.99
"I use our flavored canola oils every single day; I keep all of them on hand and I use them for different things. The thyme oil is my go-to for pot roast or game, the garlic for any sautéing needs, the dill-flavored oil is for cooking salmon fillets, the butter oil for desserts and baking or snacks like popcorn, and finally the unflavored canola oil for my everyday use. Not only do these oils pair with almost any of my cooking needs (IKEA meatballs included), but the bottles also come in a great size, so that there is no chance of them losing their flavor before I use them up. Pair these with IKEA finishing salt flakes and I am a happy cook." — Natalie Sherling, Food Manager at IKEA Portland, OR
4. HUVUDROLL Plant Balls, $5.99
"There's a giant, floor-to-ceiling image I pass by every shift; the Huvudroll plant balls, glistening with peas, mint, and onions. It inspired me to try and replicate this recipe for my family, and it's become a favorite because it's such a quick and yummy meal." — Natalie Rosbottom, Sales CW at IKEA Atlanta, GA
5. RÖSTI Potato Fritters, $3.99
"My favorite is the potato cakes, or raggmunk, as they're called where I'm from, which is Sweden! Some raggmunk and lingonberry jam put together makes a crispy and tangy, simple-yet-delightful meal or snack. I just moved here from Sweden a little over two months ago, and they are a tasty remedy for whenever I'm feeling homesick!" — Alexandra Small, sales coworker, bedrooms at IKEA Atlanta
Another vote for the potato cakes: "I love this item because it's made with a few simple ingredients, extremely simple to prepare, great value for my money, and is very versatile: Pair it with eggs, and bacon or sausage to complete your breakfast. Or add some onions while pan-frying your RÖSTI, then place a piece of ham along with onions between two potato cakes. Or top two potato cakes with eggs-over-easy, add hollandaise sauce (or a dollop of sour cream) and you've got a makeshift Eggs Benedict. Add chives on top, if you're fancy."— Alex Truong at IKEA Grand Prairie, TX
6. KAFFERP Oat Cookies, $6.99
"By themselves these cookies are super neutral and crispy, but I like to make a parfait with them with pudding, whipped cream, jam, and fruit. (The blueberry jam we have is my favorite for this.) I like it because it takes a short amount of time to make and it's a lot different from typical desserts. You can also do it as a cookie dip!" —Shelby Burca, Unit People Planning Specialist at IKEA Baltimore, MD
What are your favorite grocery finds at IKEA?