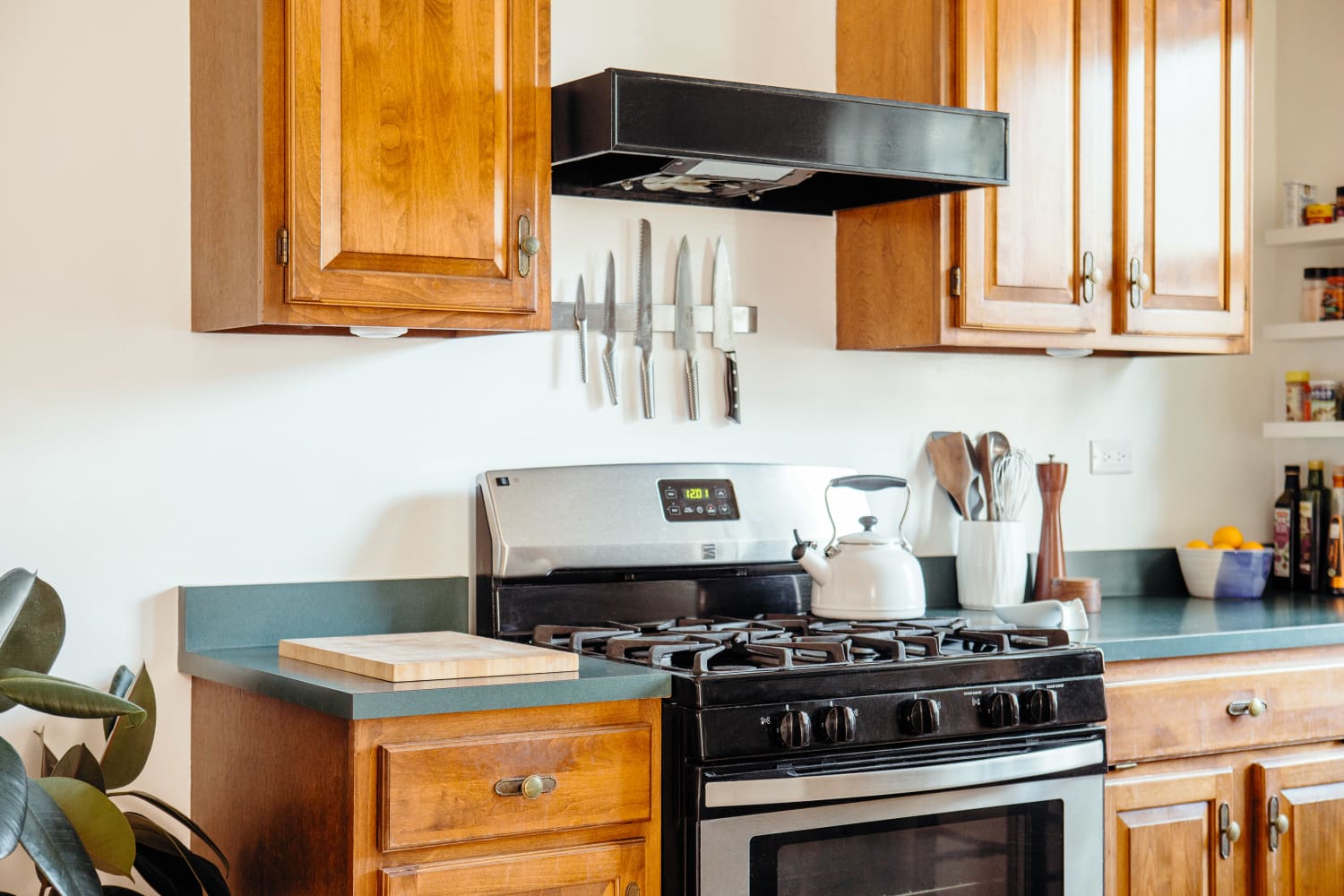 Fact: An organized kitchen doesn't necessarily mean a near-empty kitchen. No, you don't have to be a minimalist in order to get those pots and pans under control. Sometimes, the key is actually to buy a few more things — to invest in items that will help you store, display, and organize all that stuff. (Although donating the tools you don't ever use won't hurt!)
Where to shop for these things? IKEA, where organizers (among other things) can be picked up on the cheap. And so we spoke to professional organizers to get a list of the best things at IKEA for organizing kitchen space. (We figured the pros will know best!) Their picks are functional, practical, and, yes, inexpensive.
Here are the best finds for kitchen organization at IKEA. Note: You'll need to visit all sorts of sections in the store to find them all!
Professional organizer Robyn Reynolds of Organize2Harmonize suggests using these to efficiently store bottles of cleaning spray in the cabinets under the sink. "Most people have too many cleaning products," she explains. By hanging the bottles on a tension rod, it'll avoid the jumble of bottles that can lead to duplicate purchases or bottles bought and never used. Tension rods are adjustable in length, meaning they can fit into unique spaces (but it always helps to measure the space and write down dimensions before hitting the store).
You probably already know that hooks can be pretty helpful in the kitchen — they're great for dish towels, for sure. Beyond towels, Reynolds encourages her clients to hang up any tool that is commonly used (think: mesh strainers, spatulas and spoons, and even smaller pots and pans). If there's space by the stove, that's an ultra-efficient place for a bunch of hooks or even this rack. (If the tools don't have large-enough holes for hanging, just loop a piece of twine through them.) Hooks are also great for hanging aprons, says Melissa Klug, program director at Pro Organizer Studio.
3. Dishwashing Station Rail
Dina Smith, of Closet Therapy with Dina, encourages her clients to use magnets to help organize their kitchens. A knife rack is great for, well, knives, but it can also hold scissors, food processor disks, and any other magnetic item.
If you have a lot of spices and dried herbs, it's probably not realistic to put your whole collection into magnetic tins. But it is worthwhile to pick up a few on the next trip to IKEA, Smith says. Store your Greatest Hits, and slap them on that knife rack or your refrigerator.
Repeat after us (and Klug): Use that wall space! A simple well-hung shelf will make use of otherwise wasted space. And it'll keep most-used ingredients or tools close by. This is crucial if you have limited countertop space and need every inch for prepping.
Most people use some sort of organizing tray for their forks, knives, and spoons. But Reynolds suggests also buying a tray for large tools, like spatulas and whisks. If you have lots of gadgets and utensils, buy multiple trays. "Use one for baking equipment, another for wine and beer tools, and another for cooking items," she says.
Professional organizers love lazy Susans! We love 'em, too! Smith recommends having multiple on hand — for your cabinets, pantry, and even the fridge.
IKEA sells a lot of ceramic planters. Like, seriously, a lot. While you're on the hunt for a new home for your plant, grab a few extra small planters. They're perfect for corralling markers, pens, or other items that typically float around your kitchen. Plus, they're usually much prettier than standard storage containers.
Klug recommends a pegboard for your kitchen and other living spaces. IKEA offers a handful of different versions, making them uniquely useful for the kitchen, office, or garage. Can you tell that pro organizers really like the idea of using wall space?
It's easy to get caught in a "too many bins" trap (Klug advises against micromanaging drawers and cupboards with tiny bins for every different color of paper clip you own). But on a large scale, they can be helpful. These four-gallon recycling bins are just the right size for taming unruly packaged foods in your pantry. "Boxes and bags of food take up a lot of space," Reynolds explains. Save room by recycling the boxes and putting individually-wrapped items in a bin. For smaller items (say, a collection of chocolate bars), the VARIERA box is the perfect size.
12. Clear Food Storage Containers
"You don't have to decant everything you bring into your home," Klug says. While perfectly curated pantries may look good on Instagram, it's not realistic to pour every single box of cereal into a bespoke jar. Decant a few things, though: Putting key items in clear, food-safe containers with a vacuum-seal lid helps you keep track of what you have and how much is left. Plus, it keeps favorite snacks and dried goods fresh.
13. Pull-Out Drawer Inserts
These drawer inserts conveniently glide out on a track, which allow for accessing everything in the back — without having to first take everything out. Klug recommends putting one or two in your most-used cabinets. It's especially usefully for a makeshift pantry when it comes to items you tend to forget or things that go stale quickly.
What are your favorite IKEA organizational tools? Let us know in the comments if we missed your pick.