Spicy Salmon Burgers are simple and loaded with flavor. A ginger, garlic salmon burger topped with pickled cucumber, spicy mayo, avocado and shredded cabbage sandwiched between a toasted brioche bun. This recipe serves 4.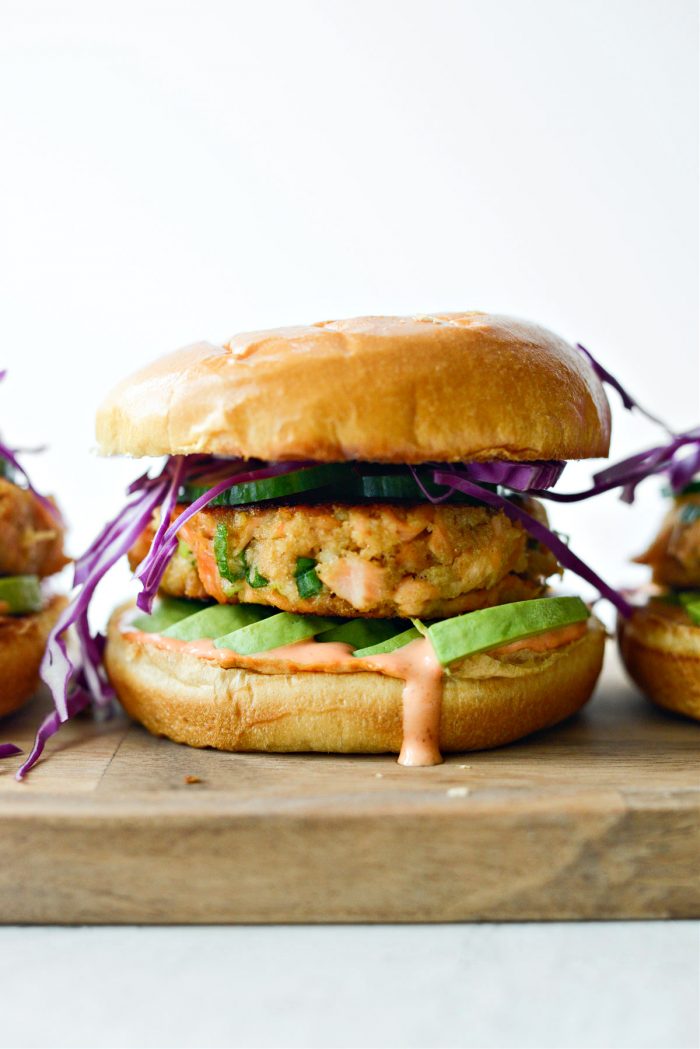 Hello delicious!
These spicy salmon burgers are incredibly flavorful and couldn't be easier to make. If you loved this spicy salmon bowl you will love these burgers. Just toss flaked cooked salmon with a handful of simple ingredients, form into patties and sear until crispy on each side.
And the toppings are equally yummy.
Quick pickled cucumbers for tang, crunchy cabbage, spicy mayo and creamy avocado sandwiched between toasted brioche. *swoon*
To Make These Spicy Salmon Burgers You Will Need:
for the salmon patties:
1 pound (or a little over) salmon filet
olive oil spray
kosher salt
freshly ground black pepper
1/2 cup panko breadcrumbs (I like whole wheat)
1/4 cup chopped green onion
1 and 1/2 teaspoon grated fresh ginger
1 teaspoon grated fresh garlic
2 tablespoon coconut aminos (or sub with low-sodium tamari or soy sauce)
1 teaspoon toasted sesame oil
1 egg, lightly beaten
for the pickled cucumbers:
2 tablespoons rice vinegar
2 tablespoons water
1 tablespoon honey
1 pinch red pepper flakes
1/2 teaspoon kosher salt
1/2 an English cucumber, thinly sliced
for the burgers:
4 brioche burger buns, toasted
1/4 cup spicy mayo (see notes)
1 small avocado, thinly sliced
1/2 cup or so shredded cabbage
Preheat your oven to 400°.
Pat you 1 pound salmon filet dry with paper towel and place on parchment set onto a small rimmed baking sheet. Lightly spray with olive oil and season with kosher salt and freshly ground black pepper.
Once your oven is preheated, bake for 10 minutes. Remove and let cool.
Meanwhile make the sweet and sour cucumber salad.
In a medium mixing bowl measure and add; 2 tablespoons rice vinegar, 2 tablespoon water, 1 tablespoon honey, a pinch or two of red pepper flakes (up to you!) and 1/2 teaspoon kosher salt. Whisk well to combine.
Toss in 1/2 of a thinly sliced English cucumber and toss to combine. Set aside for now, tossing occasionally.
When the salmon has cooled, use a fork to flake and add it to a large bowl. Keep an eye out for any fish bones. This sometimes happens even if labeled as deboned. Trust me.
To the flaked salmon add; 1/2 cup panko breadcrumbs (I use whole wheat), 1/4 cup chopped green onion, 1-1/2 teaspoon grated fresh ginger, 1 teaspoons grated fresh garlic, 2 tablespoons coconut aminos (or sub with low sodium tamari or soy sauce), 1 teaspoon toasted sesame oil and 1 beaten egg.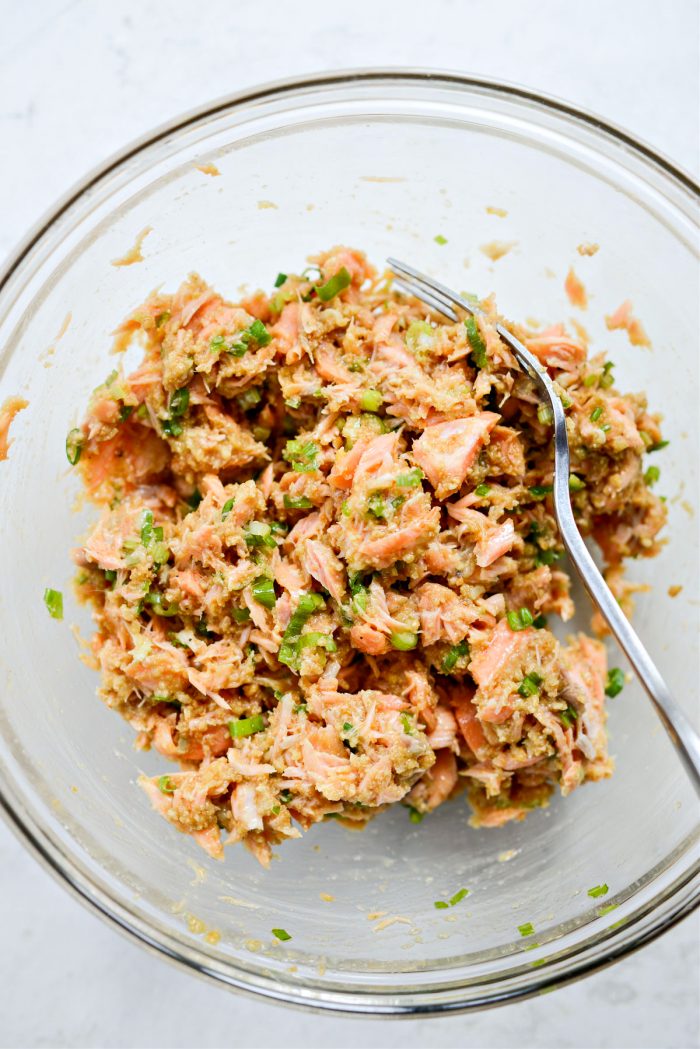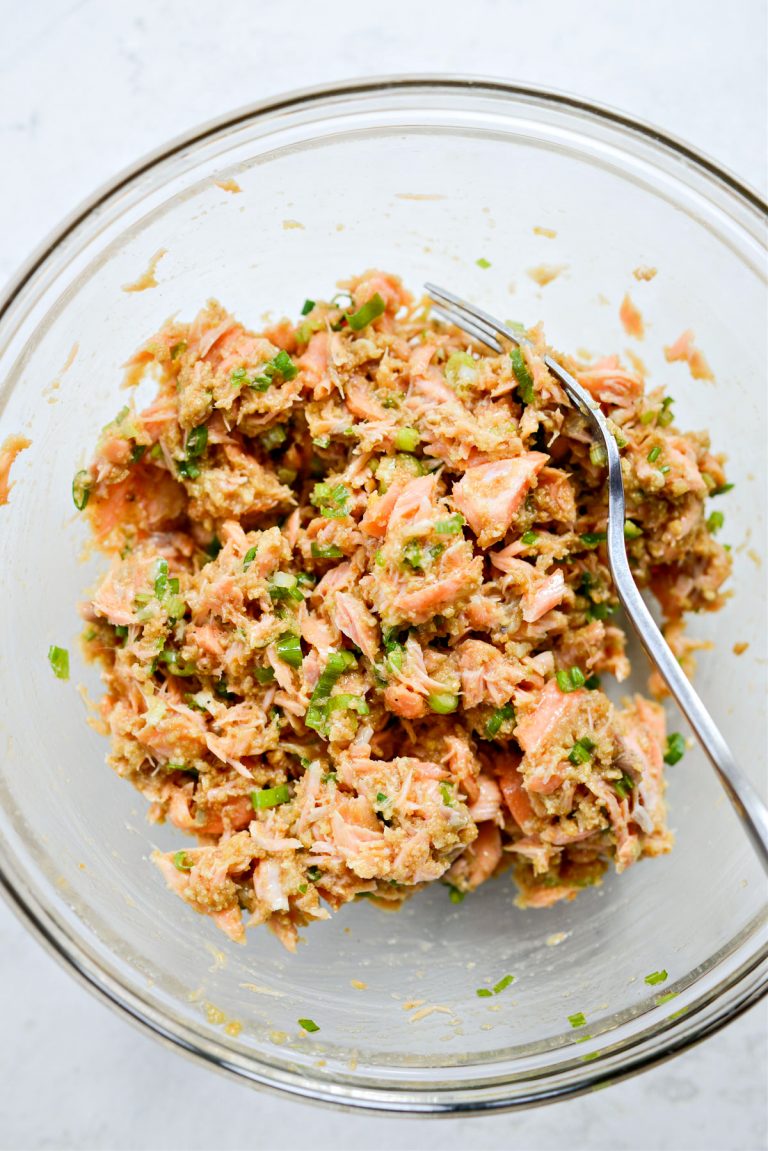 Use a fork to mix well.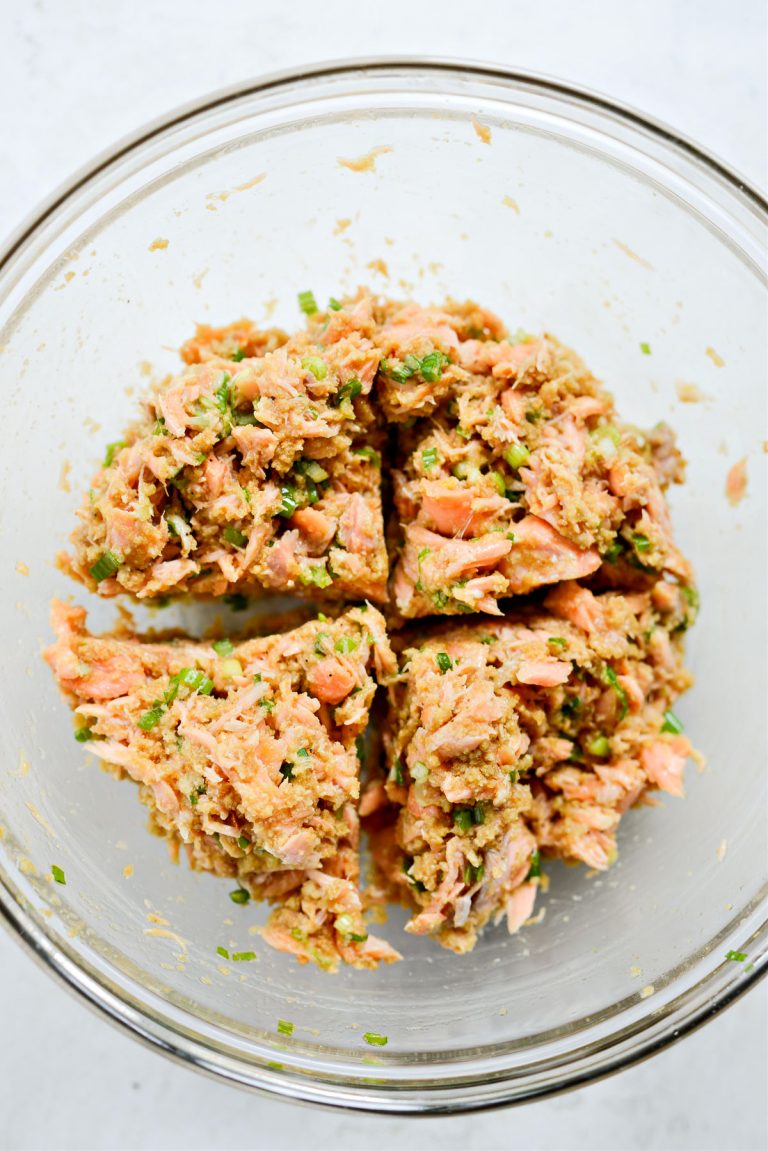 Divide the salmon mixture into fourths.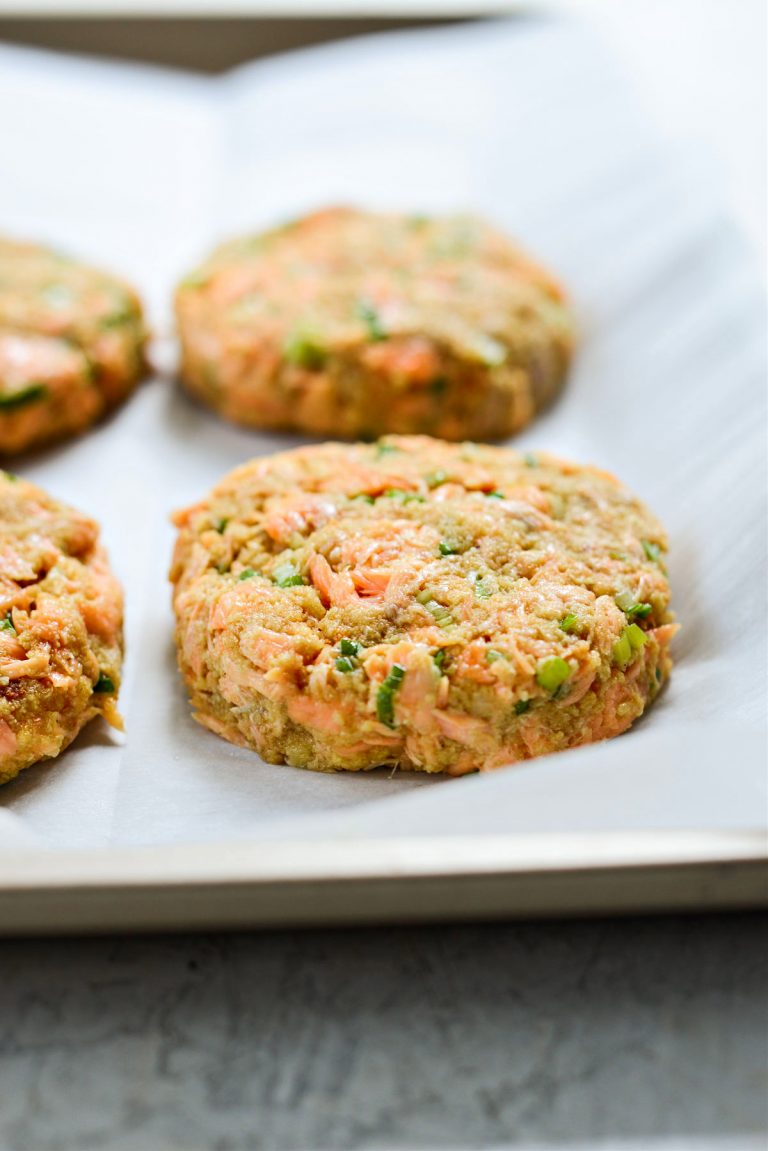 Using your impeccably clean hands, shape into patties. I like to place them onto parchment afterwards. Repeat this with the remaining salmon mixture.
Heat a griddle to 375° and coat with a thin layer of extra light olive oil. Once hot, place the salmon patties down and cook for 3 to 4 minutes a side.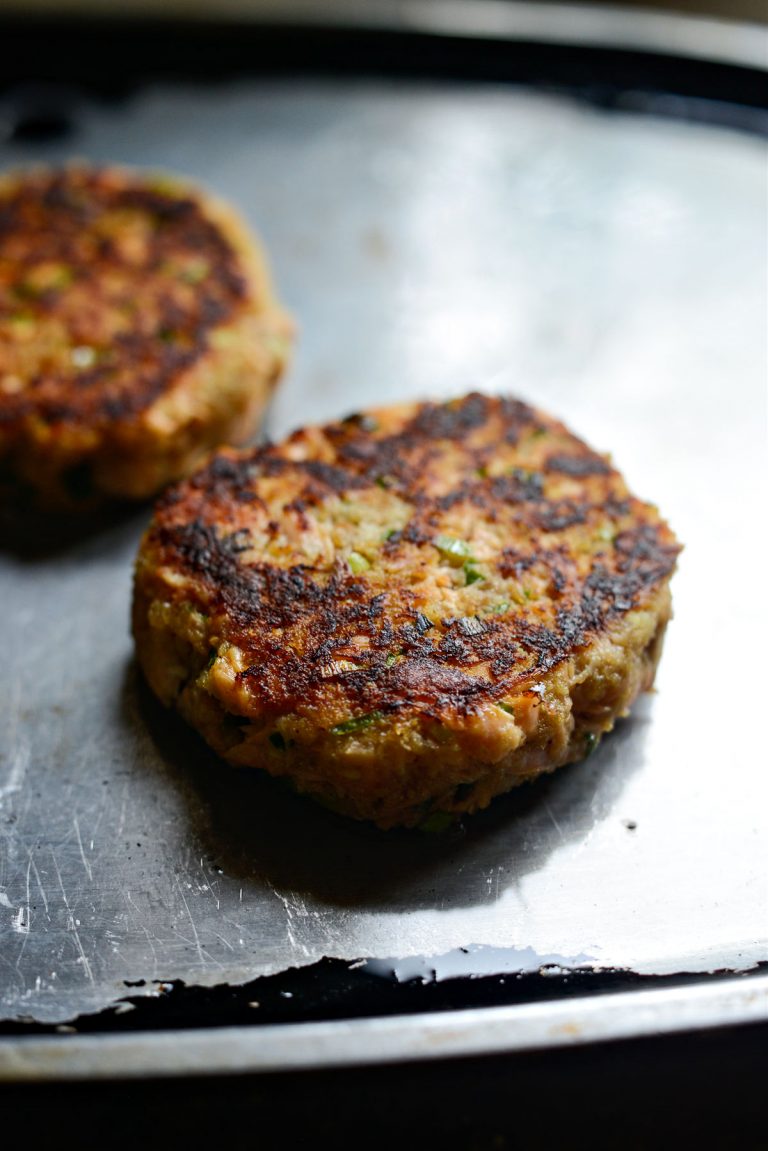 Or until golden brown and the center has reached 160°.
Meanwhile, I slip brioche buns (cut side up) under the broiler to toast. Watch carefully! This happens quickly.
Smear a tablespoon of spicy mayo (2 tablespoon sriracha + 2 tablespoons Japanese mayo) on the bottom side of each bun. Top with avocado, salmon burger, pickled cucumbers and shredded cabbage.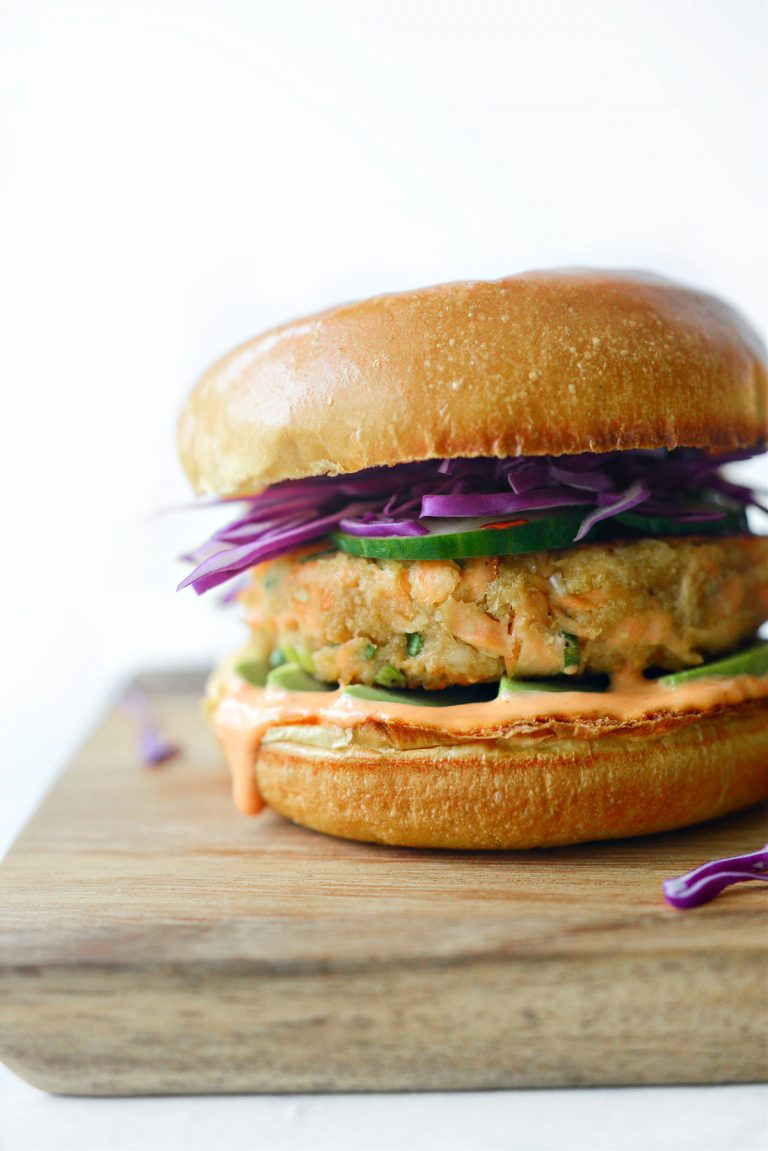 These spicy salmon burgers are fresh, spicy and incredibly flavorful! And perfect for any night of the week! You could even prep most of it in advance, and just form and griddle the patties. Serve with sweet potato fries or potato wedges!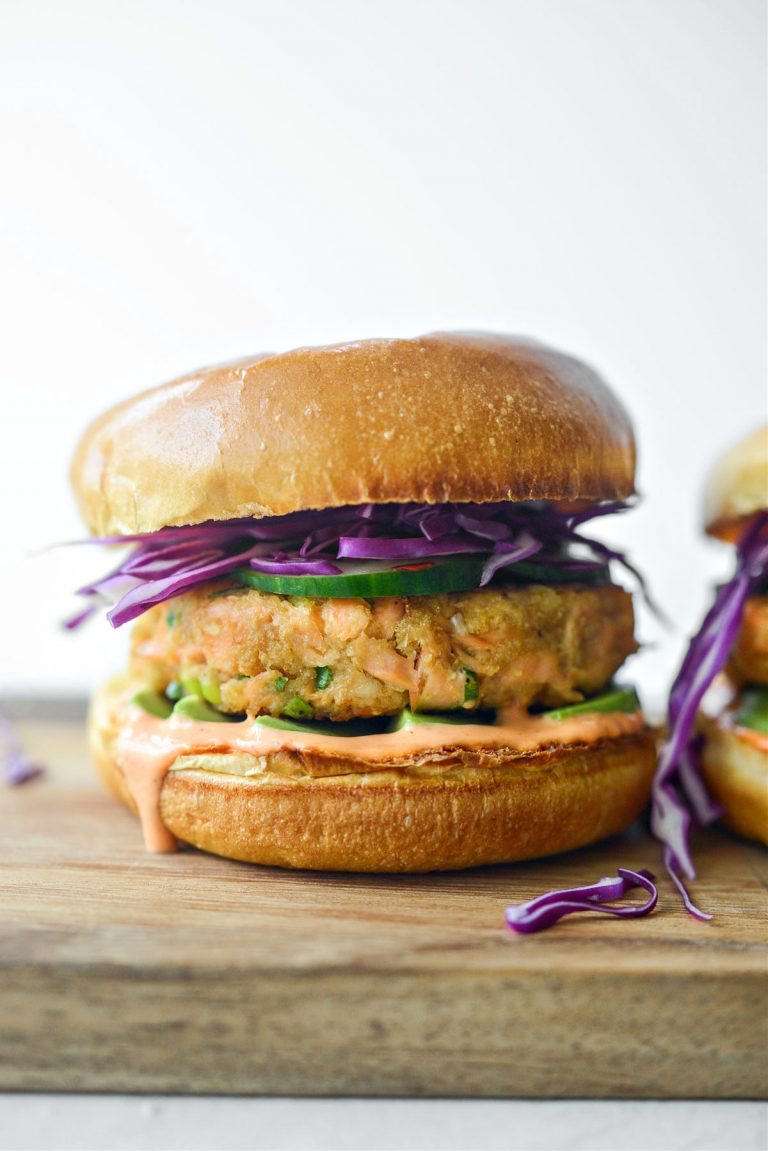 Enjoy! And if you give this Spicy Salmon Burgers recipe a try, let me know! Snap a photo and tag me on twitter or instagram!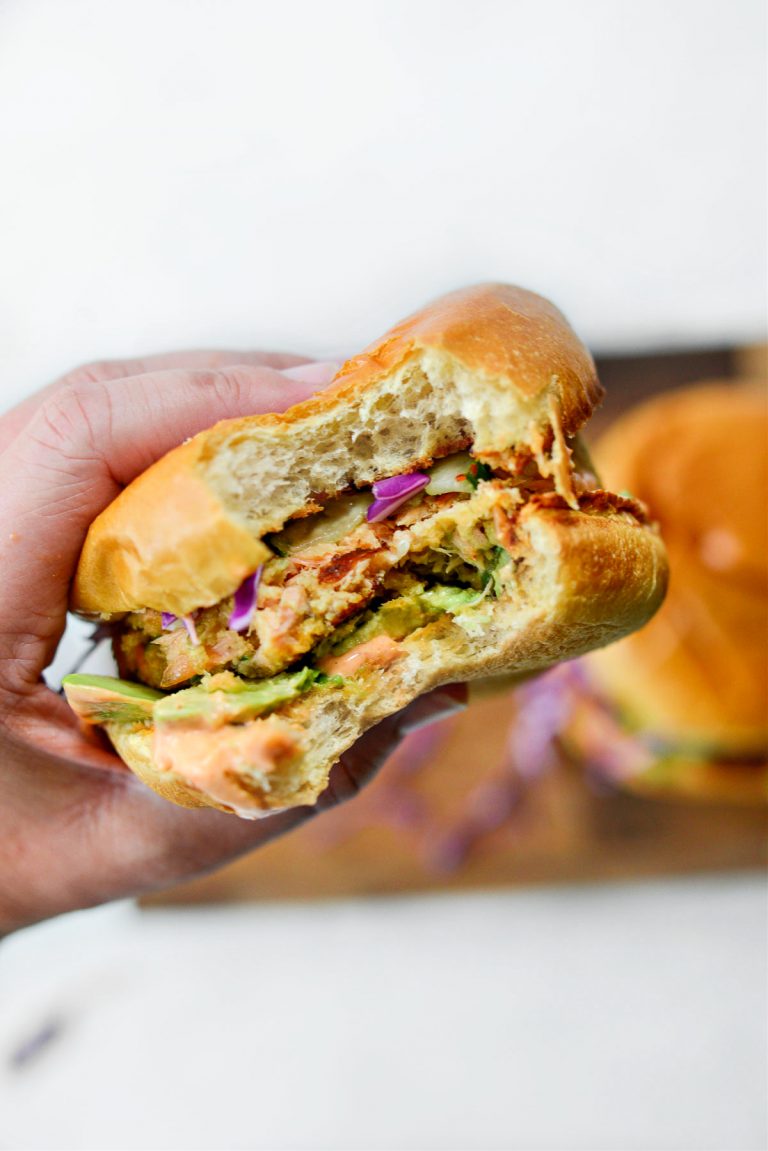 This post may contain affiliate links.