This Simple Breakfast Salad is full of wholesome and healthy ingredients. Power salad greens topped with seared cherry tomatoes, toast croutons, everything avocado slices and quick-poached eggs. This recipe makes one salad but can easily be doubled.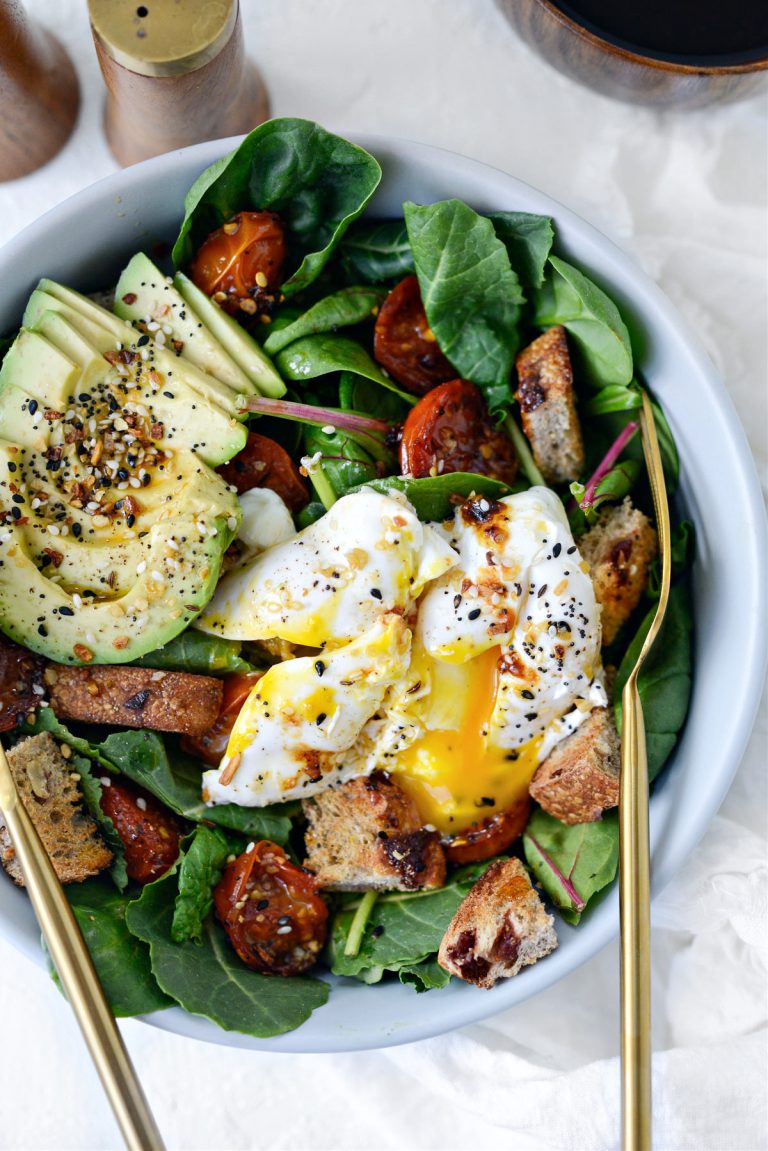 This breakfast salad are quickly becoming a thing around here.
Most days I only have time for a hardboiled egg and peanut butter toast. However, somedays a bowl of power greens topped with breakfast goodies is what I crave!
A breakfast that's simple and satisfying.
To Make This Simple Breakfast Salad You Will Need:
olive oil spray
cherry tomatoes
kosher salt
black pepper
red pepper flakes (optional – but delicious!)
white vinegar
eggs
power salad greens (a blend of baby spinach, mizuna, chard and baby kale)
avocado
The seared tomatoes are what MAKES this salad.
They mingle with the runny yolk, creating the "dressing" for the salad. SO good!
Start by adding 2 teaspoons olive oil to a small, non-stick skillet. Heat over medium / medium-low heat. Place the tomato halves, cut-side down into the skillet and let them sit there to sear.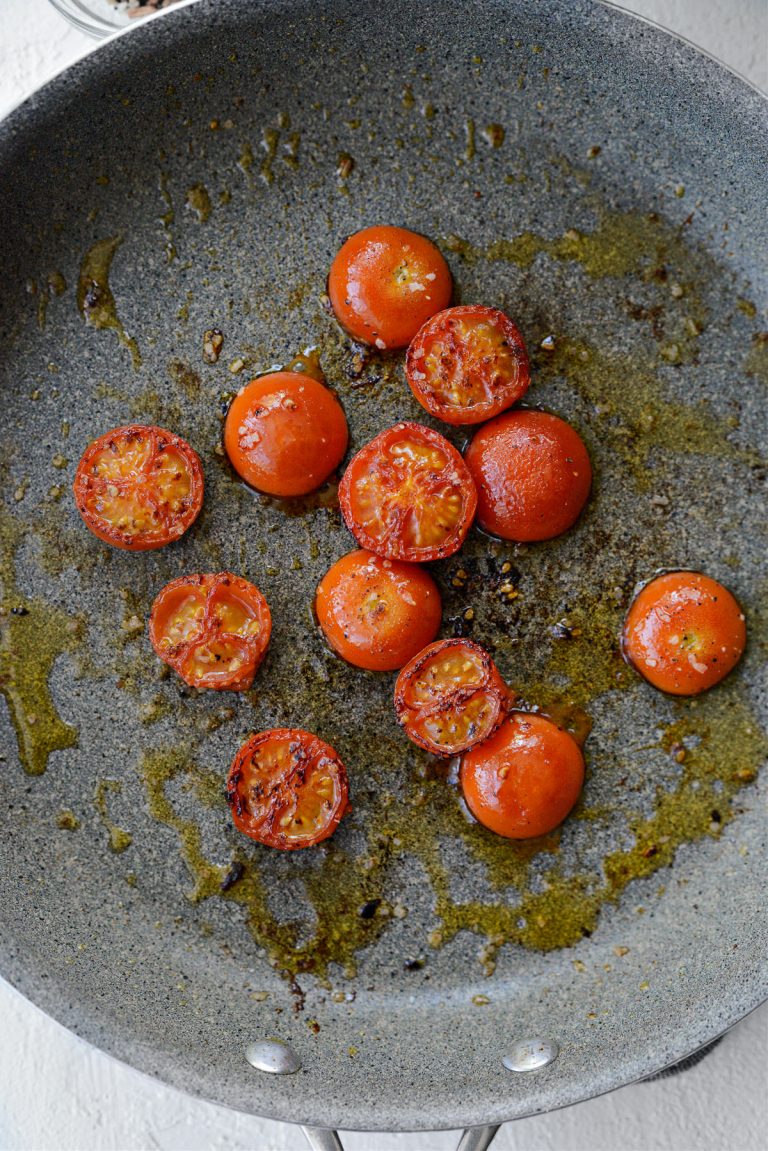 After about 3 to 4 minutes they should be juicy and caramelized. Stir in a pinch of red pepper flakes – if using.
Use a rubber spatula to scrap out all the juices and tomatoes and transfer to a small bowl to cool.
Next let's make the quick poached egg! Add 1 and 1/4 teaspoon white vinegar to a small ramekin. If making 2 eggs, use two separate ramekins. Bring 2 cups of water to a boil, and pour the boiling water into the ramekins, filling them 2/3 of the way full.
Immediately -BUT CAREFULLY- crack and lower the egg slowly into the hot vinegar water. Use oven mitts or a thick towel to transfer the ramekins into the microwave for 30 seconds, carefully (use a kitchen towel if the ramekin is hot) remove the ramekins.
Use a large spoon or slotted spoon to carefully and slowly, turn the egg over and then microwave for an additional 15 to 20 seconds.
Once the whites are set, use a slotted spoon to remove and drain on paper towel.
However, if you're looking for the more traditional method to poach eggs CLICK HERE.
Build your salad by adding a few handfuls of power greens to a bowl. Top with the seared tomatoes and drizzle the leftover juices over top. Toast your favorite bread- not that you asked, but I'm using cranberry walnut bread from a local shop – it's amazing! Cinnamon raisin would also be delicious. I really love the sweet with the savory combination. Cut the toast into cubes.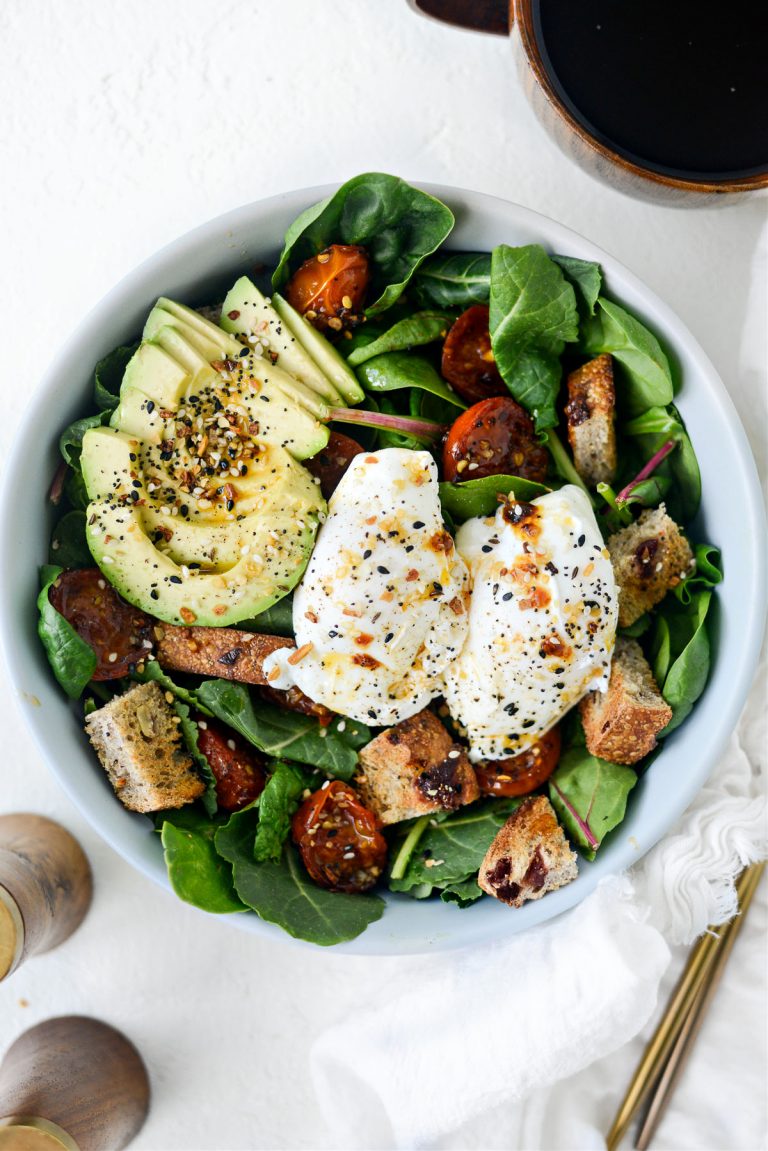 Arrange slices of avocado sprinkled with everything seasoning and lastly, top with the two quick-poached eggs.
And season with salt and pepper and any leftover tomato juicy goodness.
Grab a knife.
And break into that yolk.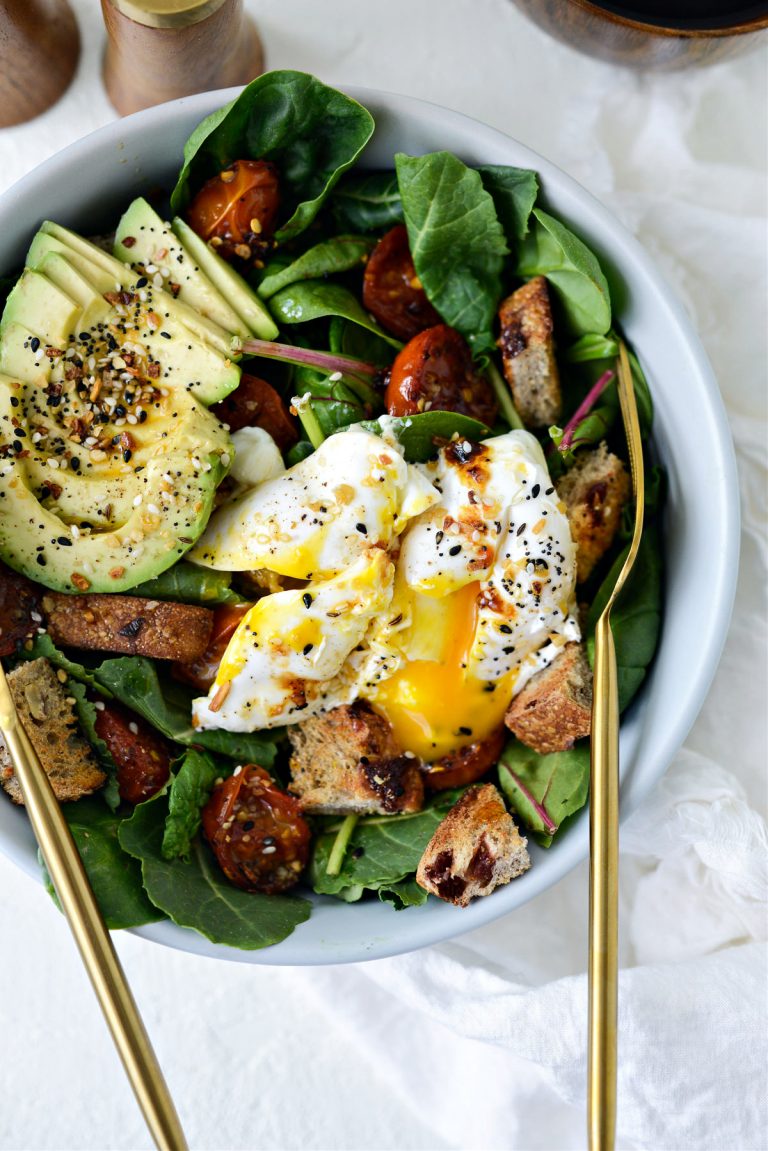 The yolk and the juicy tomatoes act as the dressing.
I know!
Dig in. Enjoy. Thank me later.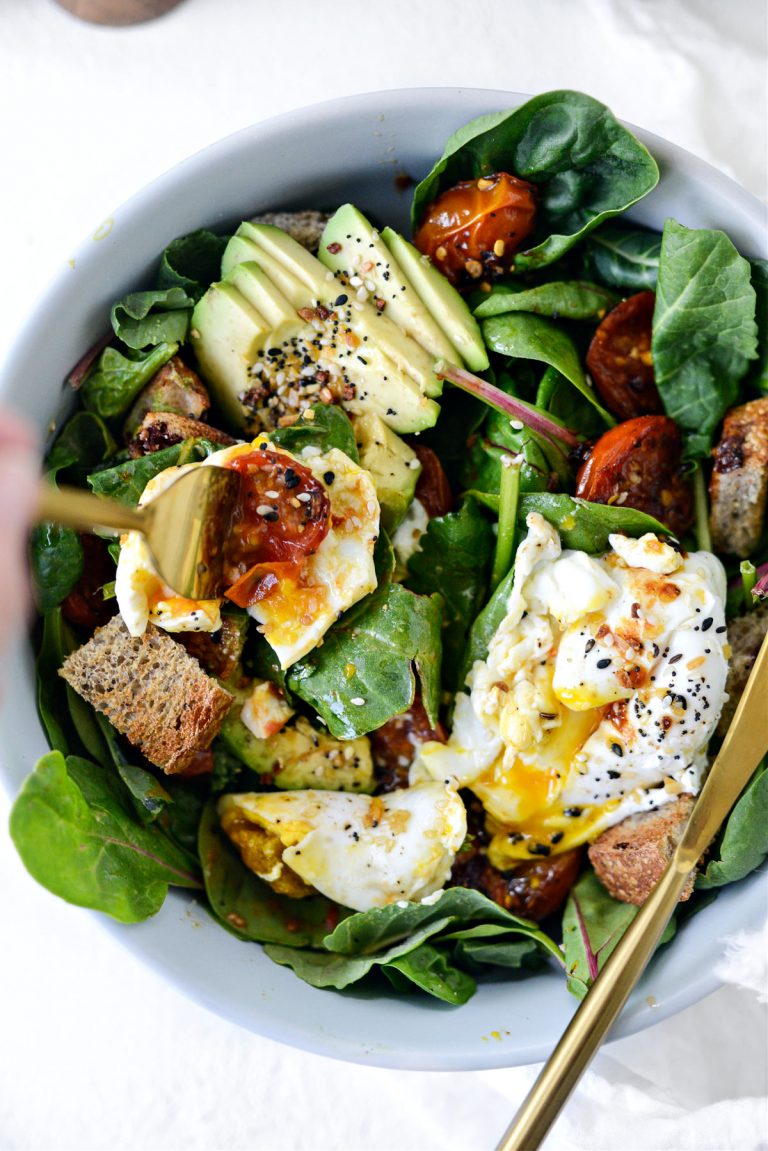 Enjoy! And if you give this Simple Breakfast Salad recipe a try, let me know! Snap a photo and tag me on twitter or instagram!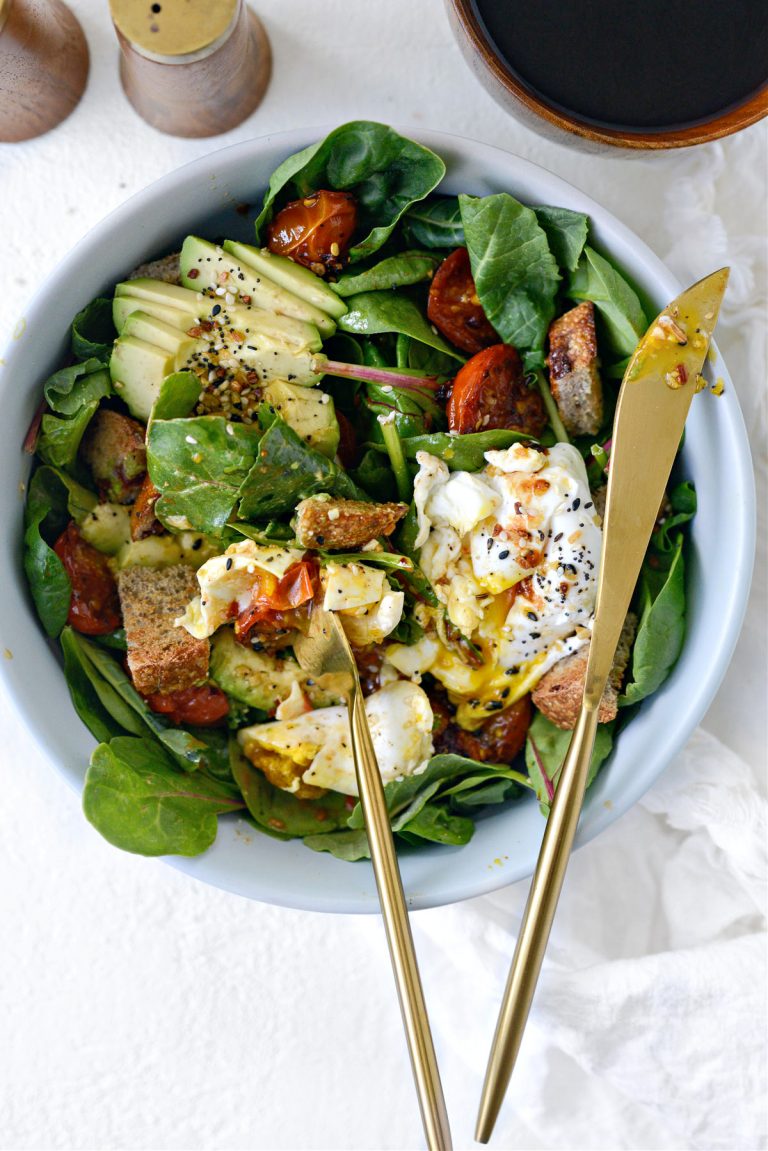 This post may contain affiliate links.