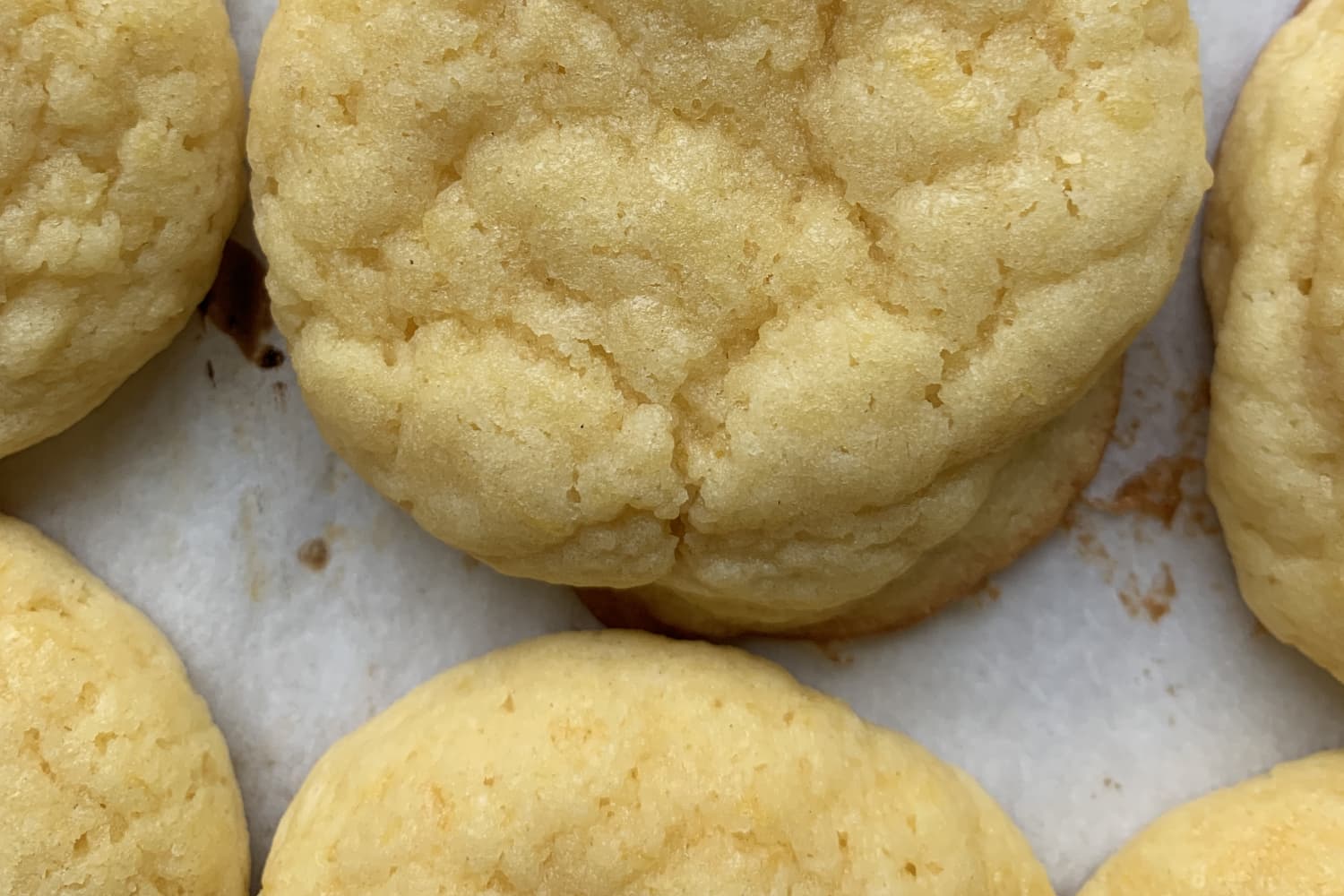 We independently select these products—if you buy from one of our links, we may earn a commission.
My cookbook shelf, Pinterest boards, and favorite websites (ahem, this one) are overflowing with cookie ideas to try. But when I scrolled by a sugar-dusted lemon cookie on Reddit, I practically forgot all other cookies existed. The photo was posted by Reddit user Byssine, and depicted a pile of lemon cookies with a bite taken out of one. I could practically taste the sweet, citrusy flavor and soft, melt-in-your mouth texture.
The recipe comes from Emma Fontanella (or Emma's Goodies), who has a popular YouTube tutorial for the popular treat. Here's what happened when I gave them a try.
How to Make Emma's Goodies' Soft Lemon Cookies
Mix softened butter, sugar, and lemon zest together in a mixing bowl with a spatula until well-combined. Add an egg, a few drops of yellow food coloring if desired, and freshly squeezed lemon juice. (The mixture may curdle at this point, but keep going). Add sifted all-purpose flour, baking powder, and salt (I used kosher) to the bowl and stir until no dry spots remain. Refrigerate the dough for 30 minutes.
Use an ice cream scoop to divide the dough into 9 rounds. Place the rounds on a baking sheet and freeze for 30 minutes. Use your hands to roll the dough into smooth, round balls. I lined my baking sheet with parchment paper, then baked at 180°C or 350°F for exactly 13 minutes. Let the cookies cool completely, then coat in powdered sugar.
Note: The measurements for these cookies are given in grams, given that Emma hails from Italy. She also provided equivalent imperial measurements for cooks without a scale.
My Honest Review of Reddit's Soft Lemon Cookies
Within hours, all that was left of this baked batch of sweets was a trail of powdered sugar. Although they're gone, I'm still not over the ease and softness of these citrusy lemon cookies. I'm used to hauling out the stand mixer to make big batches of cookies to bake now and freeze for later, so I love that this recipe makes just nine cookies — the perfect amount for a few nights of after-dinner treats. Thanks to their slightly under-baked tops and moist texture throughout, they stay soft for days.
If You're Making Reddit's Soft Lemon Cookies, a Few Tips
Have you tried these melt-in-your-mouth soft lemon cookies? Let us know in the comments.