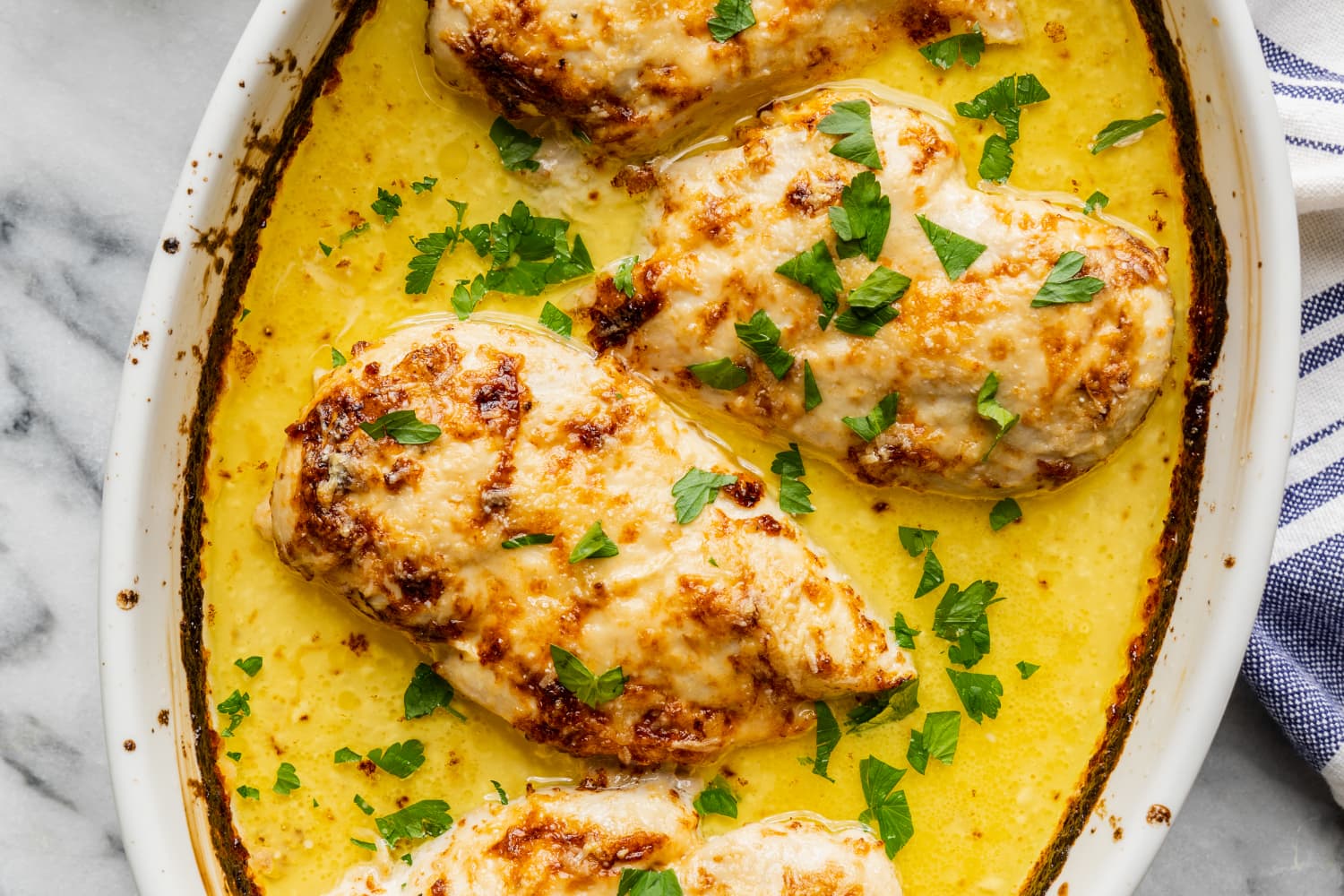 We independently select these products—if you buy from one of our links, we may earn a commission.
After months of hot summer days and weekends by the pool, fall can come as a bit of a shock. Whether you have kids transitioning back to school (in whatever form that looks like for you this year) or you're simply getting back to the grind at work, it can be tough to balance a new schedule with weeknight dinner needs. That's where meal planning comes in. Choose your dinners — and do your shopping — the weekend before, and there's no more hunting through the fridge to figure out what to make each night. So you can get cooking (and relaxing!) faster.
These 12 reader-favorite meal plans are chock-full of fall-favorite recipes — hearty soups, rich pastas, and family-favorite dishes. They're just what you need to get set up for a stress-free season.
1. 5 Cheap and Easy Dinners from the Pantry
In our opinion, fall clean-out is just as important as spring clean-out. This meal plan digs deep into the pantry to clear out things like half-opened boxes of pasta and condiments so you can freshen your kitchen up for the new season.
2. 5 Fun and Easy Back-to-School Dinners from Shutterbean's Tracy Benjamin
With simple, delicious meals like chicken teriyaki and roasted broccoli and white beans (above), Tracy knows how to keep her kids happy and well fed.
3. A Week of Pescatarian Dinners with Jodi Moreno
The healthy, veggie-forward dishes that Jodi Moreno serves her family are full of colorful fall vegetables like squash and sweet potatoes, and lean proteins from fish and seafood. They're also full of flavor.
Sometimes you just want to find a recipe or two that you can return to each week, knowing everyone at the table will like it, and it's not too hard to put together. If you're in that boat, we can help. This family-friendly plan includes soon-to-be household classics like black bean burgers, takeout-style lo mein, an orzo with roasted fall veggies (above), and more.
5. 5 Vegetarian Dinners for Fall
One of the best ways to get a little healthier is to cut back on your meat consumption. Whether you decide to leave meat behind one day a week, one week a month, or make it a regular habit, fall is a great time to start, as there are so many hearty vegetables in season. Here are a few recipes to start with — the Friday night pizza is especially worthwhile.
6. 5 Recipes to Get Your Dinner Mojo Back
Jumping back into more organized dinners after a relaxed summer can definitely feel like a struggle. This meal plan is tailor-made to get you back in the groove.
7. 5 Ingenious, Family-Friendly Dinners from Joanna Goddard of Cup of Jo
There are many ingenious things about this meal plan, but in particular we love that Joanna gives us full permission to use the toaster oven to make dinner — and to order in pizza.
8. 5 Budget Dinners for Feeding My Family
Pantry-friendly meal plans are always welcomed, no matter the season. This one ensures there won't be a big dent in your wallet this week and your family will still be happy and well-fed.
9. A Week of Easy Vegan Dinners
Whether you're interested in eating healthier, looking to lower your impact on the planet, or just want more variety in your diet, there are plenty of reasons to consider eating more vegan meals. If you want to try it out, this simple meal plan is aimed to please. It includes lots of warm fall favorites like chowder and risotto.
10. 4 Easy Dinners with Help from the Instant Pot
If you own an Instant Pot, you know just how useful it is when things are extra busy (read: every single night of fall). Here are a handful of quick dishes that will make you glad you have an Instant Pot.
11. How I Prep a Week of Family-Friendly Slow Cooker Meals
In this meal prep session, you'll prep a week of breakfasts and dinners that rely on the slow cooker for hands-off cooking, plus fresh and filling lunches to eat each day. Wake up to warm and fruity slow cooker oatmeal, then use the slow cooker to serve family-friendly dinners all week long.
Get the meal plan: How I Prep a Week of Family-Friendly Slow Cooker Meals
12. A Week of Impossibly Easy 3-Ingredient Dinners
When your meal plan is stacked with three-ingredient dinners, the benefits are many. Not only does limiting the number of ingredients increase the likelihood you already have what you need in the kitchen, but it also guarantees that prep work, dirty dishes, and cook time will be kept to a minimum.
Get the plan: A Week of Impossibly Easy 3-Ingredient Dinners