Up your bread making game with this No-Knead Cranberry Walnut Bread! A cinnamon and nutmeg spiced whole wheat bread studded with sweet cranberries and toasted walnuts. Yields 12 to 14 slices.
Another day, another no-knead bread recipe!
It all started when I picked up a loaf of cranberry walnut bread to make toast croutons for this breakfast salad. In the past, I used whatever I had on hand – like bagels, sourdough or English muffins. So that day was the first time that bread has ever graced my taste buds.
And it was love at first delicious bite.
Naturally, I had to try making my own.
I fell in love with the whole no-knead bread making thing a few years ago, and I haven't looked back. This cranberry walnut bread makes 6 (SIX!) no-knead bread recipes I have in my collection! And I don't see me stopping any time soon.
To Make This No Knead Cranberry Walnut Bread You Will Need:
bread flour
whole wheat flour
sugar
active dry yeast (not pictured 🤦🏻‍♀️)
kosher salt
cinnamon
nutmeg
vanilla
milk
water
dried cranberries
toasted chopped walnuts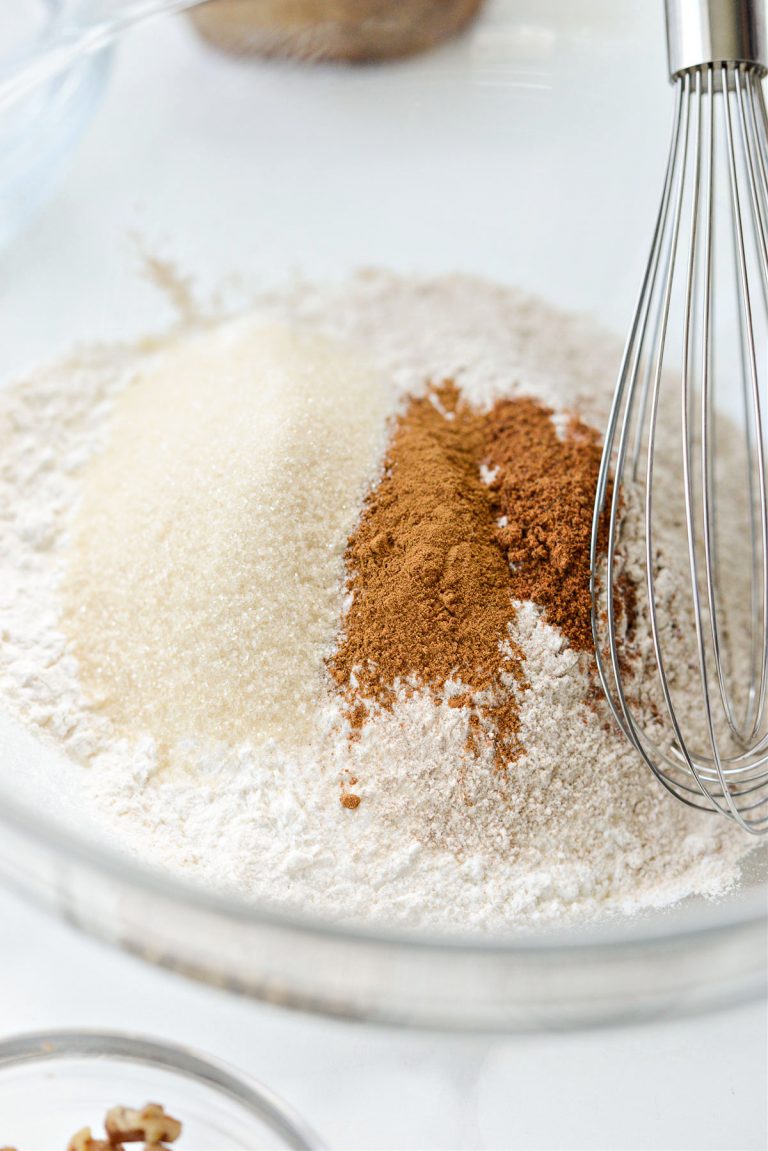 In a large mixing bowl, measure and add; 2 cups bread flour plus 1 cup whole wheat flour, 2 tablespoons sugar, 1-1/2 teaspoon kosher salt, 1 teaspoon ground cinnamon and 1/2 teaspoon ground nutmeg and 1/2 teaspoon active dry yeast.
Whisk to combine.
Add in 2/3 cup dried cranberries and 2/3 toasted chopped walnuts, stir to combine.
Next, add 3/4 cup milk with 3/4 cup water. Heat until warm, remove and add in 1 teaspoon vanilla extract.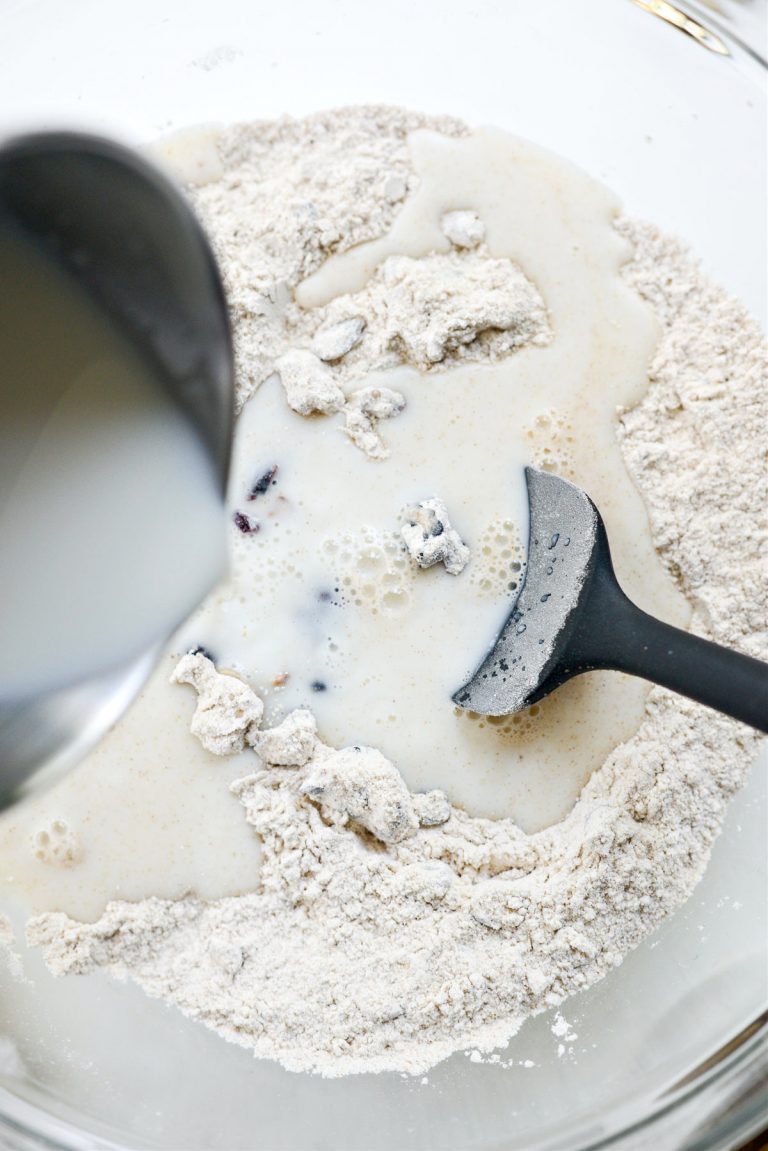 Pour the warm milk into the dry ingredients.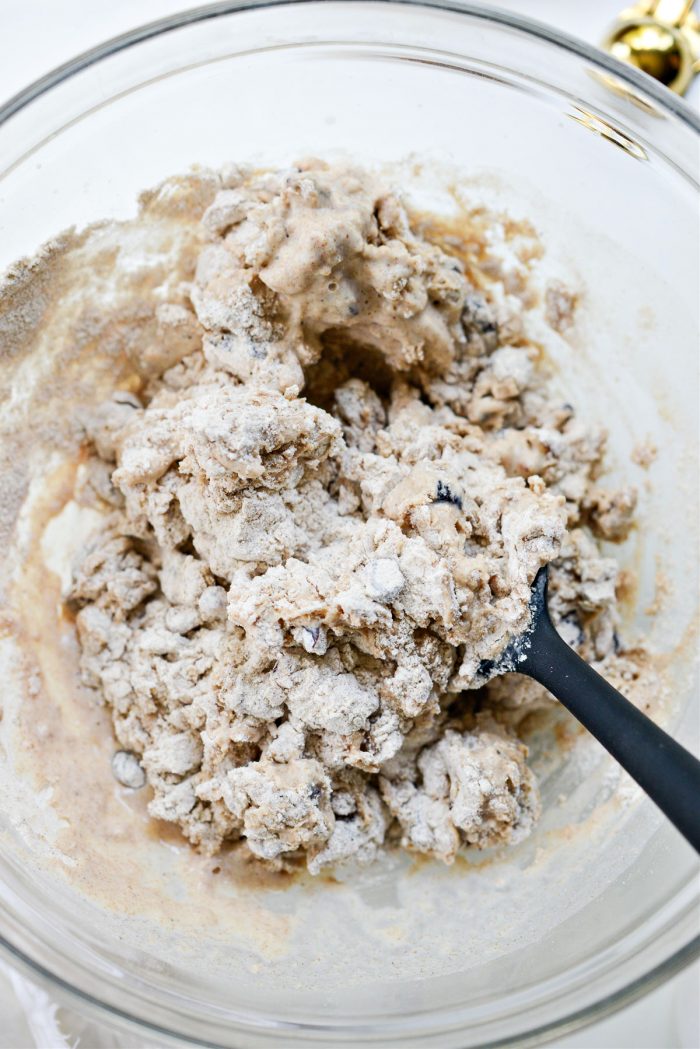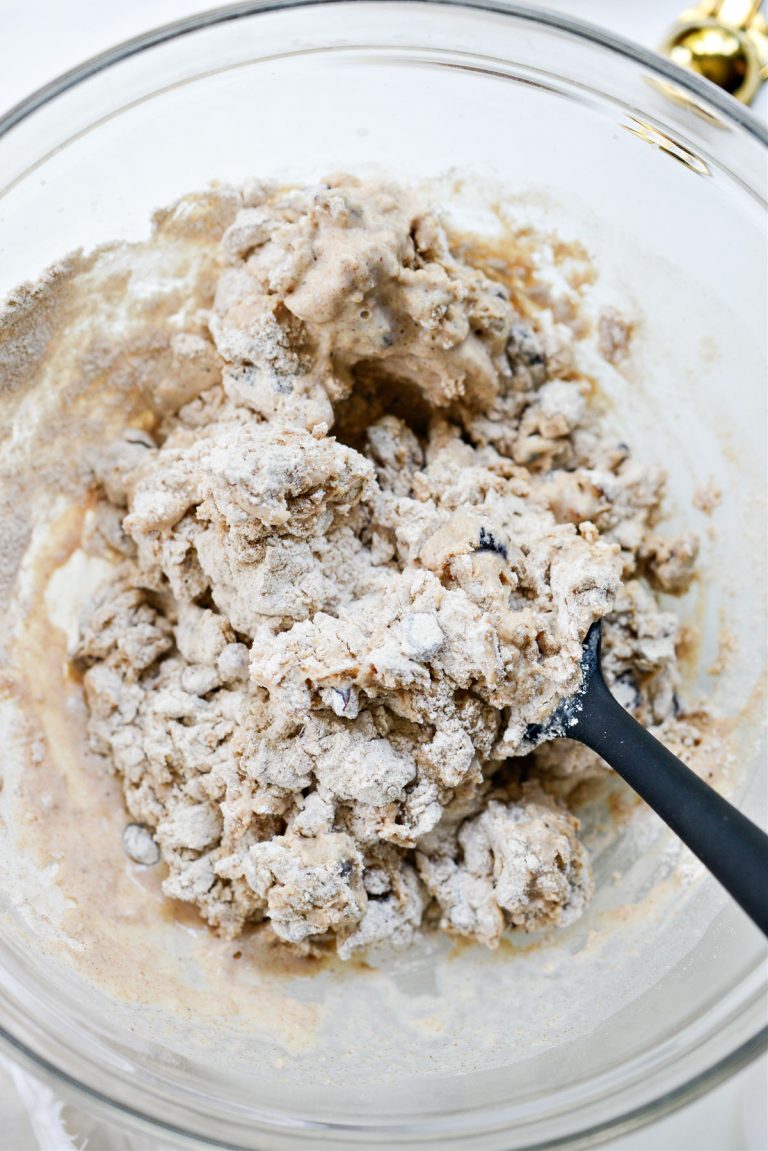 Mix until just incorporated.
Cover the bowl tightly with plastic wrap and let it rest on your counter for 18 to 24 hours.
THE NEXT DAY:
Place a dutch oven on the bottom rack of your oven and preheat your oven to 425°. Set a timer for 20 minutes.
Uncover the dough and check out how the dough has risen!
Sprinkle the dough with 2 tablespoons flour and use a rubber spatula to scrape the dough away from the bowl.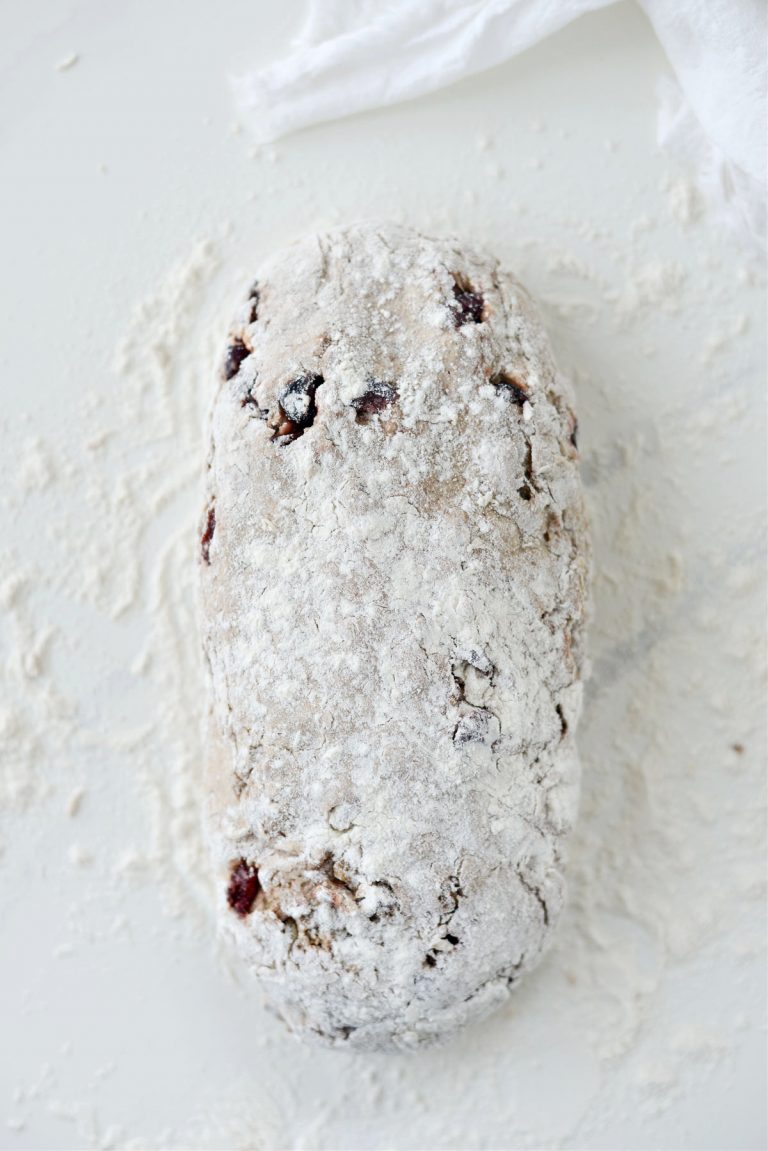 And onto a clean surface. Shape to match the dutch oven you are using.
Use a sharp knife to score the bread. This is of course optional, but of course pretty.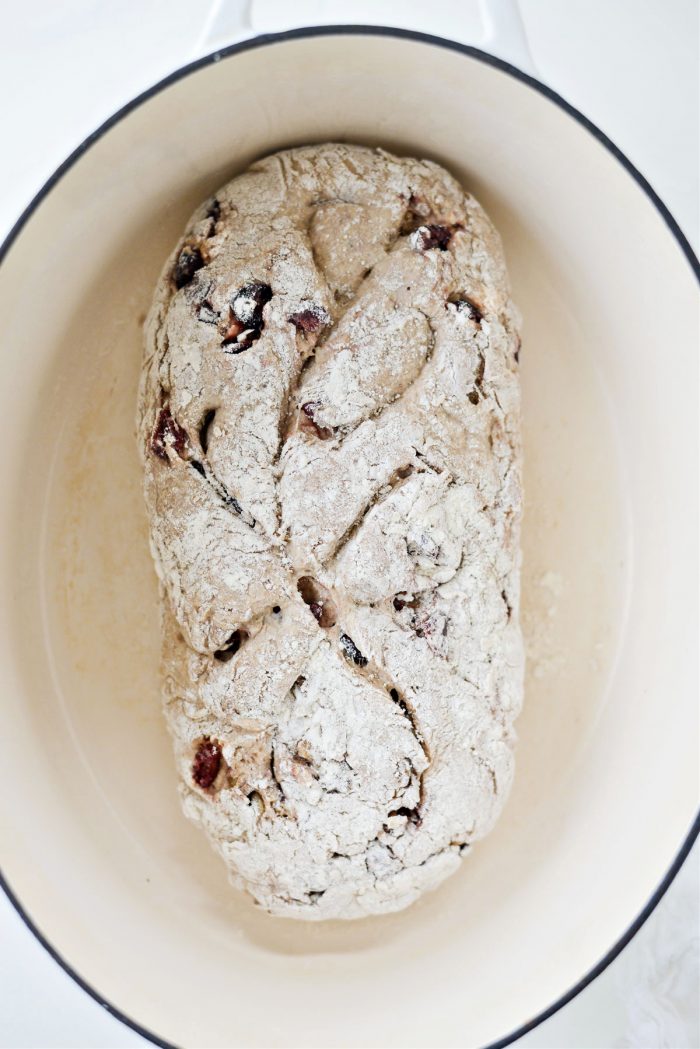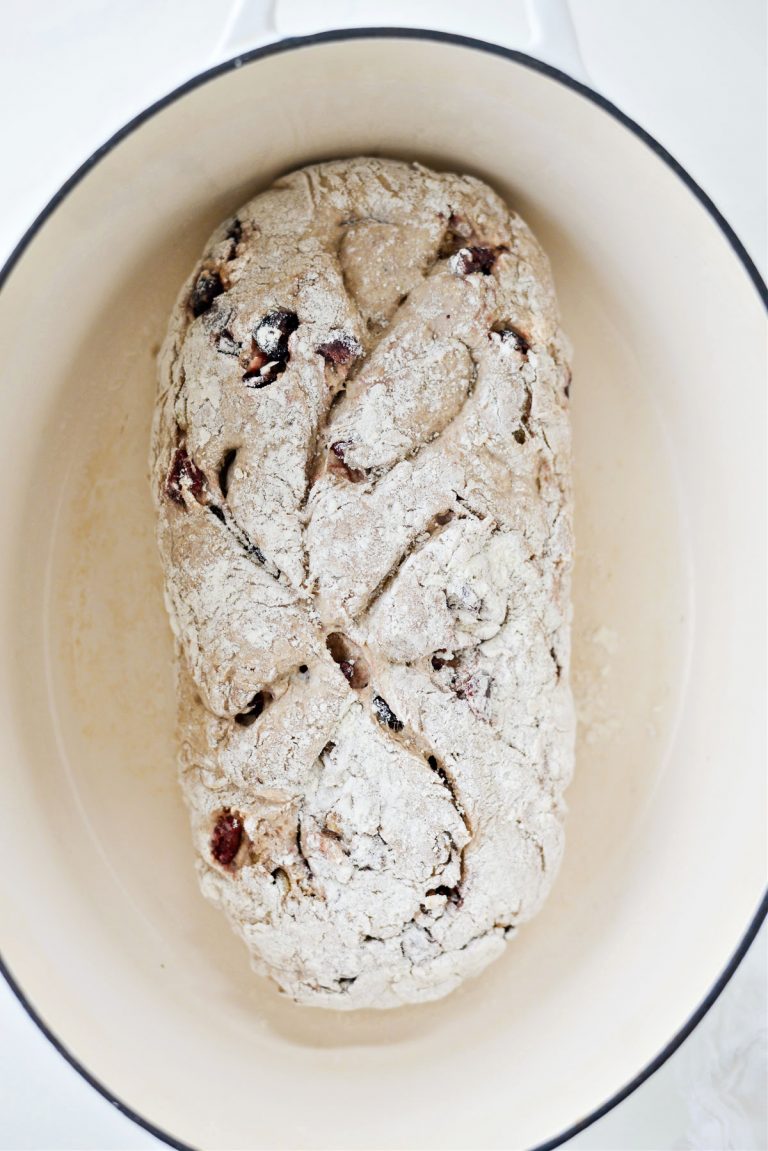 Once your pot has preheated and is hot, carefully place the dough loaf into the hot dutch oven. Cover and bake for 30 minutes. Remove and bake, uncovered for 10 to 12.
Or until golden brown and gorgeous.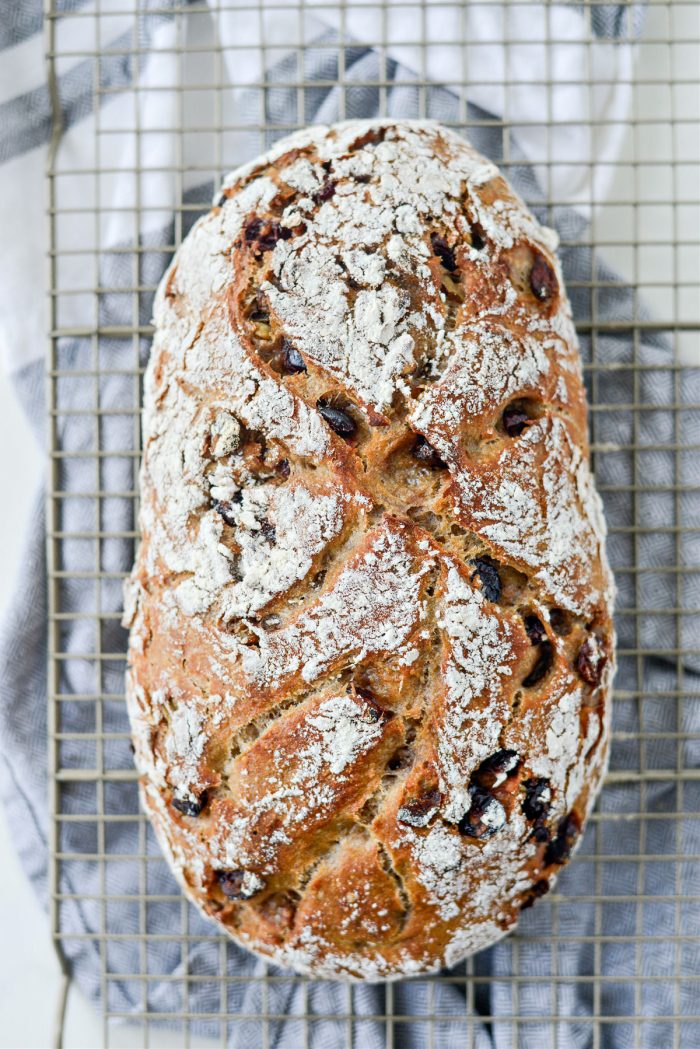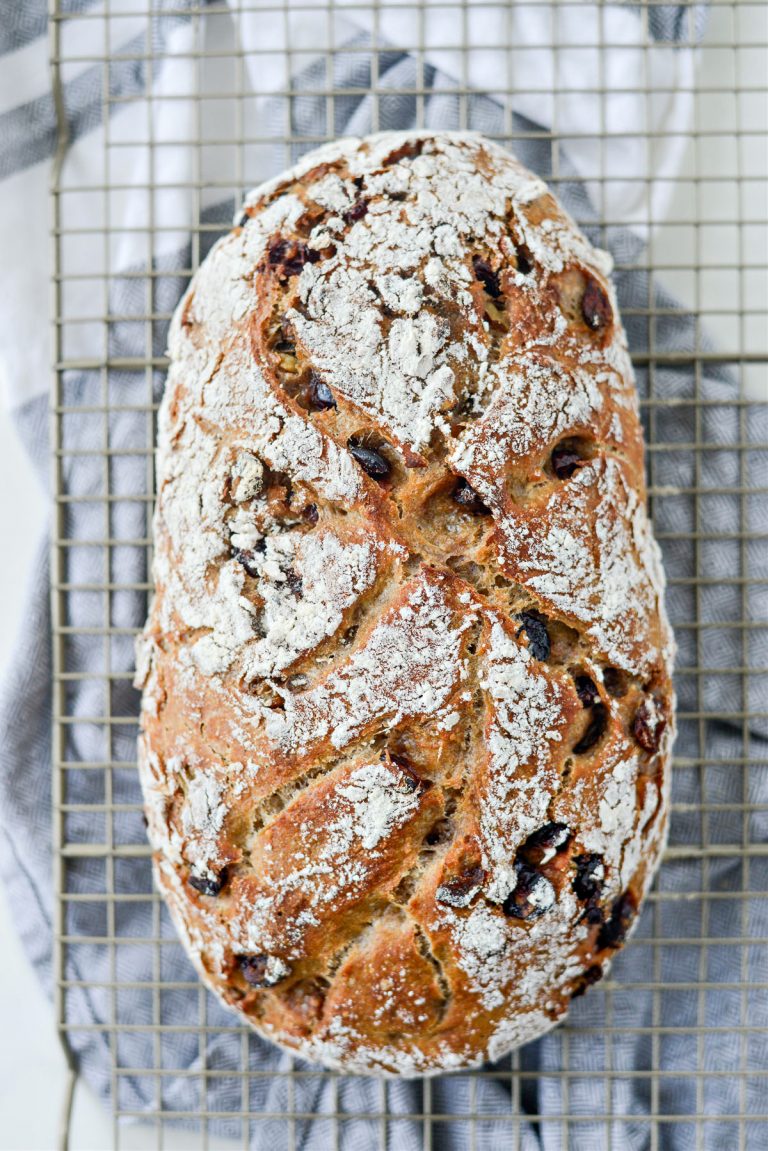 Use a spatula to transfer to a wire rack to cool.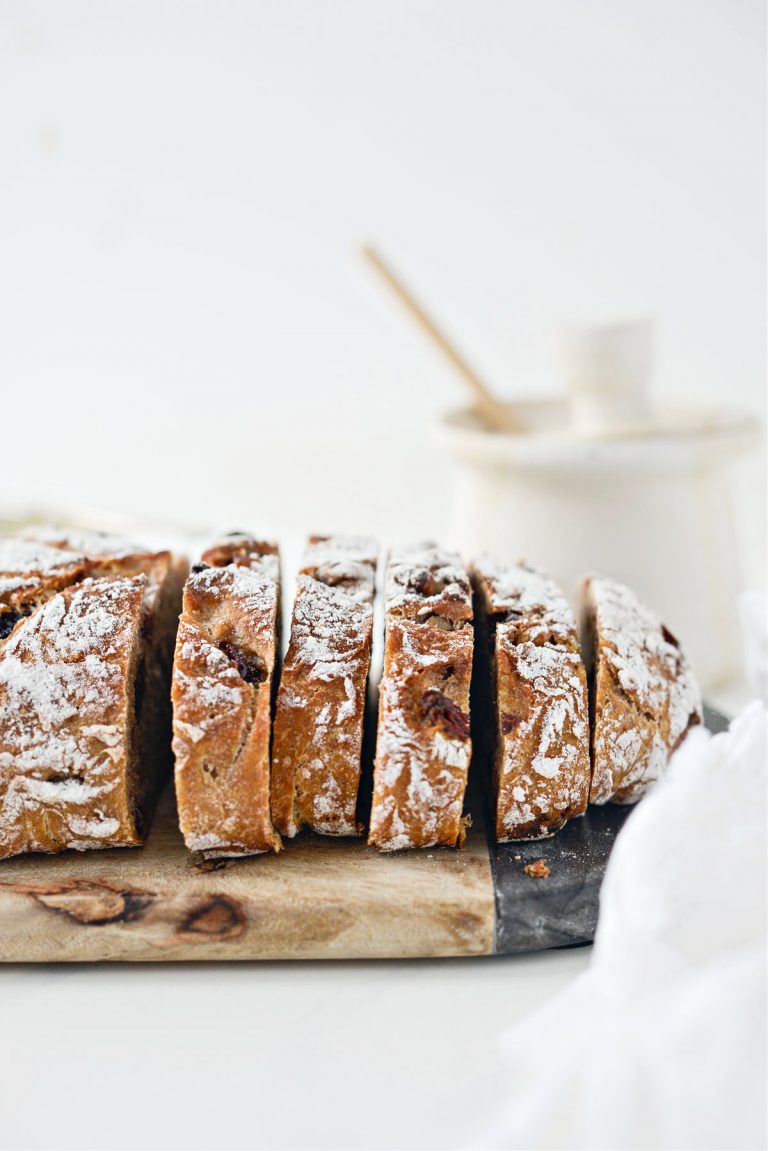 Once cool, slice and serve.
I prefer my bread, toasted with butter and honey. OMG is it good. But just as delicious served warmed or made into French toast.
Click Here For More No-Knead Bread Recipes!
Enjoy! And if you give this No-Knead Cranberry Walnut Bread recipe a try, let me know! Snap a photo and tag me on twitter or instagram!
This post may contain affiliate links.