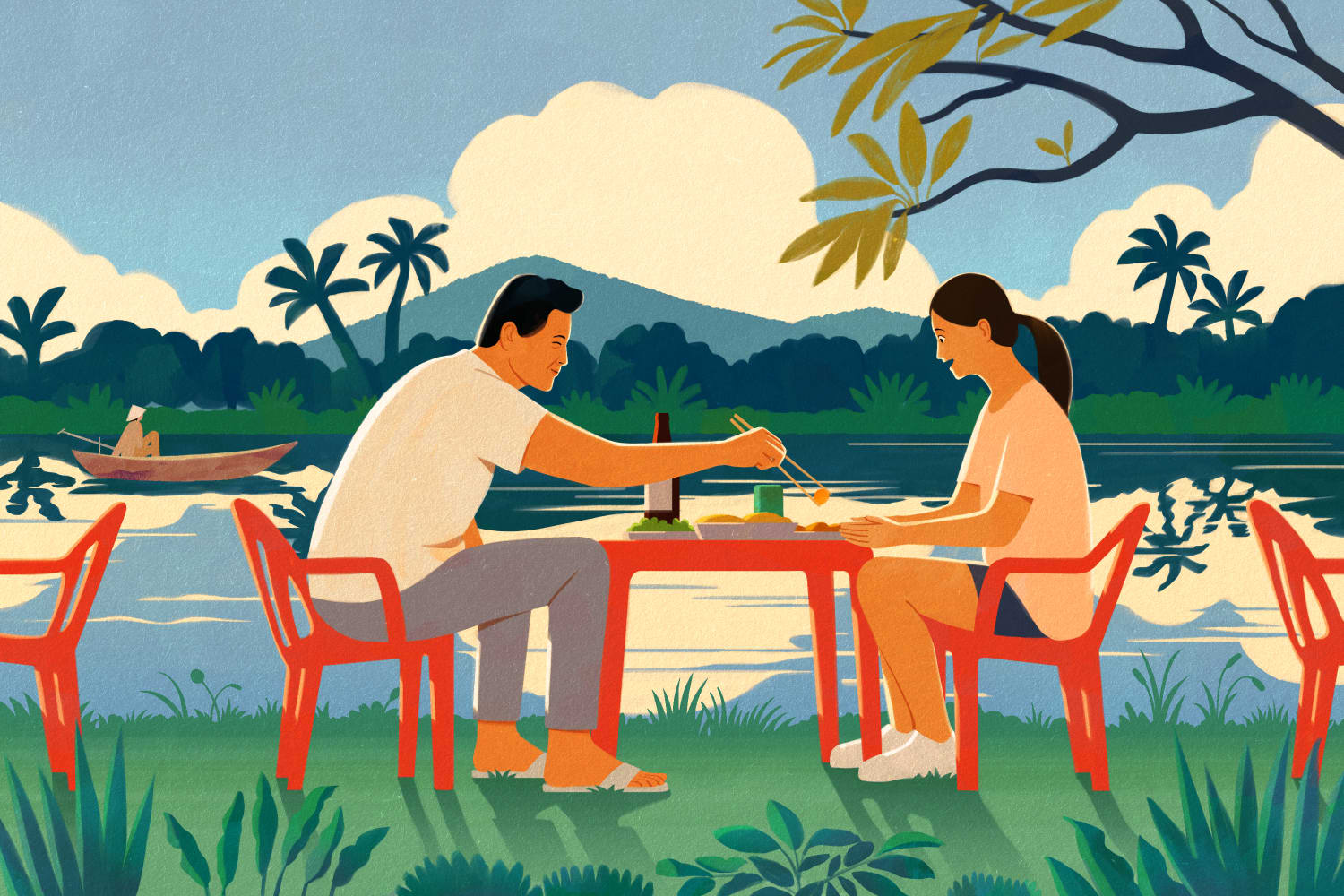 In my wildest dreams, my father and I share a meal. We sit next to a river at one of those outdoor cafes in Vietnam, watching boats angle through the water as we slap mosquitoes. In front of us, plates are stacked high with bar food like chao tom (shrimp patties wrapped around sugar cane), quẩy (deep-fried breadsticks), banh xeo (crispy coconut milk crepe), and a bowl of salted plums that make our lips pucker, their chalky residue tingling the edges of our mouths. He holds a beer loosely in one hand, condensation beading on the glass. I don't drink. When he laughs, the golden liquid sloshes onto his narrow wrist.
"Here. Have some more," he'd tell me, reaching over to push food my way, the ultimate gesture of love in my family.
"It's too much, ba. I'm full." But his chopsticks drop a morsel on my plate anyway.
We smack our lips. The afternoon passes: murky, overly warm, silences dragging like a net in a riverbed.
In reality, we've never eaten a meal together. He and my mother separated when I was just over a year old. She said he rarely ate meals with her during the short time they were married, preferring instead to dine with his friends, bar hopping until the sound of the sputtering motorbikes died and the crickets began to raise hell. The local waitresses knew his name well: Loc, the great tipper. The good time. A few years after their divorce, when I was five, my mom spirited me to America, driven by heartbreak more than ambition. I haven't seen him since then.
When I say we never talked about my dad, I'll tell you I didn't know his name until I was 10. I didn't learn just how much Chinese ancestry I had until I took a DNA test in my 30s. To talk of him was to summon pain for us all; we buried, as we do best. But occasionally my mom couldn't stop herself. She'd study me as I ate a sandwich in our kitchen. Then and now, my mother's kitchen is flush with sunflower prints, the largesse of which always feels a bit overwhelming. I was partial to fried egg and Canadian bacon sandwiches for awhile, wolfing them down over a napkin on our vinyl tablecloth.
"You have his lips," she said.
I stopped chewing, feeling like my words would ruin the moment. Worried she'd retreat into that room she locked against everyone. The wailing room. The room of hunger, of want.
"Yes," she said, more to herself at that point, "that dip on top. And your square chin. When you eat, you remind me of him. You make everything look so delicious."
"What did he like to eat?"
"Sour things. Salty things. Food you eat while drinking with your buddies. He didn't like dessert. But his favorite meal was this Chinese dish — let me think. Stuffed tofu, with a brown sauce. His mom made it anytime he asked."
If my grandmother were with us, she'd huff. "Who cares? He left you. He eats worms now."
My father isn't dead, as far as we know, but he might as well be, according to my mother's family. We can hold a grudge like no other. For my part, there's a palpable frustration in knowing so very little about my dad, then having even that smallest bit complicated by another person's fallible memory. I guess there's freedom in it too. In ignorance, I can keep my dreams.
From what I gathered — and by gathered, I mean, painstakingly pried from my family, like splinters from skin — my father's parents met in the Guangdong Province in their teens. They emigrated to Vietnam in the 1970s, where they eventually made their fortunes, but despite their prosperity in their new country, they were always Chinese citizens living in Vietnam, ever-loyal to the traditions of their homeland. My dad was the golden child, one of 13, sandwiched somewhere in the middle. The tale is that when he was born, his family's fortunes mysteriously turned around, like magic. Their bowls were full for the first time in their lives. They bought a house that towered to the sky, a symbol of their new wealth. They thought their son had been god-blessed. What a legacy to carry. He must have been served his favorite meals all the time.
When I was growing up, I was spoiled with delicious things too, but didn't often partake in my family's preferred desserts: the glutinous, meltingly sweet chès — dessert soups — and spongy pandan cakes, green as a clover-bedded lawn. I liked things that were difficult and uncommon; tiny crabs swimming in a salty black glaze or sea snails dipped in spicy-tart fish sauce. I think my dad would have liked the same things I did, although I know I'm imposing that taste memory on him. Even now, I'll try uni, or some other dish that feels rich and salty and a bit funky, and I'll wonder if he would like it.
After a bit of research, I think the dish my father loved was Hakka-style tofu, squares of tofu with the insides carved out, then stuffed with meat or seafood, steamed and covered in a silky brown gravy. I love tofu too, although I like mine fried with lemongrass. My mom brings Ziplock bags full of it when she visits, the lemongrass coating each chunky square thickly, its earthy scent rising like a song. After everyone goes to bed, I like to eat the tofu cold, straight out of the bag, standing in front of the fridge with a leg propped like a crane. The secrecy of that ritual feeds some inner part of me, one that prefers to stay in the dark.
I think my father and I are hungry people. Even now, I'm considering my next meal. I'm itching for my next adventure. Maybe, in another life, I would have abandoned my family in search of something different. What I've learned about longing — and hunger, which is its shadow — is that there can be something oddly addictive and even pleasant about it. Like the low ache of a craving that may never be fulfilled; a metaphor for possibility. A certain rumbling excitement, sharpened by despair.
A few years ago, my mom sent me an envelope of photos from her wedding to my father, some yellowed at the edges, all overlaid with a dull red cast, as if they'd been touched by fire. Those photos felt transgressive. Thirty-something years later, she still holds onto the mementos of that brief marriage as if they were artifacts. Like us, she hungers.
In one photo, my favorite, my dad stands in front of a table of food, their wedding banquet. He wears a dark suit with a giant white flower in the buttonhole, one arm discreetly tucked behind my mother. His mouth is slightly open as he makes eye contact with the camera. I recognized his smile. Against the shameful pulse of everything I knew, I loved that smile like it was my own.
There's always tofu in my fridge, so I look up a recipe for Hakka-style tofu. I almost feel ashamed of doing it, hearing my grandparents' voices. "Might as well be eating worms." The way food and allegiance intermix. I'm disconnected from my Chinese heritage, which makes me feel like an imposter. Still, I mix and steam, then coat the ivory squares in the thick sauce. My first bite is salty, punctuated by the bite of garlic, but mellow on the tongue too. I think it'd be great with a beer.
"Eat more!" my dad would say, waving his chopsticks at me.
In my dreams, we'd lick the plate clean.