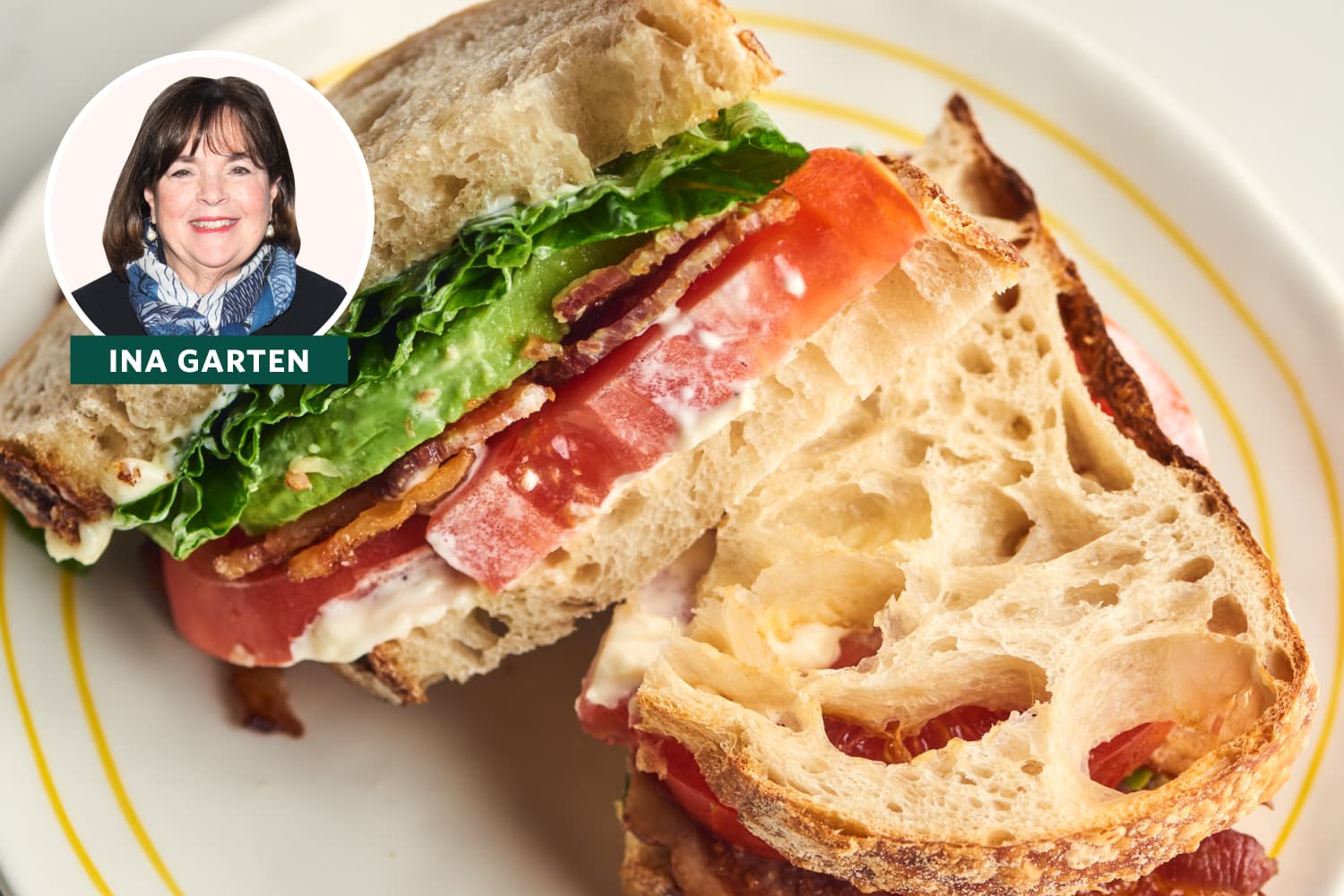 Whenever I make one of Ina Garten's simple-yet-elevated recipes, I feel like I could waltz into one of her iconic Hampton's dinner parties and feel completely at home. Her recipes have stood out as some of the best we've ever tasted: Her pasta salad is now my go-to potluck contribution, and this chocolate cake recipe is the only one I'll ever need.
So when it came time to choose recipes for our BLT recipe showdown, I couldn't wait to see what Ina would do to upgrade this summery staple. She calls her version a California BLT, because in addition to the classic three ingredients (bacon, lettuce, and tomato), Ina adds avocado slices. Would buttery avocado be the thing that makes a good BLT great? I went into the kitchen to find out.
How to Make Ina Garten's California BLTs
Arrange thick-cut bacon strips on a wire rack set inside a rimmed baking sheet and bake until crispy and brown. Remove to paper towels to cool and drain. Arrange slices of "good white bread" (I used slices from an Italian loaf) on another sheet pan and bake until evenly toasted on both sides. Spread mayonnaise on each slice of bread, then top with green lettuce leaves (I used butter lettuce.).
Slice a ripe avocado into 1/2-inch-thick slices, toss with freshly squeezed lemon juice, then layer on the lettuce. Top with 3 slices of bacon. Cut a tomato into 1/2-inch-thick slices and stack on top. Season the tomato with salt and pepper and add the remaining piece of toasted bread.
My Honest Review of Ina Garten's California BLTs
Ina Garten rarely steers us wrong, and a BLT seemed like the perfect sandwich to showcase her elevated interpretation of a classic. Ina's recipe has it all: toasted bread, smoky bacon, ripe summer tomatoes, and fresh green lettuce. Her signature addition, avocado, adds a richness to the sandwich that the original lacks, and helped keep me full for hours.
With that said, the surprising ingredient that made me love this sandwich wasn't the avocado — it was the lemon! The burst of tart lemon flavor seeped into the tomatoes, cutting through the rich avocado and mayonnaise and helped make the tomato the star.
While the flavors were all there, this sandwich was awkward to eat. The strips of bacon stuck out from both sides, a problem easily remedied but not addressed in the recipe. The tomato and avocado slices were incredibly thick and out of proportion with the remaining ingredients. This is a solid recipe and smart update to the classic summer sandwich, but next time I make it there are a few things I'll change.
If You're Making Ina Garten's California BLTs, a Few Tips
Have you tried Ina Garten's California BLTs? Let us know in the comments.