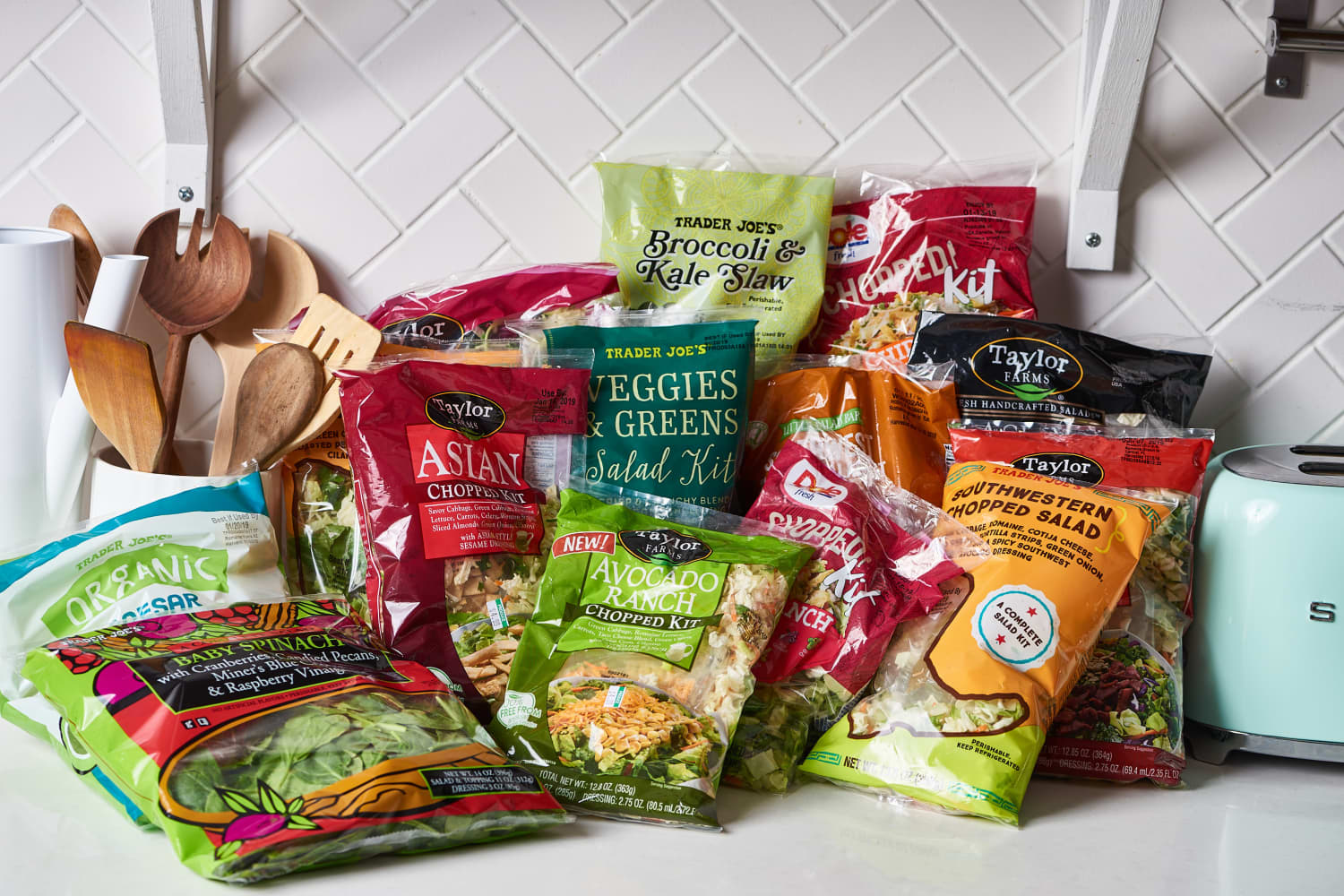 A few years ago, we started off 2019 eating a LOT of salads. Except it wasn't a New Year's resolution: We wanted to find the very best salad kits in American grocery stores. Every single Kitchn staffer (in New York City, North Carolina, California, Idaho, and so many states in between) went out to buy up every single salad kit we could get our hands on. Some of us found more than others (thanks, Lauren!), but we ended up with a giant spreadsheet of dozens of grocery stores, brands, and types of kits. We learned a lot, found a lot of way-too-sweet duds, and ended up with a pretty diverse list of winners.
Read more: We Tried Nearly Every Salad Kit in America. Here Are the Best of the Best.
With 2022 just around the corner, we thought we'd take a look back at our picks and highlight the five salad kits that we turned back to again and again all year long. You know, in case you plan on eating lots of lettuce again this January.
1. Aldi's Southwestern Salad Kit
We quickly learned that Southwestern salad kits were easily our favorite genre. They are consistently good (no matter the brand) and come with fun mix-ins that could be annoyingly expensive to gather up for a DIY salad. Aldi's version starts with a base of green cabbage, romaine lettuce, kale, red cabbage, carrots, and (very welcomed) green onion pieces. The mix-in pouches contain tortilla strips, a blend of four cheeses, and Greek yogurt jalapeño dressing. There's just the right amount of cheese, and the dressing is creamy, tangy, lime-y, and the right amount of spicy. Serve this on its own as a side salad or a lunch, or add in some taco meat and you've got the most perfect taco salad.
Read more: This Is, Hands-Down, the Best Salad Kit You Can Get at Aldi
2. Trader Joe's Organic Mediterranean Style Salad Kit
Trader Joe's has a lot of great salad kits. This one got points for being super unique (we didn't see any other brands with similar options) and being incredibly versatile. We've been using it this year for lunch salads, to stuff in pita pockets, and as a side for roasted salmon and slow cooker pork. We also can't stop turning it into a falafel and farro salad. We're not sure what we like the most about it: the feta, crunchy roasted chickpeas, or the red wine vinaigrette. (For what it's worth, we also really loved Trader Joe's Southwestern kit!)
Read more: Our 5 Favorite Salad Kits from Trader Joe's
3. Earthbound Farm Fresh Organic Sweet Kale Chopped Salad Kit
You guys, there are SO MANY sweet kale salad kits out there. Sweet being the keyword, though, because they tend to be way too saccharine for a salad! This one is an exception. "It's colorful and crunchy with chopped cabbage and kale pieces that are just the right size," raves Kelli Foster, one of our food editors.
4. Eat Smart Wild Greens & Quinoa Vegetable Salad Kit
Our Editor-in-Chief, Faith Durand, called this salad "almost freakishly good" and "too good to be true." It's got a savory avocado-herb dressing, plus salty feta cheese, julienned vegetables, and toasted quinoa for crunch.
5. Dole Classic Caesar Kit
Of all the Caesar salad kits out there (and there are a lot of them!), this was our clear winner and has continued to impress us throughout the year. The croutons are well-seasoned (garlicky!), the lettuce is always crisp, the Parmesan cheese works its way into every bite, and the dressing is the right consistency and not too tangy.
Read more: I Ate Caesar Salad Kits for a Week and This Is the Best One
Do you have a favorite salad kit? Tell us about it in the comments below!