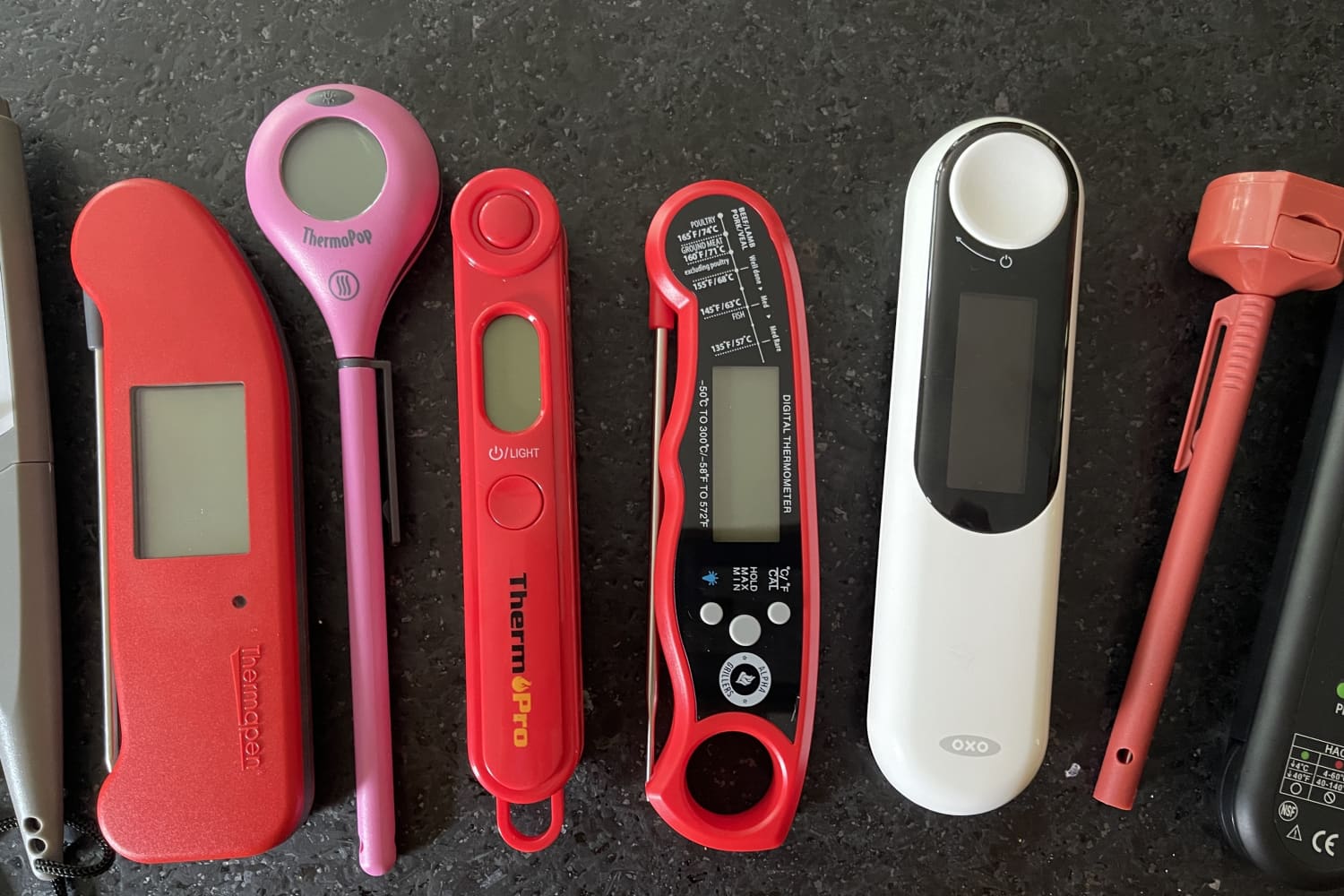 We independently select these products—if you buy from one of our links, we may earn a commission.
As Kitchn's professional gear tester, I'm happiest when I'm using a tool that works incredibly well and comes with a lower-than-expected price tag. It seriously makes my heart sing because I know that you, the reader, are also likely to love said tool … and that most of us shop with a certain price point in mind. Now, occasionally, this just can't happen. Sometimes the absolute best products within their category are the ones that cost the prettiest pennies (think: Dutch ovens, coffee makers, and food processors).
But I recently put several instant-read thermometers to the test. And not only did I find a budget-friendly pick that knocked my socks off, but I'm also fairly certain it's going to be my go-to kitchen-related gift from now on.
Instant-read (aka meat) thermometers are super-helpful for making sure that things like chicken, steak, salmon, caramel sauce, and bread are all perfectly cooked. To find the best of the best, I put the thermometers through several tests: I temped ice water, boiling water, a sous vide water bath, and baked salmon. Accuracy and speed were the name of the game — and the top models gave consistent readings in seconds.
I ended up picking the Thermapen ONE as my top choice. But it's $105. As for my favorite budget-friendly thermometer (and the subject of this very article), that's the ThermoWorks ThermoPop, which is just $35 — a fraction of the price!
While the Thermapen ONE is incredibly fast, for those looking for a bargain, the ThermoPop has so much going for it. It's incredibly accurate, averages three seconds per reading (versus the one-second reading of the ONE), and has a large, legible display. It also has buttons that activate a rotating display (so it can be read at any angle, which is especially helpful for those who are left-handed) and a backlight (so you can easily read it if you are reaching into a shadow-y oven or grilling at night). It also comes in nine colors and has a cover that can hook onto an apron or chef's coat.
But don't just take my word for it! Here's what some happy ThermoPop customers had to say about it.
"The best gift I ever bought my husband! He used to over-cook everything. Now he is the best grill cook ever, steaks come out perfect. This thermometer is quick and easy to use."
"The price is amazing and you won't find a more accurate thermometer at this price/color selection/portability!"
"Bought a ThermoPop as my first quick read thermometer and it is absolutely fantastic! My cooking immediately improved because I can get foods to the right temperatures. Chicken is done but still juicy. Steaks are perfect. Brisket is fantastic, tender and juicy. Overall I'm much more consistent in producing well cooked but not over-cooked foods."
If you want to try the ThermoPop for yourself, now's the perfect time, because Kitchn readers get an exclusive 30 percent off by using code KITCHN30 at checkout. Offer expires Sept. 7.