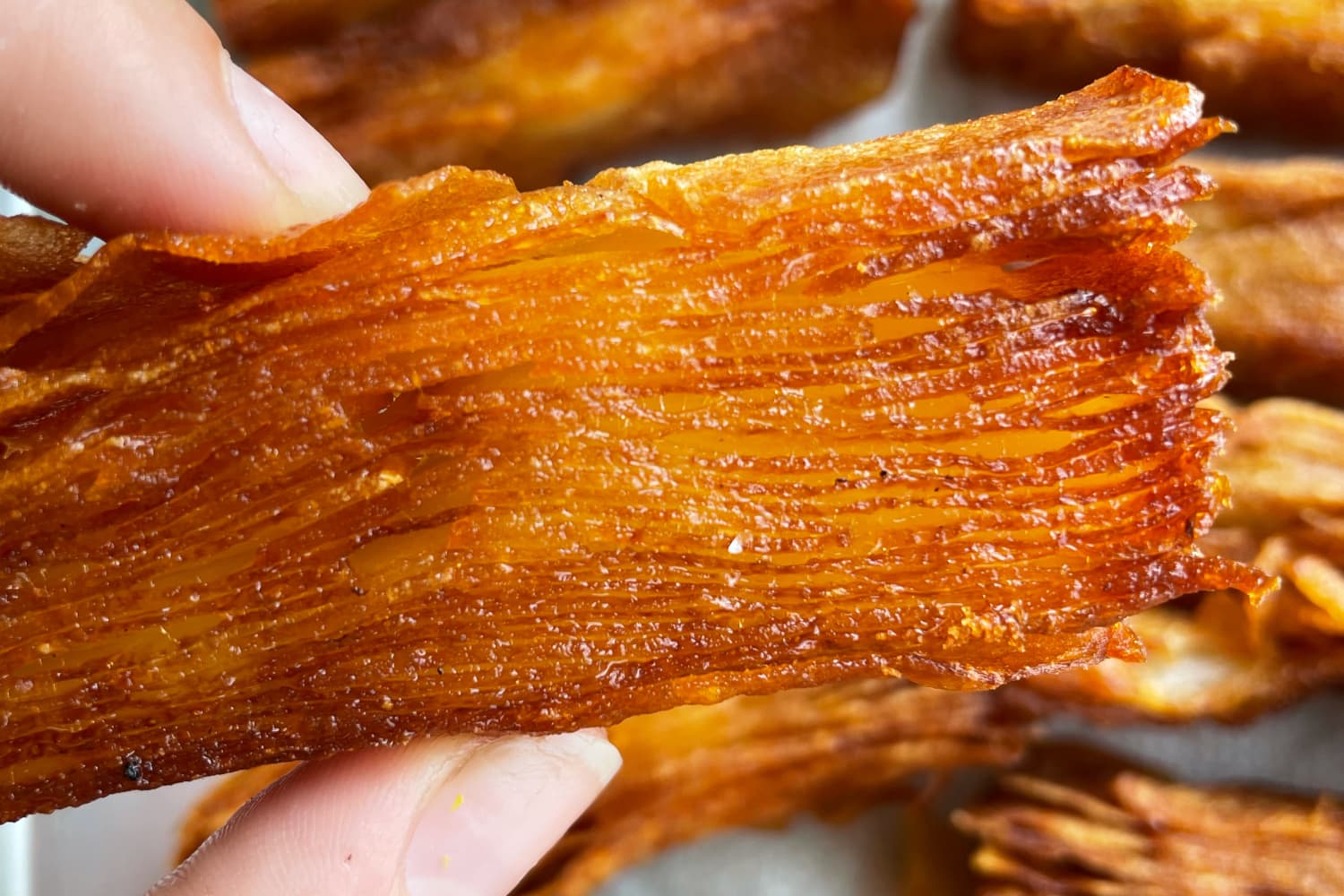 We independently select these products—if you buy from one of our links, we may earn a commission.
There is no potato project too long, too annoying, or too involved for a potato enthusiast like myself. Do I need to break out the mandoline to slice these spuds up? No problem, I'm happy to. Does it require a thorough peeling of the skin first? Sure, I can do that. Do the potatoes need to be precooked before deep-frying? I'm game. See what I'm saying? When it comes to potatoes, I will go to the most extreme measures of preparation if it will lead me to starchy nirvana.
I've been seeing some intricate, layered potato stack masterpieces on TikTok that I feel morally obligated to try for myself. The first is @moribyan's Million Layer Potatoes and the second is @poppycook's 15 Hour Potatoes. The recipe names alone speak for themselves. They both involve some serious potato magic, and I was curious to see if they actually work. Here's how my layered potato experiments went down.
How to Make Million Layer Potatoes
"Million Layer Potatoes" are much more straightforward than the "15 Hour Potatoes." To make them, slice a few russet potatoes on a mandoline lengthwise at about 1/8-inch thickness. Stack these long layers on top of one another to recreate the shape of the potato. Then, trim off the rounded edges (which will effectively take off the skin), leaving you with a large rectangle.
From there, cut this into smaller, bite-sized rectangular shapes, and split the stack in two (so that it's not so tall). Finally, slide these stacks of potatoes into a pot of neutral oil heated to 325°F. I deep-fried the layers of the trimmed, rounded sides too, because why not? Cook them until they're golden-brown and crispy, then transfer them to a paper towel-lined baking sheet and sprinkle with salt and pepper. If you want, you can also season them with a garlic-Parmesan mixture.
How to Make 15 Hour Potatoes
Switching gears to the 15 Hour Potatoes, start by peeling three to four large russet potatoes, then slice them widthwise on a mandoline at about 1/16-inch thick (thinner than the Million Layer). Add these thin, circular slices to a bowl and toss with 1 cup cooking fat (in the video she uses beef drippings, but I used canola oil instead and any other fat would work) and a few hefty pinches of salt. Line a loaf pan with parchment and arrange the slices one by one until you've loaded up the pan. Cover with parchment and bake in a 250°F oven for three hours.
After you've removed the pan from the oven, let it cool slightly then cover the top layer of parchment with three heavy cans to compress the layers. Let sit in the fridge overnight (10 to 12 hours). Next, remove the giant potato block from the pan and trim off the edges. Slice into inch-thick planks and deep fry in 325°F oil until golden-brown and crispy. Remove to a paper towel-lined baking sheet and get to eating.
I don't know what this says about me and the current state of my life, but making both of these potato recipes was some of the most fun I've had in a very long time. When you show lots of love to potatoes, they certainly show it right back. I was a little unsure if the layers in the Million Layer Potatoes would actually stay together when I dropped them in oil, but I had no issues with the layers coming apart. The final product was visually stunning, crispy, and delicious. I made the recommended garlic Parmesan mixture and it was a simple, worthwhile garnish.
In regards to the 15 Hour Potatoes, they were honestly easier to make than I thought they'd be. Don't let their daunting name intimidate you — 15 hours is certainly a long time, but understand that most of this was inactive. The final product was worth every minute of effort. The potatoes were cooked to perfection — soft and creamy on the inside yet ultra-crispy on the outside. I did have a few layers break off when I was deep-frying them, but honestly they tasted like the most amazing kettle chip, so I didn't mind. The layers were insane. It had a similar mouthfeel to the shard-like layers of puff pastry. A true russet masterpiece.
Although both of these potato preparations occupy a space in my spud-loving heart, I would say that I probably like the 15 Hour Potatoes just slightly more. I appreciated that the potatoes themselves were seasoned when they were raw, so you could taste the salt throughout the dish; whereas the salt is sprinkled onto the Million Layer Potatoes after they come out of the oil, so it's not as even and sufficient of a seasoning. That said, if you're not interested in an overnight potato project (can't relate … ), the Million Layer Potatoes definitely scratch the potato-stack itch and take about 1/15th of the time.
Will I make these again? Hell freaking yes. However, I am arguably a potato extremist. Like, there is no need for anyone to make 15 Hour Potatoes more than once in their life, but I am prepared to do so. I'm not sure what the proper occasion is for making these potatoes other than the pursuit of life, love, and carbs. Both recipes taste like a french fry or potato chip that you know and love, but their shape and texture are unlike anything you've had before (at least in potato form).
My Tips for Making Fried Layered Potatoes