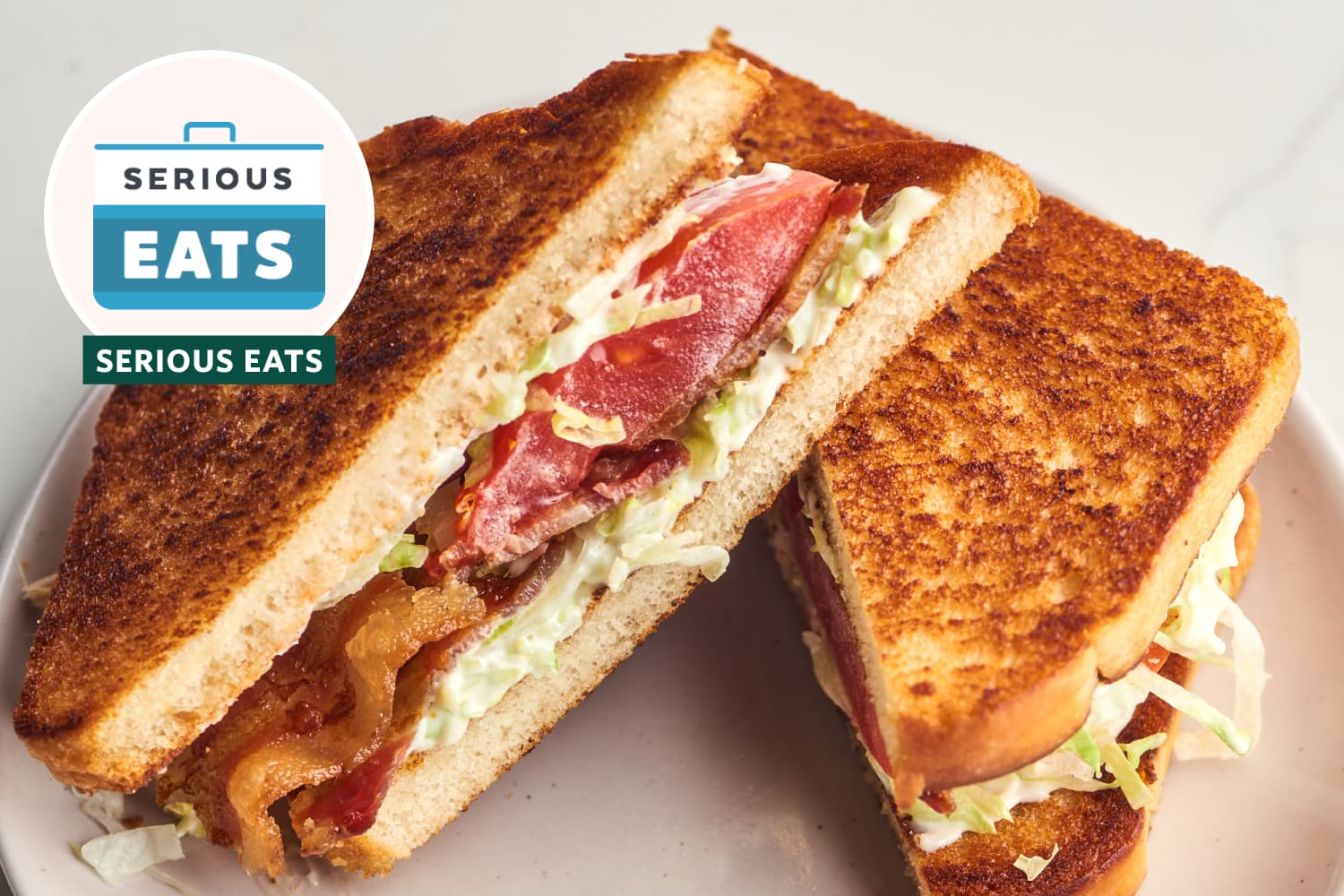 We independently select these products—if you buy from one of our links, we may earn a commission.
J. Kenji Lopez-Alt spent years at Serious Eats dissecting recipes and discerning the best techniques, which is why I often look to him whenever I have cooking questions. He certainly didn't disappoint when it came time for BLT research — he wrote a literal manifesto on the topic! If someone has dedicated that much thought to each element of this sandwich, I knew the recipe had to be included in this month's recipe showdown. Here's what happened when I put Kenji's BLT rules to the test in my kitchen.
How to Make Serious Eats' The Best BLT Sandwich
Cook thick-cut, naturally-cured bacon on a griddle over medium-low heat until the fat is rendered browned on both sides. Use a bacon press or other heavy object (I used my cast iron skillet) to weigh the bacon down as it cooks so that it remains flat. Transfer the cooked bacon to a paper towel-lined plate to cool and drain. Place high-quality sandwich bread on the griddle and toast it in the bacon fat until browned on both sides.
Spread mayonnaise on both slices of bread, then pile shredded iceberg lettuce on both pieces of bread. Cut thick slices of ripe tomatoes, then layer onto the bread and season liberally with coarse salt and pepper. Break the bacon in half and arrange it in two layers of three half-slices, alternating the direction of bacon in each layer. Close the sandwich and cut in half diagonally.
My Honest Review of Serious Eats' Best BLT Sandwich
I admire the extent to which Kenji analyzed and executed his ideal BLT. It's obvious he gave careful consideration to the ingredients, textures, tools, and structural stability of the sandwich. It was really tasty (after all, it is a BLT), but was it worth the effort and extra dirty dishes? No.
As I discovered with Ina Garten's BLT recipe, a too-thick slice of tomato can quickly overthrow the delicate BLT balance. So while Kenji calls for "thick slices," I find that a 1/4-inch slice of summer tomato — and no thicker — is the sweet spot.
I loved the crunch of iceberg lettuce, but I'd prefer a variety with more personality, like romaine. And while it didn't slip and slide like soft butter or Boston leaves might, it gave off a strong "sub sandwich" vibe that didn't fit my idea of a BLT.
As for the bacon, layering the slices perpendicularly helped with the structure of the sandwich (and is a technique I'll continue using from here on out!) but because the bacon is pressed flat as it cooks, I missed its ripply texture. Plus, I didn't enjoy having to clean bacon grease from the bottom of my cast iron skillet. And while I was excited about toasting the bread in the bacon fat, there was no instruction on how much rendered fat to keep on the griddle. Ultimately, my slices of bread soaked up up a lot of the fat, leaving the bread greasy.
If You're Making Serious Eats' Best BLT Sandwich, a Few Tips
Have you tried Serious Eats' Best BLT Sandwich? Let us know in the comments.