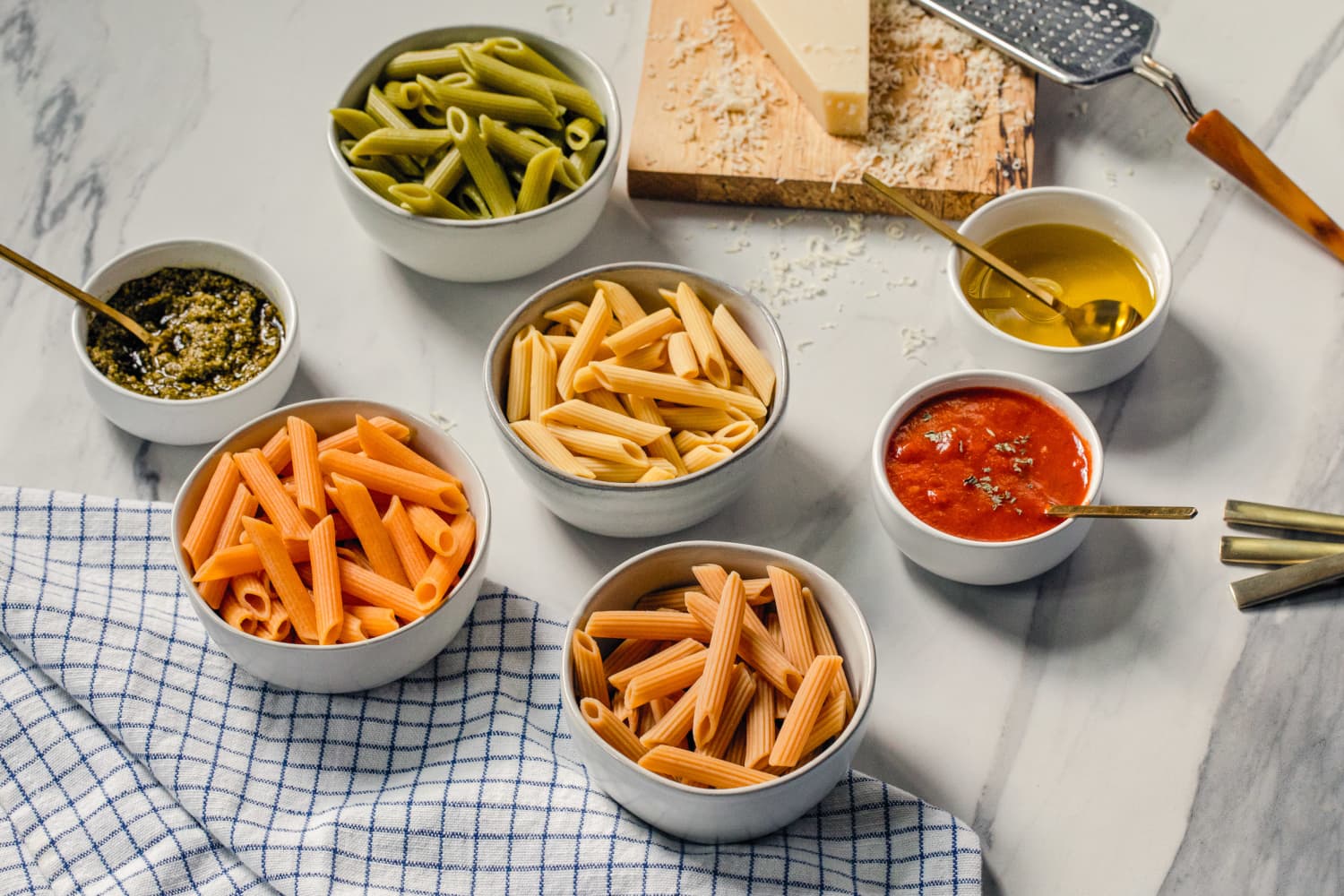 We independently select these products—if you buy from one of our links, we may earn a commission.
What is life without pasta? Definitely livable, but certainly less twirly, slurpy, and chewy. Pasta should be pure comfort and joy, so if you can't eat the traditional stuff, you deserve the most delicious alternative. Where to start? I shopped at four stores to eat my way through the gluten-free pasta jungle. A lot of boiling later, the winners were clear.
How I Tested the Gluten-Free Pastas
I only shopped in the pasta aisle and natural/organic sections. I focused on packages that were marketed as stand-ins for traditional pasta. To categorize, I divided the brands by primary ingredients. I cooked each in a fresh batch of boiling salted water, tasting every few minutes, because al dente only happens once and I'd never eaten these before.
Smother anything in marinara and it'll taste good, so I served the pastas plain first, ate spoonfuls of sauce to cleanse my palate, then ate some pasta with sauce to taste how a non-tester might enjoy it. I invited my mom and her friend, who's a gluten-free dietitian, to join in. Here's what we came up with.
Note: Check out the winners below and then if you're wondering, "Where's chickpea? Cassava? Oat? Edamame?" come back to this. We tried all those (and more!), but loved these categories so much, they became our clear winners. Rice and corn-rice blends were the tastiest, followed by corn-free blends, lentils, and hearts of palm, which I'm a new fan of. More comforting than pasta is knowing that deliciousness, however your diet dictates, is obtainable — and a great sauce can show any pasta who's boss.
Best Brown Rice Pasta: Jovial 100% Organic Brown Rice Gluten-Free Pasta Fusilli
This was the biggest gluten-free category; there are so many brown rice pastas out there! Many of the options were stickier than I would have liked, but Jovial was ridiculously good. I've heard lots of people wax poetic about how Jovial pasta has the best taste and texture (with a subtle nuttiness and the perfect al dente bite), and I get it. The box says it's made by pasta artisans in Italy who slow-dry it for superior quality, which must be the brand's secret. We also liked Tinkyáda's brown rice pasta. It's a little springier and doesn't have as deep sauce-gripping grooves as Jovial, but it sure is tasty.
Best Lentil Pasta: Tolerant Organic Green Lentil Rotini
Lentil pasta definitely has lots of lentil-y flavor, so unless you really love the taste of lentils, you'll be happy to know that we chose the pasta that best played second fiddle to the sauce. The most neutral one we tried was Tolerant. It wasn't chalky like other brands, and the pale green color faded after boiling for an even more pasta-like look. Our runner up was Whole Foods Organic Red Lentil Gluten Free Spaghetti (Whole Foods seems to have a knack for pasta alternatives; see below!). The red lentil might stand out in a cream sauce, but twirled beautifully in our tomato one. It also chewed à la pasta.
Best Hearts of Palm Pasta: Whole Foods Hearts of Palm Linguine
There are no grains in hearts of palm "pasta," but it has been trending as a low-carb alternative, so I really wanted to see if it would live up to the hype. Conclusion: It does! It tastes nothing like pasta (but exactly like canned hearts of palm!) and there was no boiling and draining involved. Honestly, I'd eat this over many of the the carb-ier contestants for flavor alone. With marinara on top, it still felt like I was eating vegetables, but the strands picked up the sauce just like pasta. The Whole Foods brand has the best texture and a longer, thinner shred, but a close runner up was Palmini, which uses citric acid — a little more tart than Whole Foods' linguine that's made with fumaric acid.
Best Blend Pasta: Whole Foods 365 Corn & Rice Gluten Free Penne Rigate
Whole Foods 365 Gluten Free Penne Rigate scored high marks for its pasta-like texture. It wasn't as gritty as other brands, and we could tell it was whole-grain. The addition of corn made it slightly sweet and yellower — a real pasta-like touch.
P.S.: My gluten-free friend said that her favorite rice-corn blend pasta is from Barilla, but we couldn't find it for this test. Snag it if you can!
Best Corn-Free Blend: Andean Dream Organic Penne Pasta with Turmeric, Rice, Quinoa, and Amaranth
You get a little bit of everything here: rice, ancient grains, and turmeric. When tasting the noodles plain, you could definitely pick up on the turmeric; when tasting the noodles all sauced up, the flavors work well together. Trader Joe's makes a yellow lentil and brown rice pasta that's good with sauce, too.
Do you have a go-to gluten-free pasta? Tell us in the comments below.