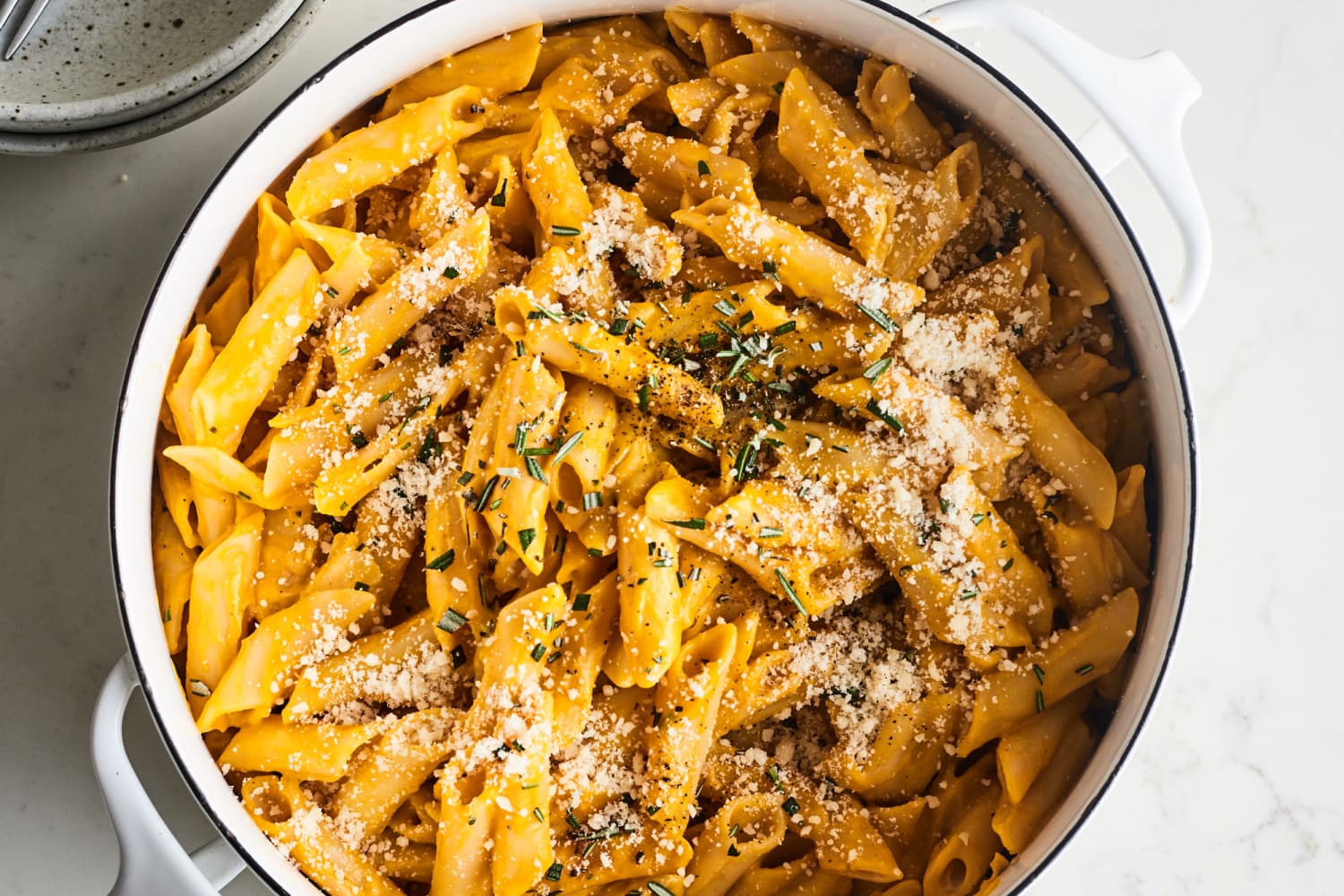 We independently select these products—if you buy from one of our links, we may earn a commission.
Crack open your windows: The season for spirited debates about pumpkin foods has arrived. Every fall, we situate ourselves either on #TeamPumpkin or #TeamAbsolutelyNot. I'm a big pumpkin fan and, heck yes, I even like pumpkin beer. If you're with me, you probably already know the pleasure of a big bowl of pasta with creamy, just-sweet-enough pumpkin sauce. It's comforting, cozy, and, when you use a jarred sauce, pretty darn easy to cook with.
With fall upon us, I decided to find the best jarred pumpkin pasta sauce. I shopped around at different grocery stores, including major chains and small co-ops, and ordered a few jars online, too. I wound up with eight different options. Although I found a handful of small-batch sauces available on the internet, shipping was way too expensive to justify buying them ($30 for a $10 jar was outrageous, even for this pumpkin cheerleader). I also disqualified jars with extra-long shipping times (one was on back-order for more than two weeks!). The jars I bought are widely available, and range in price between $5.99 and $15.
How I Tested the Pumpkin Sauces
I conducted the test on a chilly, sunny day in early September — perfect pumpkin sauce weather! I'd asked a friend to join in, not knowing they were staunchly anti-pumpkin. They refused! Oh well, more for me. The sauces were tested in two rounds: First I tasted a spoonful of each one straight out of the jar. Then I heated them, one by one, in a saucepan. I didn't thin any of the sauces with pasta water, because most were a perfect consistency when simply heated; some were actually already too loose and watery. Finally, I tossed just-cooked rigatoni in the sauces and dug in.
I should note here that many of these contained winter squash, instead of pumpkin, which is regularly used in place of pumpkin; it's slightly sweeter and thicker. The ingredients were all relatively similar from jar to jar, so I wasn't expecting there to be such a big difference between sauces. But there was! These eight jars were all unique, with some duds and some clear winners. Here are the ones I liked best.
The Best "Classic" Pumpkin Pasta Sauce: World Market Butternut Squash Pasta Sauce
This sauce is so thick and creamy that I was tempted to eat half the jar, cold. It's that good! It's made with cream and Grana Padano, and lightly sweetened with honey. (Don't worry; it doesn't taste like a pumpkin latte.) The World Market sauce also had the best texture when heated, and coated the pasta with just the right amount of "cling." I could also see it working as a creamy, hot dip if you added a little more melted cheese and served it with a baguette. What can I say? This just hits all the right notes when it comes to what I look for in a pumpkin pasta sauce. It's sweet, hearty, indulgent, and creamy in the very best ways — a comfort food classic. I won't lie; I'm also impressed that at $5.99, it was the cheapest of the bunch.
Buy: Butternut Squash Pasta Sauce, $5.99 for 23.6 ounces at World Market
The Best Pumpkin-y Pumpkin Pasta Sauce: Cucina Antica Tuscany Pumpkin Premium Pasta Sauce
I couldn't give this one a first-place win because it was very thin. For a traditional sauce consistency, I would've had to cook it further to reduce it. But the flavor? Oh man, this one rocks my maple leaf-patterned socks off. It's also the sauce for pumpkin purists, as it's made with the real deal — no squash here. It's on the sweeter side, with an inviting, spiced flavor, thanks to cinnamon, rosemary, and sage. I would buy this one again, and use a little broth to turn it into a soup. Add some bite-sized cooked pasta and a few hearty root veggies, and no one would be mad about it. Not even, I'll bet, the pumpkin-haters.
Buy: Cucina Antica Tuscany Pumpkin Premium Pasta Sauce, $7.79 for 25 ounces
The Best Pumpkin Pasta Sauce for Pumpkin-Haters: The Vine Butternut Marinara
At first, I wasn't sure what to make of this sauce. It's a deep red, thanks to tomato paste in the ingredient list. It's also one of the few vegan butternut/pumpkin sauces I encountered. With a simple ingredient list, this is a little more on the thin and loose side — definitely not your number if you're looking to dive into a creamy bowl of pumpkin — but it is deceptively satisfying. It has an assertive tang from the tomatoes, keeping the flavor from becoming too cloying.
Buy: The Vine Organic Vegan Butternut Squash Marinara, $7.72 for 25 ounces at Better Health Store
I'll be buying these jars on repeat all season long, and may even grab a few extras, for spring days when I long for crunchy leaves and chunky sweaters. But if you just can't get on board with pumpkin pasta sauce, there are always cookies!