These hobak jeon (Korean zucchini fritters) are pan-fried quickly in egg batter. They are delicious with summer's abundant zucchinis!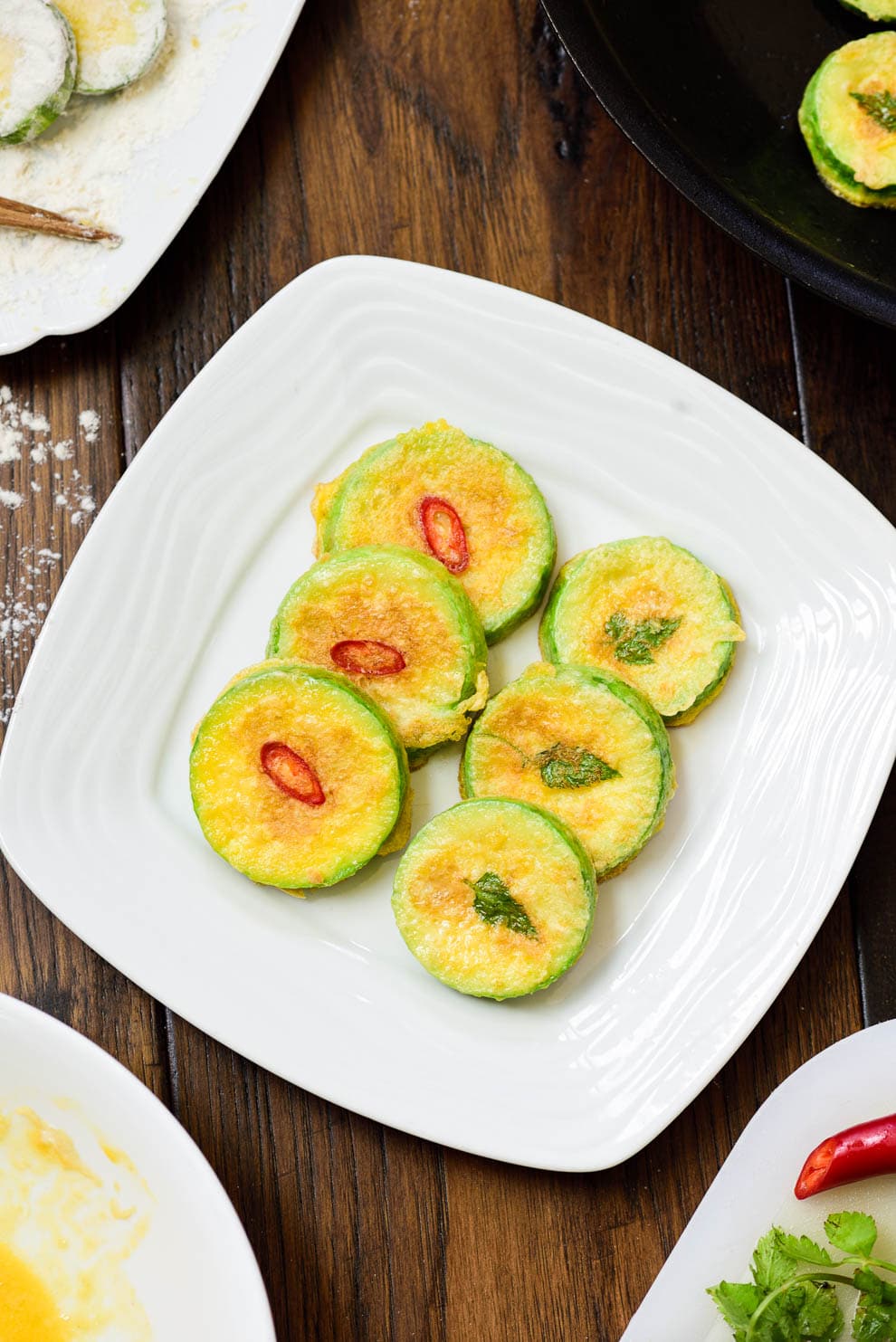 Zucchini season is here! Are you growing any? I have a few plants in my backyard, and they have been very productive. I've been making hobak buchim (zucchini pancakes), hobak mandu (zucchini dumbplings), hobak bokkeum (stir-fried zucchinis), and gochujang jjigae (spicy stews), and these hobak jeon.
I have these hobak jeon as part of my modeum jeon recipe (a combination of different jeon variations), but decided that this zucchini version needed its own spotlight as a summer favorite!
What is jeon?
Jeon (or jun) is a collective term that refers to pan-fried battered food in Korean cuisine. There are largely two types of jeon. The first type is pancake-like dishes, such as pajeon, buchujeon, gamjajeon, kimchijeon, nokdujeon and minari jeon. For these, the ingredients are mixed in with flour batter and then pan fried into crispy pancakes.
For the other type, the small ingredient pieces are individually pan-fried in egg batter to create a soft skin. Some are stuffed with a filling before being coated with the egg batter as done in kkaennip jeon.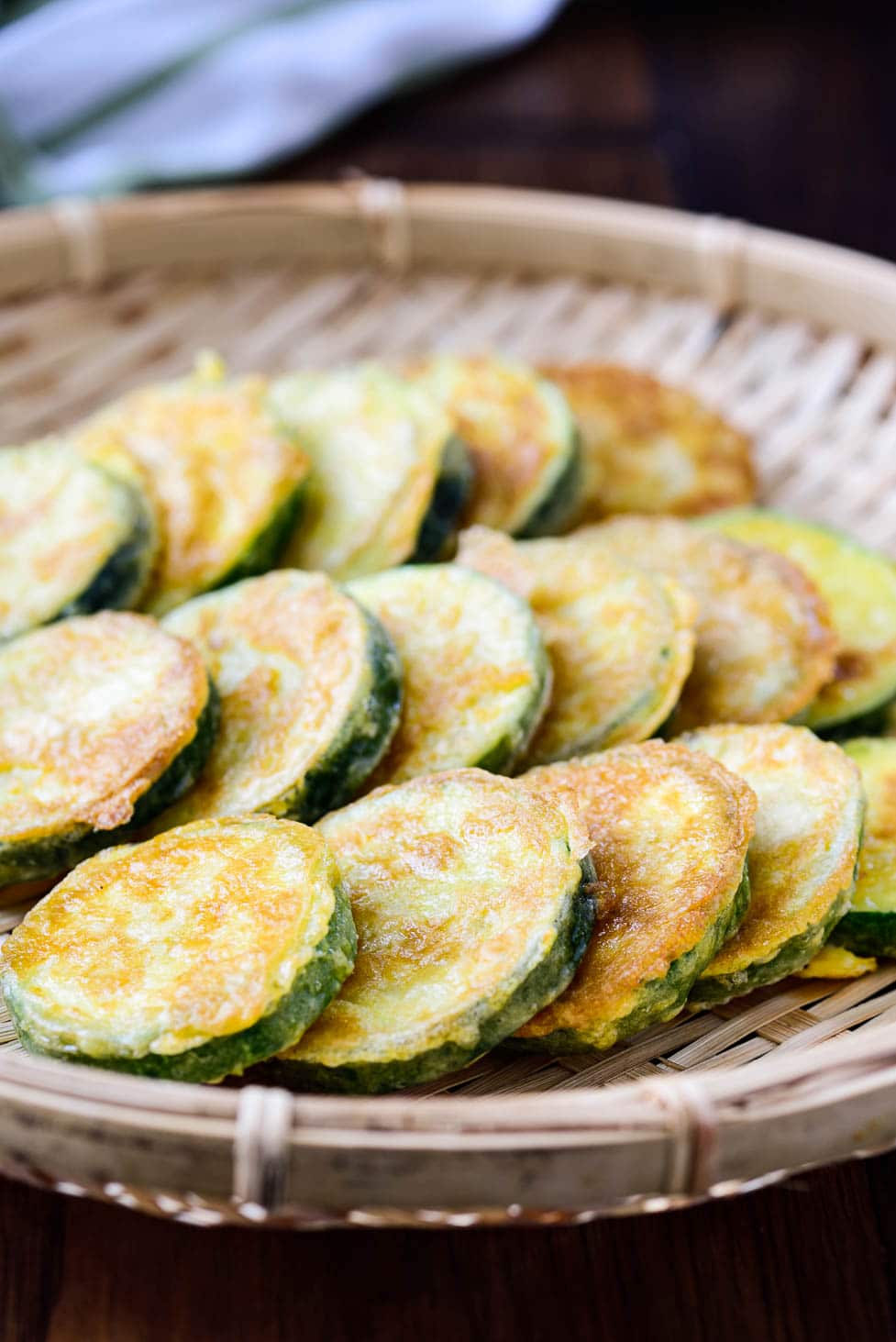 Which zucchinis to use
Zucchinis come in all shapes, sizes and shades of colors. You can use any slender, tender zucchinis such as green zucchinis and grey zucchinis. I like to use Korean zucchinis, which I grow and also are available at Korean markets around here summertime. Korean zucchinis are called aehobak (애호박), meaning baby squash. Having thin, yellow-green skin and delicate yellowish flesh, they are super tender and sweet.
Look for firm, slender zucchinis, but not too small and thin. I like about 2-inch diameter zucchinis for this dish.

How to store zucchinis
I store my zucchinis wrapped with a paper towel in a plastic bag. This keeps it fresh for a week or two in my fridge. You can also wrap it with a saran wrap instead. I tried both methods and they work equally well.
Tips for making hobak jeon
Do not slice the zucchinis too thinly. I like to cut them into about 1/3-inch thickness for a good texture of the final dish.
Shake off excess water from the salted zucchinis, if any. A little bit of surface moisture is good for flour dredging.
Do not use too much oil. You don't want these small delicacies too oily. Let the natural taste of the vegetable shine through.
Do not overcook or burn. Zucchini slices don't take much time to cook through. These should be slightly firm to the bite and lightly golden.
More Zucchini Recipes
Hobak Buchim (zucchini pancakes)
Hobak bokkeum (stir-fried zucchinis)
Hobak mandu (zucchini dumplings)
Gochujang jjigae (spicy stew with zucchinis)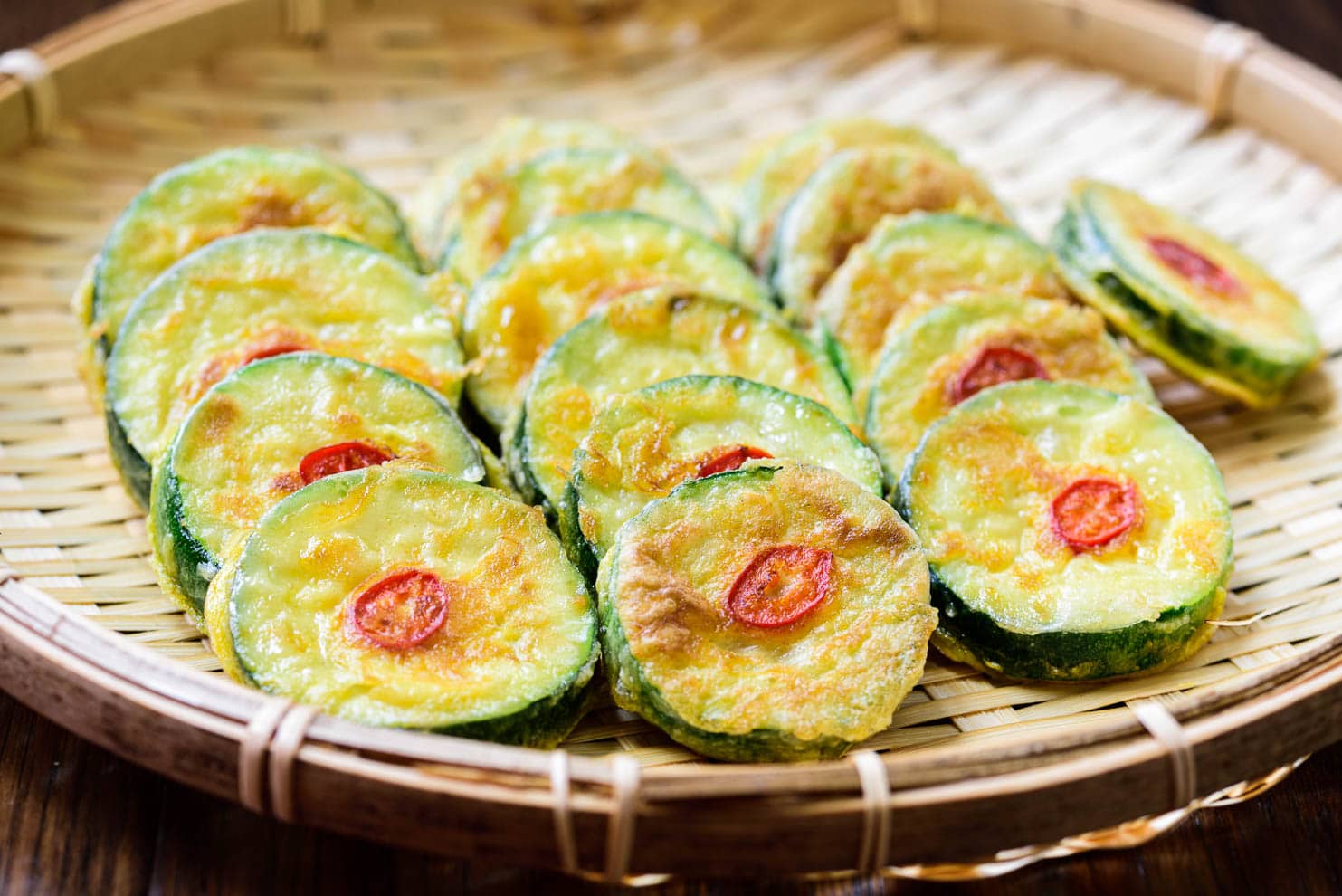 For more Korean cooking inspirations, follow along on YouTube, Pinterest, Twitter, Facebook, and Instagram.
Hobak jeon (pan-fried zucchinis in egg batter)
Appetizer
Servings: 4
Ingredients
Dipping sauce
Instructions
Notes
Keep any leftover jeon in the fridge for up to 4 days, and briefly reheat in a dry pan over medium heat.