Grilled breakfast burritos are loaded with kinds of breakfast goodies. A soft flour tortilla filled with scrambled eggs, cheese, crispy potatoes, peppers and onions… and more cheese. This recipe makes 6 burritos so it's great for feeding a crowd or freezing for later.
What's better than a handheld breakfast?
Whether it's a satisfying breakfast you crave or need something easy for on the go, breakfast burritos are it.
Last weekend, Pat and I went to our close friends Mike and Heidi's cottage up in northern Michigan, near Charlevoix. I'll most definitely be sharing the details from our trip in my Year In Review post at the end of 2021, but one (of many things) I took home from that weekend is inspiration for some delicious recipes. On Sunday, the last morning before we headed out, Mike made us all breakfast burritos. Soft flour shell, fluffy eggs, browned sausage links and of course, all the toppings you could ever want.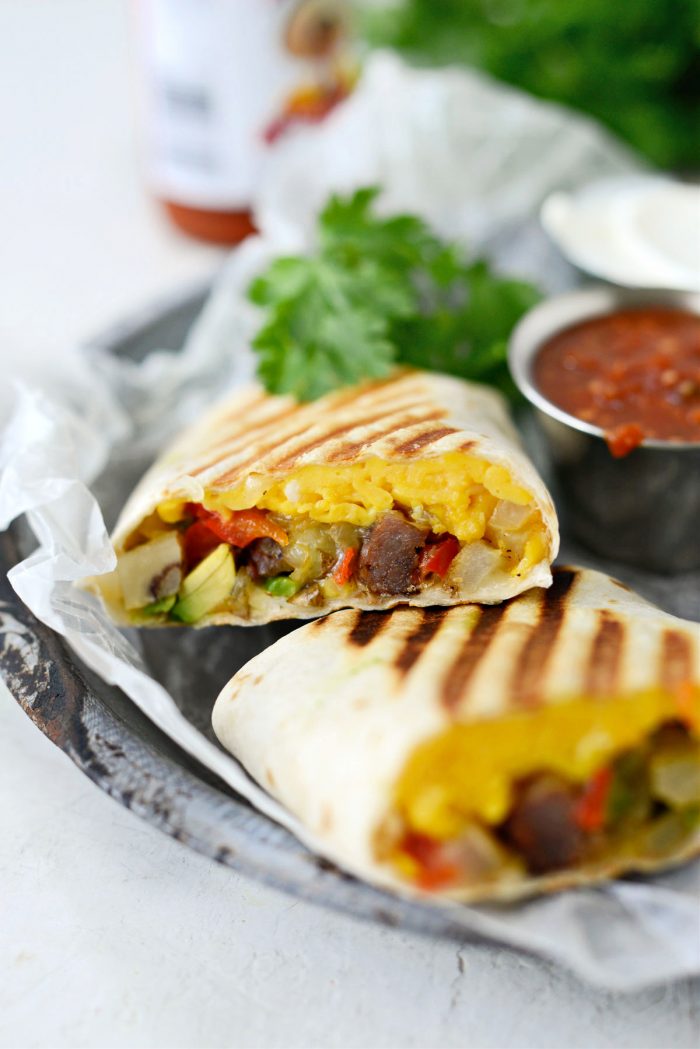 Needless to say, they were amazing. So much in fact, that I picked up ingredients to make them and share the recipe here. I added just a few other add-ins and grilled them on my panini press for a crisp exterior. SO. GOOD.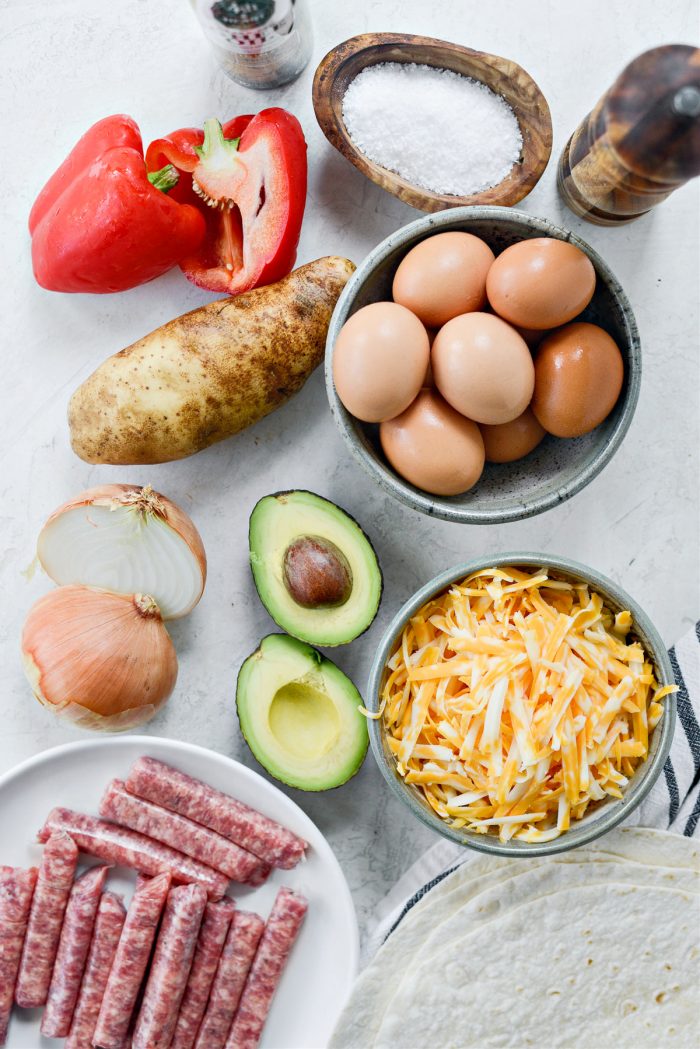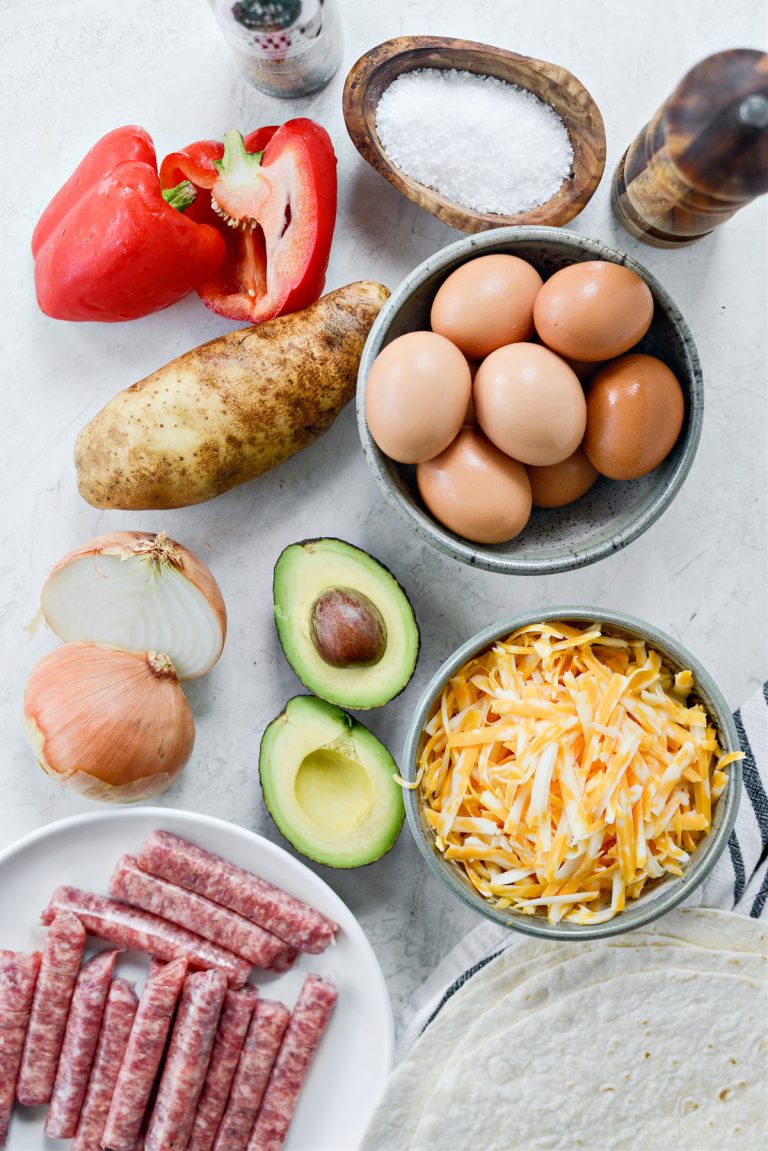 To Make Grilled Breakfast Burritos You Will Need:
ghee or olive oil non-stick spray
breakfast sausage links
large russet potato
kosher salt
freshly ground black pepper
yellow onion
red bell pepper
jalapeño (optional)
eggs
burrito size tortillas
shredded cheddar jack cheese
avocado – optional
salsa – optional, for serving
sour cream or plain non-fat greek yogurt – optional, for serving
smashed avocado – optional, for serving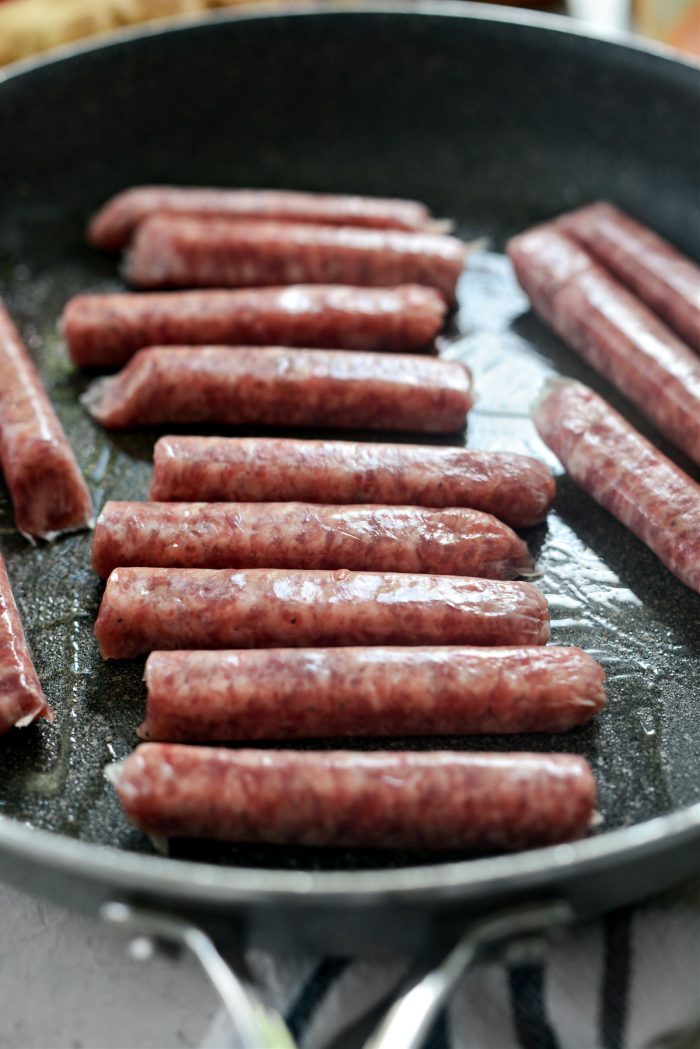 Spray a large non-stick skillet with non-stick spray (I use ghee) and add your breakfast links. Cook over medium heat until browned on all sides.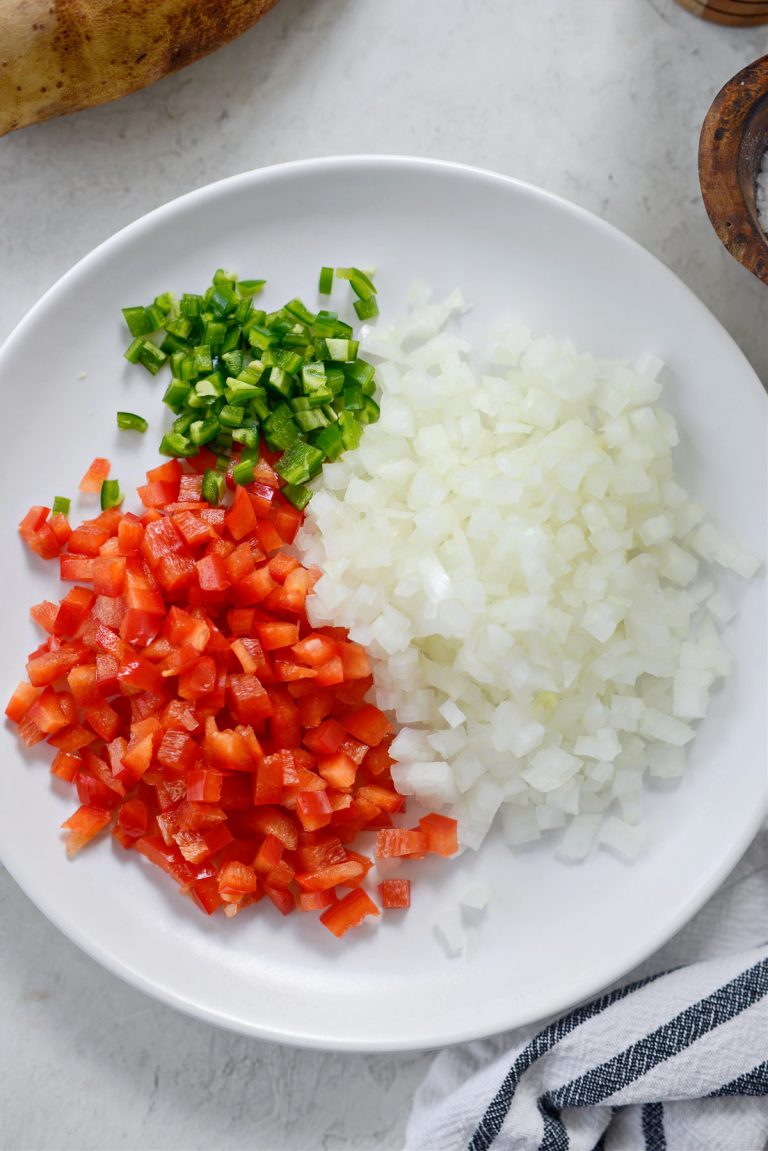 While the sausage sizzles, finely dice 1/2 a (medium) red bell pepper, 1/2 a medium yellow onion and 1 jalapeño. The jalapeño is optional, remove the seeds and ribs for flavor yet with less of the heat.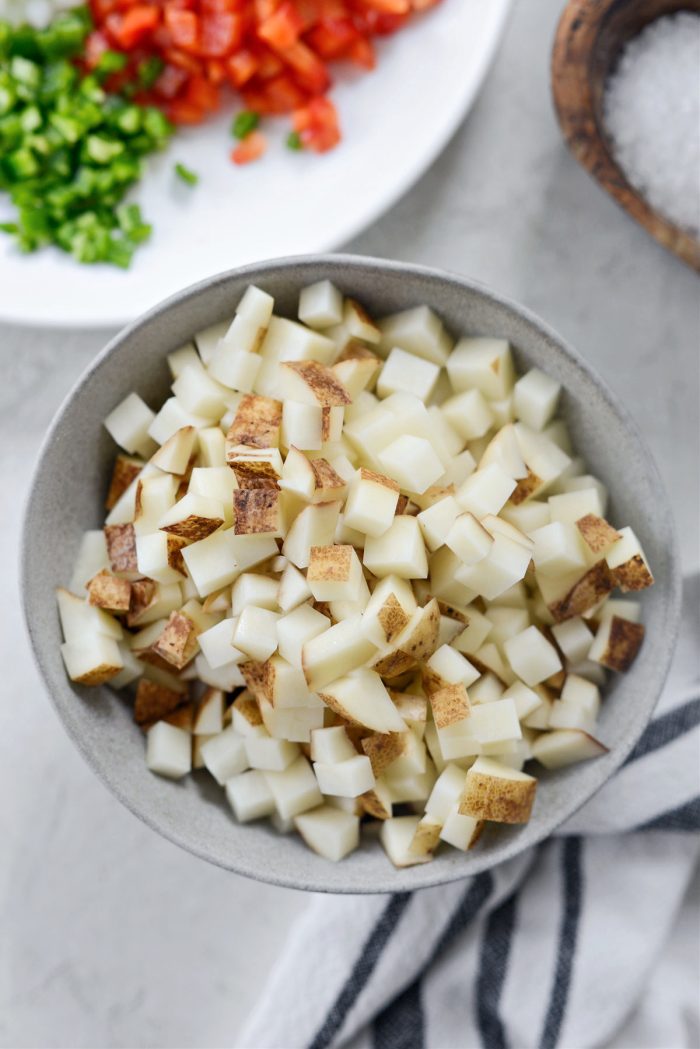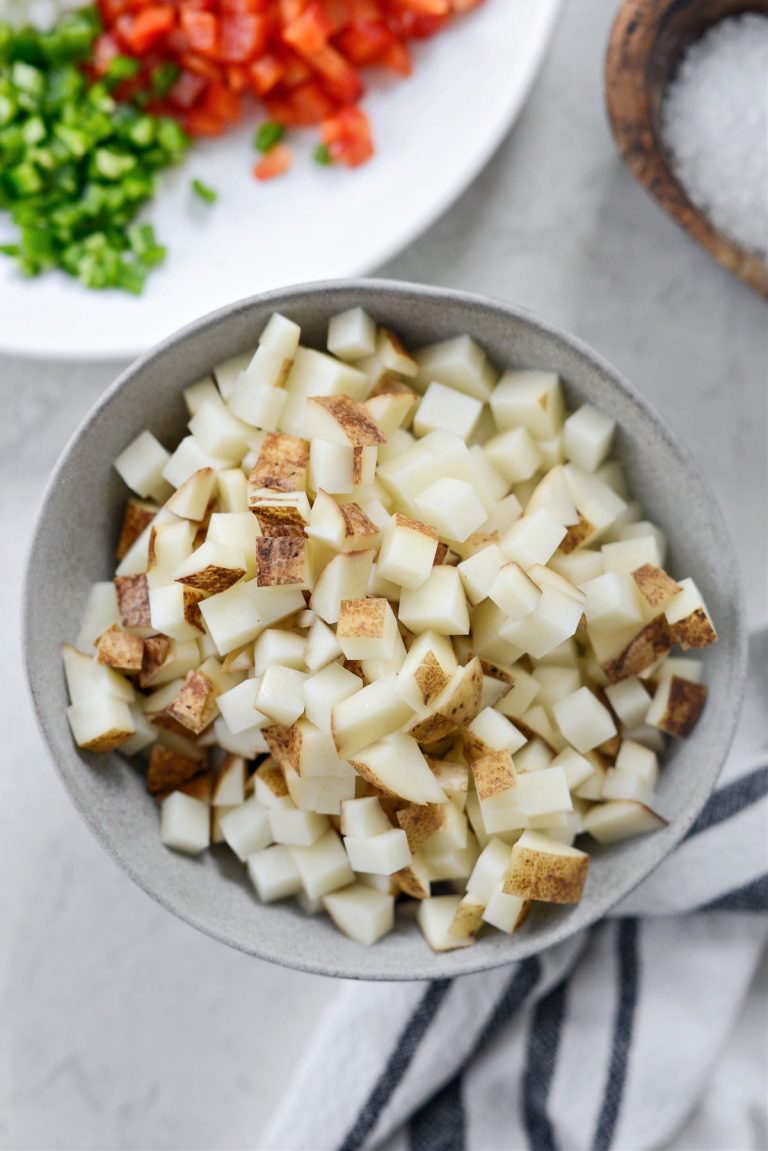 Once those veggies are prepped, scrub a large russet potato. Slice it lengthwise into thin planks and into thin strips and then finely dice into cubes.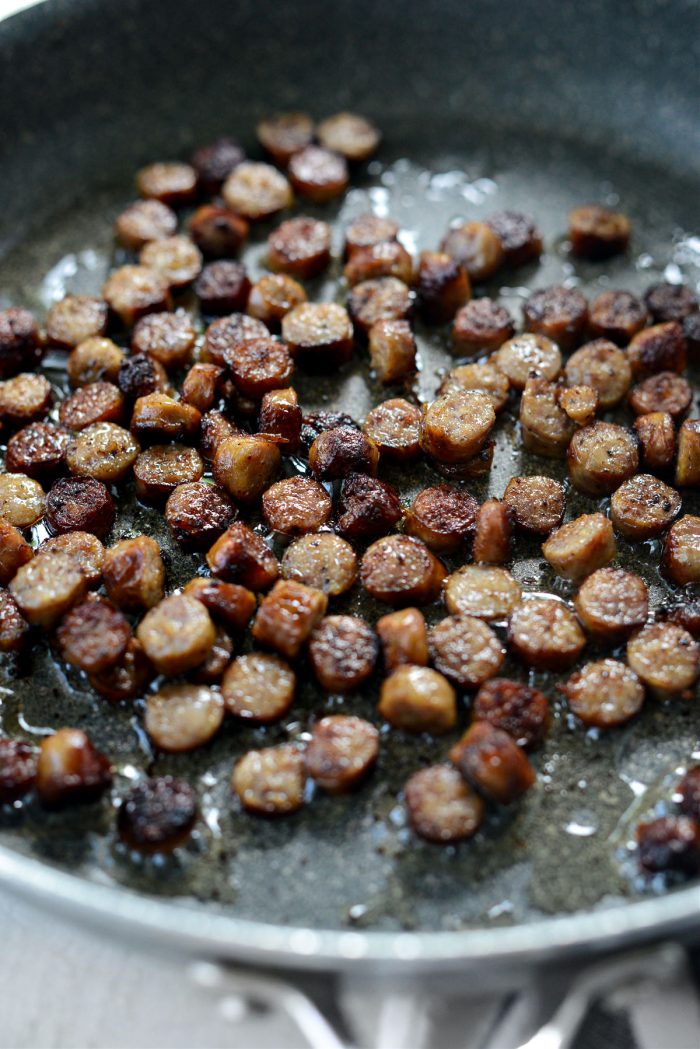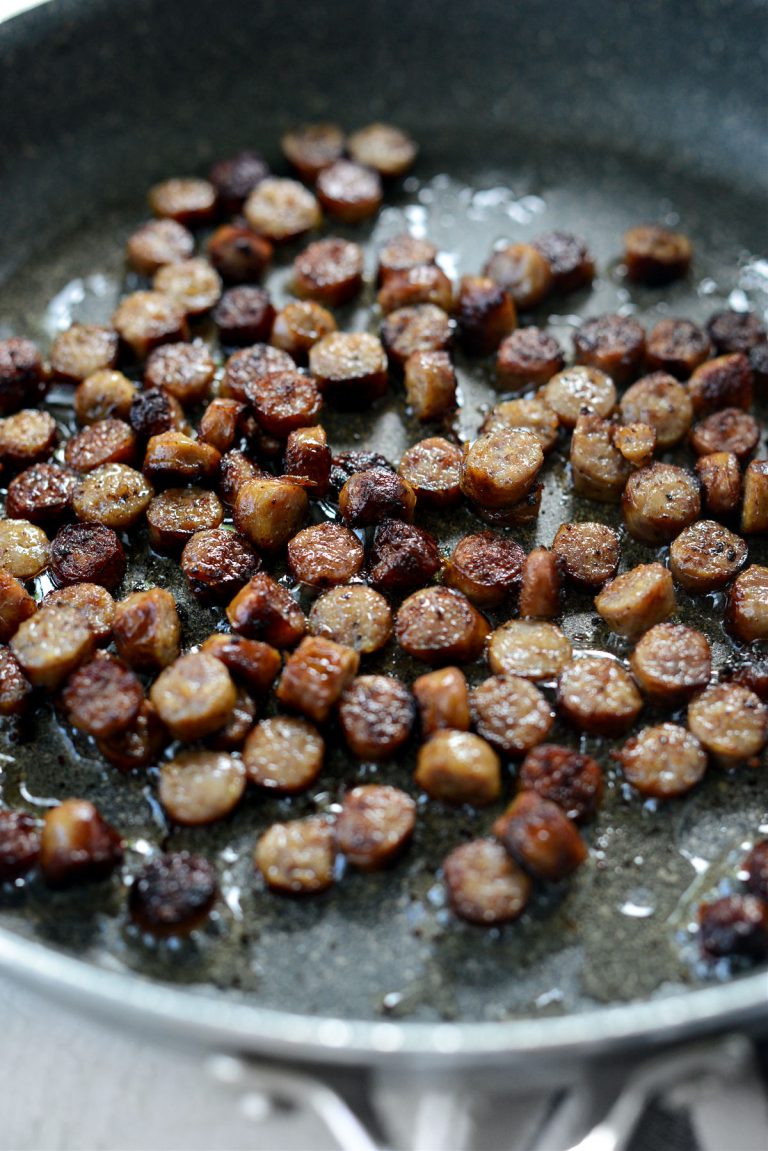 When the sausages have browned, use tongs to transfer to a cutting board and slice into coins. Add them back into the skillet and cook until caramelized and a deep golden brown. Remove, transfer to a paper towel lined plate and set off to the side.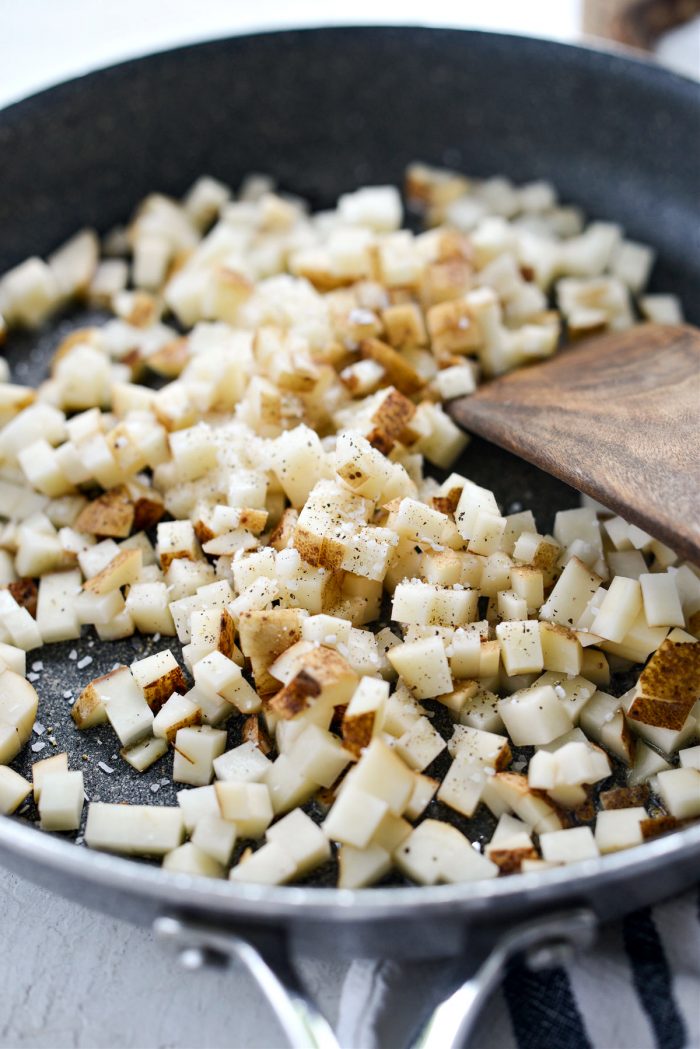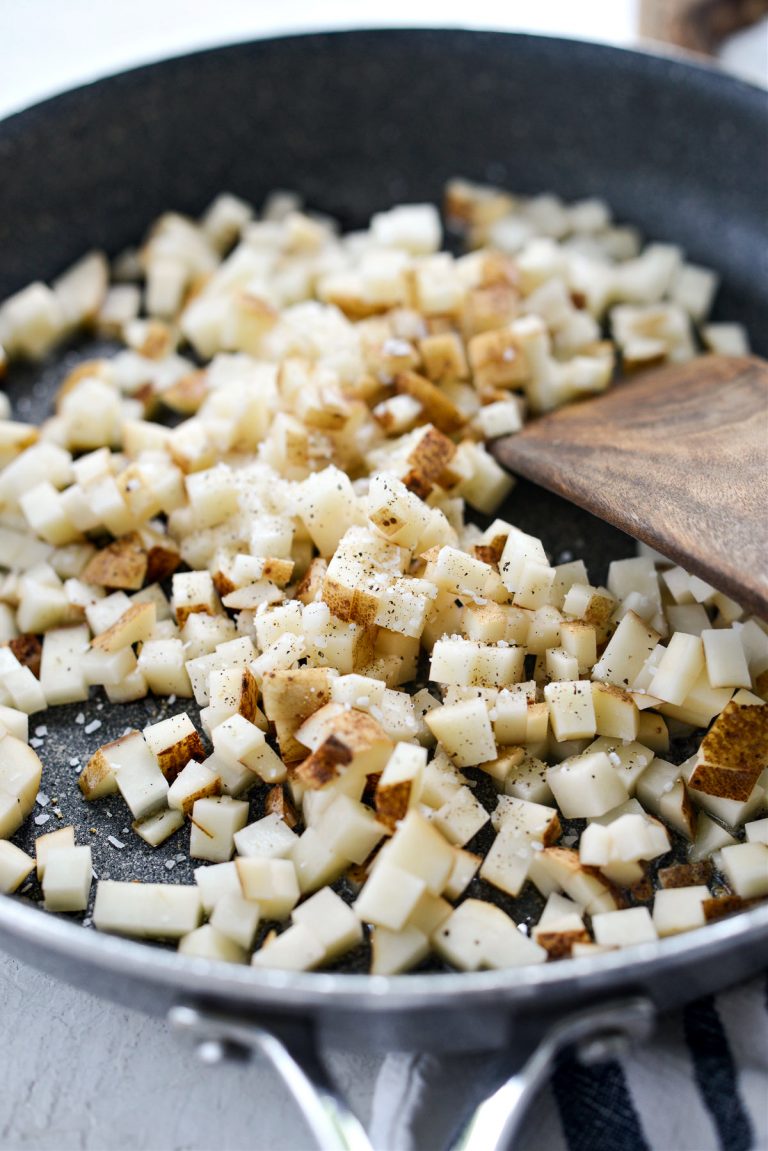 Next, add the diced potato, salt and pepper to the sausage fat in the skillet.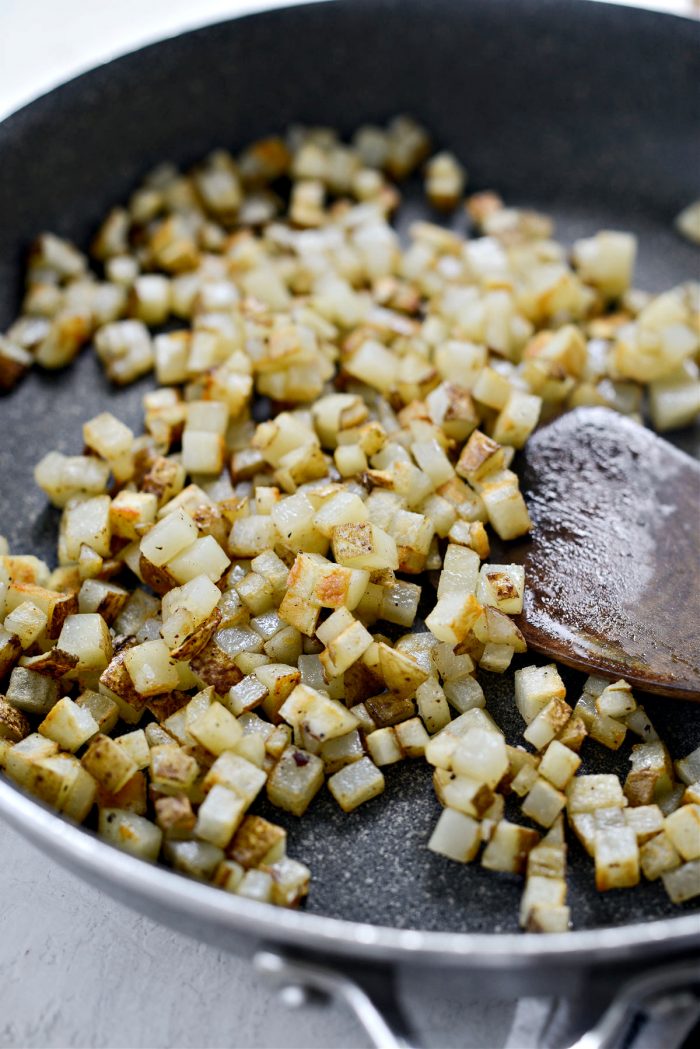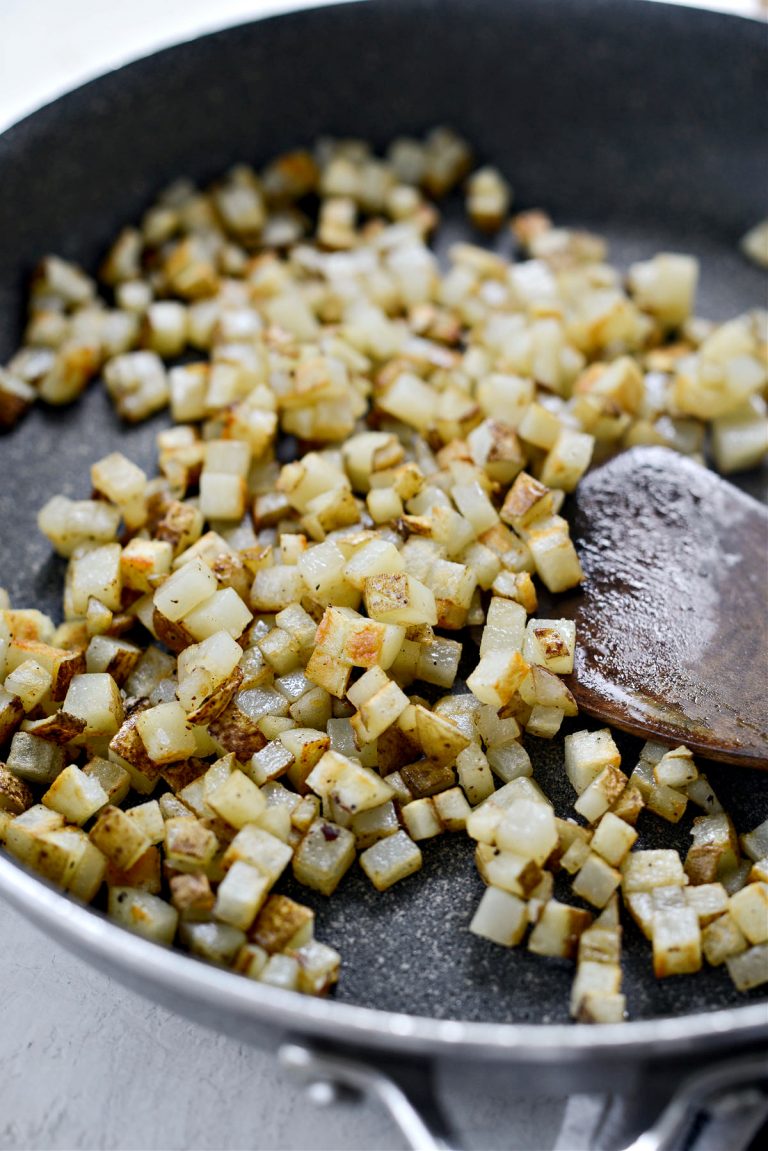 Toss and cook over medium to medium-high heat until fork tender and golden brown. Transfer the crispy potatoes to a small dish and set off to the side.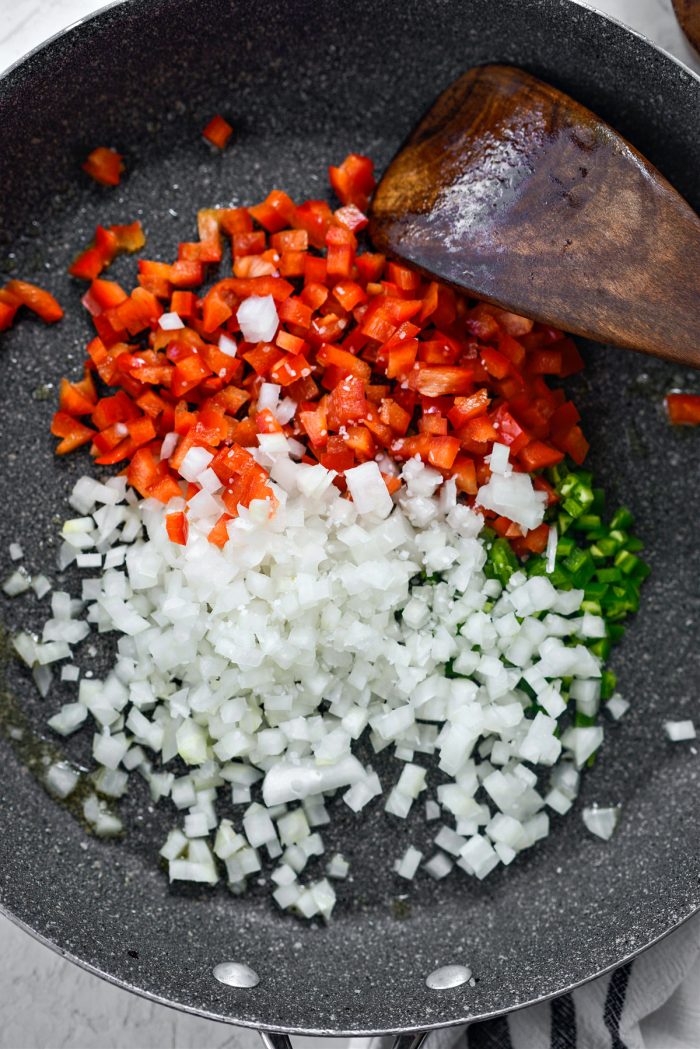 To the same skillet, spray with a little more non-stick spray and add the finely diced red bell pepper, yellow onion and jalapeño. Reduce the heat to medium-low, stir and sauté until softened.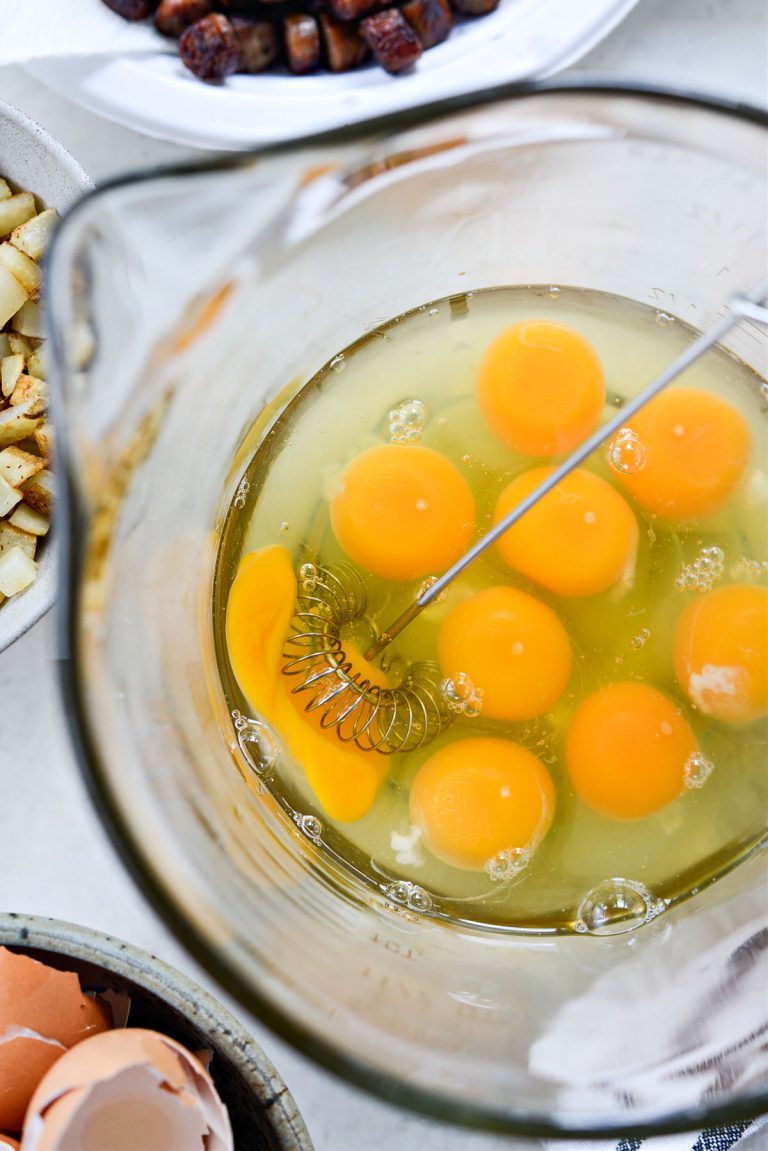 Crack 8 eggs into a mixing bowl.
Using a whisk, beat thoroughly.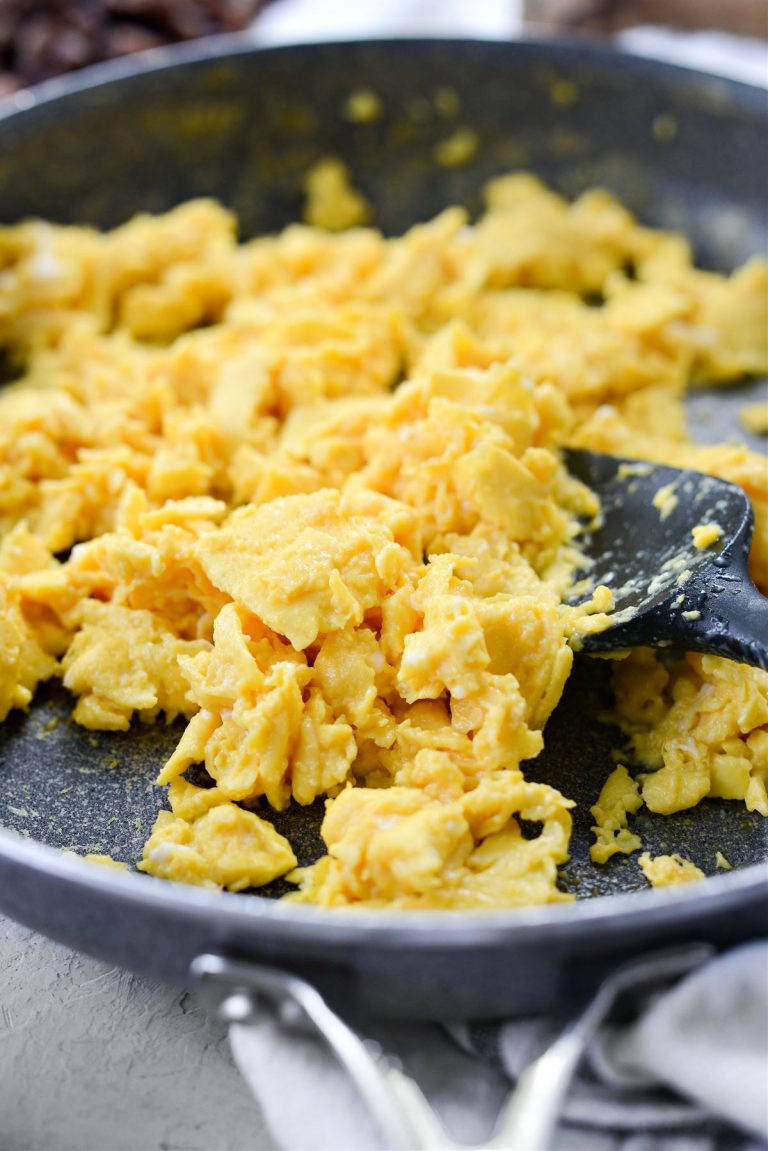 Pour the beaten eggs into the (same) skillet – spray with more non-stick spray if needed- and cook over low to medium-low, scraping the bottom of the pan until the eggs are fluffy and fully cooked.
Heat your tortillas and gather the eggs, sausage, potatoes, peppers and onions, shredded cheddar jack cheese and sliced avocado (if using).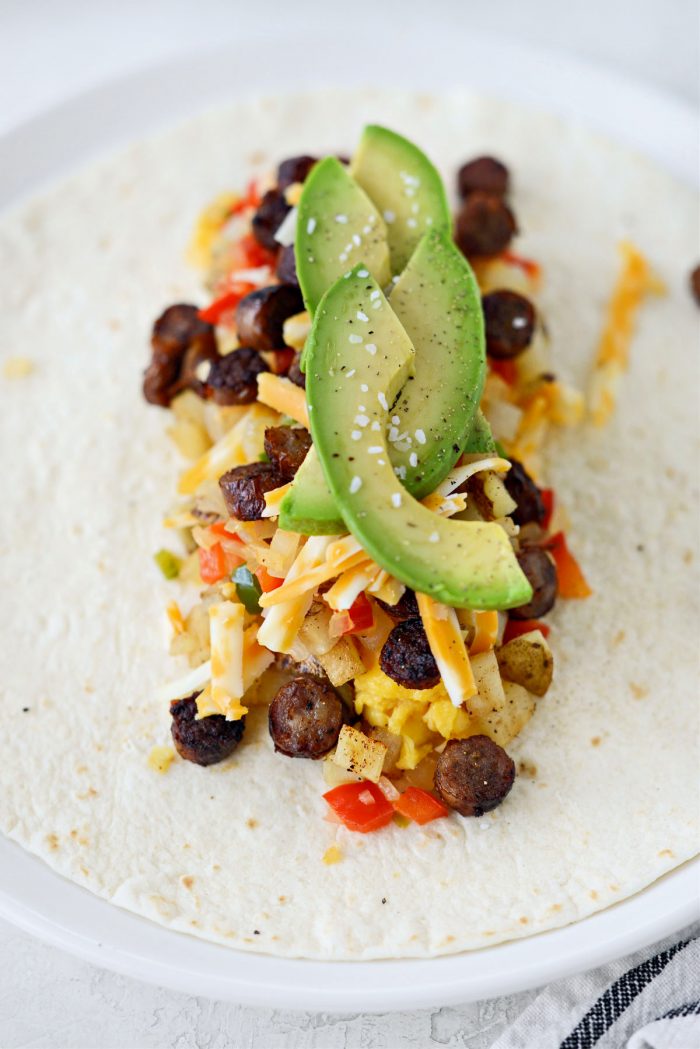 Build Your Burritos:
On a warm tortilla, start with the scrambled eggs first before topping with cheese, potatoes, peppers and onions, sausage, a little more cheese, avocado, salt and pepper. Of course you can omit any ingredients to personalize these.
I give this a light press before wrapping.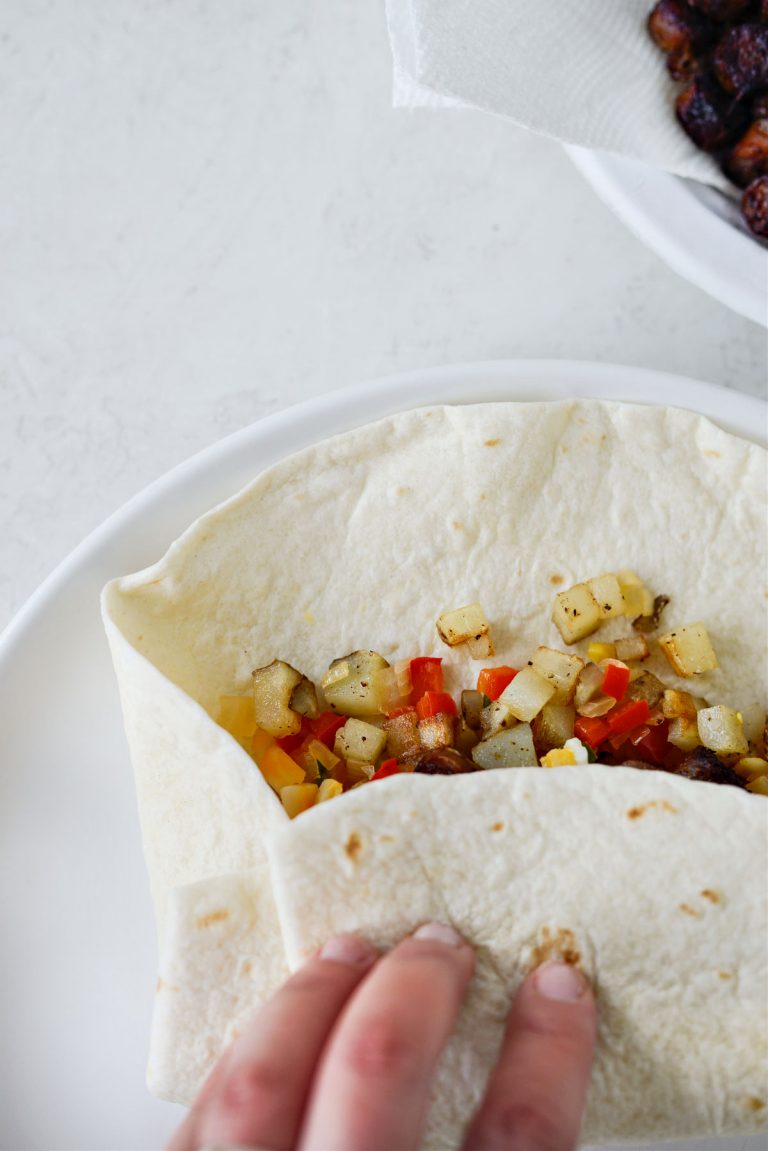 Wrap the burrito by first folding in the sides and tucking them in as you tightly roll.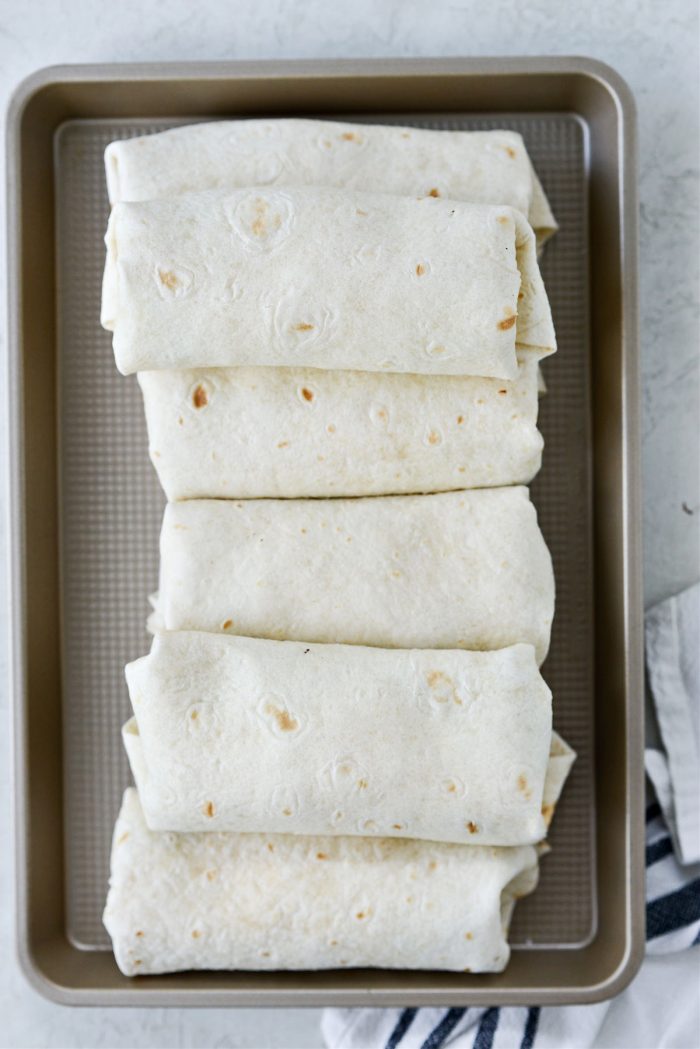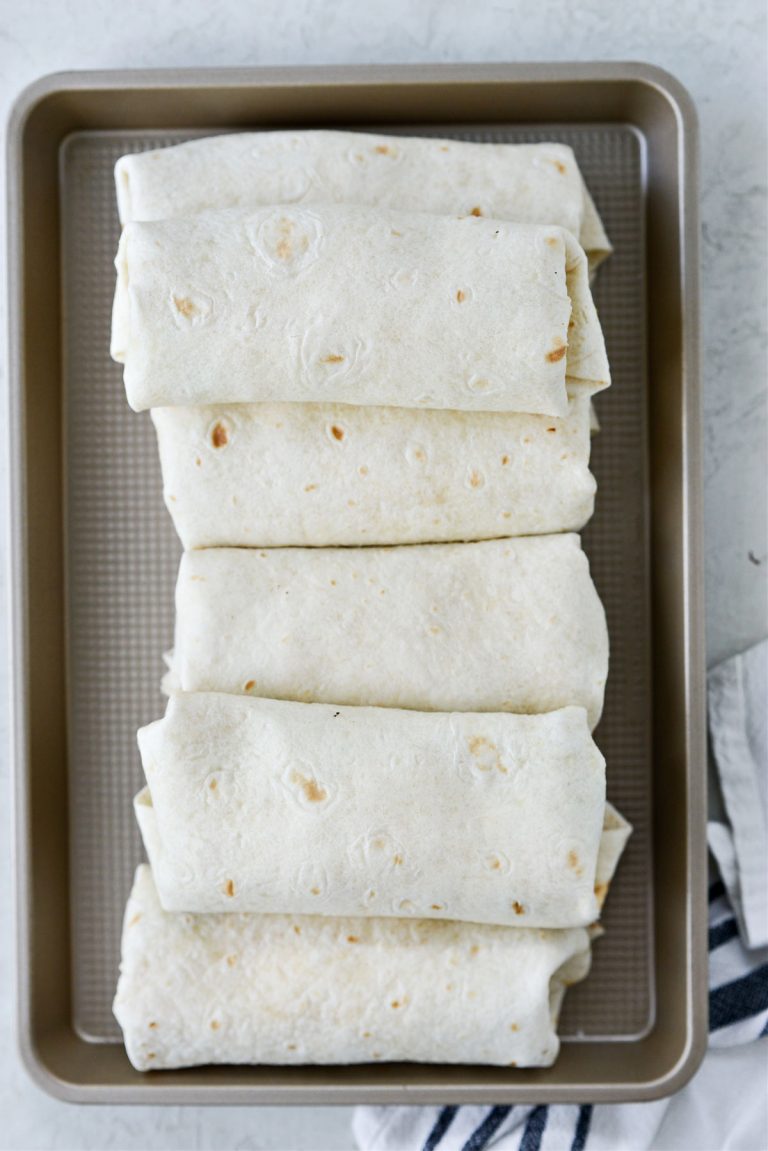 Repeat with the remaining tortillas and ingredients. Spray the tops of the burritos with ghee or olive oil spray.
Lightly spray the bottom of your panini press and preheat.
Working in batches, place a few of the b burritos onto the press.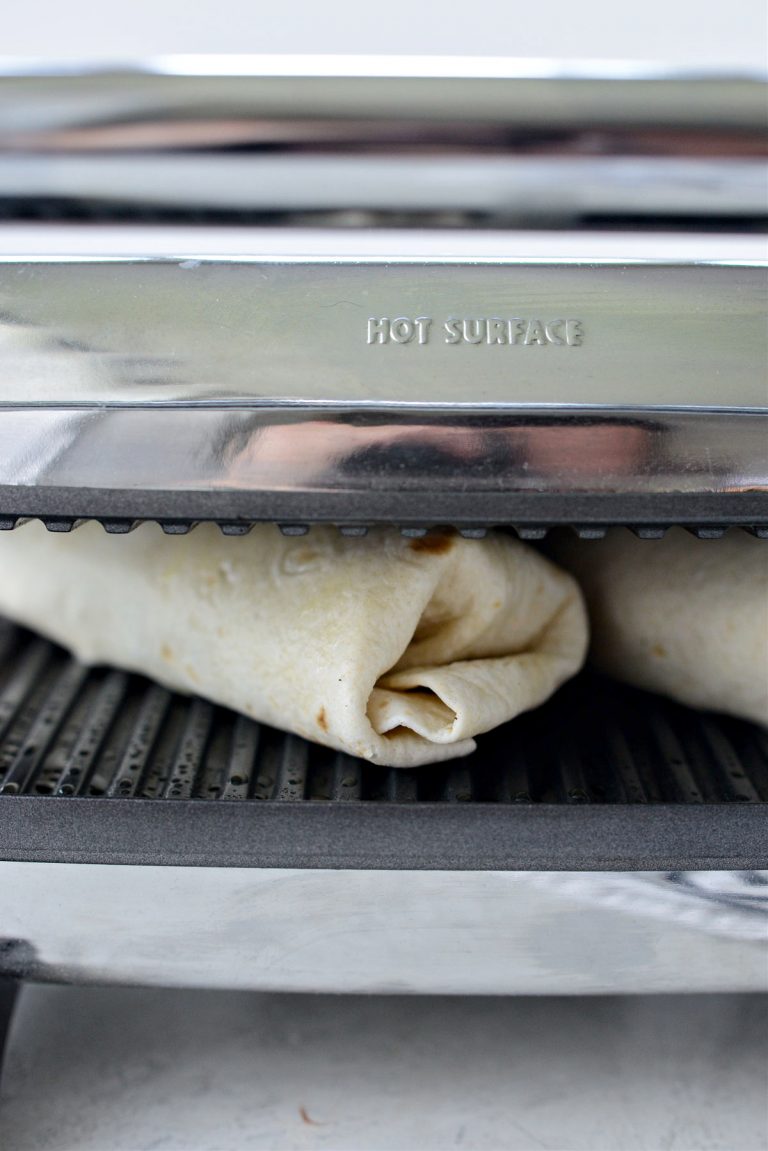 Close the lid and grill or "panini" for 5 minutes or until golden grill marks appear.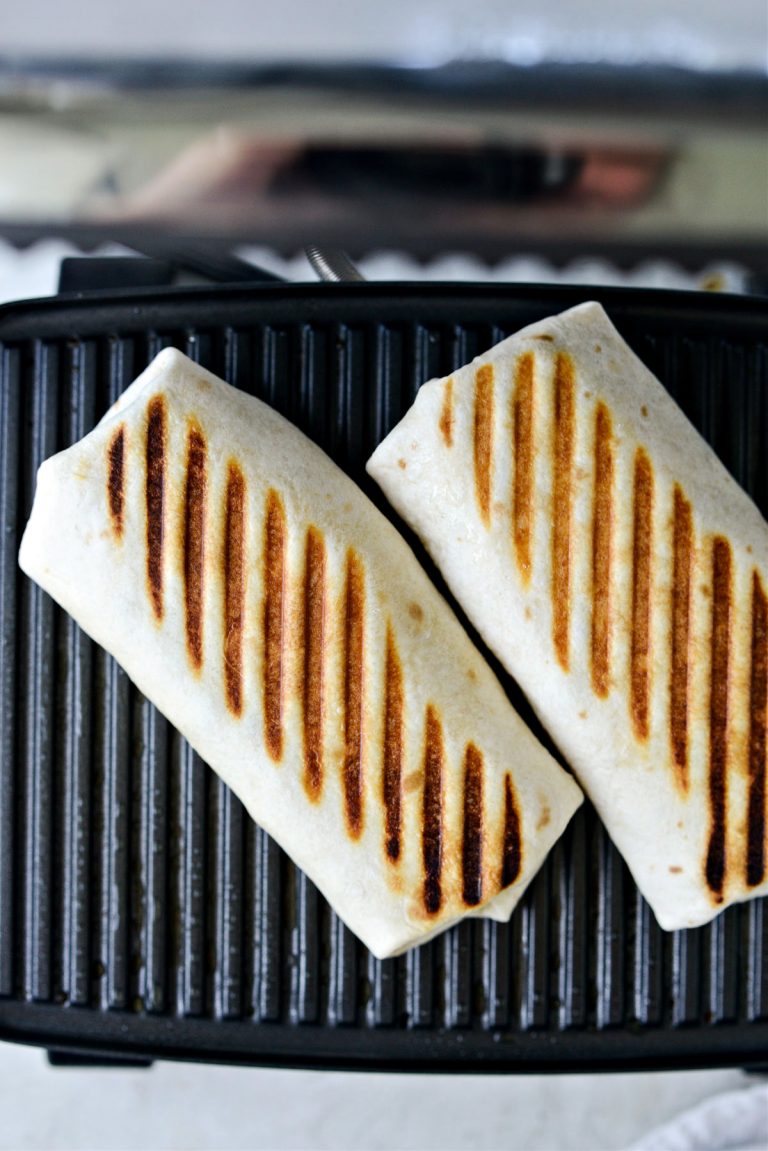 Grill mark perfection.
Serve with your favorite condiments. Mike and Heidi had sour cream and salsa which really makes these burritos, but I added smashed avocado and a few tortilla chips because why not?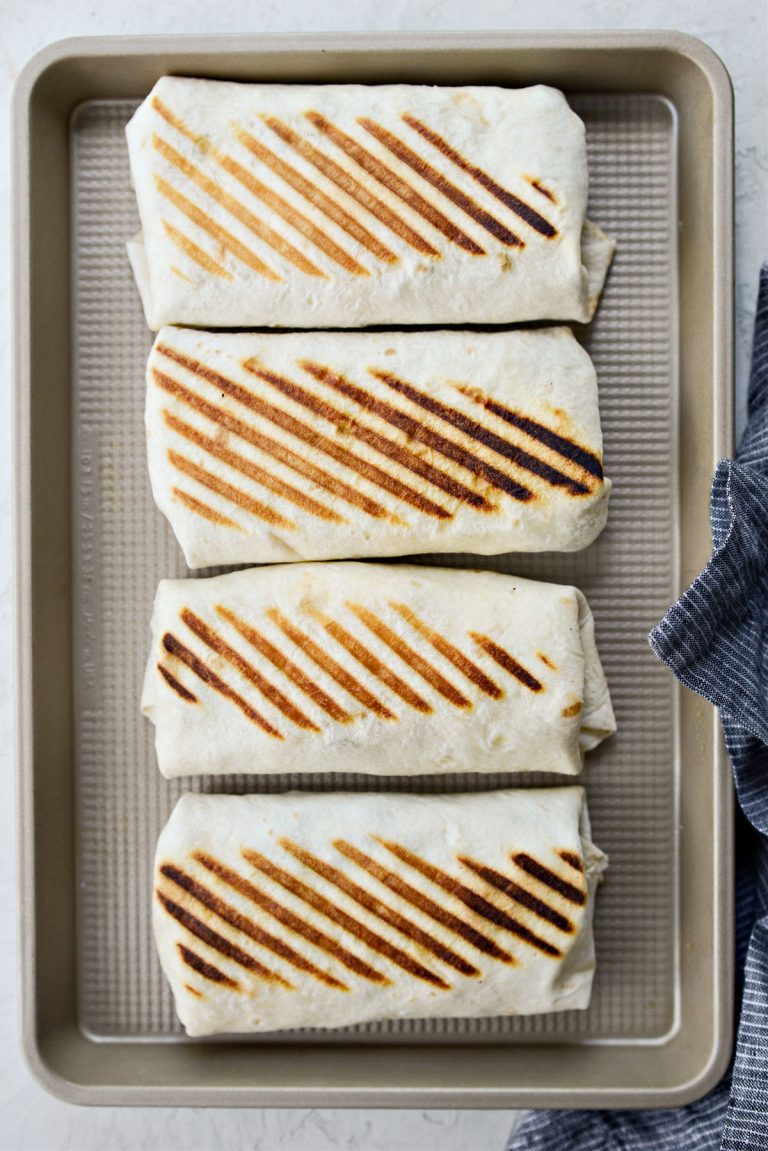 Freezing Homemade Breakfast Burritos:
Cool completely.
Lay flat on a rimmed baking sheet and flash freeze 25 minutes.
Wrap in parchment.
Stack in a gallon-size resealable baggie.
Reheating Homemade Breakfast Burritos:
Remove burrito from bag and keep wrapped in parchment paper.
Reheat at 50% until heated through. About 3-1/2 to 5 minutes. Flipping every minute.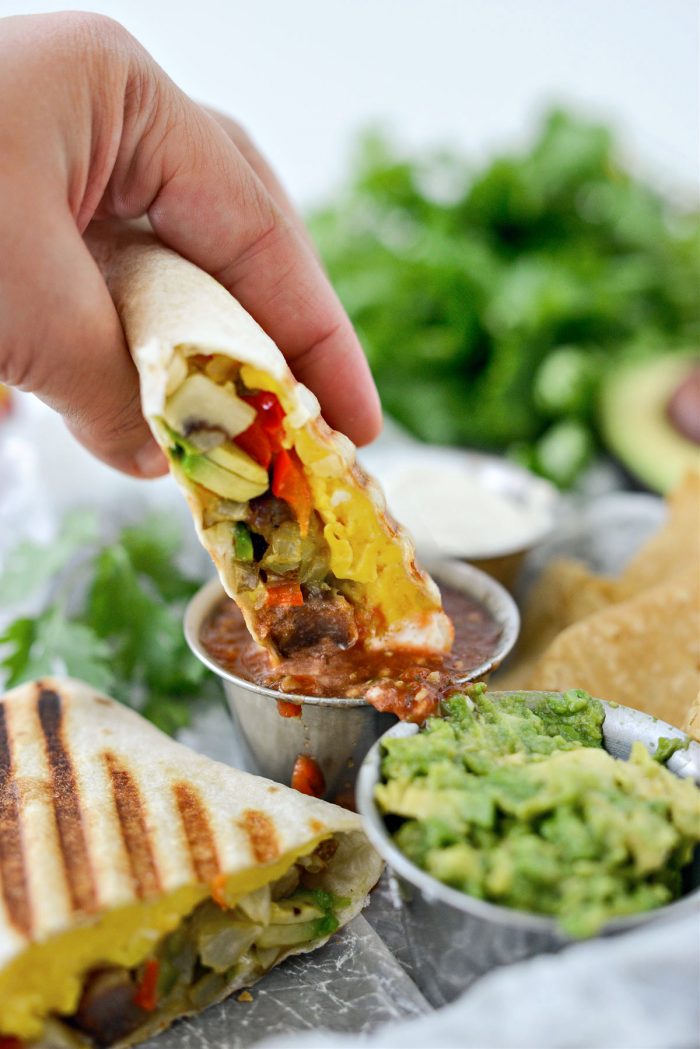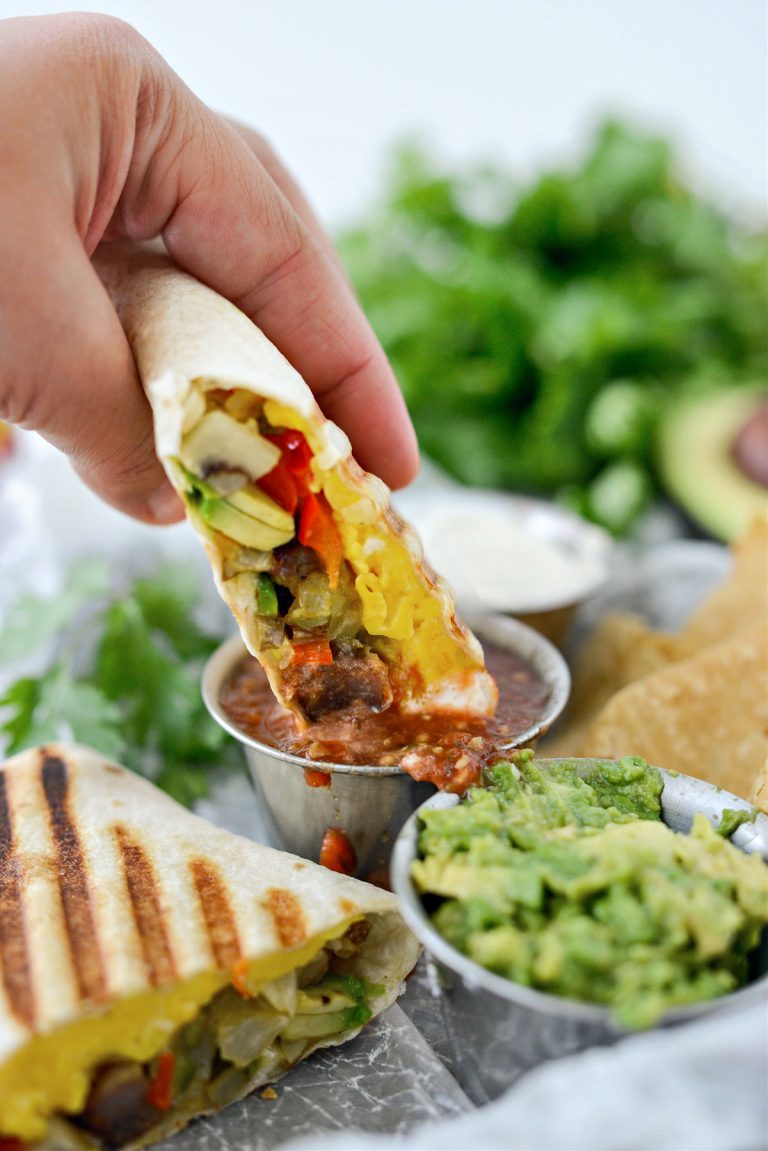 Dip, dip, eat and repeat.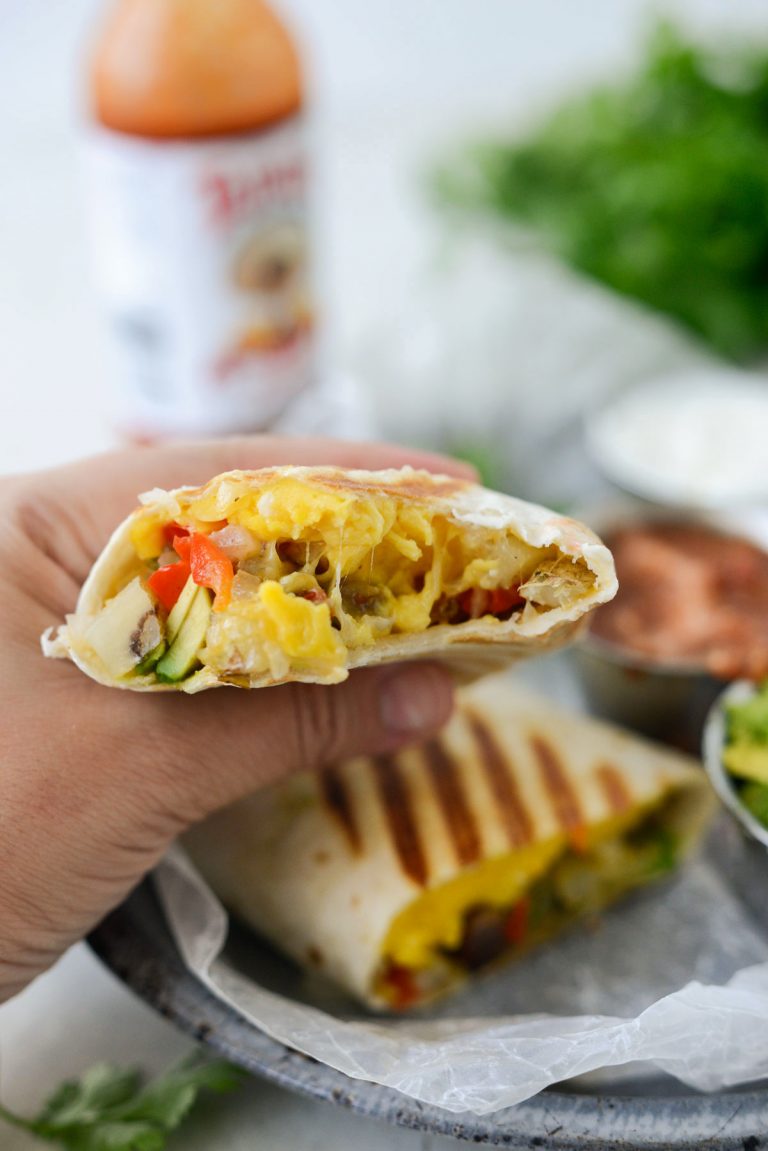 Enjoy! And if you give this Grilled Breakfast Burritos recipe a try, let me know! Snap a photo and tag me on twitter or instagram!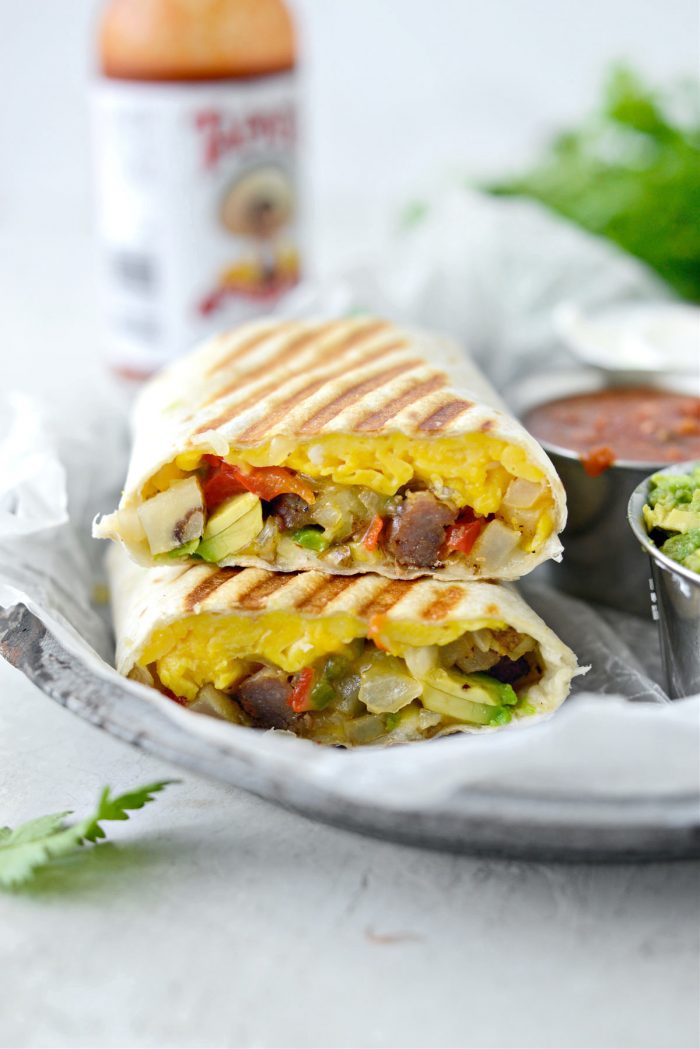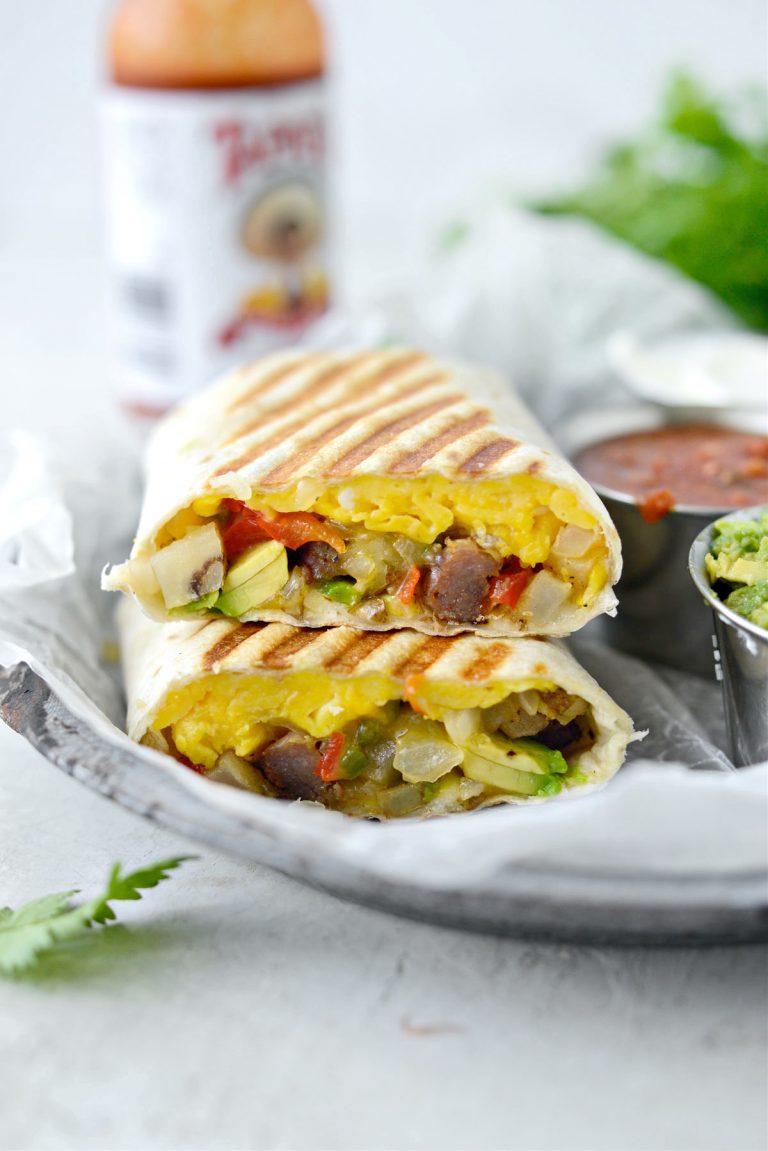 This post may contain affiliate links.