Inspired by my favorite fall take-out salad, this Fuji Apple Salad is loaded with texture and flavor. Spring greens topped with homemade baked apple chips, chicken, maple candied pecans, crumbed blue cheese and drizzled in a sweet apple cider vinaigrette. This recipe yields 4 entree salads.
It's no secret I love recreating Panera Recipes at home.
My obsession started with broccoli cheddar soup and has grown exponentially over the years. And this fuji apple salad is a fall must. Actually, it's an all year round must. Crisp apple chips, crumbled blue cheese and maple sugar candied pecans on bed of leafy baby greens, drizzled with a sweet apple cider vinaigrette. Believe me when I tell you the dressing is perfection!
In it apple cider, white balsamic vinegar is sweetened with maple syrup and seasoned with a few dried herbs and spices. It's creamy, sweet and incredible on this fuji apple salad.
And dare I say that it's better than Panera? (because it is.)
To Make This Fuji Apple Salad You Will Need:
for the sweet apple cider vinaigrette:
olive oil
white balsamic
maple syrup
apple cider (not vinegar)
dijon
ground rosemary
garlic powder
onion powder
fine sea salt
ground ginger
white pepper
for the salad:
baby spring greens
cooked chicken
grap tomatoes
thinly sliced red onion
candied pecans
crumbled blue cheese
In a mini food processor blender, measure and add 1/2 teaspoon garlic powder, 1/2 teaspoon onion powder, 1/2 teaspoon fine salt, 1/4 teaspoon ground ginger and 1/8 teaspoon white pepper.
If you can't find ground rosemary, throw some into a spice grinder or use a mortar and pestle to grind it up.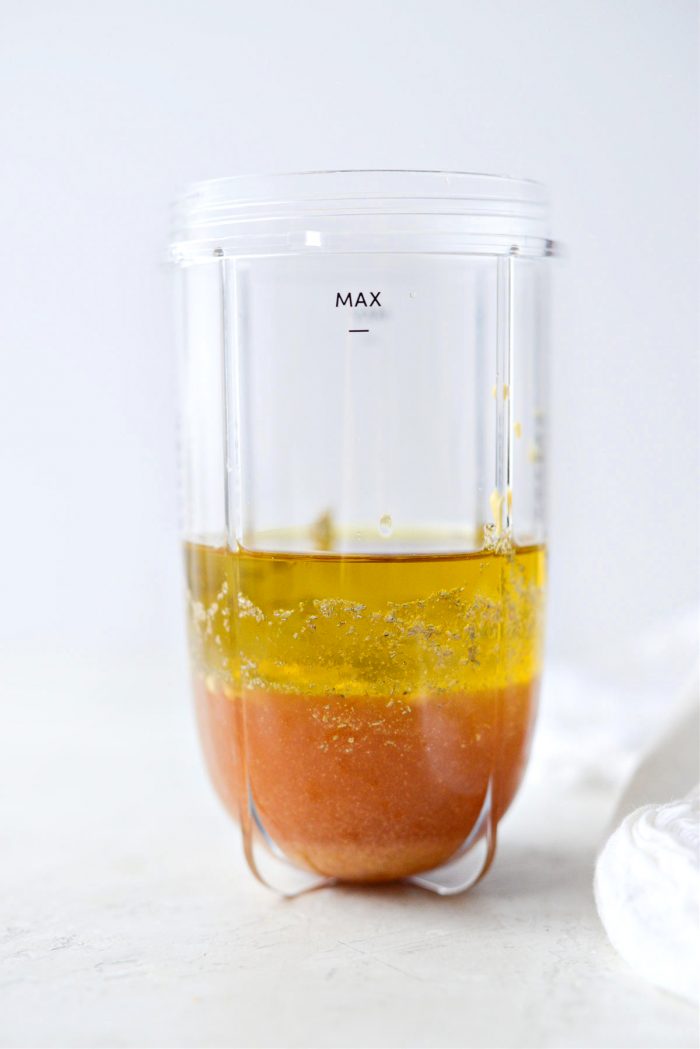 To that, measure and add 1/2 cup olive oil, 1/4 cup white balsamic vinegar, 3 tablespoons apple cider (not apple cider vinegar), 2 tablespoons pure maple syrup and 1 teaspoon dijon mustard.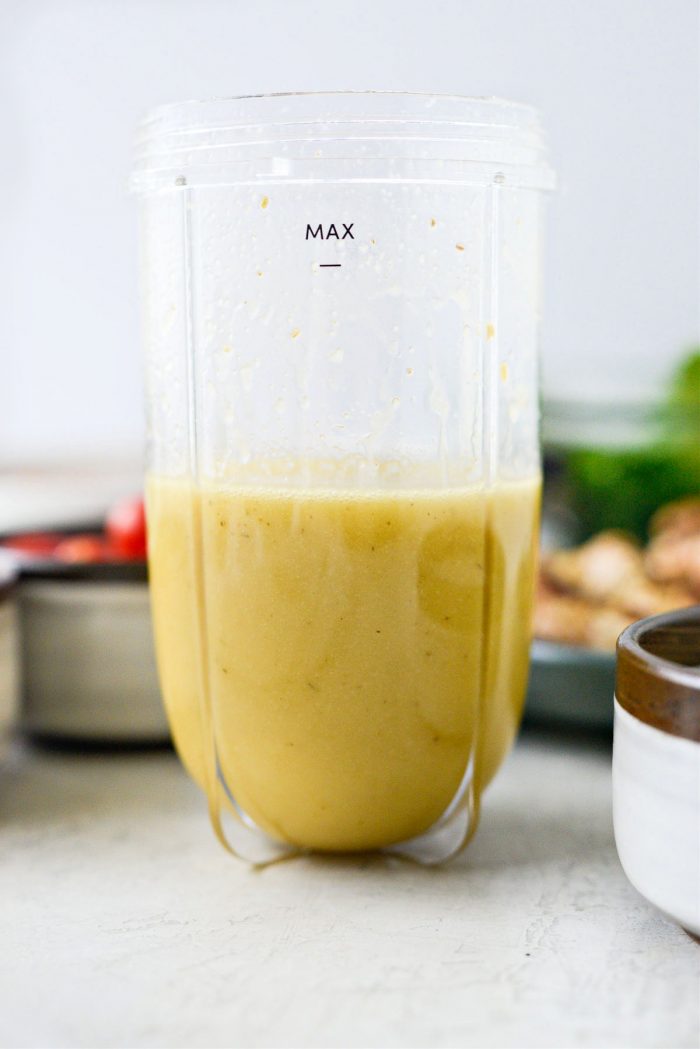 Blend until creamy and smooth.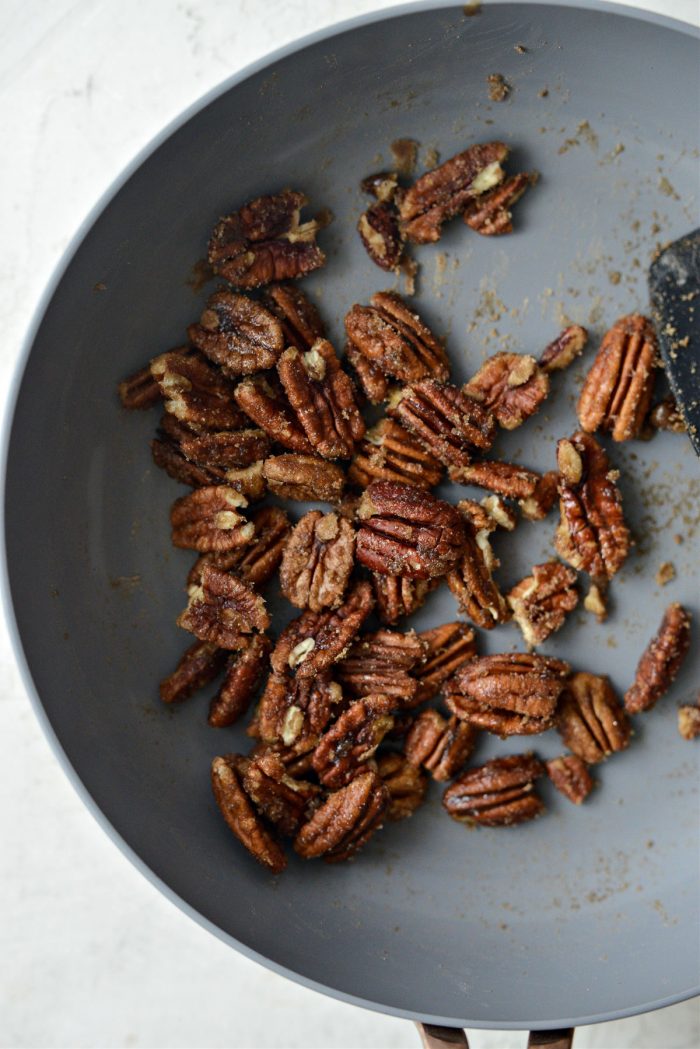 Make the candied pecans by adding 1/2 cup pecans, 2 teaspoons brown sugar and 2 teaspoons maple syrup. Heat on medium-low, stirring until the pecans are coated and toasty.
Divide 10 ounces of baby spring mix among bowls and top with cooked grilled chicken (use leftover grilled, roasted or rotisserie chicken), crispy apple chips, thinly sliced red onion, halved tomatoes, crumbled blue cheese and candied pecans.
Drizzle with the sweet apple cider vinaigrette.
And there you have fall in a bowl. The combination of flavors is why this salad is so great. Apples, blue cheese and pecans is one of the best!
Make it a meal with this Autumn Squash Soup!
Click Here For More Panera Bread Inspired Recipes.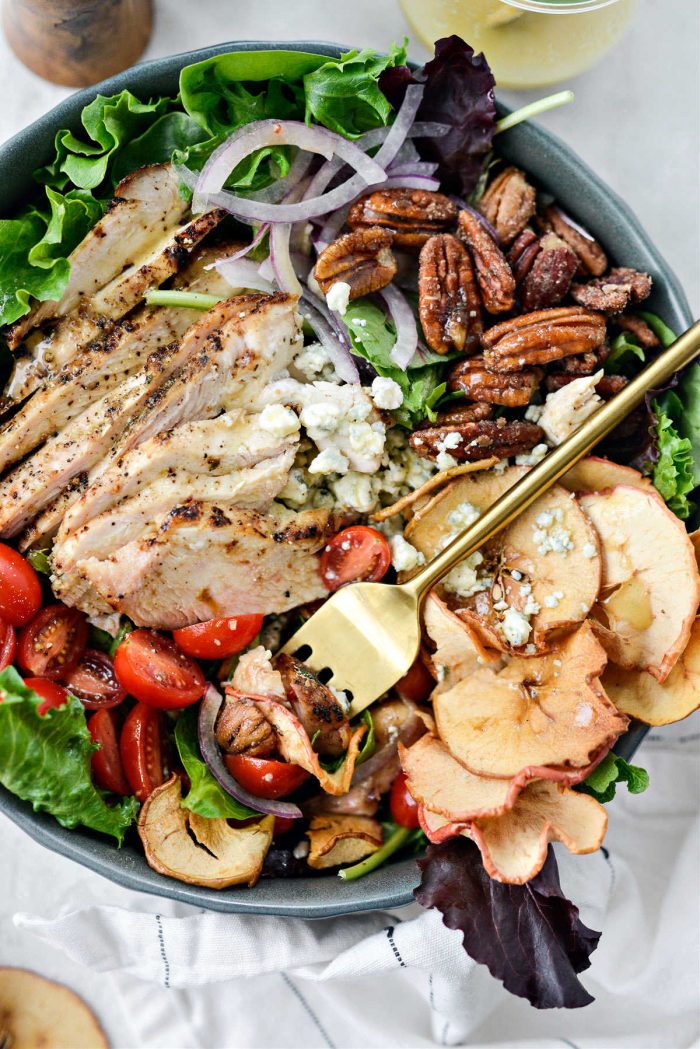 Enjoy! And if you give this Fuji Apple Salad recipe a try, let me know! Snap a photo and tag me on twitter or instagram!
This post may contain affiliate links.