Craving a giant bowl of Drunken Noodles? (me too!) Stir fried chiles, shallots, garlic and ginger tossed in a simple soy-based sauce with tender chicken and wide rice noodles. Although there is a bit of prep involved, once you start cooking this recipe comes together rather quickly. This recipe serves 4.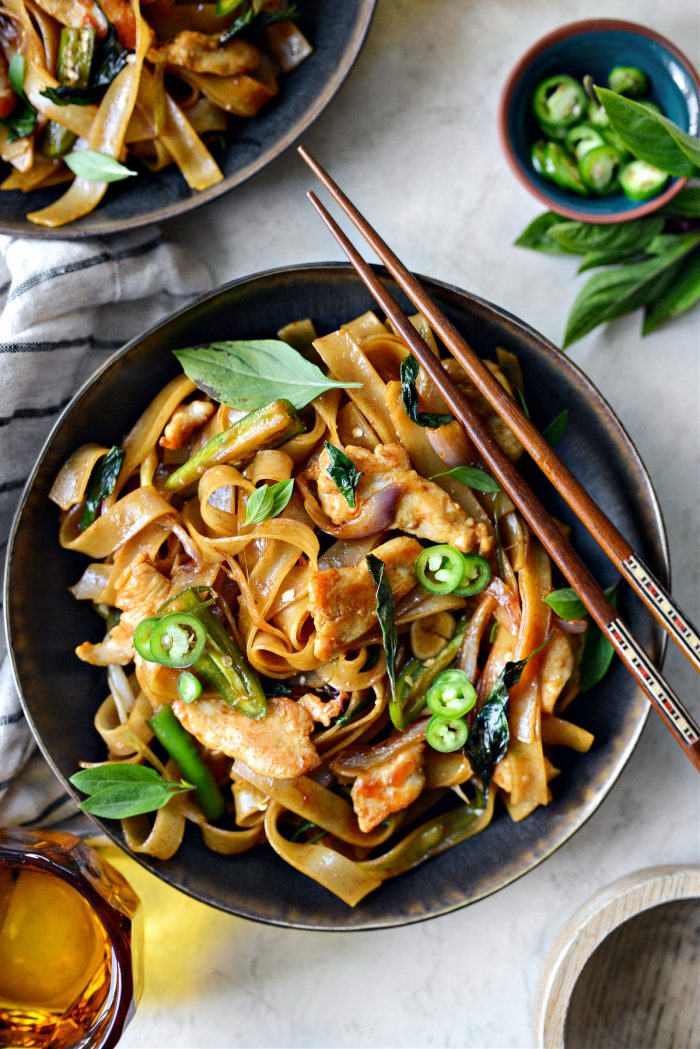 Two words that best describe Drunken Noodles are spicy and addictive.
I've eat a lot of Thai. I love nothin more than hanging up my metaphorical apron and ordering take out. On his way home, Pat will usually pick it up from our favorite Thai place. We usually order either drunken noodles or pad thai.
As you might know, I've made drunken noodles before. But I just so happened to have stumble upon a spectacular recipe online, that over the last year, I've slightly adapted to resemble our favorite Thai takeout places.
Spicy, addictive and delicious!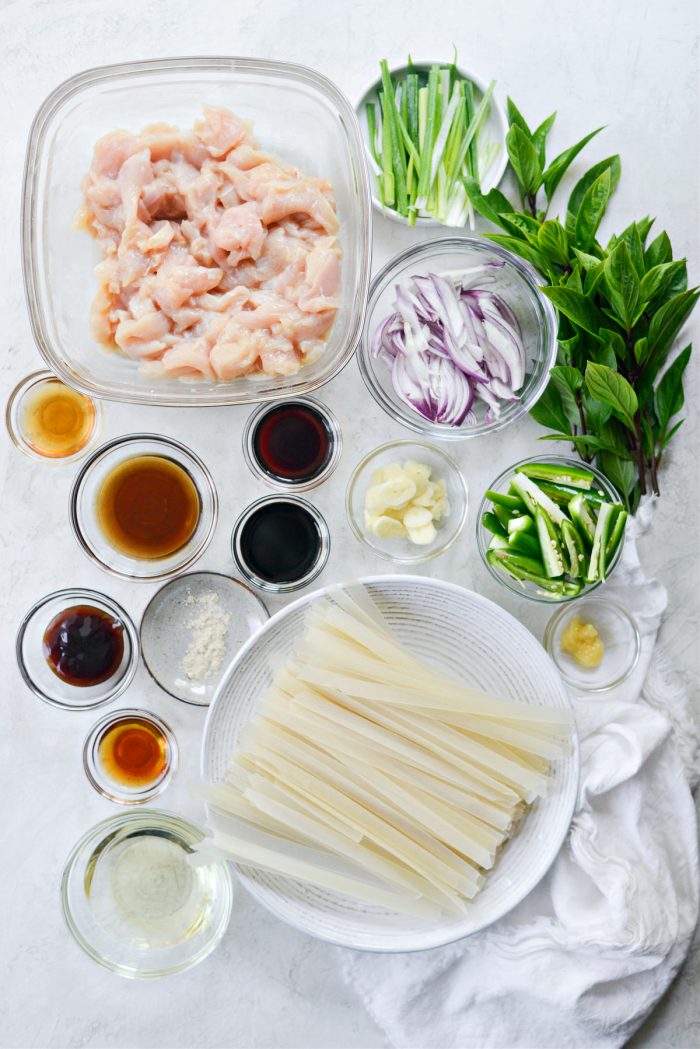 To Make Drunken Noodles You Will Need:
rice noodles (I use wide noodles)
thin-cut boneless skinless chicken breasts
low-sodium soy sauce
extra light olive oil
cornstarch
brown sugar
dark soy sauce
oyster sauce
fish sauce
shallot
garlic
ginger paste
serrano chiles or jalapeños
green onions
thai basil or holy basil
shaoxing rice wine (chinese cooking wine)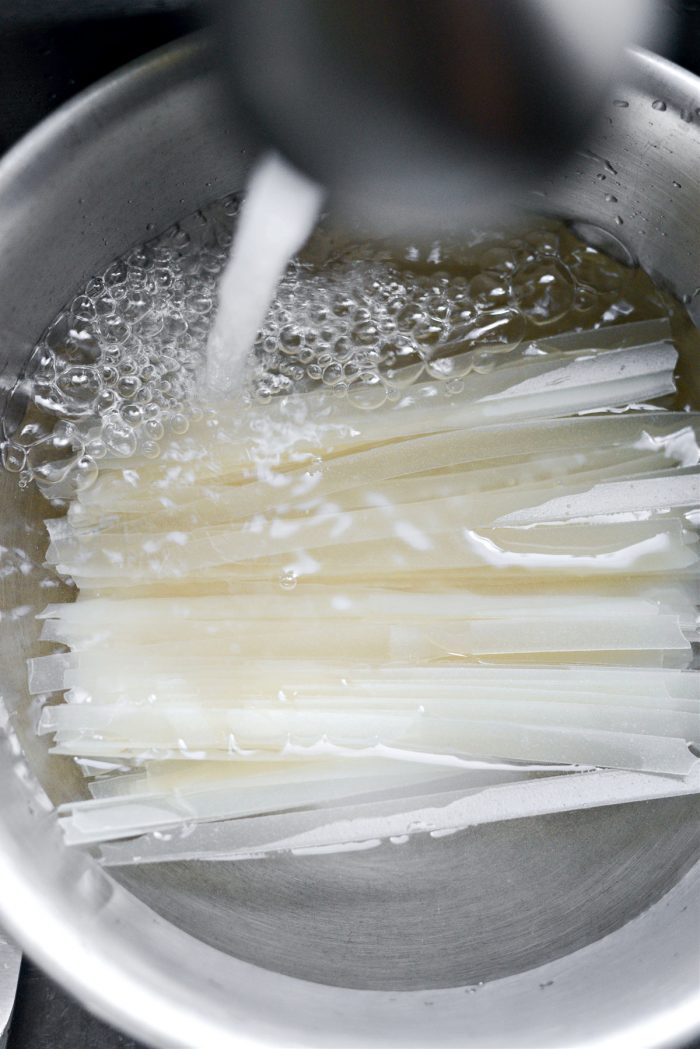 Place 10 ounces rice noodles in a metal bowl and cover with hot tap water. The metal bowl will conduct the heat and keep the water warmer longer. Soak wide rice noodles for 30 to 35 minutes or until soft. For thinner rice noodles, soak for 15 minutes or until soft. Once the noodles are soft, drain and set aside.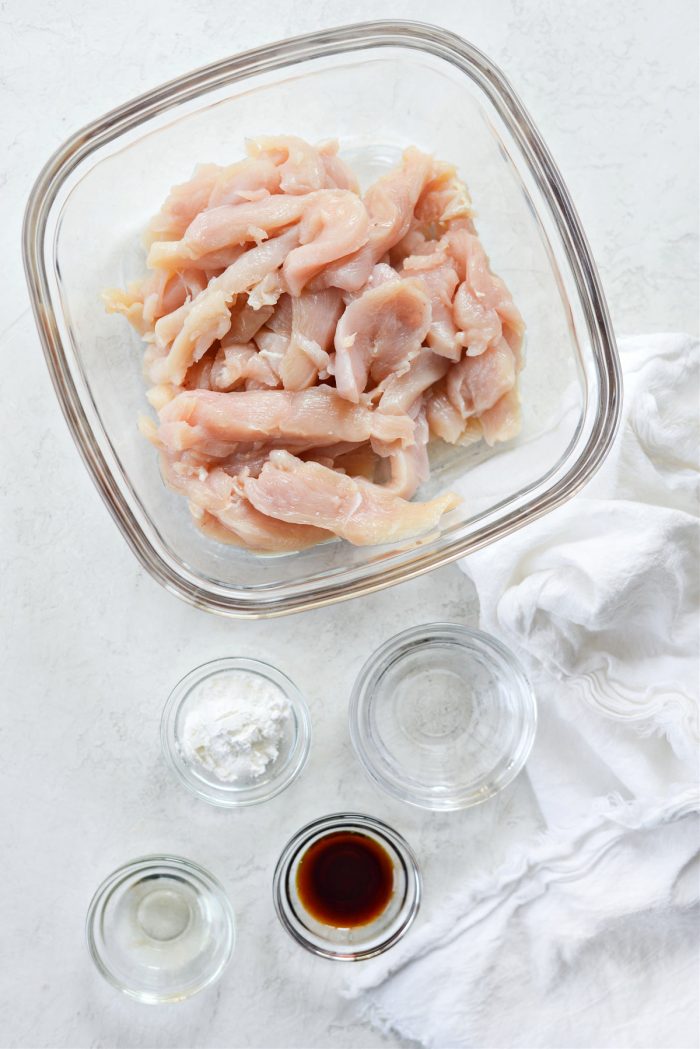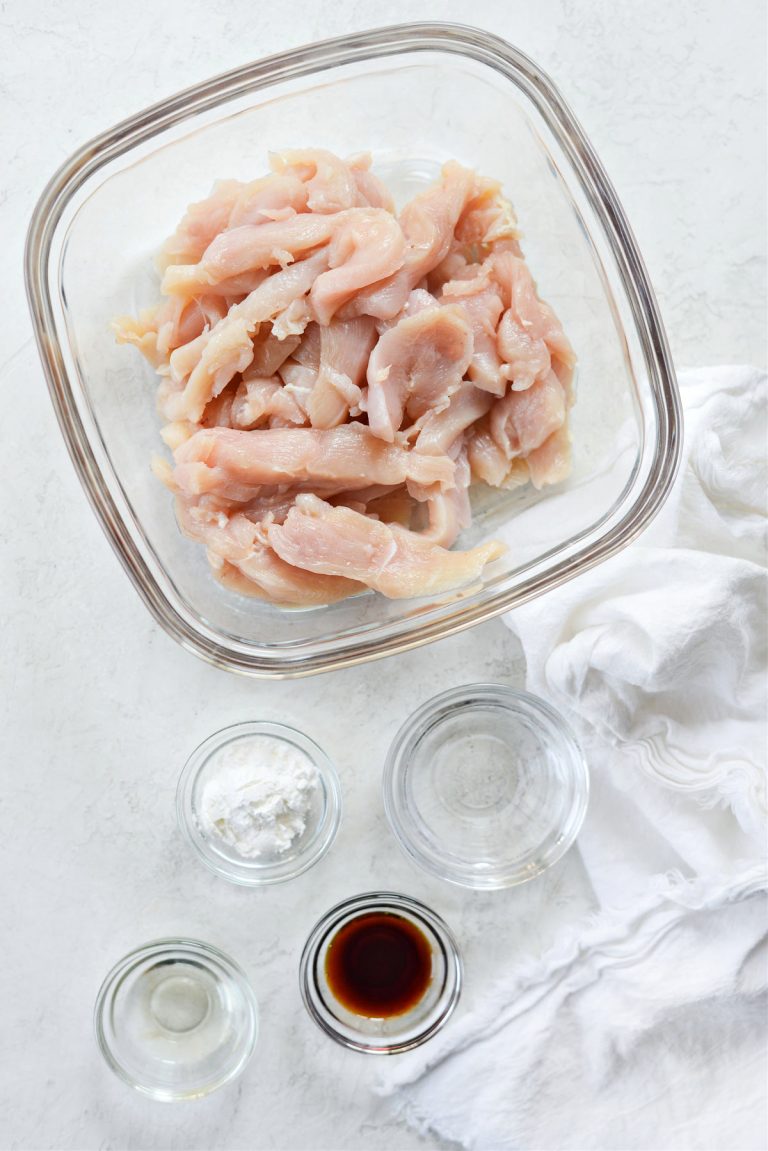 Next velvet the chicken for stir-frying. I did a little research on "velveting" and learned there are several different ways to do this. Essentially, velveting is a technique used in Chinese cooking where meat is marinated and precooked in oil. This yields tender, flavorful meat.
To Velvet Chicken You Will Need:
thin sliced chicken breast
water
extra light olive oil
low-sodium soy sauce
cornstarch
Add 1 pound thin sliced chicken breasts into a bowl. Add 2 tablespoons water and rub it into the chicken until the water disappears and is absorbed into the chicken.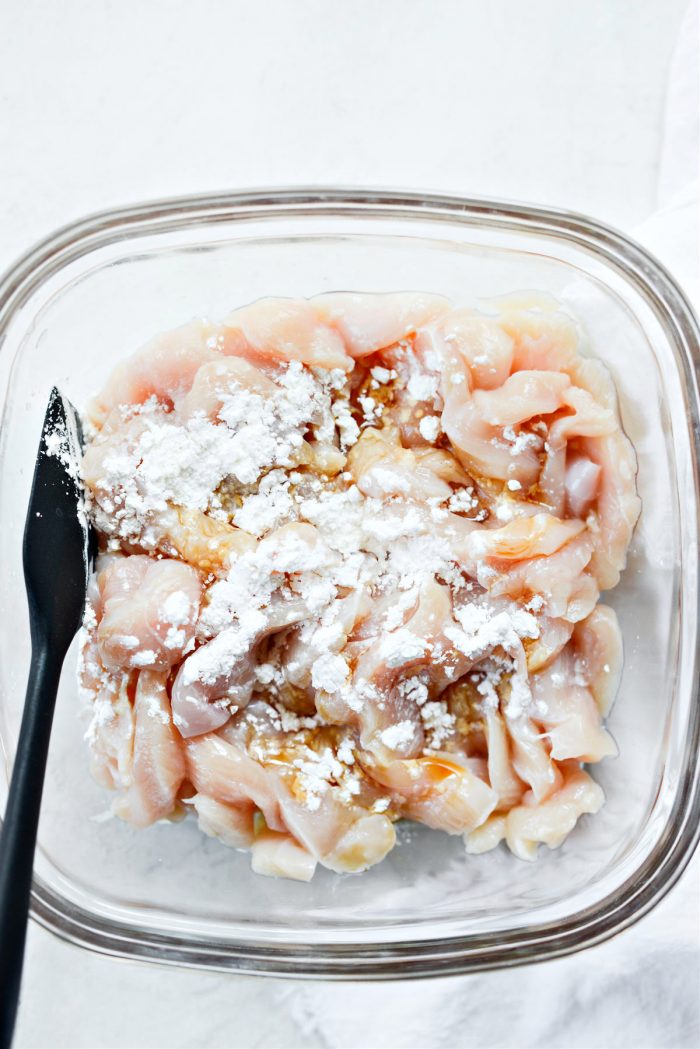 Next, add in 1 teaspoons low-sodium soy sauce, 1 teaspoon extra light olive oil and 2 teaspoons cornstarch.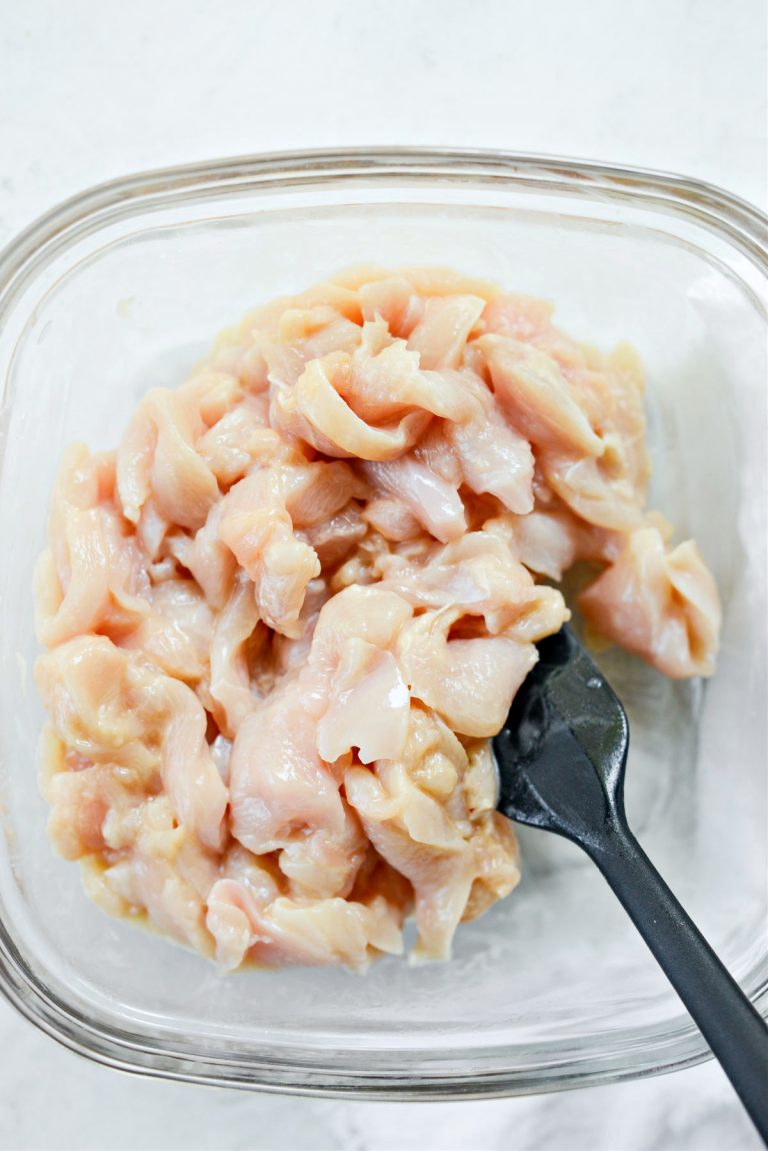 Toss well to combine and set off to the side.
Now make the drunken noodle sauce. First, dissolve 1-1/2 teaspoons dark brown sugar with 1 tablespoon hot water.
Add the brown sugar mixture to a bowl or liquid measuring cup and add in 2 teaspoons low-sodium soy sauce, 1 tablespoon dark soy sauce, 2 teaspoons each oyster sauce and fish sauce and a pinch or two of ground white pepper. Whisk well to combine and set off to the side.
Heat a large wok or chefs pan over medium-high to high heat until near smoking. Drizzle 2 tablespoons extra light olive oil around the inside perimeter.
Add in the marinated chicken and sear on each side.
Cooking for 1 to 2 minutes. Once golden, transfer to a clean plate and set off to the side.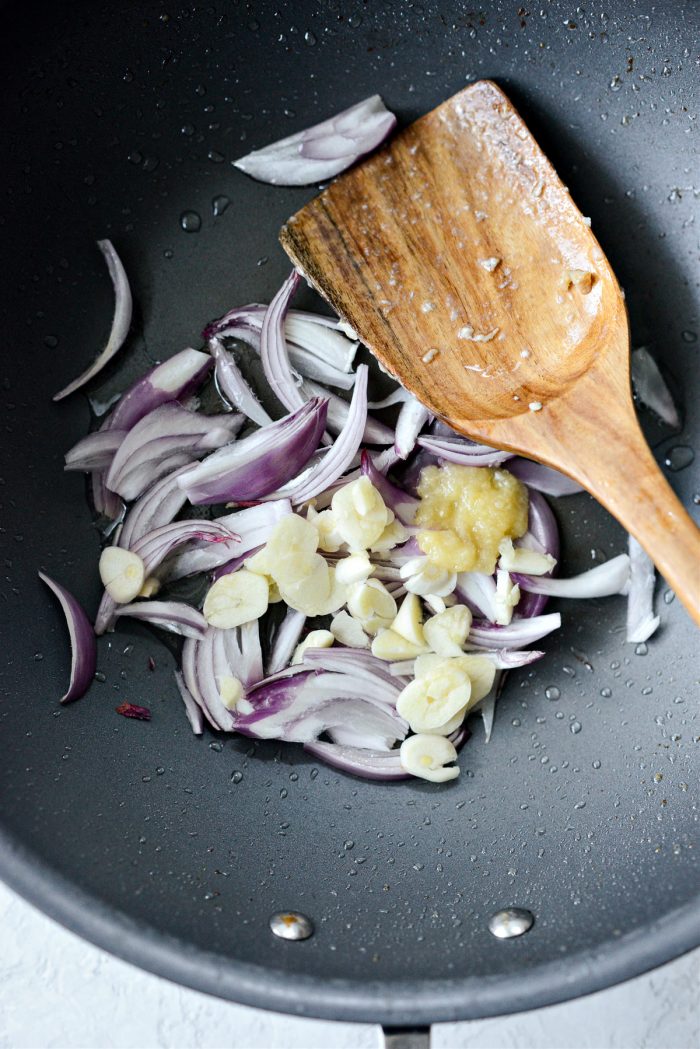 Add the remaining oil and add in 1 medium thinly sliced shallot, 3 cloves sliced garlic and 1/2 teaspoon of grated fresh ginger.
Stir fry for 20 to 30 seconds, tossing often.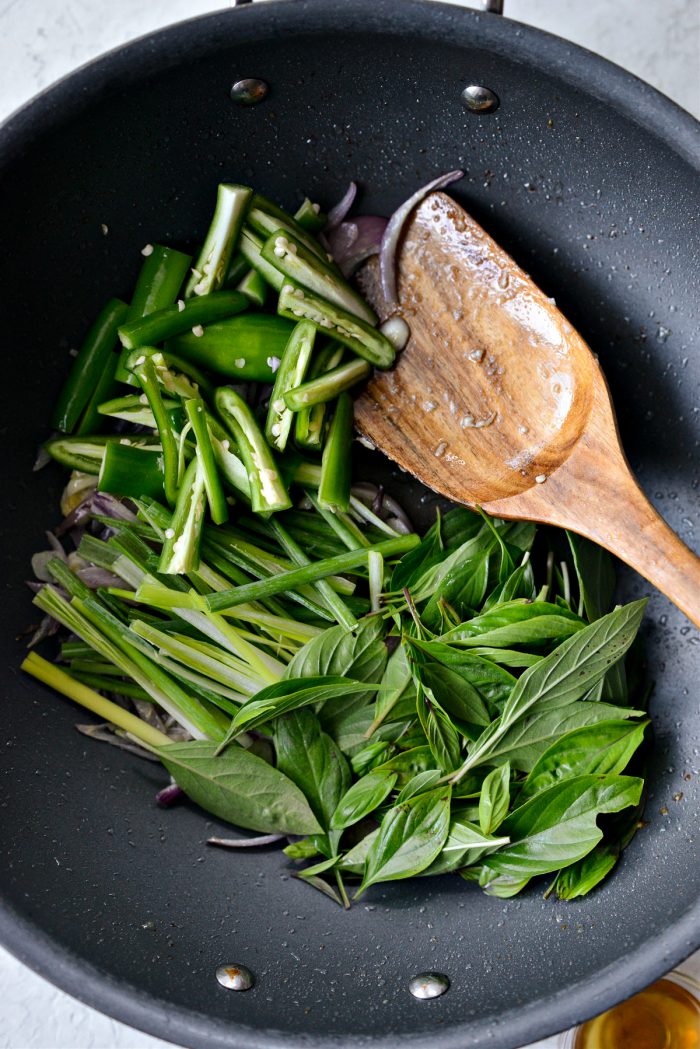 Then to that, add in 1 to 3 quartered Serrano chiles (or sub with jalapeños or thai chiles), 2 green onions that were cut into 3-inch pieces and julienned and 3/4 to 1 cup thai or holy basil. 1 is mild and 3 is spicy.
What's a Good Substitute for Thai or Holy Basil?
There really isn't a perfect substitute for either of these herbs. Obviously it's always best to try to cook with authentic ingredients. Where I live, it's rare to find thai or holy basil year round. During summer months, I grow thai basil in my herb garden for this exact reason. However, in the colder months, I use a 1/2 cup each italian basil and fresh mint and I think it works nicely.
Stir fry for another 30 seconds.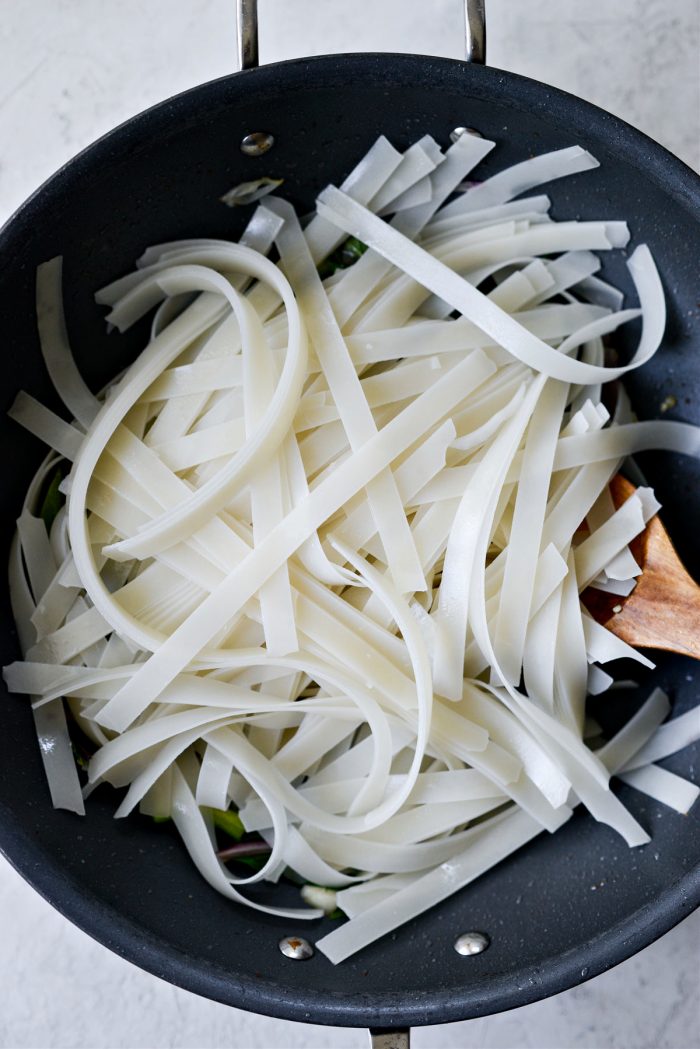 Add in the (drained) soaked rice noodles.
Toss using two wooden spatulas, using a scoop and toss sort of method.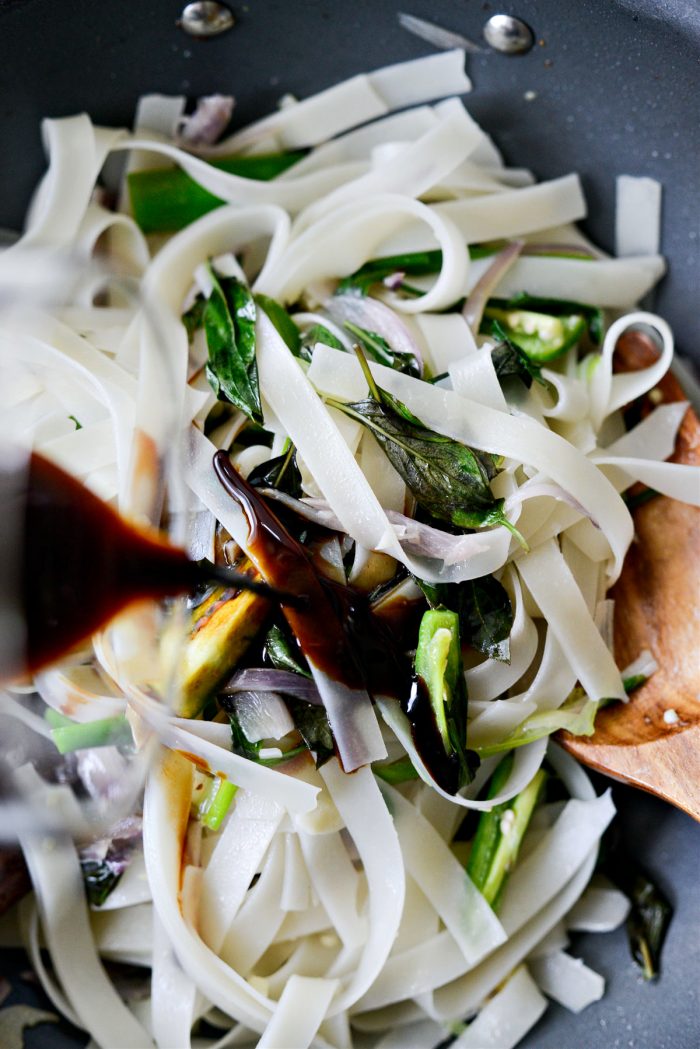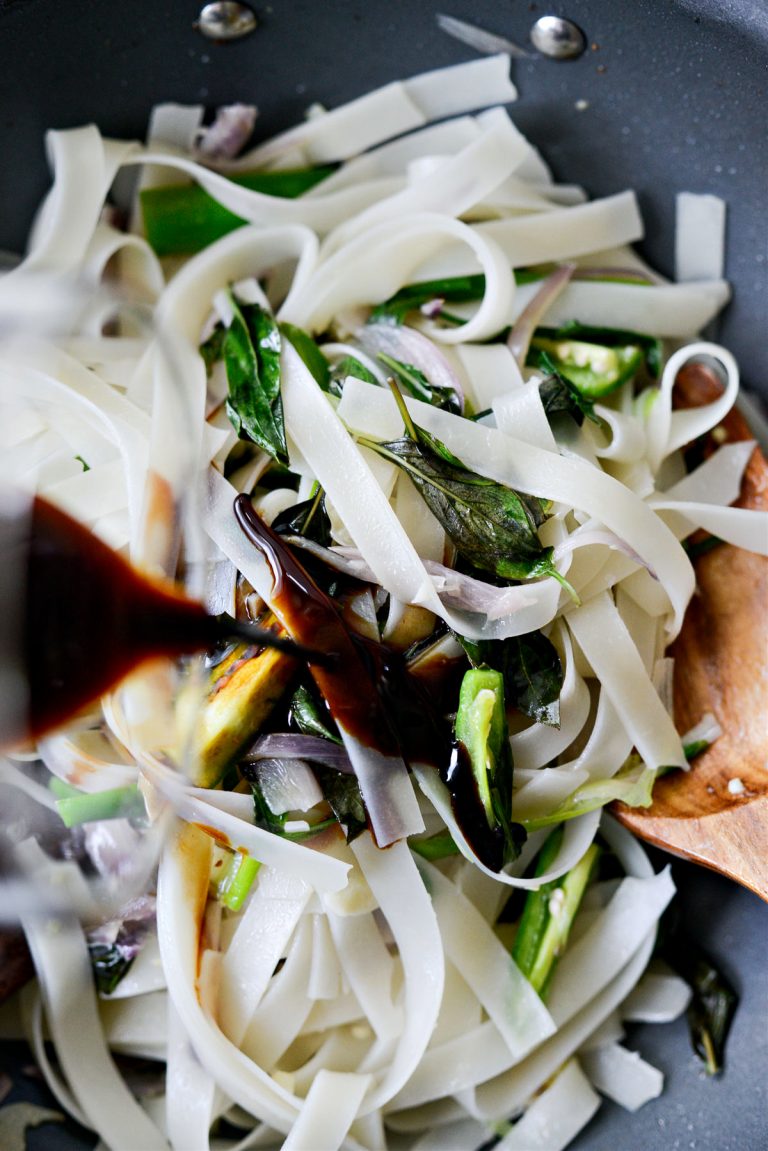 Pour in all of the sauce you made earlier.
Toss well to coat.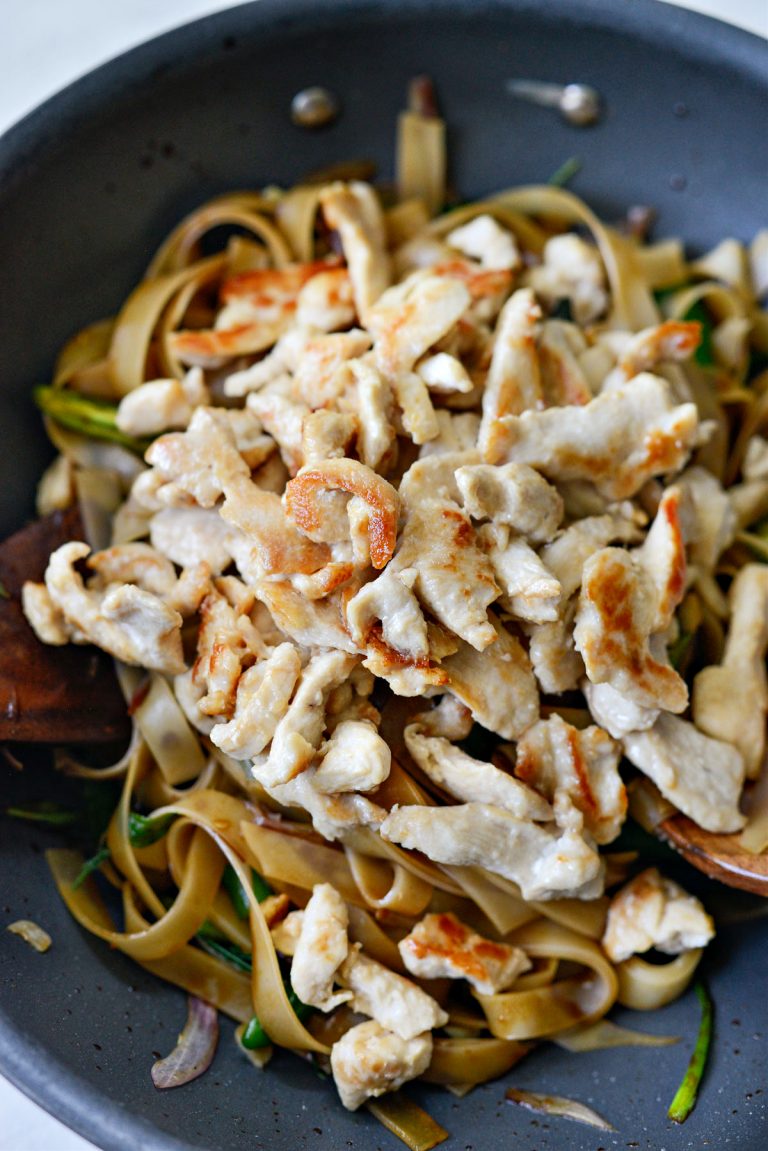 Lastly add in the chicken and 2 teaspoons Chinese cooking wine (I use shaoxing).
Heat through and serve immediately.
Serve in bowls with extra thai basil and serrano chiles (if you dare). And even more delicious with an ice cold beer(s).
Enjoy! And if you give this Drunken Noodles with Chicken recipe a try, let me know! Snap a photo and tag me on twitter or instagram!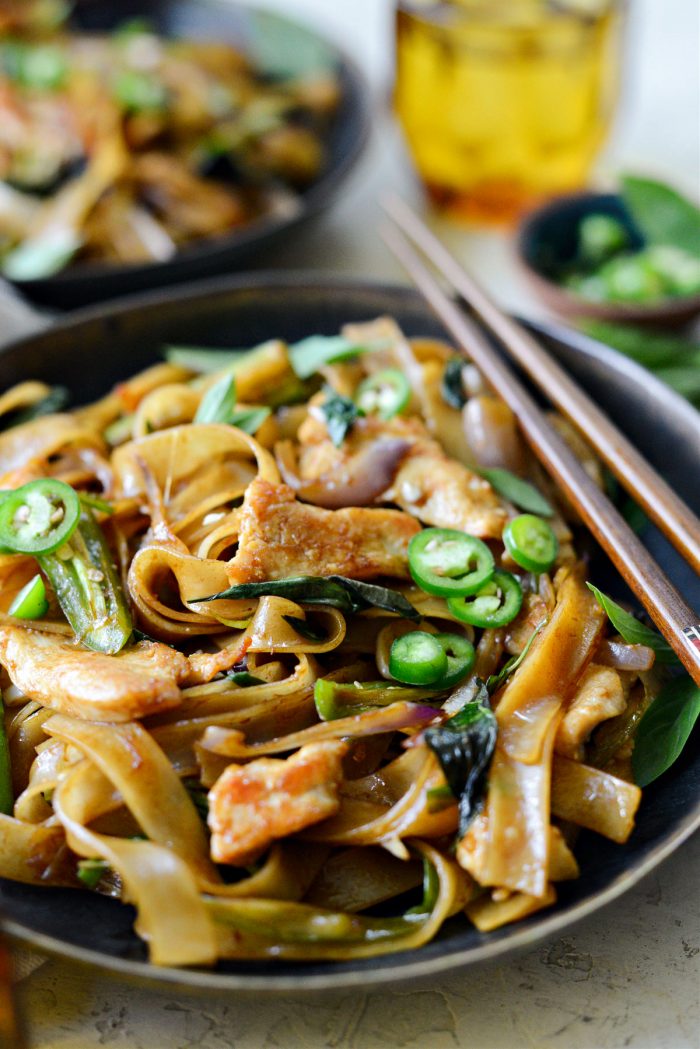 Respectfully adapted from Woks of Life.

This post may contain affiliate links.