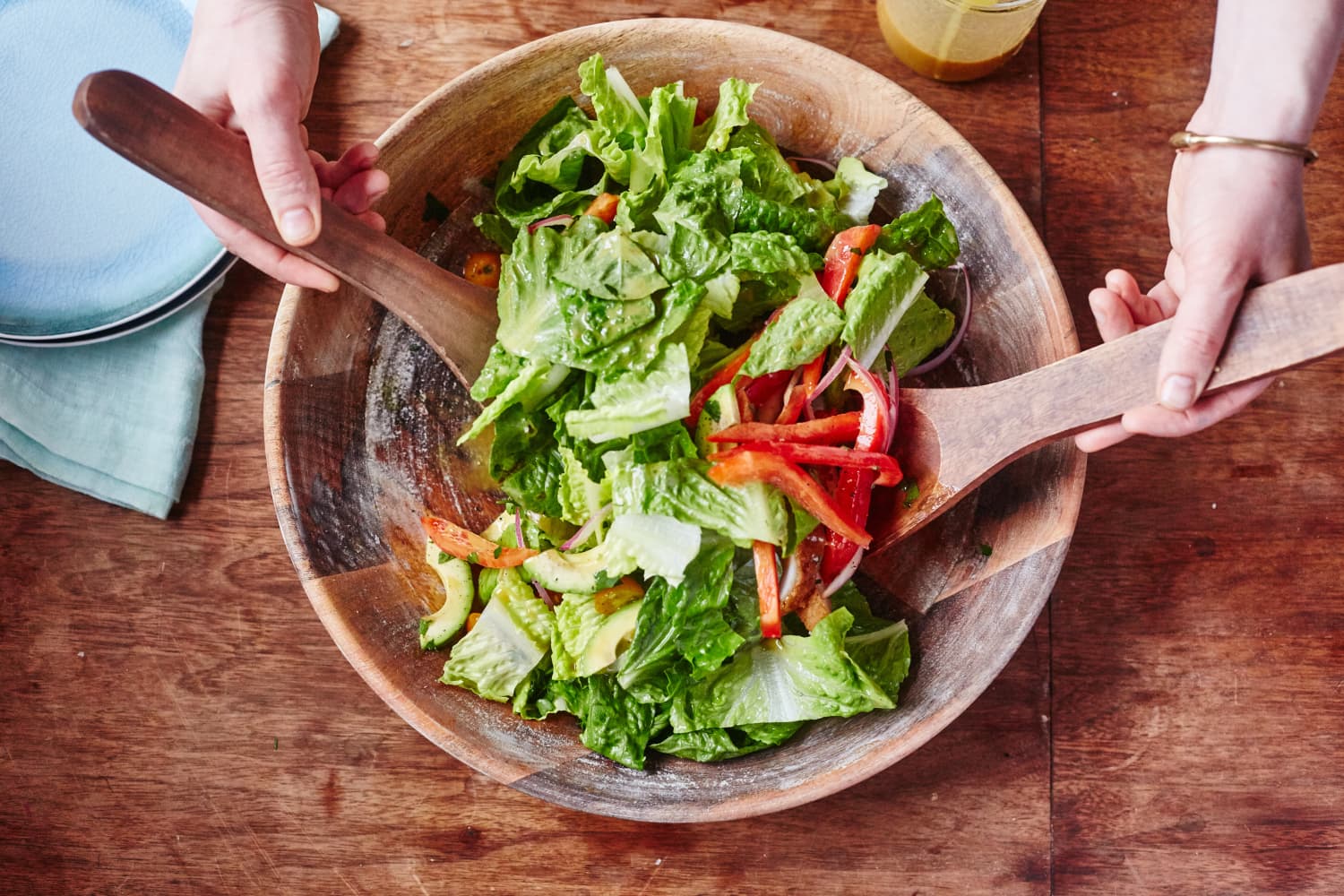 We independently select these products—if you buy from one of our links, we may earn a commission.
Making a good Caesar salad is fairly simple, but making a great one requires a series of tiny tricks, little hacks, and small special-somethings that take it up a notch. Making a great Caesar salad that can sit on the table until ready to serve is near impossible — or it was, until Daphne Oz spilled her secret to avoiding soggy salad on her Instagram.
Throughout the 11-minute video, Oz drops secrets from her grandmother's Caesar salad recipe, like making sure to remove the green stem from the center of your garlic, and "exfoliating" or "creaming" your garlic (which involves running the side of the knife over minced garlic and salt repeatedly until it becomes a creamy paste before adding it to the dressing).
Most of her Caesar dressing follows a typical recipe (other than the omission of raw egg) — there's anchovy, Worcestershire sauce, capers, mustard, all that good stuff — but what makes the video noteworthy is not necessarily what goes into the recipe, but how she serves it.
Oz assembles the dressing all in the bottom of her wide, shallow salad bowl, saving on dirty dishes. For most folks, this would mean you have to serve the salad right away when you add the lettuce, but this is where her special trick comes in. After she mixes and whisks the dressing in the bottom of the bowl, Oz places a plate over the dressing, upside-down, sectioning it off from the rest of the bowl. She then adds the lettuce on top (although if you do this at home, please wash your lettuce and chop it on a cutting board).
With the plate separating the dressing and lettuce, the greens stay dry and crisp, even if you don't serve it for an hour or more. Then, when everyone is seated and ready to eat, you can just slide the plate out from the middle, letting the lettuce drop into the dressing. Toss it and serve, totally fresh and crisp. Use this handy tip when serving a big salad at your next dinner party, saving dirty dishes and precious last-minute prep time.