Cornbread Stuffing with Fennel Bulb, Dried Cranberries, and Toasted Pecans is richly flavored and so delicious! The perfect addition to your holiday table. This recipe can easily be made a day ahead of baking. Vegetarian and Gluten-Free adaptable.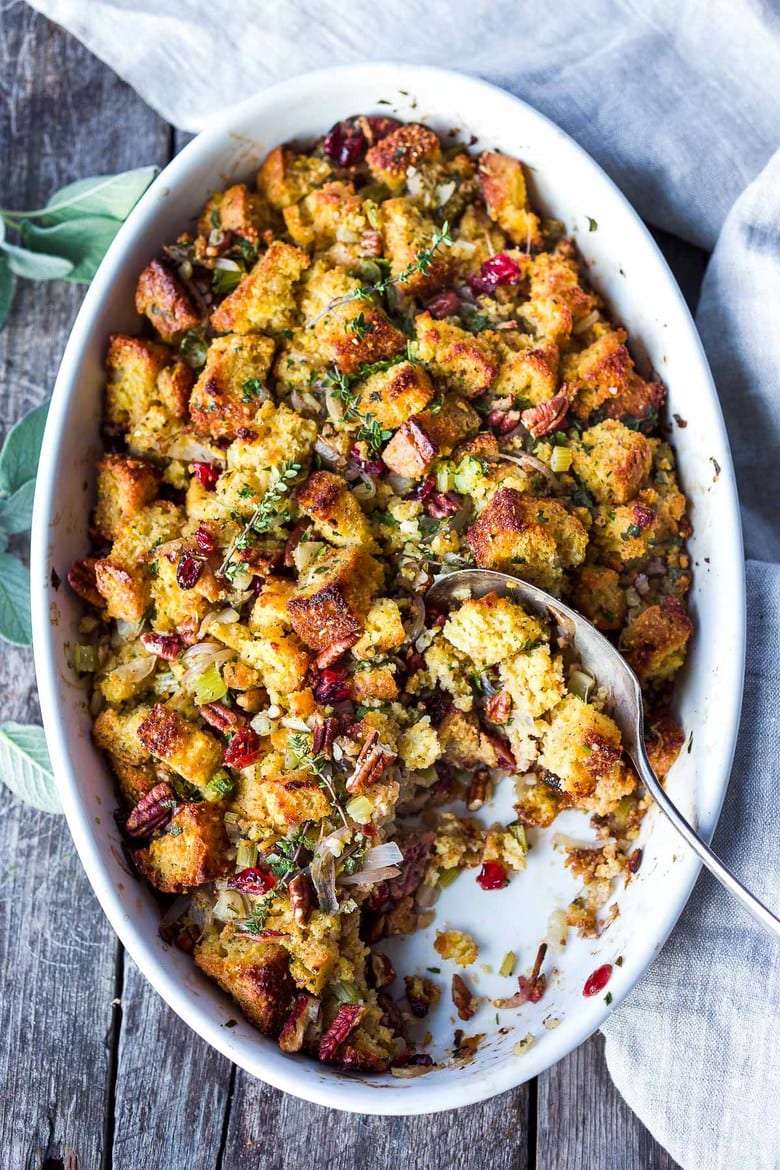 Saying this Cornbread Stuffing with Fennel, Cranberries, and Pecans is special is an understatement! Something about cornbread, and all its charm, just elevates this traditional holiday dish to higher heights!
The crusty cornbread absorbs all the lovely flavors and melts in your mouth marrying perfectly with the texture of toasty pecans and chewy bright cranberries. The sautéed shallots, fennel bulb, celery and fresh herbs give this savory classic all the anticipated flavor depth.
The cornbread is quick and easy to make. And actually it is best made a day or two ahead. Make cornbread one day, the next day make stuffing, and then bake on the third day!
Making this over the course of a couple of days feels like a lot less effort than doing it all in one shot. Either way, it is completely worth any effort.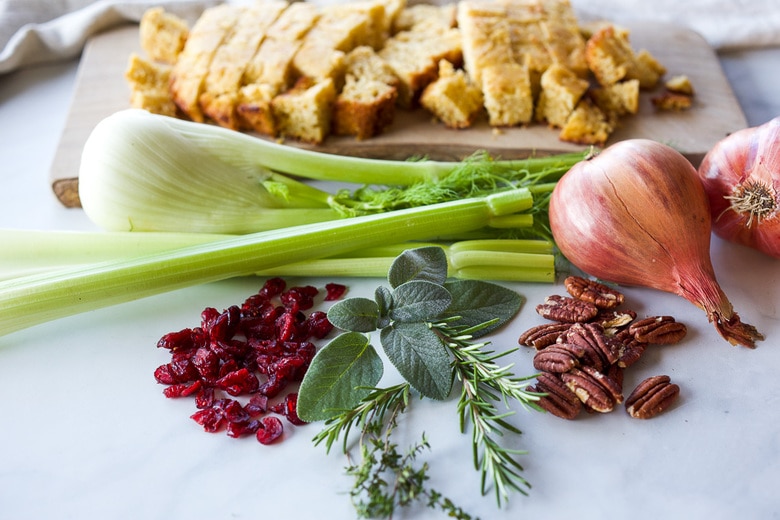 What you'll need for Cornbread Stuffing
cornbread (recipe included)
butter
shallots
celery
fennel bulb
fresh sage, rosemary & thyme
salt & pepper
white wine
toasted pecans
dried cranberries
chicken stock
egg
How to make Cornbread Stuffing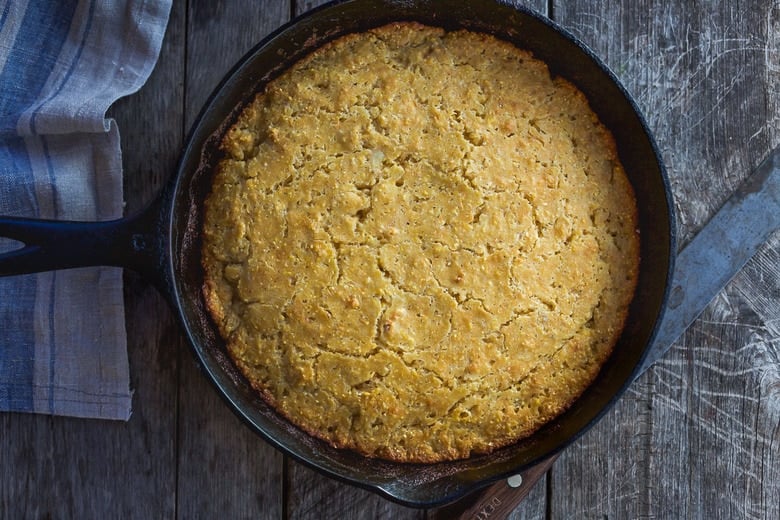 Step one
Make cornbread. The beauty here is that day-old cornbread works best.
You can make the cornbread a couple of days ahead of time. It'll freeze well too.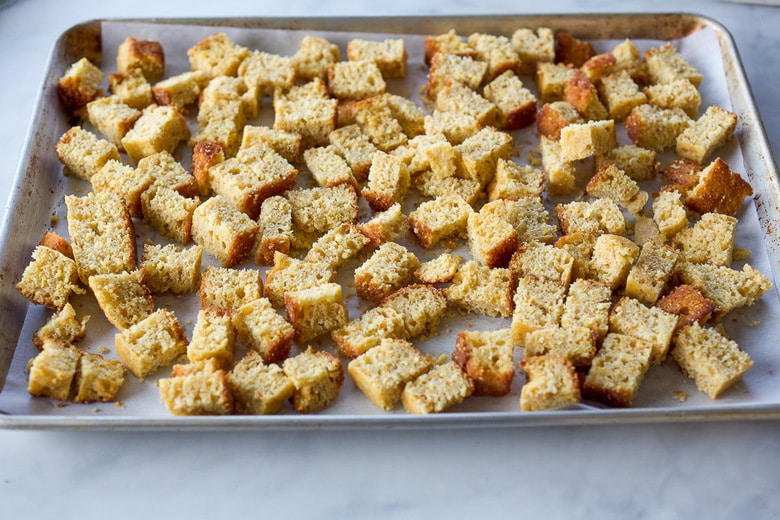 Step two
Cut the cornbread roughly into 1-inch chunks. Use a sharp knife for fewer crumbles. Toast in the oven for 20 minutes.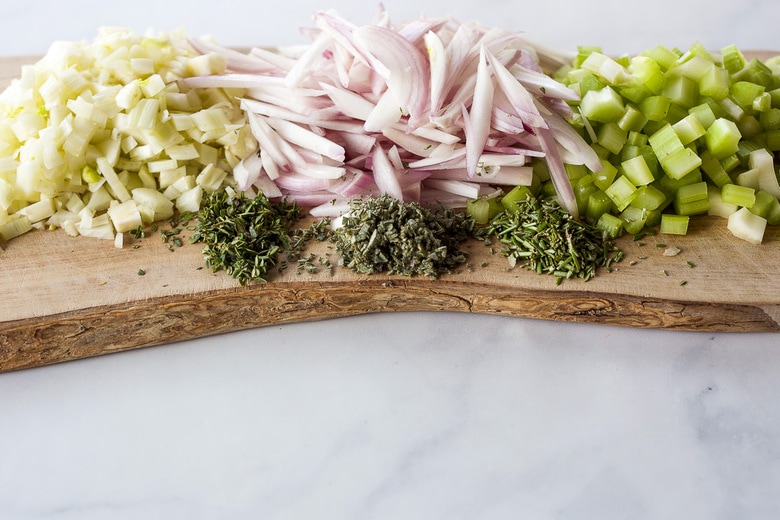 Step three
While the cornbread toasts up, chop the shallots, celery, fennel and herbs.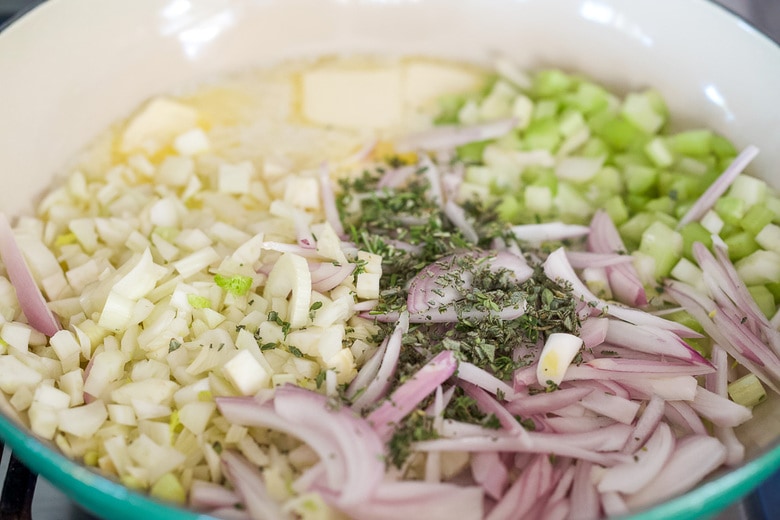 Step four
Throw butter in the pan turn to medium heat, as it is melting add fennel, shallots, celery, sage, thyme and rosemary. Saute 5-8 minutes and add white wine. Turn heat up sautéing 2 minutes more. Add salt and pepper.
Cut down on the butter if you must but really, it is not so very often that we eat something like this. Just relish in the heavenly rich flavor and succulent texture it creates.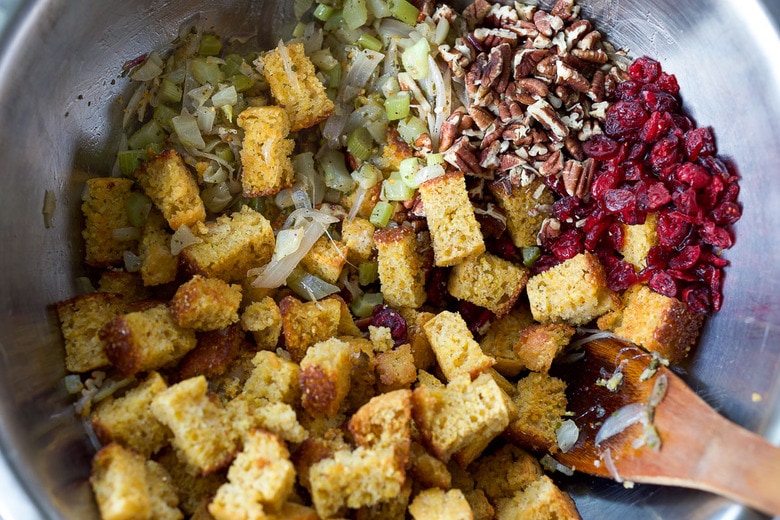 Step five
Mix together chicken broth and egg. In a large bowl gently toss together the sautéed mixture with pecans, cranberries, toasted cornbread, fresh parsley and egg broth mixture.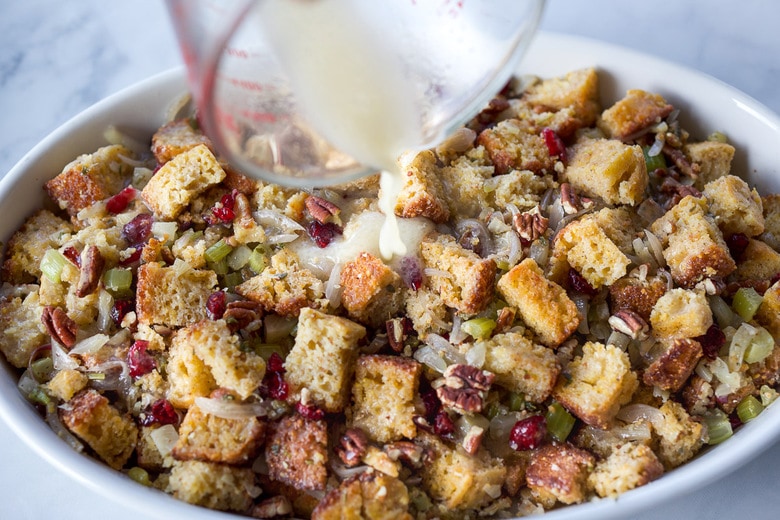 Step six
Place stuffing into a buttered baking dish 9 x 13 or equivalent. Pour remaining broth over the top if needed to fully moisten.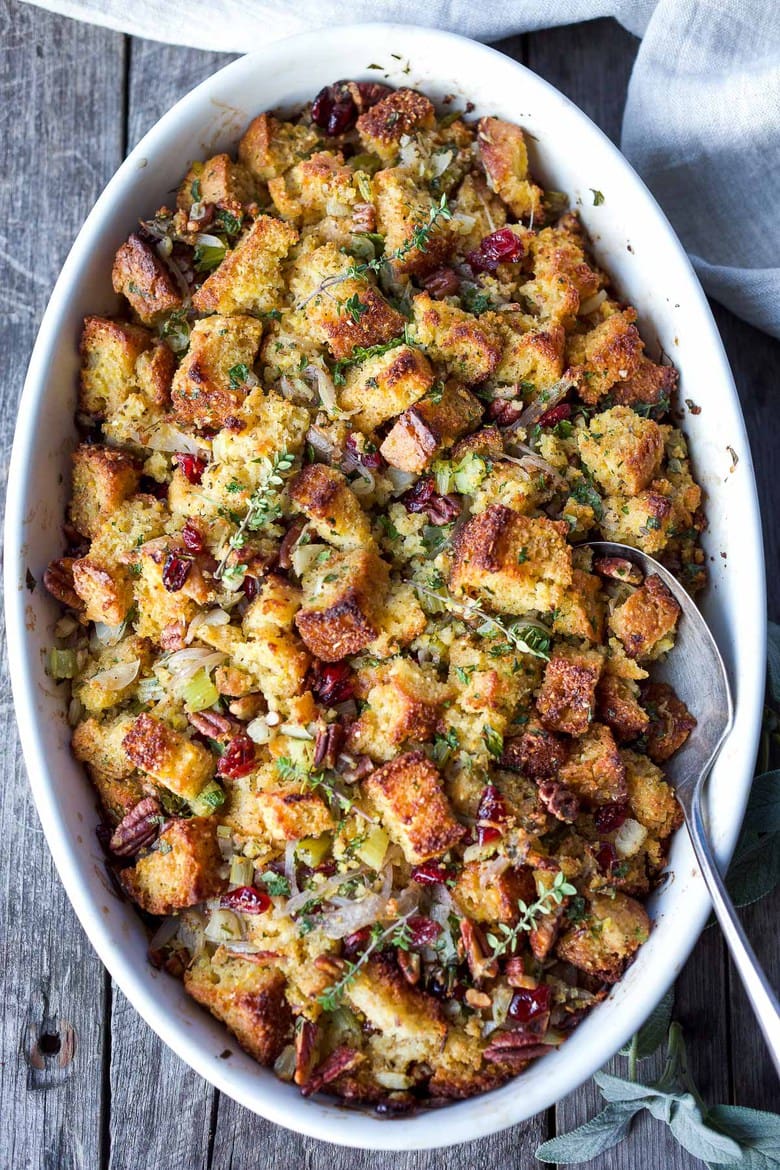 More recipes you may enjoy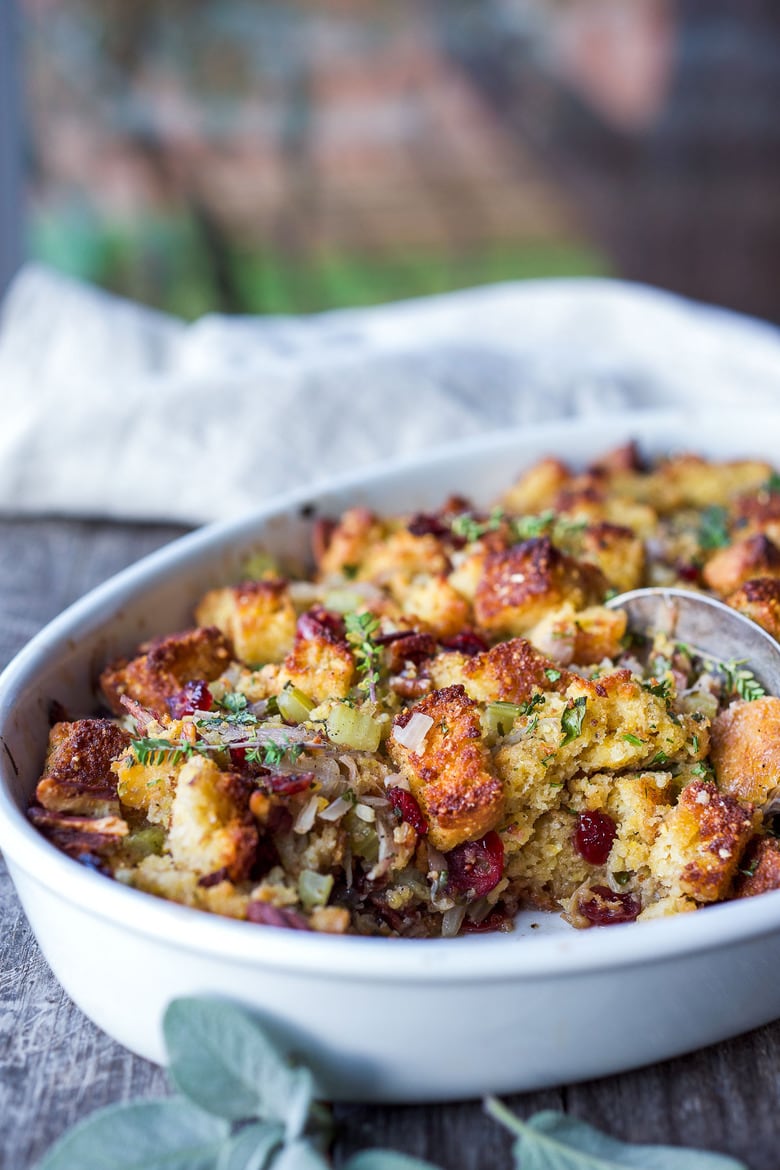 xo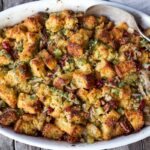 Cornbread Stuffing with Cranberries and Pecans
Author:

Tonia | Feasting at Home

Prep Time:

30

Cook Time:

45

Total Time:

1 hour 15 minutes

Yield:

About 12 cups

Category:

side dish, vegetarian

Method:

baked

Cuisine:

American

Diet:

Vegetarian
---
Description
---
Ingredients
1/2 cup

unsalted butter

1 cup

medium grind cornmeal

1 cup

flour

1 teaspoons

baking powder

1/2 teaspoon

baking soda

1 teaspoon

sea salt

1 tablespoon

honey

1 1/4 cup

buttermilk (sub yogurt, mixed with

1/2

water or use milk with a teaspoon of vinegar)

2

eggs
stuffing
Cornbread, 1 10″ skillet worth

1/2 cup

unsalted butter

1 1/2 cup

thinly sliced shallots

1 cup

celery, 2-3 ribs chopped small

1 cup

fennel bulb, 1 medium bulb, chopped small

1 tablespoon

fresh sage, minced

1 teaspoon

fresh rosemary, minced

1 teaspoon

fresh thyme leaves

1/2 teaspoon

black pepper

1/2 teaspoon

sea salt

1/2 cup

white wine

1 cup

toasted pecans, roughly chopped

1/2 cup

dried cranberries

2 cups

chicken stock

1

egg
---
Instructions
For the cornbread
Preheat oven to 375 F. Place cast iron skillet (or other baking dish) in the oven.
Whisk together cornmeal, flour, baking powder, baking soda and salt.
Remove skillet from oven and put the butter in the hot skillet, stir around until it melts. Pour melted butter into a bowl. Now your skillet is buttered and warm. This will make a nice crust on your cornbread.
Along with the melted butter, whisk in honey, buttermilk and eggs until completely mixed.
Pour flour mixture into the wet ingredients and gently mix until just combined.
Pour cornbread batter into the skillet, spread out evenly. Bake at 400F for 20 minutes. It is ok if it over bakes a bit when using in the stuffing.
For the Stuffing
Cut the cornbread into 1 inch cubes. Toast in the oven at 350F for 20 minutes.
Sauté celery, fennel, shallots, thyme, sage, rosemary, salt and pepper for about 6-8 minutes until softened and fragrant. Add white wine and turn up the heat for 2 minutes more. Turn heat off.
Whisk egg with 1 cup of chicken broth.
In a large bowl gently mix sautéed mixture together with cornbread, pecans, cranberries, parsley and 1 1/2 cups of the egg broth mixture.
Place in a buttered baking dish, 9 x13 or equivalent, and pour over the remaining 1/2 cup of broth mixture if needed to further moisten.
Bake covered at 375 F for 30 minutes. Remove cover and bake for 15 more minutes.
---
Notes
Make stuffing a day or two ahead with out baking and refrigerate, take out of the fridge an hour before baking and then bake per instructions.
The cornbread can be made a day or two in advance.
Keywords: cornbread stuffing, cornbread stuffing recipes, cornbread stuffing vegetarian, cornbread stuffing with cranberries, vegetarian cornbread stuffing