This Chicken Souvlaki recipe is so EASY! A simple Greek marinade is divided among cubed chicken breasts and a mix of veggies. The chicken is then threaded on to metal skewers and grill along side the vegetabless which cook in a metal grill basket. A deliciously healthy and satisfying meal! Serves 4.
I've made Chicken Souvlaki once a week for the entire summer.
It's the perfect go-to for busy nights when you want something healthy, but don't want to put in a lot of work. Prep one marinade and divide it among cubed boneless skinless chicken breasts and veggies.
Grill. Serve. Swoon.
I like to serve it over Greek lemon rice pilaf. It's the perfect base to all that grilled goodness. Don't worry, I plan on sharing the recipe this week!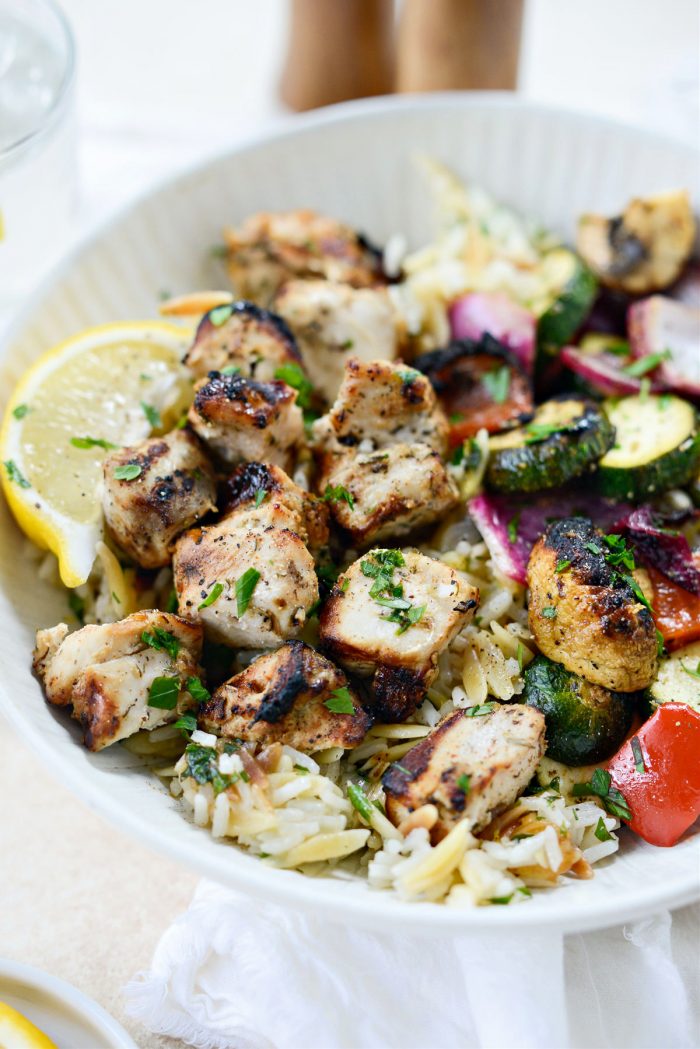 The combination of grilled marinated chicken, tender veggies and lemony rice pilaf is out of this world.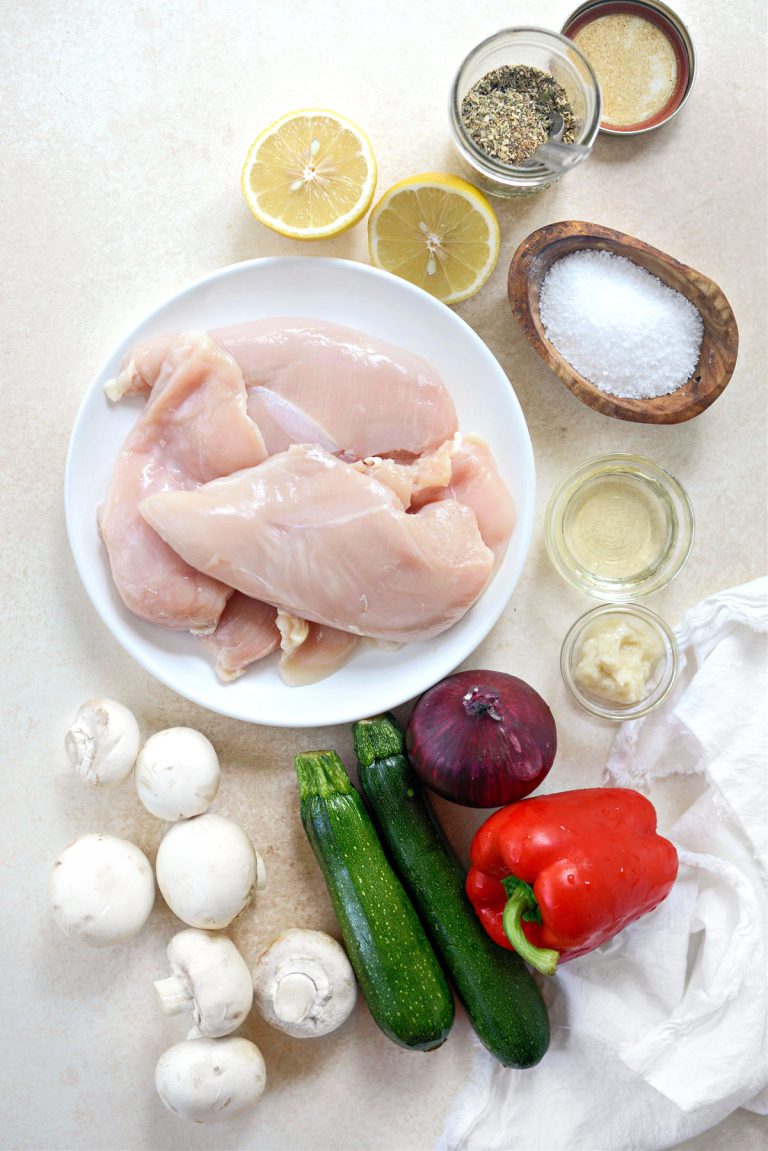 To Make Chicken Souvlaki You Will Need:
lemons
olive oil
garlic
kosher salt
freshly ground black pepper
boneless skinless chicken breasts
zucchini
red bell pepper
onion
mushrooms
parsley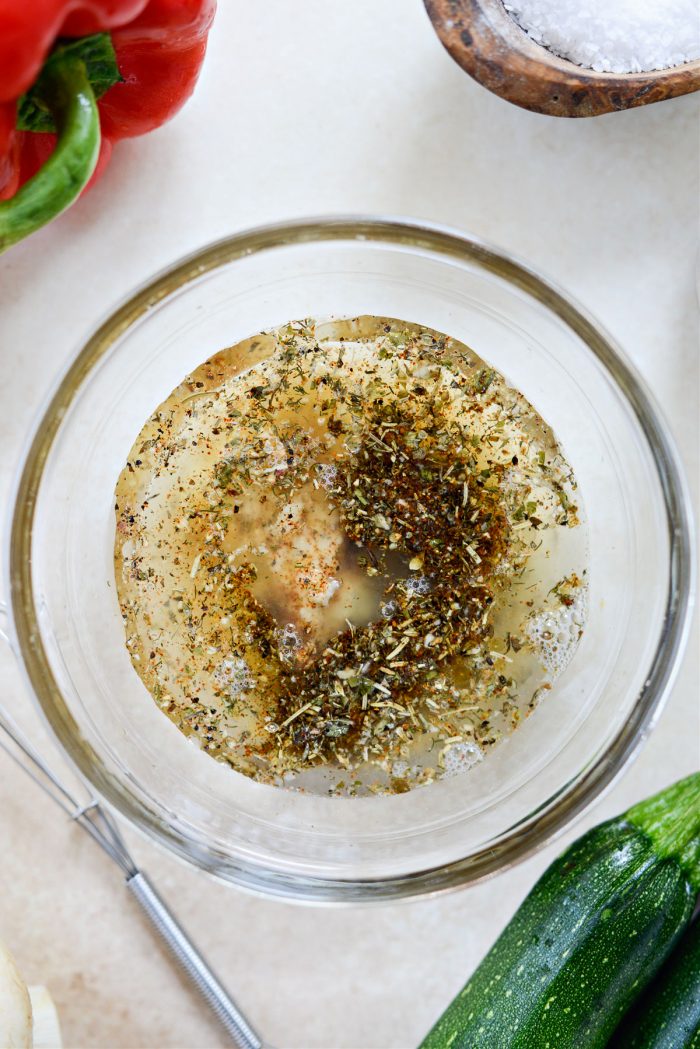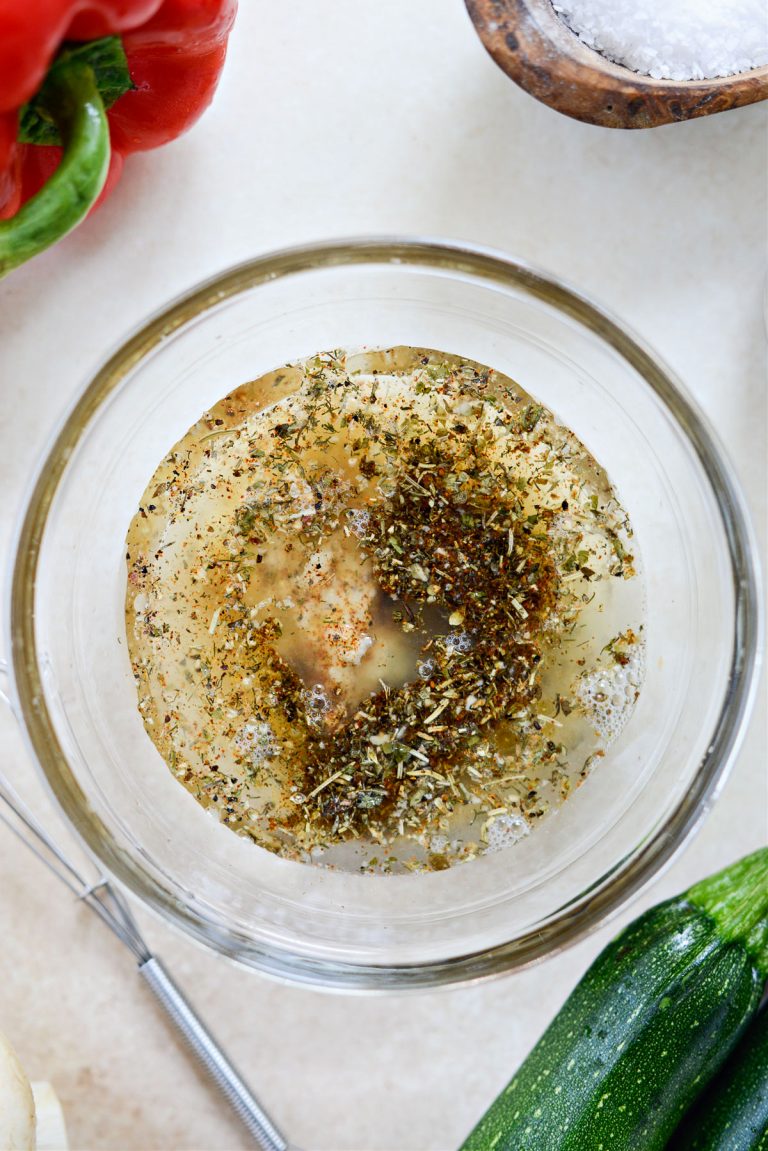 Start by adding the juice of 1 large lemon (1/4 cup), 2 tablespoons olive oil, 1 tablespoon homemade greek seasoning, 2 teaspoons garlic paste, 1/2 teaspoon kosher salt and 1/4 teaspoon freshly ground black pepper.
Pro Tip: Use the garlic paste in a tube found in the produce section! This saves so much time without compromising flavor.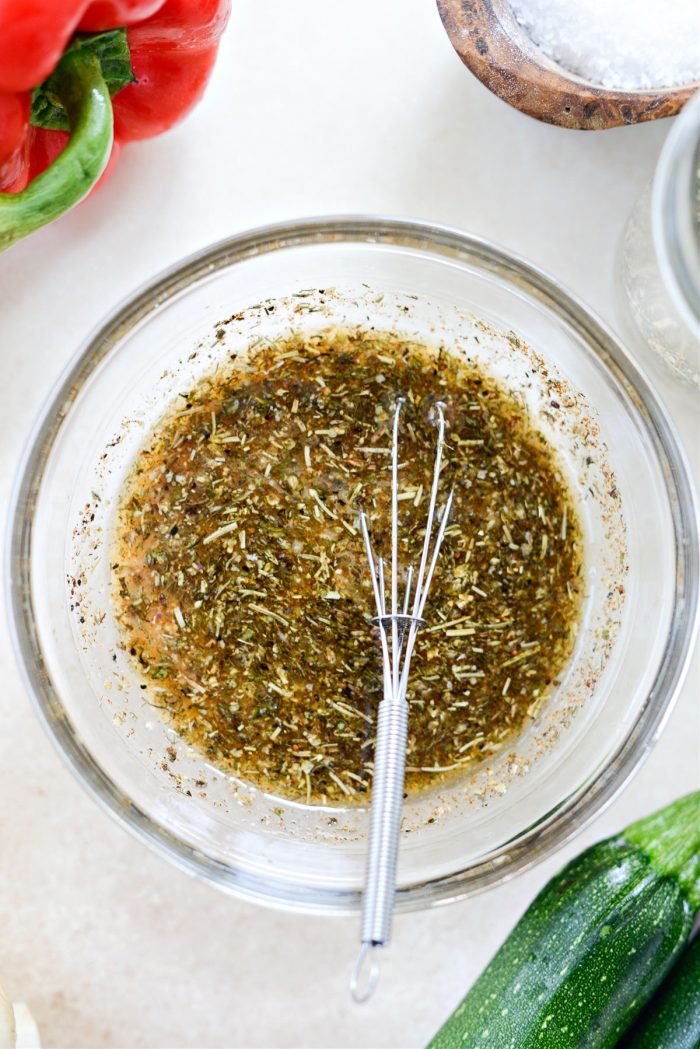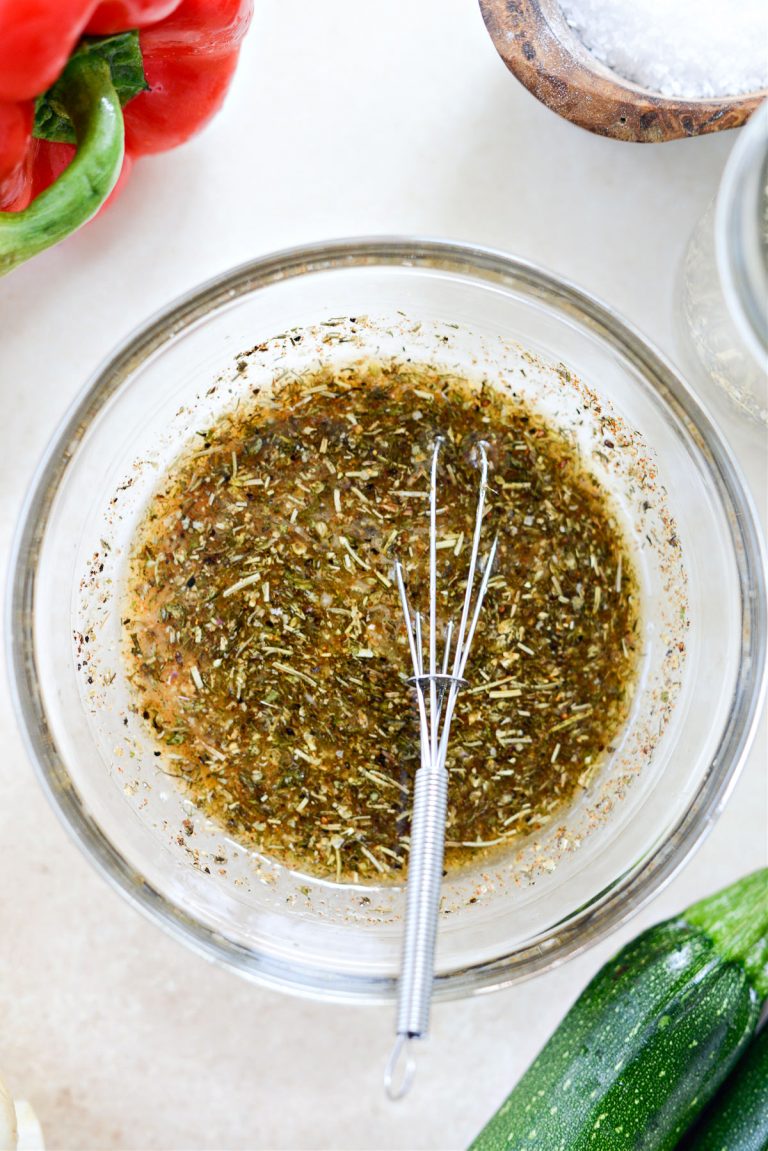 Whisk well to combine.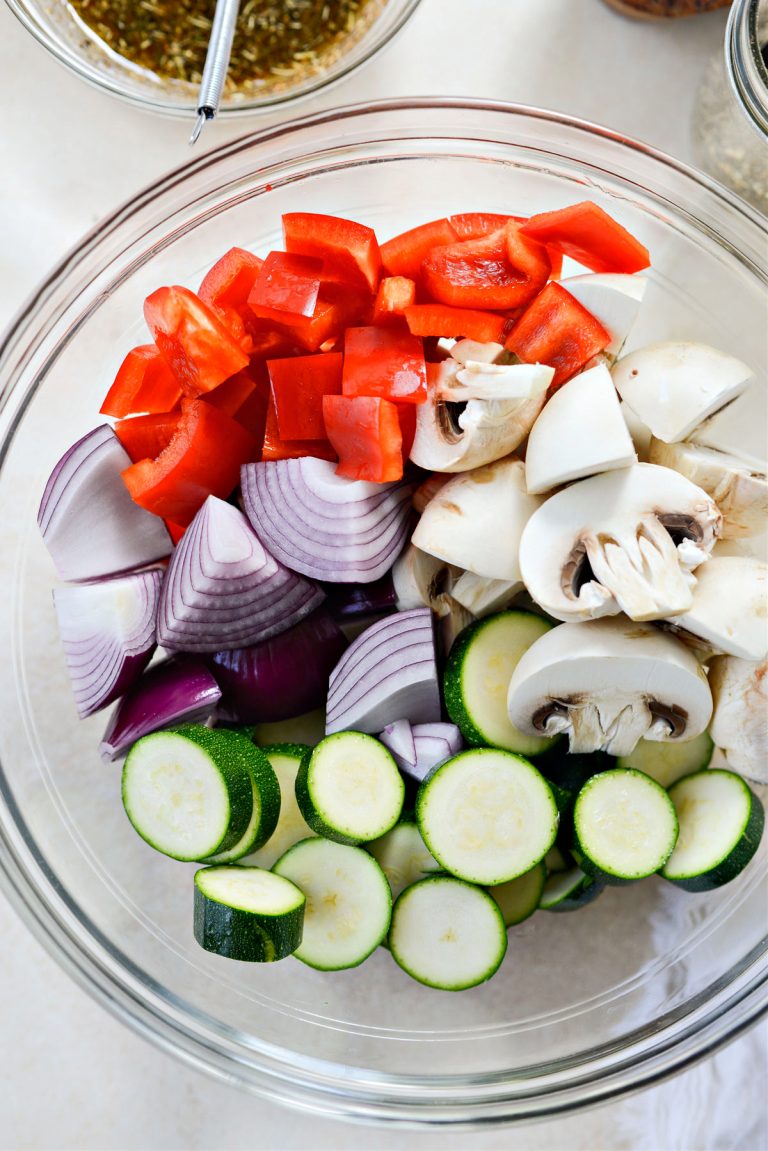 In a large mixing bowl, add 2 small zucchini (sliced), 1 chopped red bell pepper, 1 red onion that has been cut into eighths and 8 ounces mushrooms – I halve the mushrooms if they are large, otherwise keep them whole.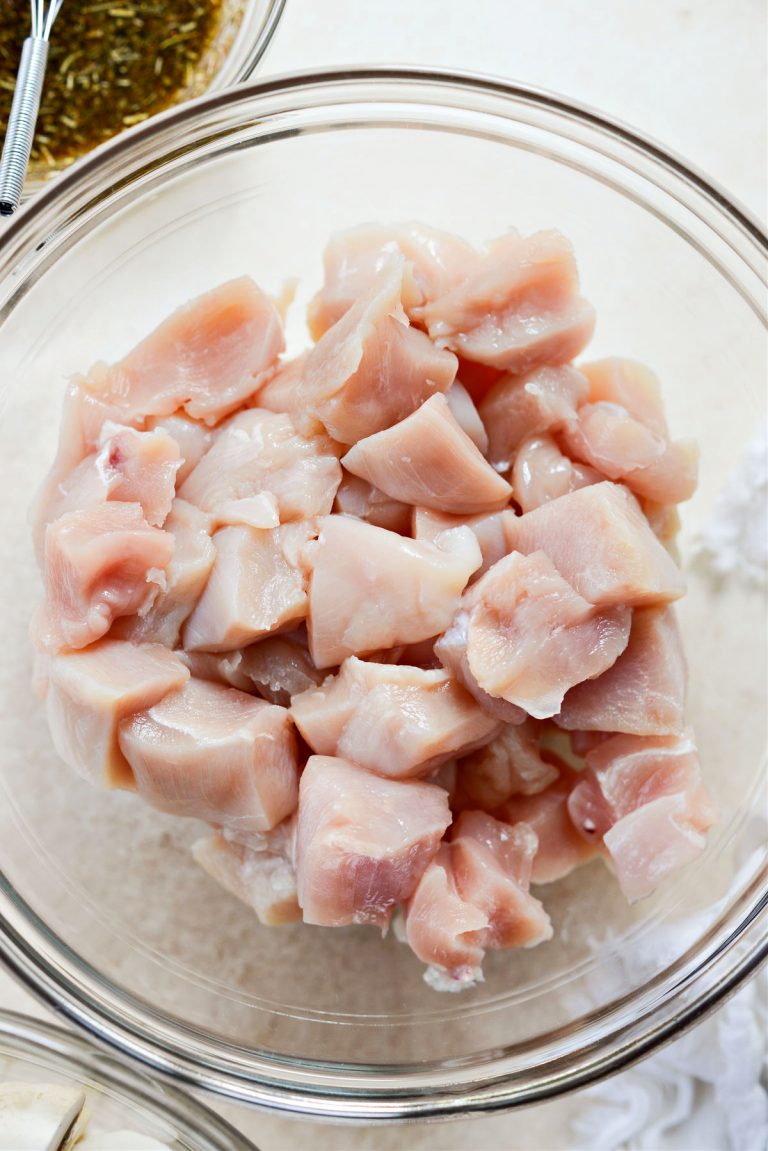 In a separate bowl, add 1 and 1/2 pounds of boneless skinless chicken breasts that have been cut into 1-inch pieces.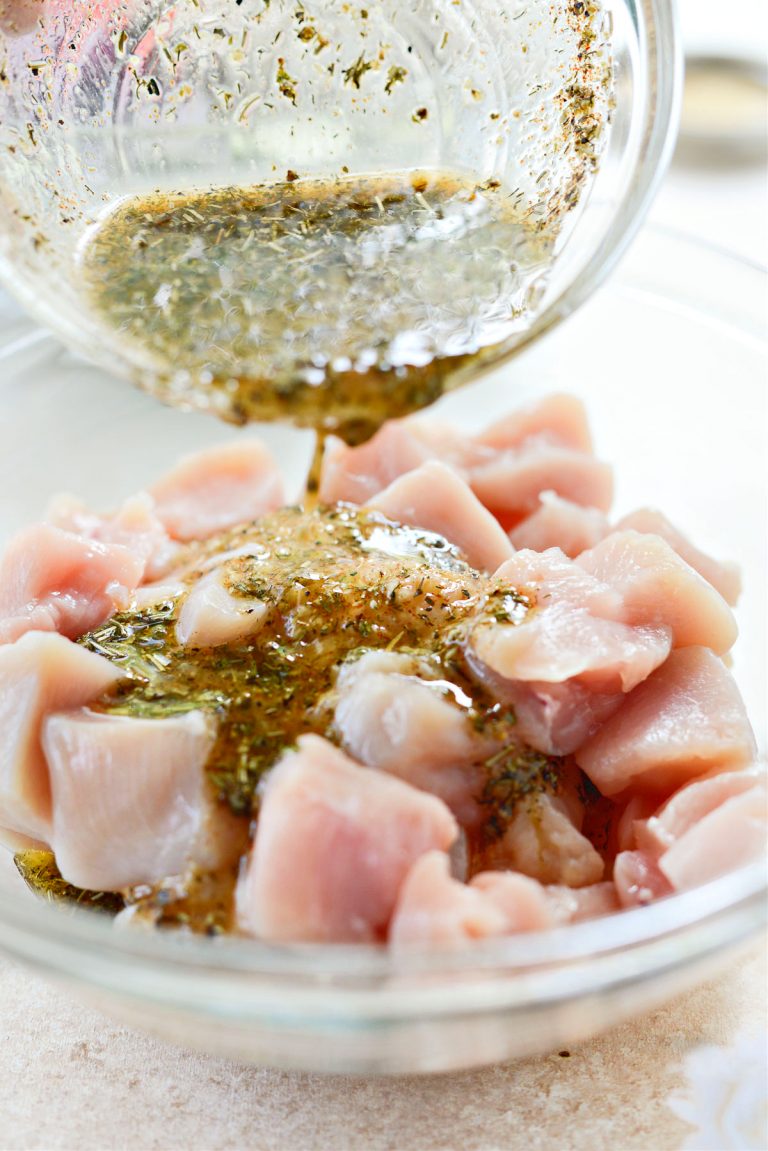 Pour half of the Greek Marinade over top of the chicken.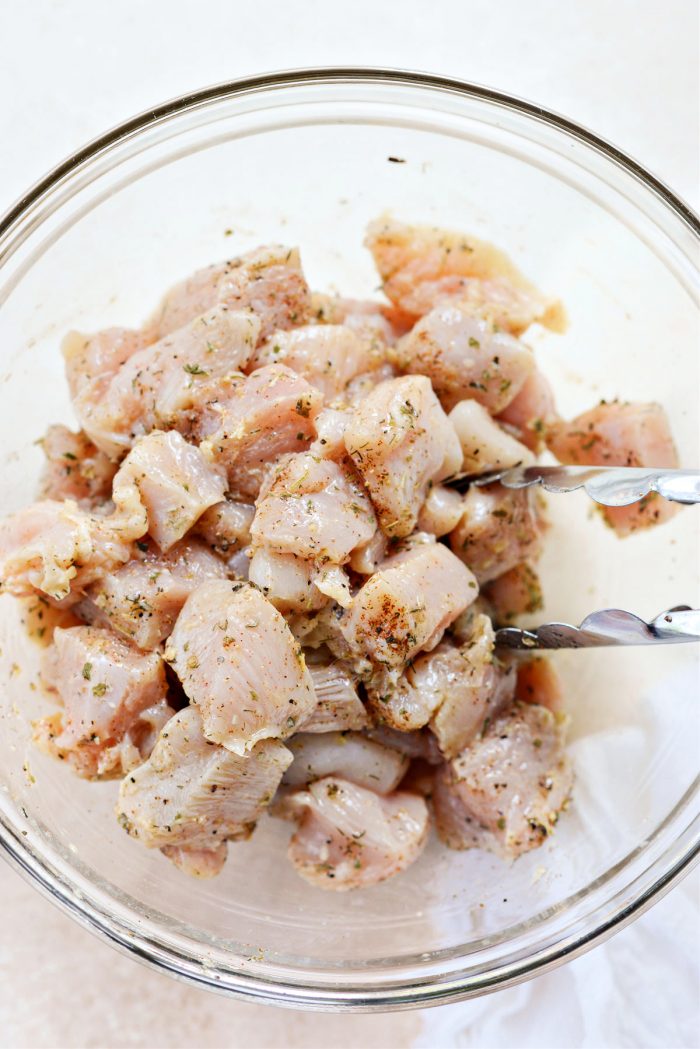 Use tongs to toss the chicken until evenly coated.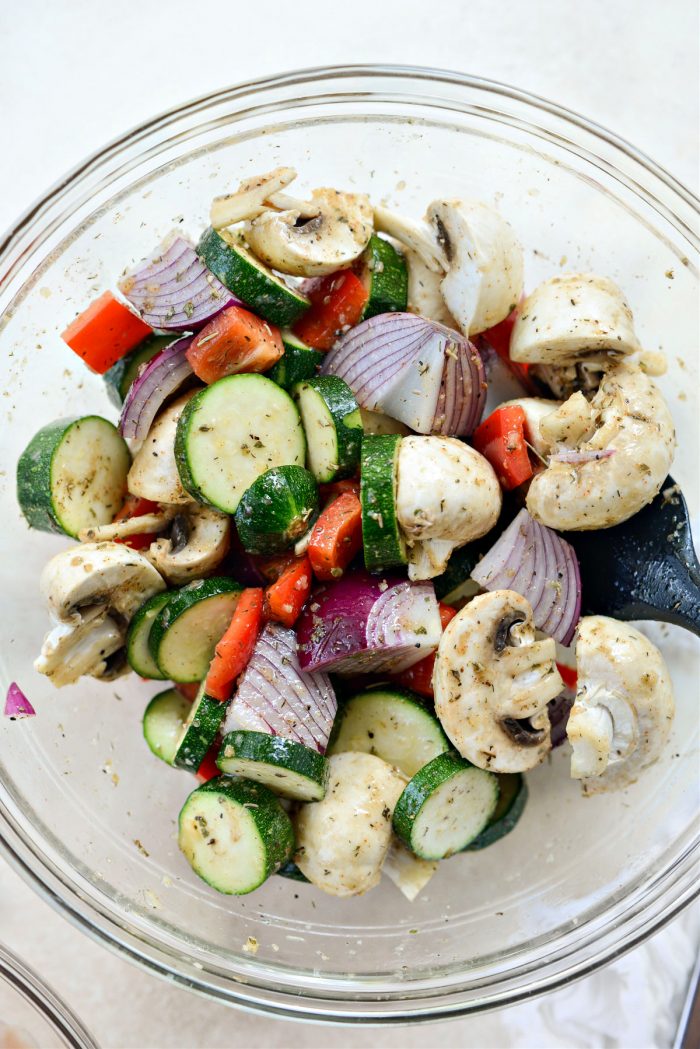 Then pour the remaining Greek marinade over the vegetables and toss to coat.
Thread the chicken onto skewers.
Preheat your grill to 500°.
Once hot, add the veggies into a grill basket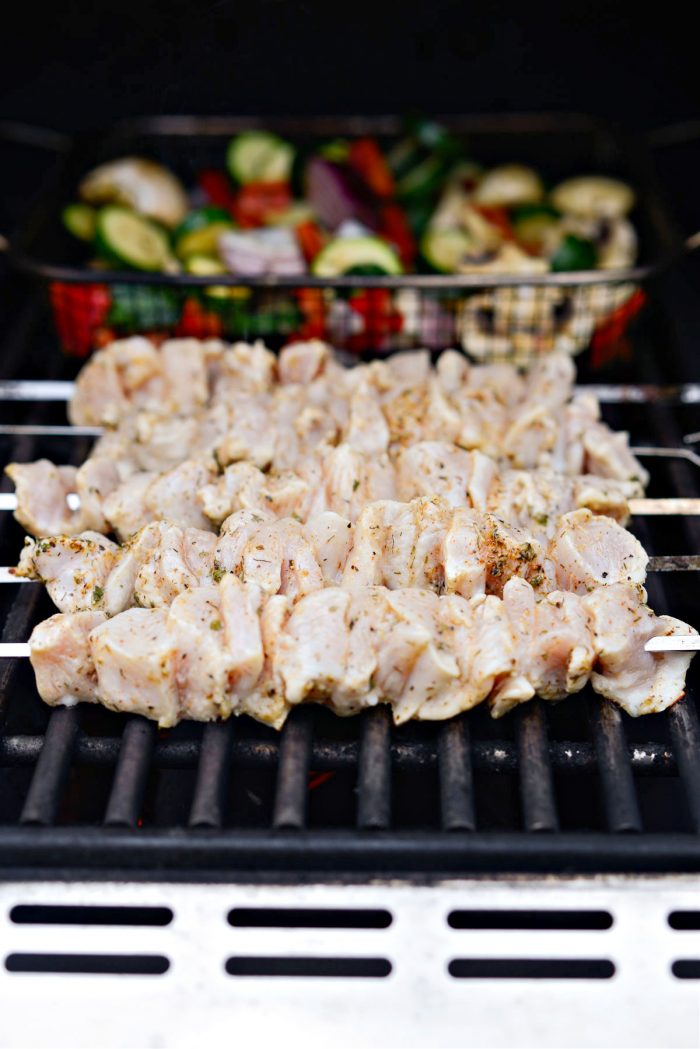 And place the chicken skewers onto the hot grill grates.
Turn and cook 2 to 3 minutes a side for a total of 8 to 9 minutes or until fully cooked and no longer pink.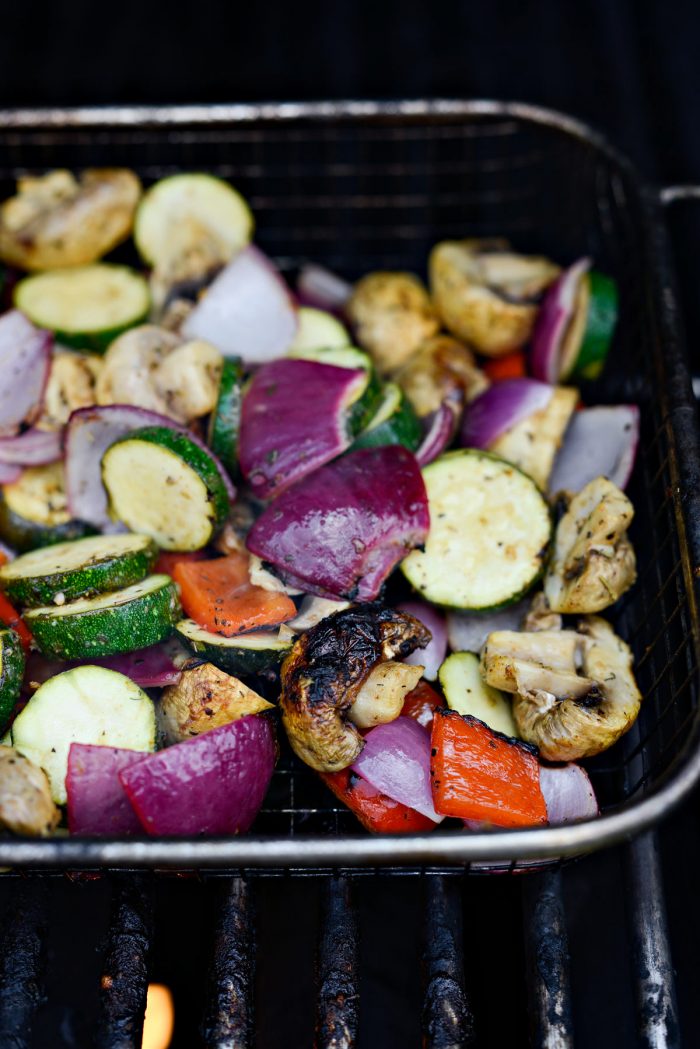 As you turn the skewers, toss the vegetables in the basket. I use long grilling tongs or a silicone spatula will work as well.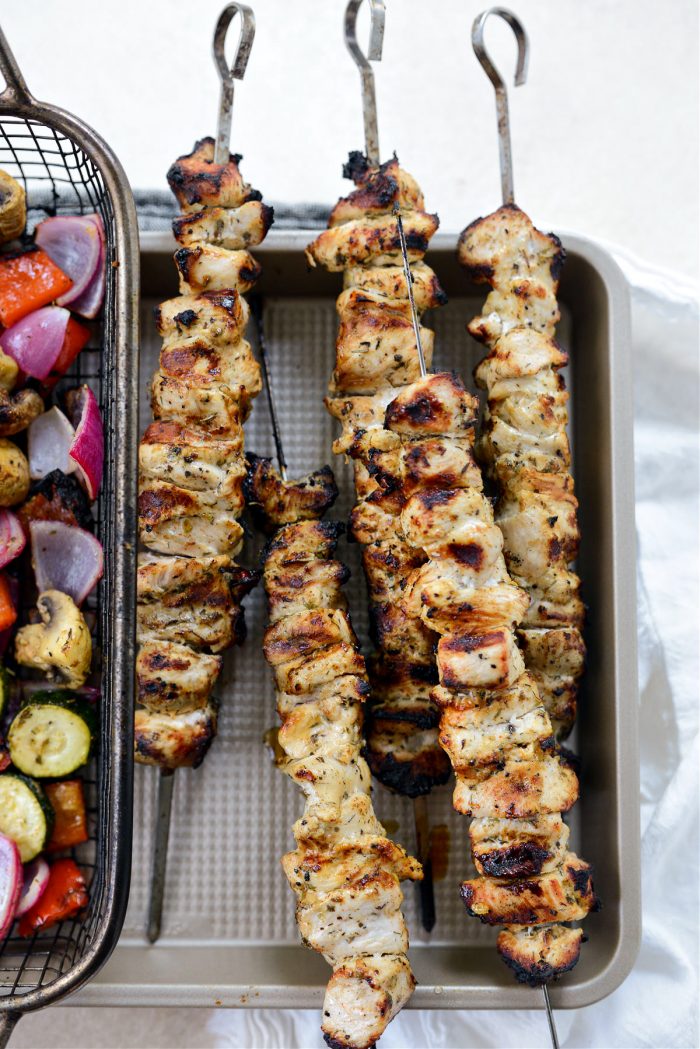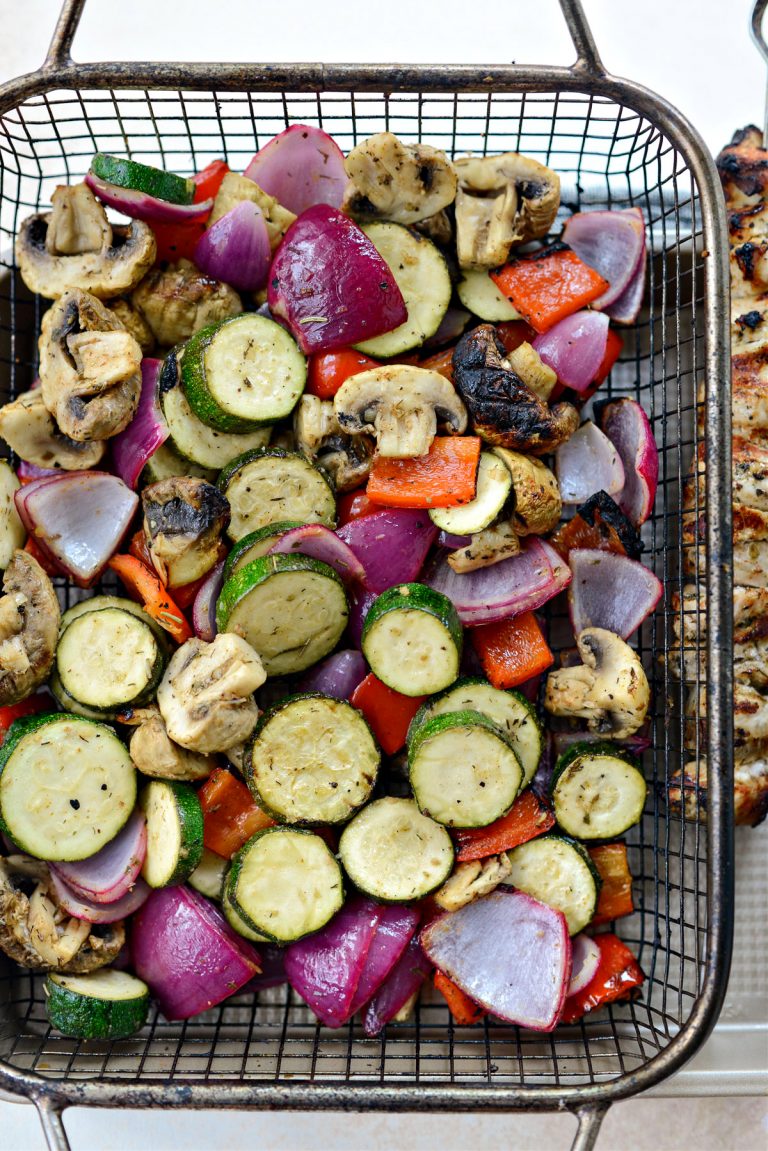 Remove and let cool before serving.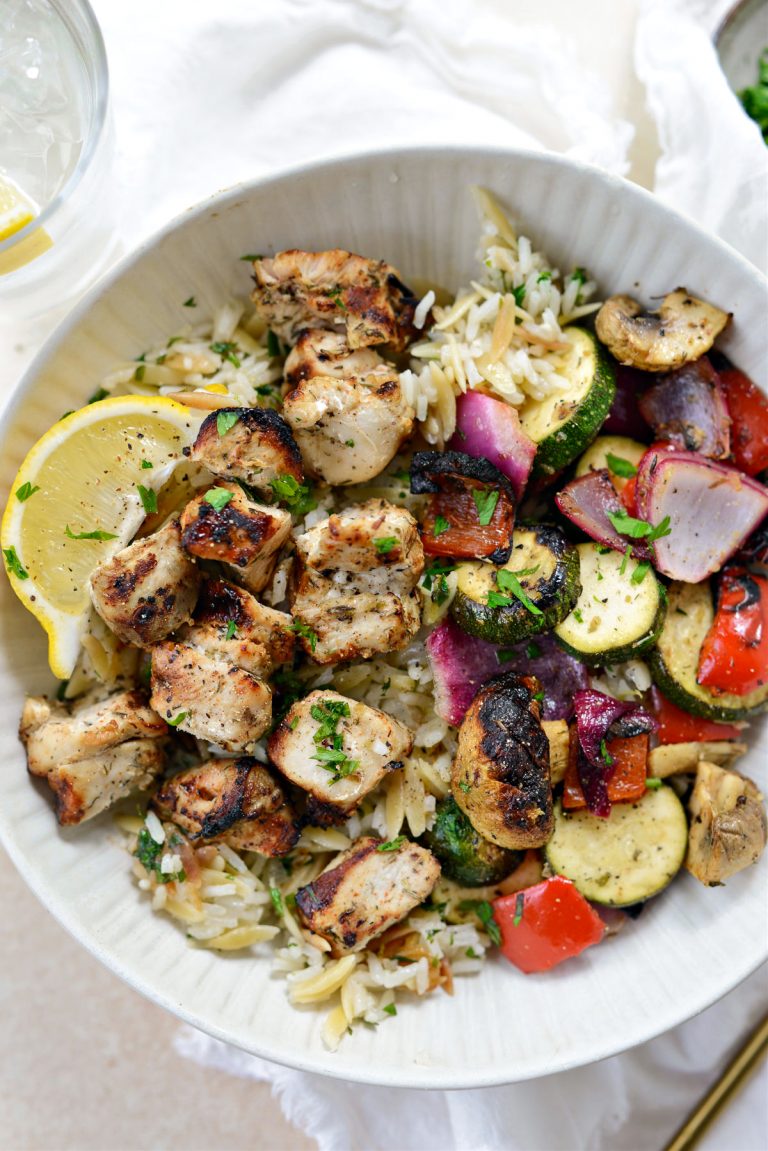 Once the skewers are cool enough to handle, slide the chicken off and serve with some of the grilled vegetables.
As I mentioned earlier, I like to serve the chicken souvlaki and grilled veggies with a Greek lemon rice pilaf, which I'll be sharing this week.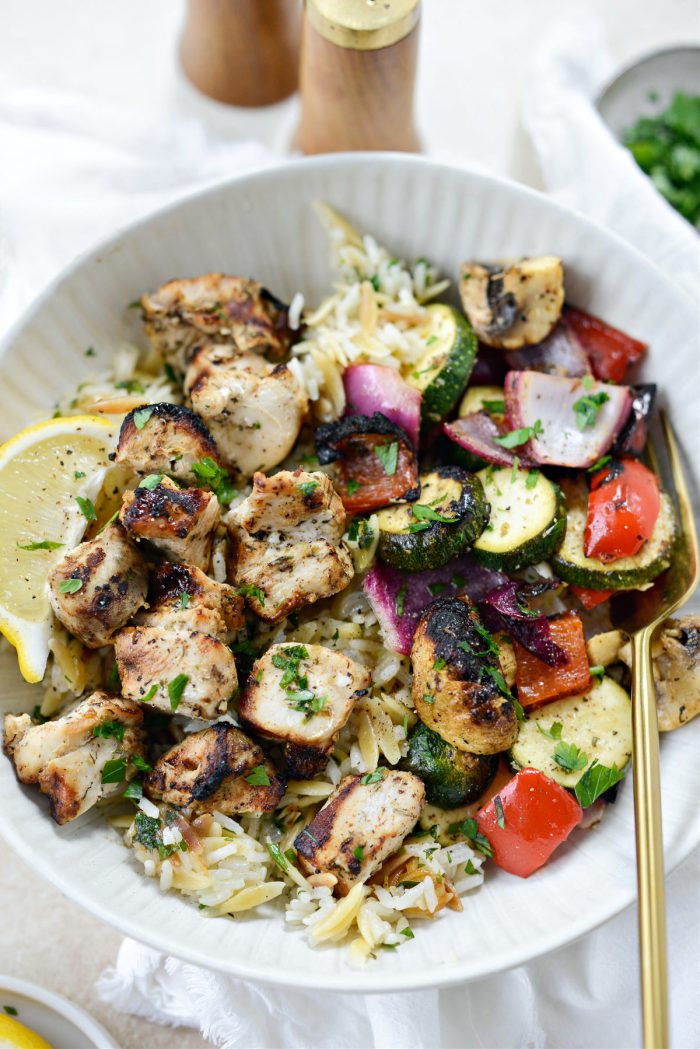 Such a flavorful meal! Reheats beautifully which makes this also great for meal prepping for the week!
Enjoy! And if you give this Greek Chicken Souvlaki recipe a try, let me know! Snap a photo and tag me on twitter or instagram!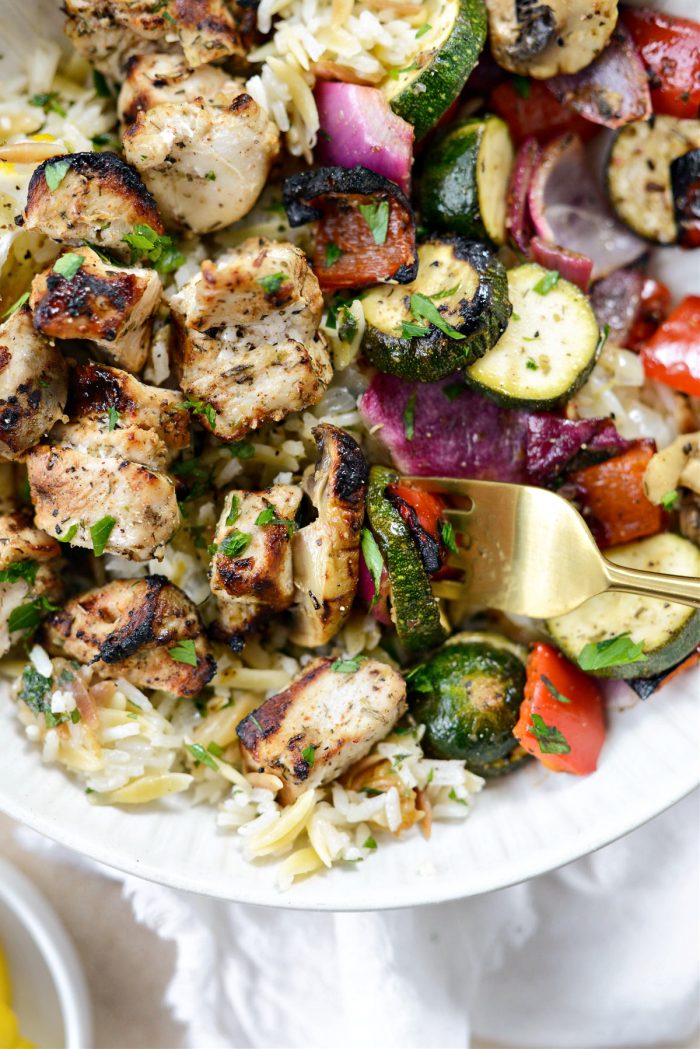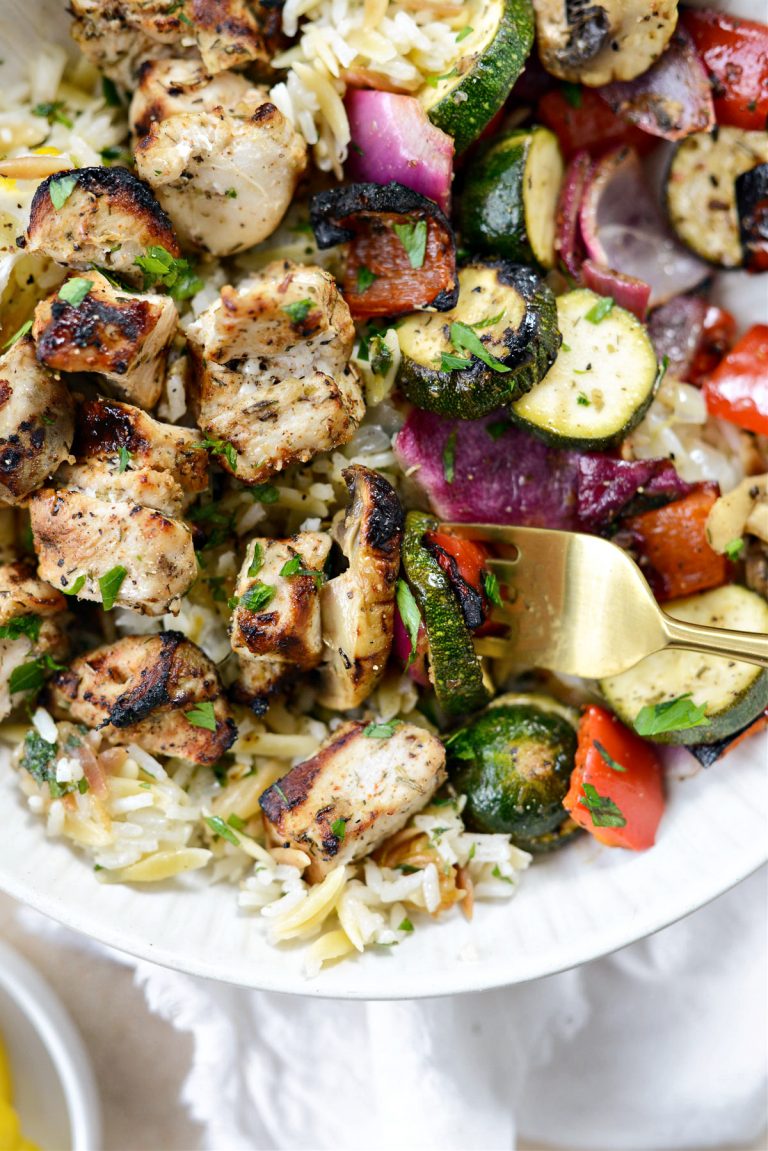 This post may contain affiliate links.