Black Pepper Chicken Stir-Fry is a simple, sweet and peppery dish. Loaded with tender pieces of chicken, vegetables and is served over rice, it's not only healthy but super easy too. This recipe yields 4 generous entree portions.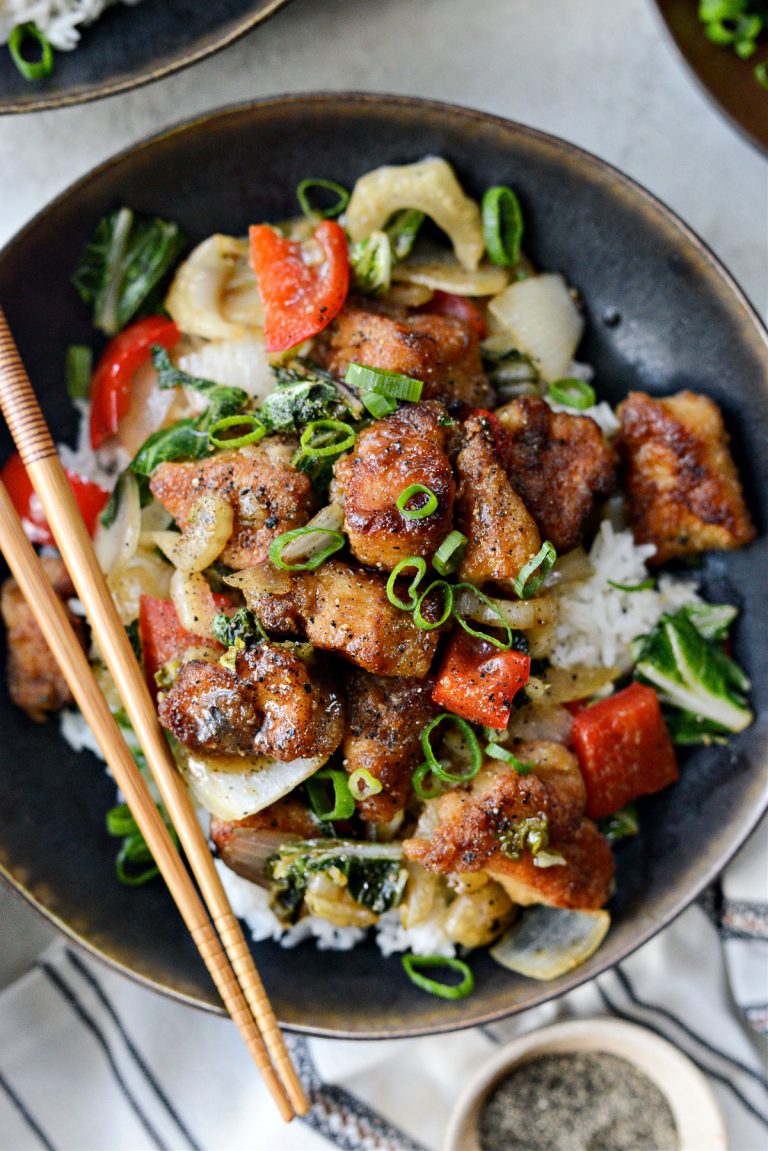 Calling all Black Pepper Lovers!
My husband absolutely loves black pepper. And he puts it on just about everything, from coney dogs to popcorn. Luckily I stumbled up this recipe while searching for a black pepper stir-fry recipe – never really knowing one even existed. Since then, I've made it so many times, and have adapted the original recipe to our preference. And I can confidently say, we're obsessed. It's sweet and peppery and loaded with tender chicken and lots of healthy vegetables.
If you love black pepper and stir-fry, this simple black pepper chicken stir-fry is your jam!
To Make This Black Pepper Chicken Stir-Fry You Will Need:
black pepper corns
ground Szechuan pepper
peach jam
coconut aminos
unsalted chicken stock
boneless skinless chicken breasts
kosher salt
baking soda
garlic powder
bell pepper
bok choy
yellow onion
extra light olive oil
cornstarch
cooked white rice
green onion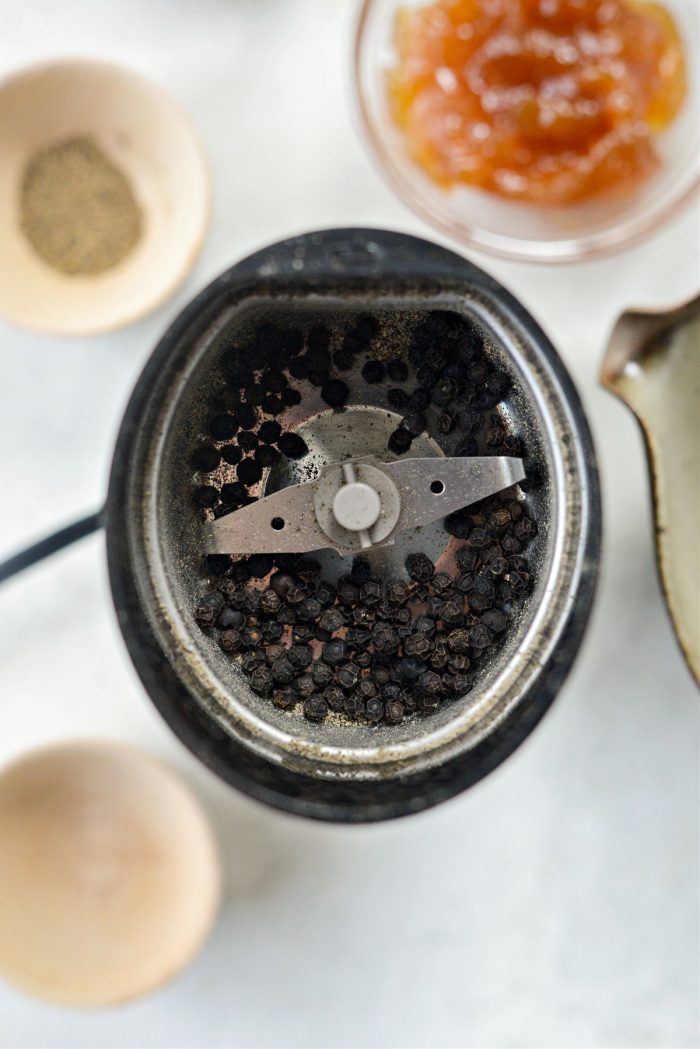 Start by grinding your peppercorns. Freshly ground black pepper is key to the flavor of this dish. Add 1 and 1/2 teaspoons peppercorns into your spice grinder. I have a designated coffee grinder that I strictly use for grinding whole spices.
Pulse until coarsely ground.
Make the Black Pepper sauce:
In a bowl measure and add 1 teaspoon freshly ground black pepper, 3/4 teaspoon ground Szechuan pepper, 3 tablespoons peach jam, 3 tablespoon coconut aminos and 1/4 cup unsalted chicken stock.
Thoroughly whisk to combine and set aside.
Make the chicken marinade:
Measure and add; 1/2 teaspoon garlic powder, 1/2 teaspoon baking soda, 1/4 teaspoon kosher salt and 1 tablespoon coconut aminos into a medium bowl.
Stir to combine. It should foam a bit.
To that, add in 1 and 1/4 pounds diced boneless skinless chicken breasts that have been diced into 1-inch bitesize pieces.
Toss to coat thoroughly and set aside.
Do Not Add The Cornstarch Until Right before cooking. Doing this will crisp the chicken beautifully.
Prep your veggies by dicing 1 medium yellow onion, 1 medium bell pepper (discarding seeds, stems and ribs) and 1 medium head of bok choy.
Traditionally, black pepper chicken is made with celery. I know my family and they are not into celery in their stir-fry. So I swap it for bok choy. You still get the crunchy texture and the flavor is delicious in this dish.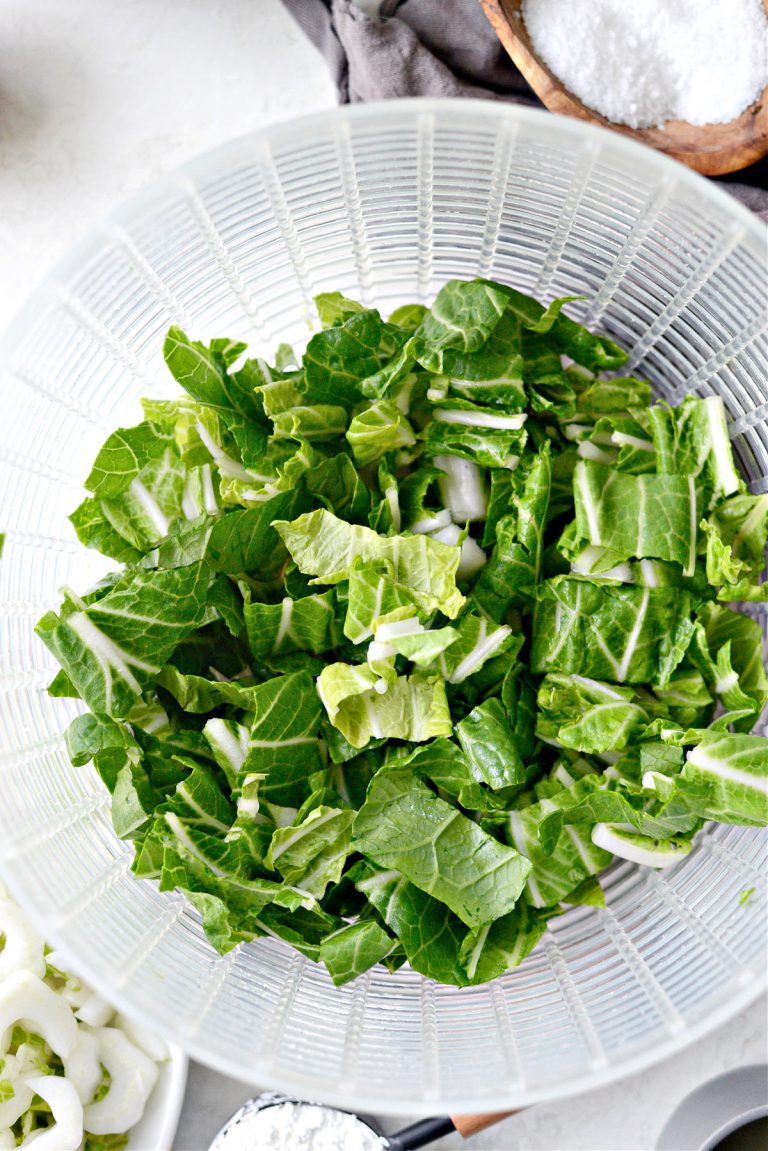 When slicing the Bok Choy, slice the leaves as well. Add the leaves to a salad spinner or colander, rinse and spin (or pat dry with paper towels) dry.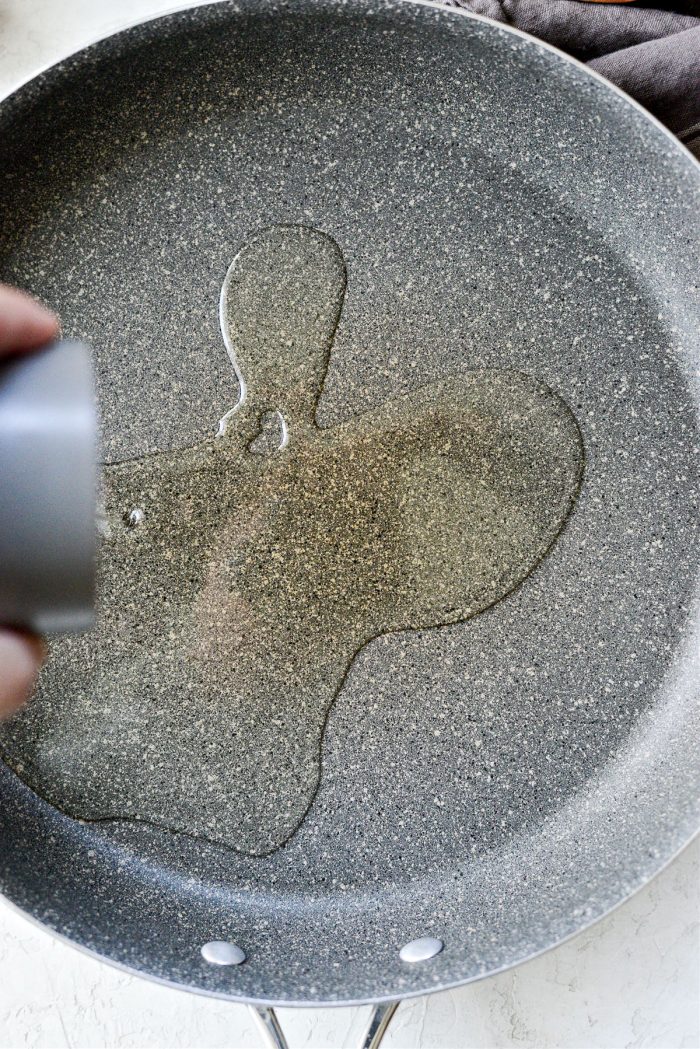 In a 12-inch skillet or large wok, add 1/4 cup extra light olive oil to a large wok or skillet. Heat on medium-high. Check to see if the oil is hot enough, by placing the end of a wooden chop stick in the oil. If bubble surround it, it's ready.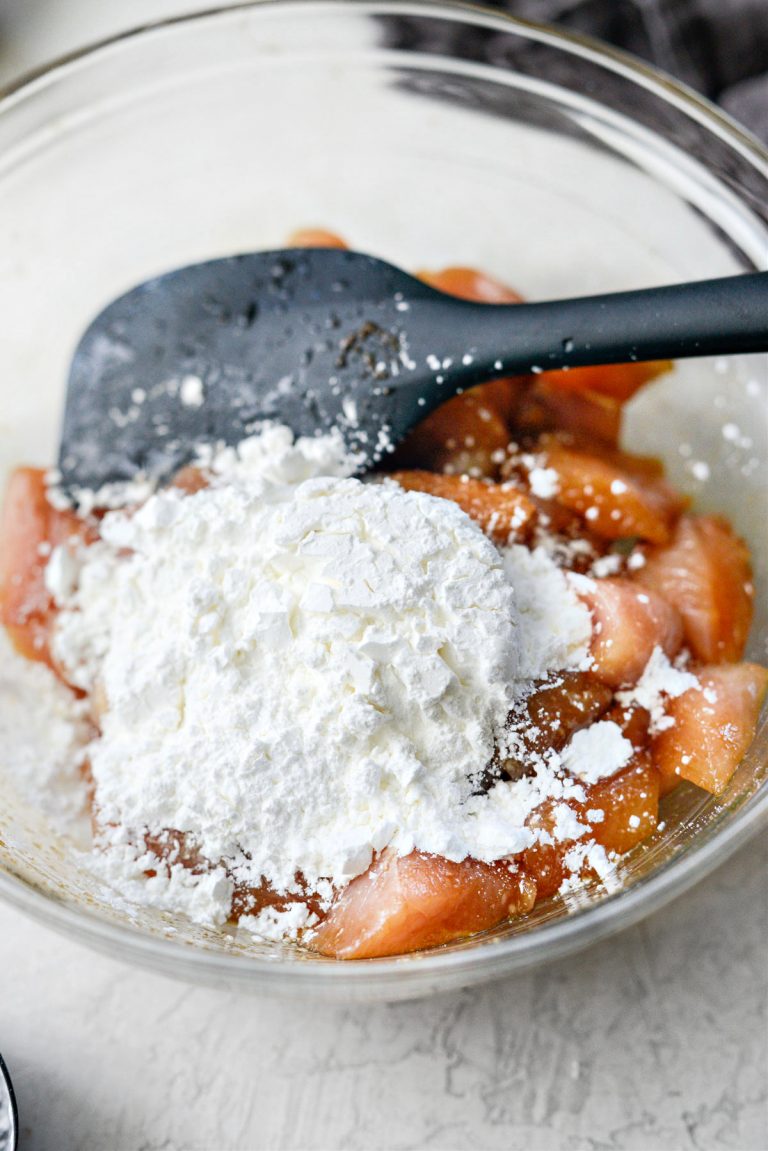 Right when your oil is hot enough and not any earlier, add 1/4 cup cornstarch to the chicken. Toss well until each piece is coated evenly.
Once coated, immediately add the chicken to the prepared pan in an even layer. If you need to work in batches of two, you can do that with great results.
Cook 2 to 3 minutes on all sides or until golden and the chicken is fully cooked and no longer pink.
Transfer the chicken to a paper towel lined plate.
Add the onion, peppers and white parts of the bok choy to the remaining oil left in the skillet.
Stir and cook until the vegetables start to soften.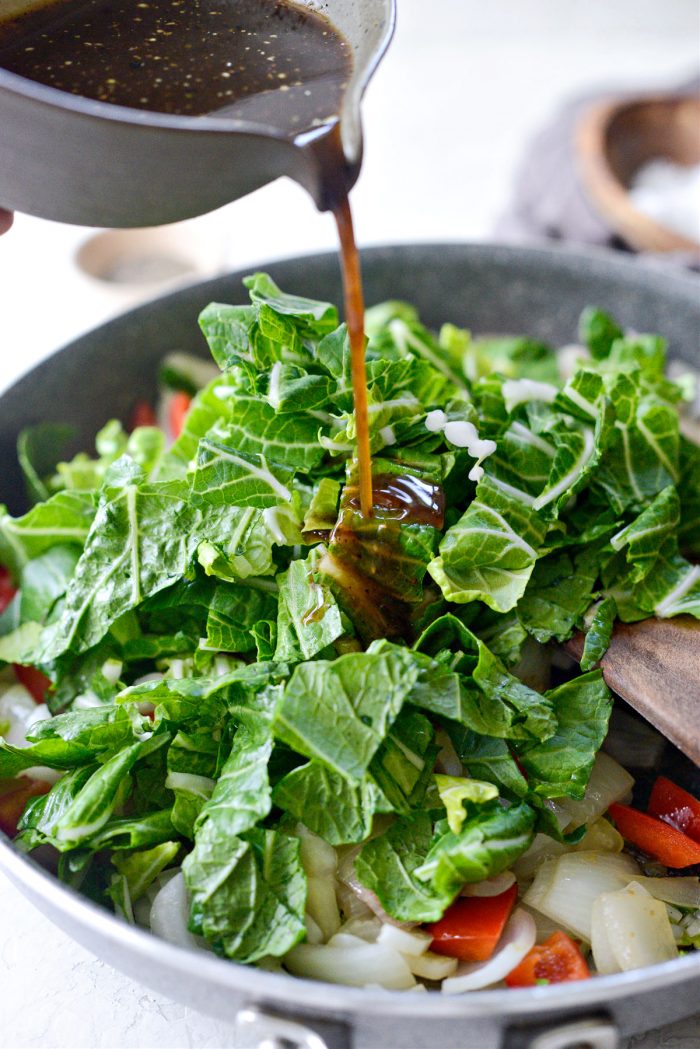 Next add in the boy choy leaves and pour in the black pepper sauce.
Again, stir and toss until the leaves just start to wilt.
Lastly, add in the crispy chicken pieces.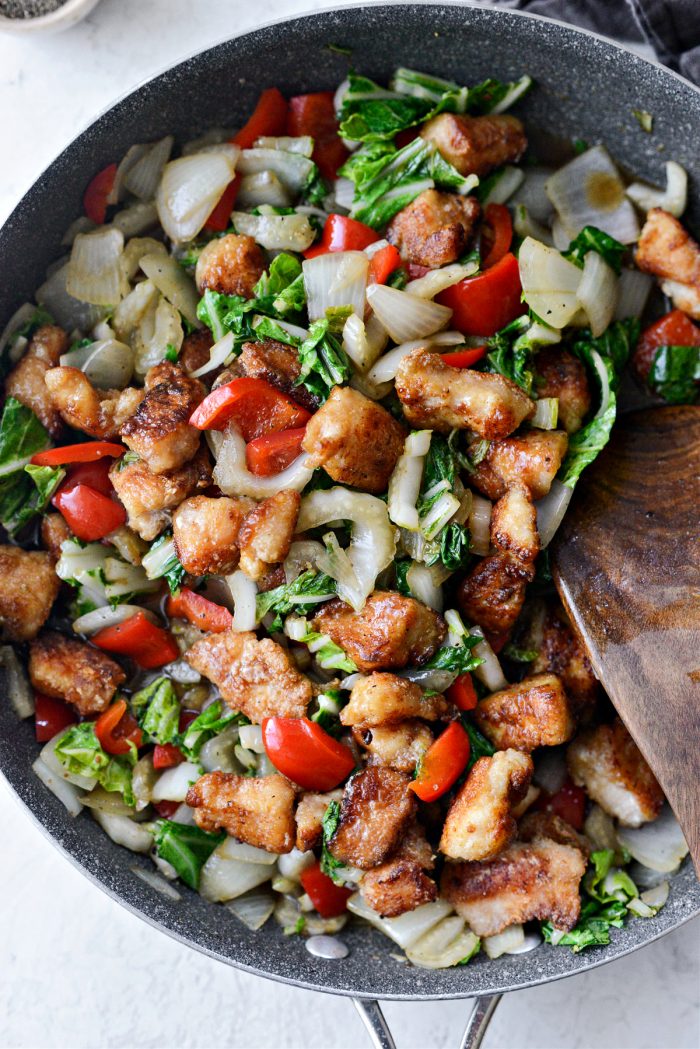 Toss to coat once last time until heated through. Taste and season with salt if desired.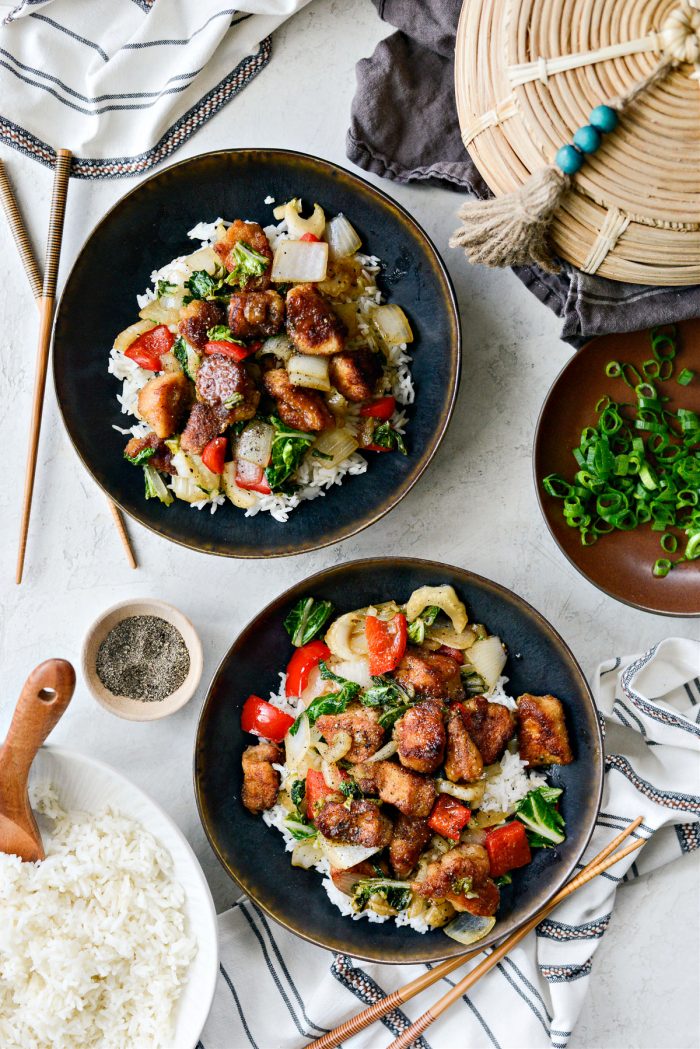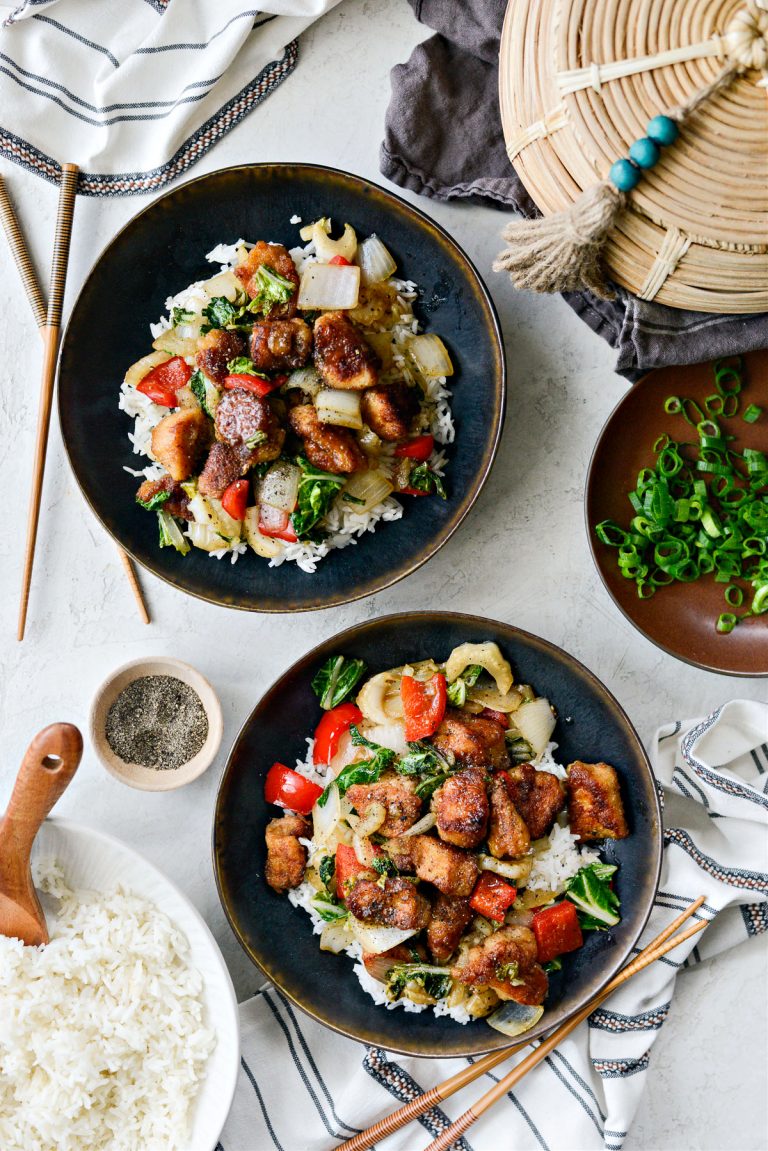 Serve over cooked white rice and with leftover freshly ground black pepper.
Sprinkle with thinly sliced green onions, grab your chopsticks and dig in!
Enjoy! And if you give this Black Pepper Chicken Stir-Fry recipe a try, let me know! Snap a photo and tag me on twitter or instagram!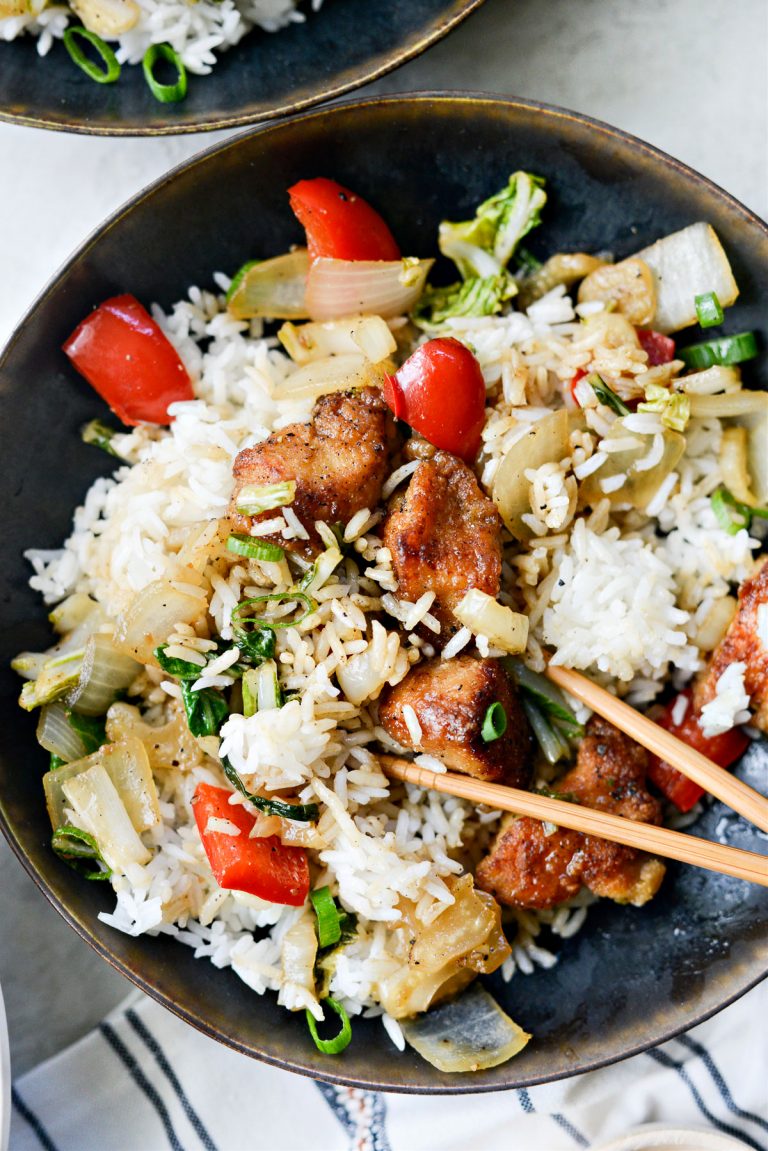 Adapted from Iheartumami.com

This post may contain affiliate links.