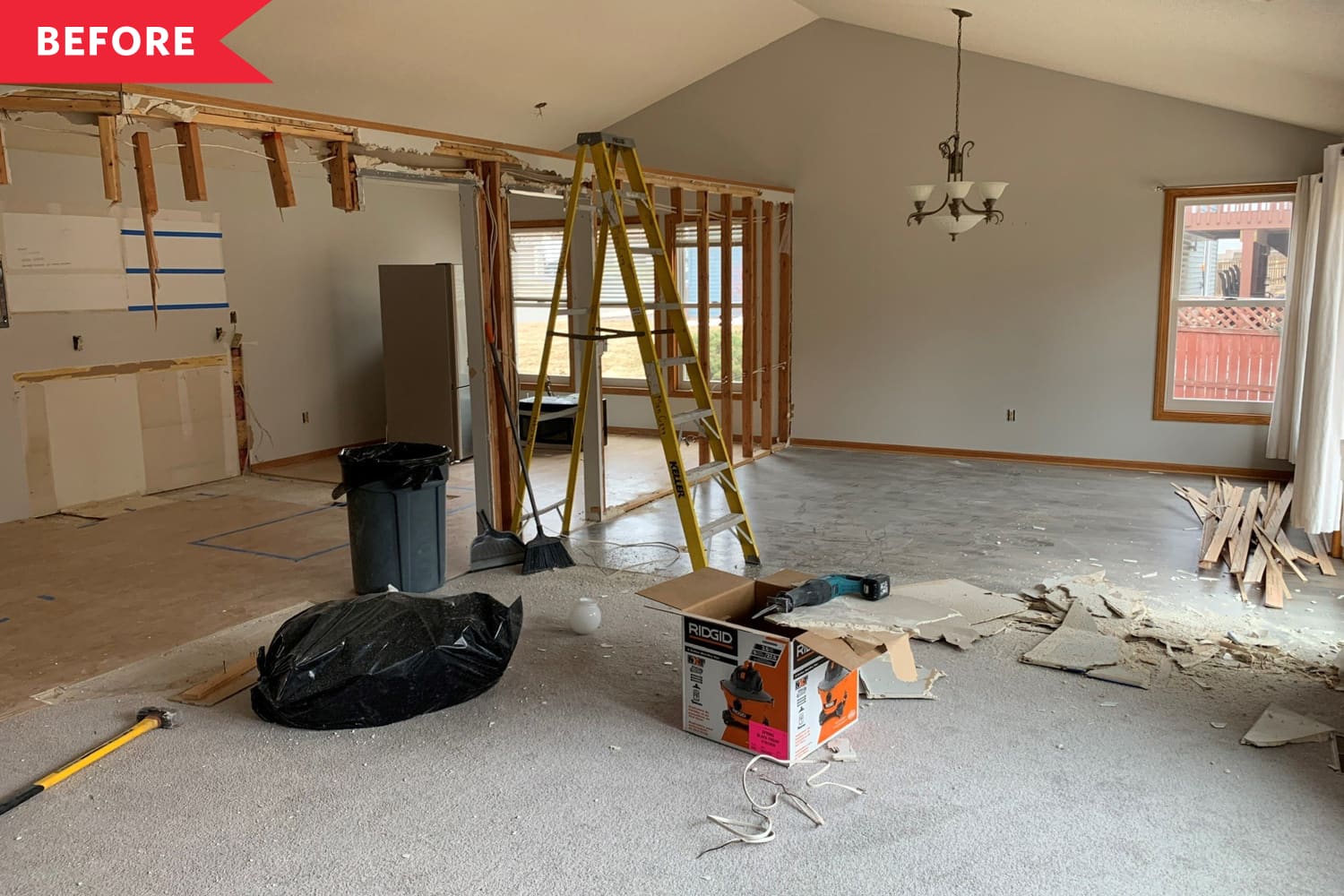 Designing an open-concept home can be a bit tricky. While the airy feel and increased gathering space is great, sometimes the lack of privacy and distinct zones can get frustrating. Luckily, there are ways to differentiate space, whether it's by adding a kitchen island, using color, or rearranging your furniture.
When Maura and Philip Watson bought their home in March 2020, it looked as if it hadn't been touched for 30 years. In fact, it hadn't been updated for 28 — and it was in desperate need of an open floor plan. "All the rooms felt very disconnected," Maura says.
Between the pandemic and layoffs, the couple found themselves with more time on their hands and turned their time and energy to their home. Ideal timing, Maura says.
The couple completed the reno with no outside help besides advice on the cabinet layout. The project started with knocking down the half wall to connect the kitchen, dining room, and living room. The result centers the vaulted ceilings and creates a bright and airy space.
"We absolutely love the openness of the space," Maura says. "We also love our kitchen and the placement of our island (hello, hidden trash can!)"
Out went the popcorn ceiling, and in went new cabinets, countertops, and flooring. The blue couch is the perfect play on the blue subway tile backsplash across the room in the kitchen. "Since we settled on a lot of neutral tones for our kitchen, I wanted something deep in color for the backsplash. My husband and I both love blue accents, so we landed on this beautiful blue-gray imperial gunmetal subway tile from The Tile Shop."
Meanwhile, the bright windows and wood elements help brighten the space, with the help of white walls, freshly painted with Sherwin-Williams' Snowbound.
As for whether the space is complete or not, Maura says they might extend the cabinets across the back wall someday.
The project rang in at about $15,000 total. The majority of the costs came from the cabinets, countertops, and flooring.
Maura says she's proudest of completing the project themselves. "When we first started, it felt a little daunting," she says. "However, it also felt so satisfying to know we were working toward a home that would truly feel like ours."