Bacon Broccoli Mac and Cheese is extremely comforting and flavorful! Cooked pasta in a simple two-cheese sauce is combined with tender broccoli florets and chopped cooked bacon. Serves 8.
Bacon. Broccoli. Mac and Cheese.
Inspired by my daughter Malloree's love for bacon mac and cheese and broccoli cheddar soup, this recipe is simple and delicious and loaded with lots of cheese and of course, flavor. The bones of this recipe comes from this OG mac and cheese recipe. I just decided to make a few changes like; throw in blanched broccoli for some green and nutrition and bacon which gives this Mac and cheese some texture and smokiness. Plus bacon.
Perfect as a side dish or serve in bowls as a cozy main dish.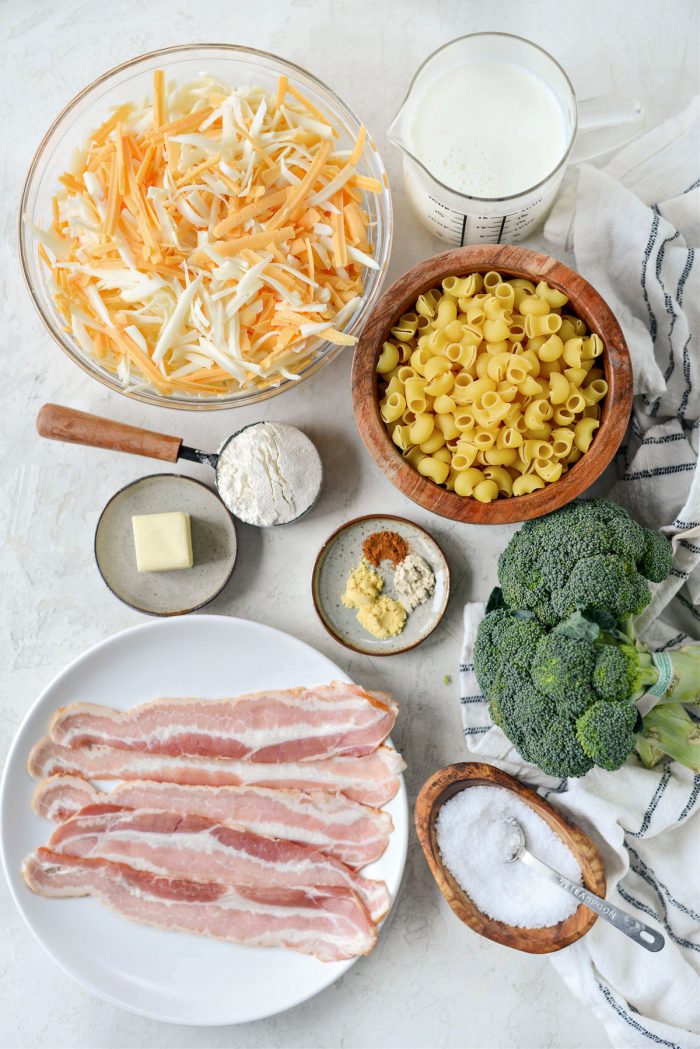 To Make This Bacon Broccoli Mac and Cheese You Will Need:
olive oil spray
broccoli
bacon
sea salt
dry short pasta
unsalted butter
unbleached all-purpose flour
whole milk
dry ground mustard
white pepper
nutmeg
sharp cheddar
fontina
kosher salt
Preheat your oven to 325° and lightly spray a casserole dish with olive oil spray.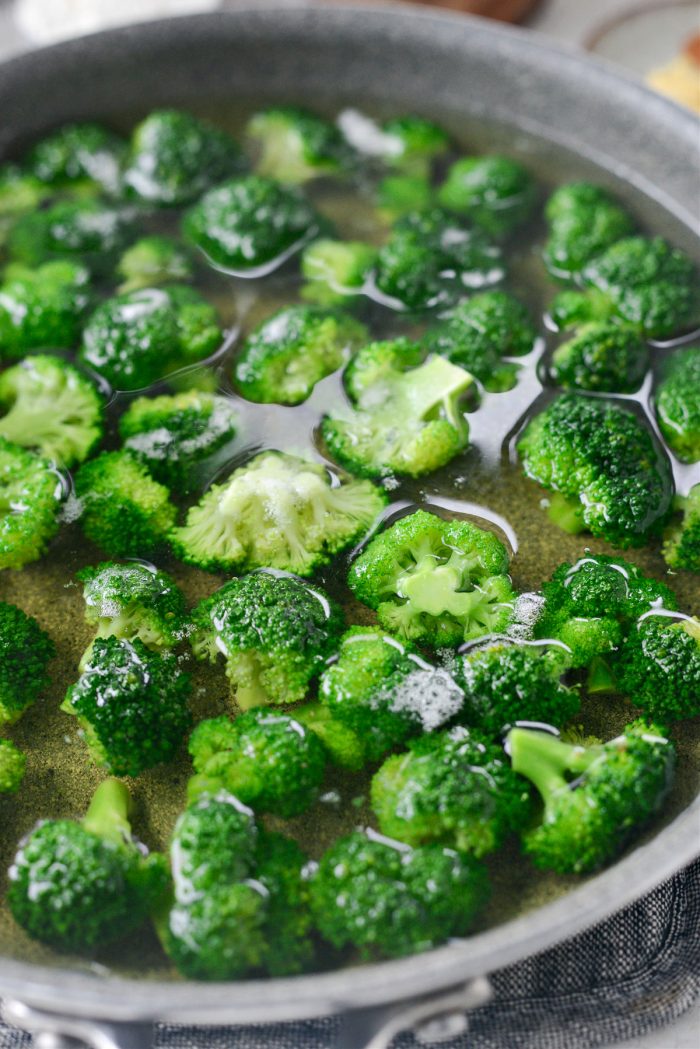 Start by blanching the broccoli.
Meanwhile, bring a 12-inch pan of water to a boil, add in 6 to 7 ounces fresh broccoli florets and cook for 3 minutes.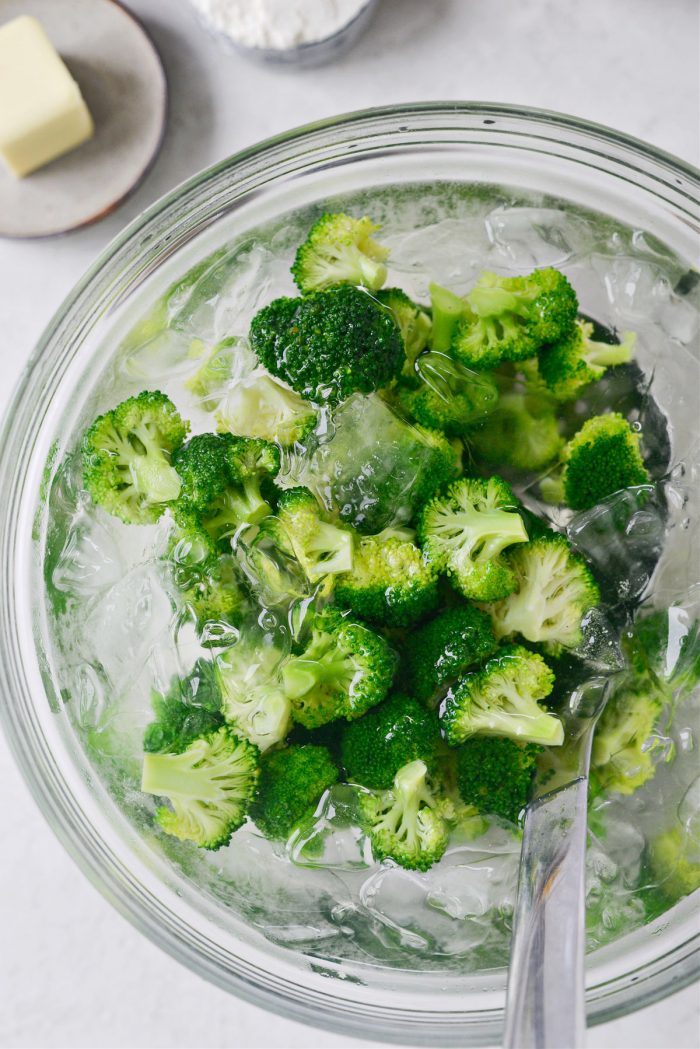 Have a bowl of ice water ready. Using a slotted spoon, transfer the broccoli from the boiling water to the ice bath. Leave the broccoli in the ice water for 3 minutes.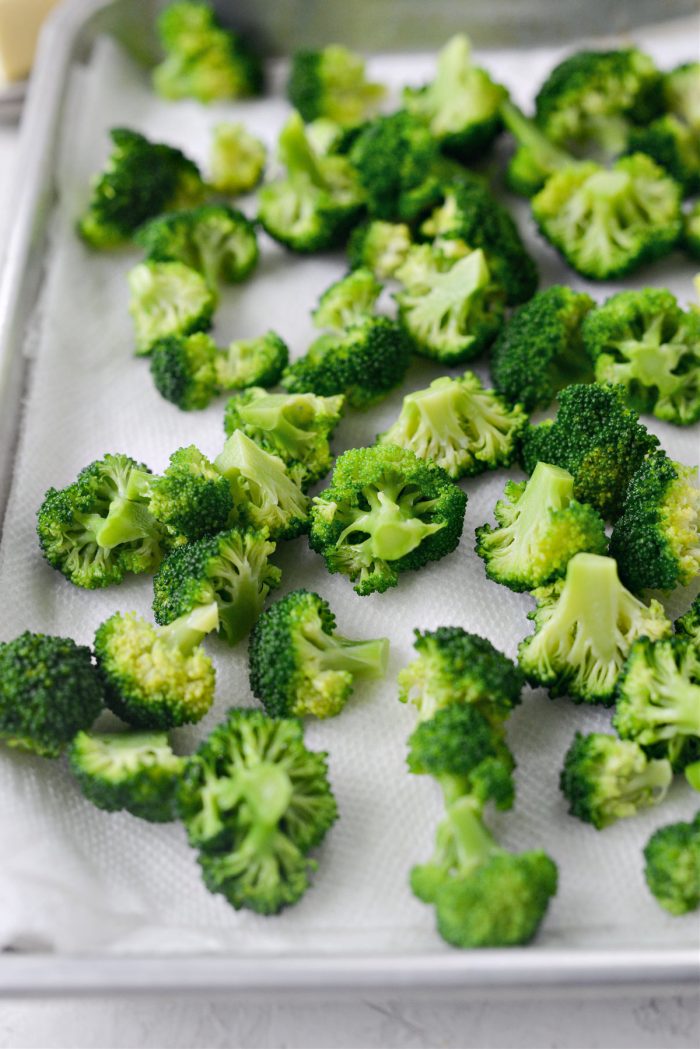 Use the slotted spoon to transfer the blanched broccoli to a paper towel or kitchen towel lines pan. Set aside.
Bring a pot of salted (about a small palmful of sea salt) water to boil.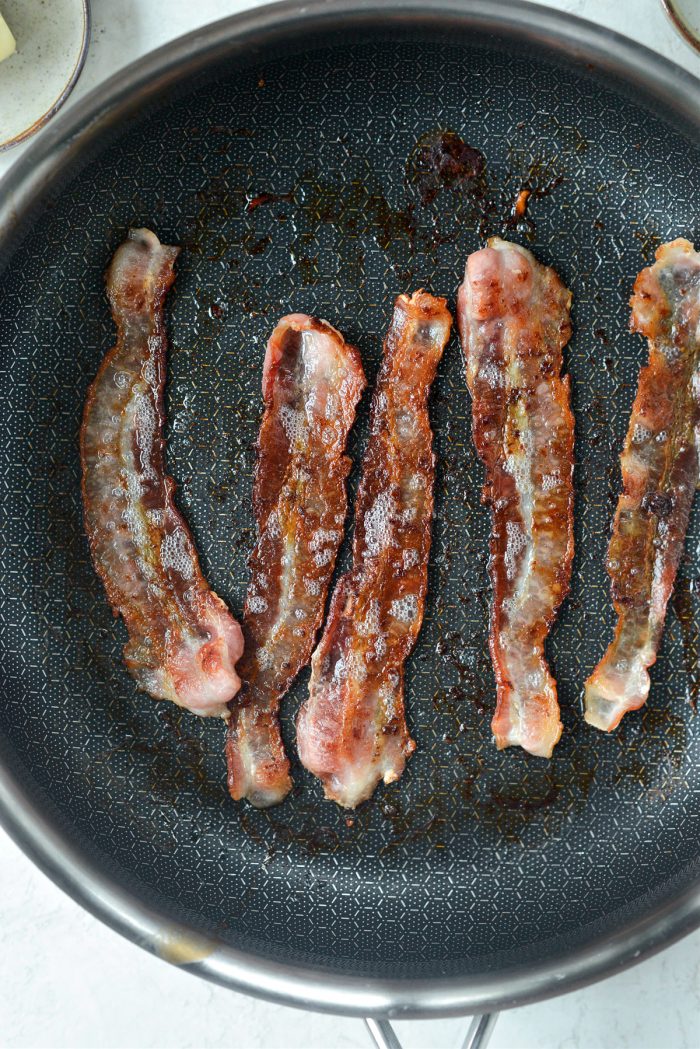 Start by adding 5 strips of center cut bacon into a skillet and cook until crispy. Transfer the crisp bacon to a cutting board, let cool for a few before chopping.
To the bacon fat in the pan, add 2 tablespoons unsalted butter. This recipe works best with center cut bacon. Any other bacon will leave more fat in the pan. You need roughly 2 tablespoons bacon fat and 2 tablespoons unsalted butter, so drain off any excess.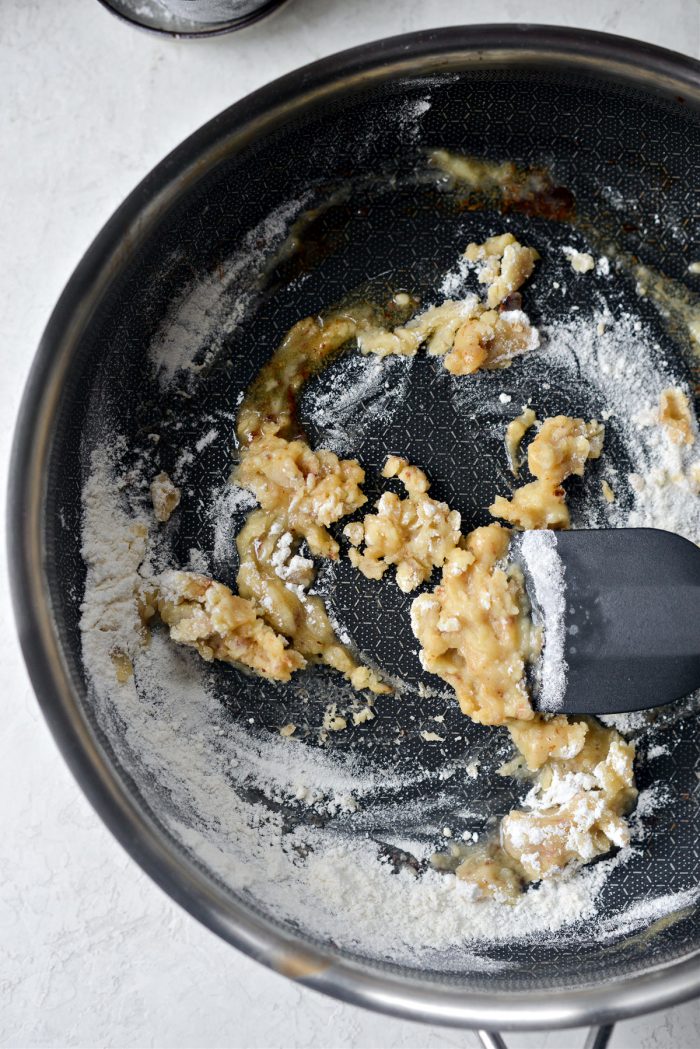 Once the butter has melted, stir in 1/4 cup unbleached all-purpose flour until absorbed. Cook fr 1 to 2 minutes.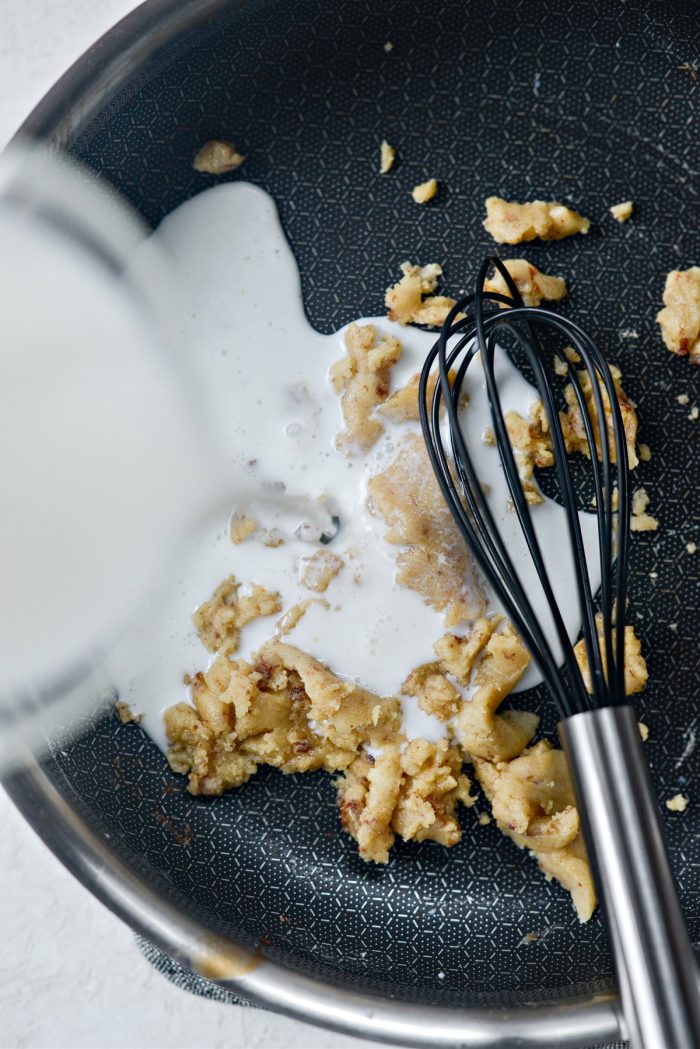 Reduce heat to low or medium-low and whisk while pouring in the milk. Whisk occasionally until the sauce has thickened to a creamy consistency.
Season with 1/2 teaspoon dried ground mustard, 1/4 teaspoon white pepper, 1/8 teaspoon both freshly ground black pepper and ground nutmeg. Whisk until incorporated into the sauce.
In a bowl combine 7 ounces sharp cheddar (grated) and 9 ounces fontina (grated). Add in half of each cheese and whisk until melted.
Meanwhile cook your pasta according to package directions and drain.
To the cheese sauce, add the blanched broccoli florets and 3/4 of the chopped bacon.
Toss well to combine.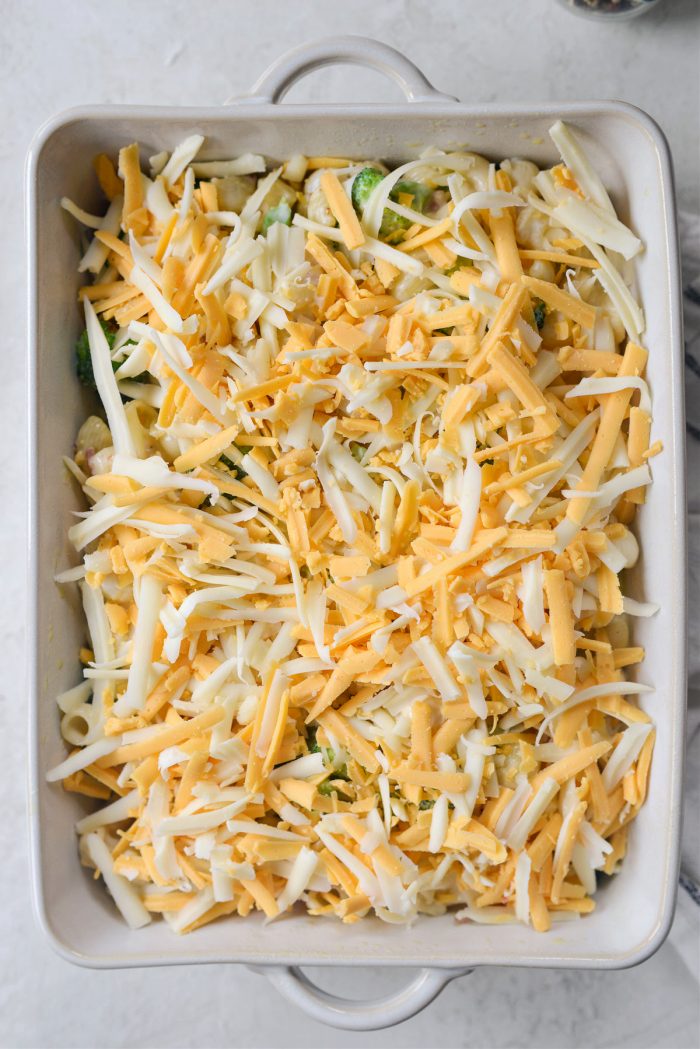 Transfer the bacon broccoli Mac and cheese to the prepared baking dish and top with the remaining cheeses.
Bake on the middle rack of your preheated oven for 10 to 12 minute or until the cheese has melted. Then, using oven mitts, remove and carefully move the oven rack to the highest position and turn on the broiler.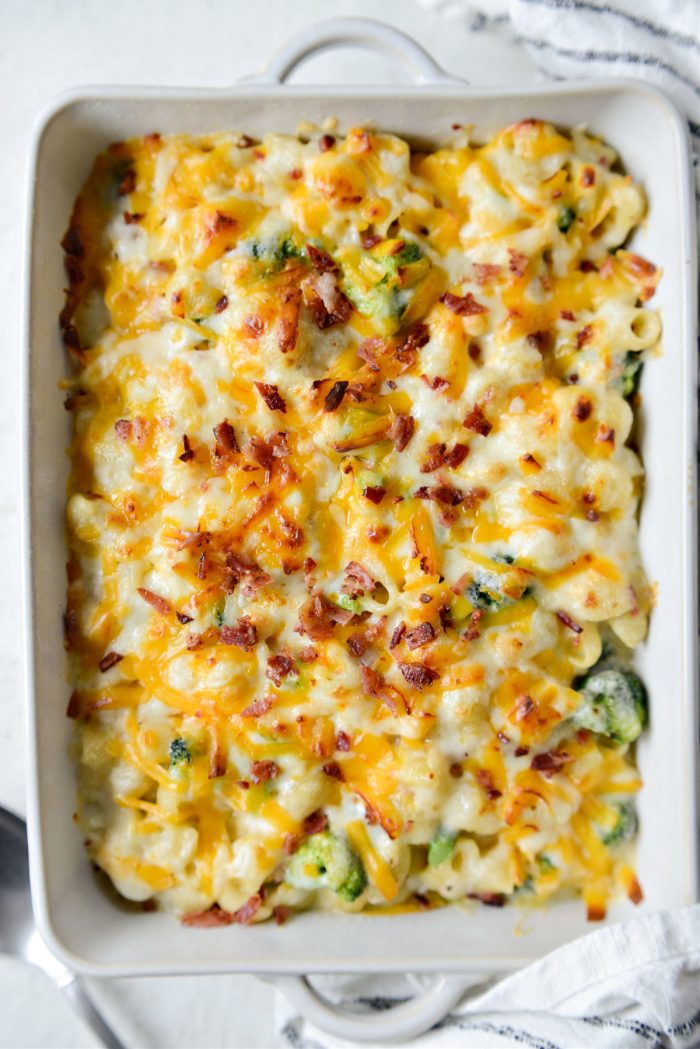 Place the Mac and cheese under the broiler for 2 minutes or until the top is golden brown in spots.
Serve immediately.
I dare you not to eat the entire pan.
Enjoy! And if you give this Bacon Broccoli Mac and Cheese recipe a try, let me know! Snap a photo and tag me on twitter or instagram!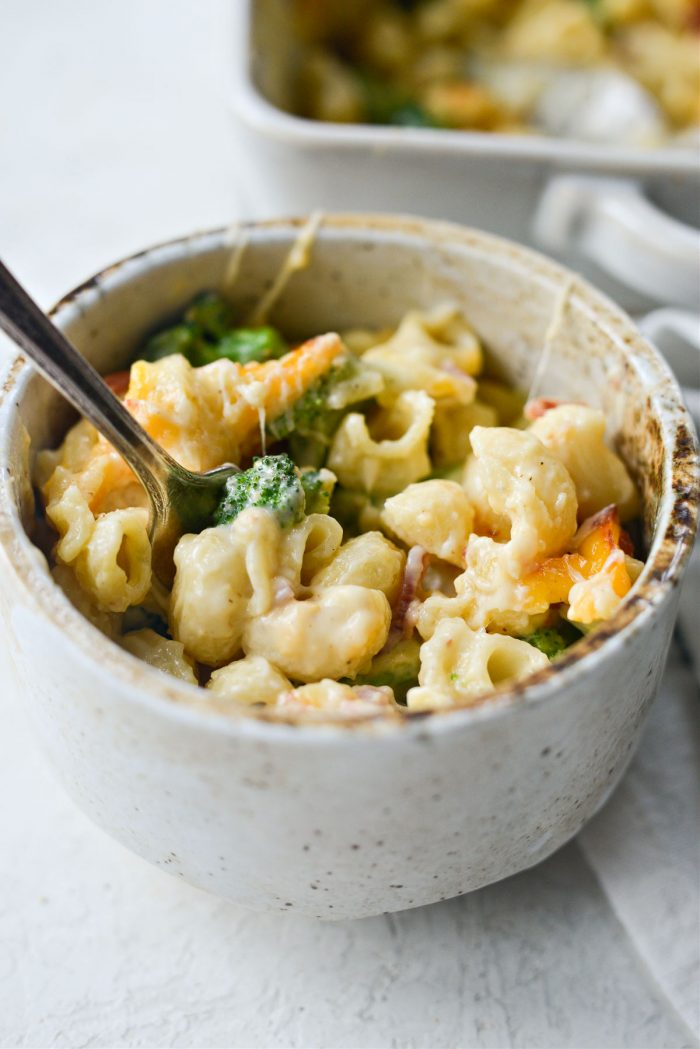 This post may contain affiliate links.