Air Fryer Apple Fritters are simple, delicious and a fall must! A cinnamon spiced fritter studded with tender honeycrisp and granny smith apples are finished with an incredible brown butter glaze. This recipe makes 10 apple fritters.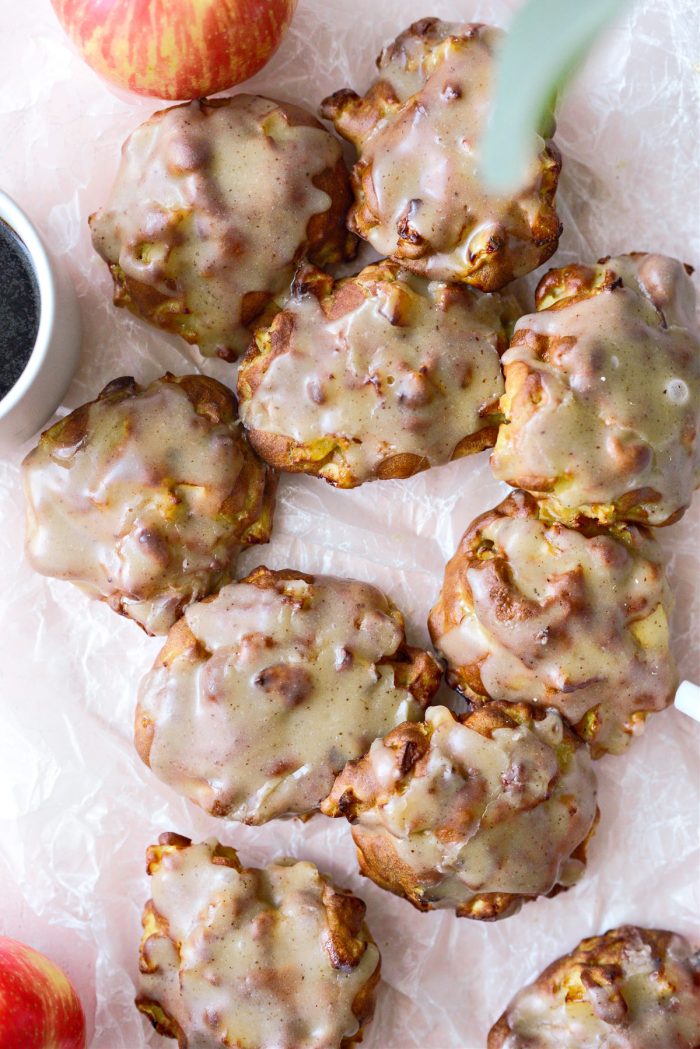 It's apple fritter season!
Put your air fryer to good use and quickly whip up this sweet treat! Since this isn't a traditional yeast dough that's deep fried (lord have mercy), the texture is a little bit cake like. However, they are tender with a crisp exterior. The apple and cinnamon flavor is incredible, but the brown butter glaze really makes these shine.
To Make These Air Fryer Apple Fritters You Will Need:
for the fritters:
unbleached all-purpose flour
dark brown sugar
baking powder
ground cinnamon
ginger
fine salt
half & half
eggs
apple cider vinegar
pure vanilla extract
honeycrisp apple
granny smith apple
for the glaze:
butter
powdered sugar
milk
pure vanilla extract
In a large mixing bowl, measure and add 1-1/2 cups unbleached all-purpose flour, 1/4 dark brown sugar, 2 teaspoons baking powder, 1-1/2 teaspoons ground cinnamon, 1/2 teaspoon fine sea salt and 1/4 teaspoon ground ginger.
Whisk to combine and set off to the side.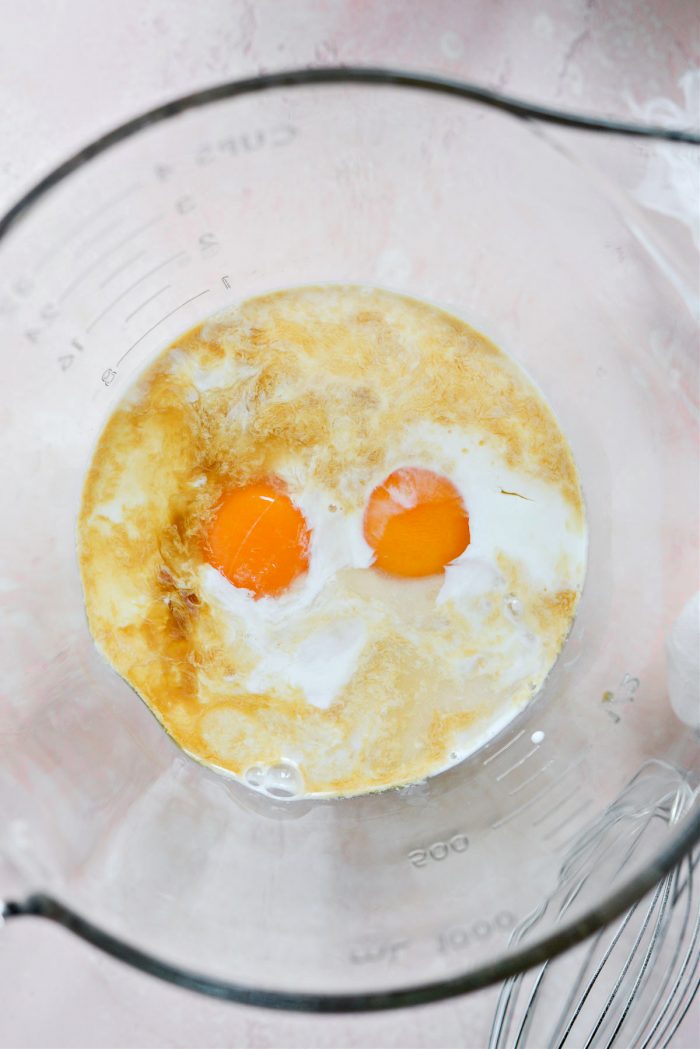 In a separate bowl, crack in 2 large eggs and to that, add 1/3 cup half & half, 1 tablespoon apple cider vinegar and 1-1/2 teaspoon pure vanilla extract.
Beat with a whisk to combine.
Pour the wet ingredients into the dry.
Using a spatula, mix until just incorporated.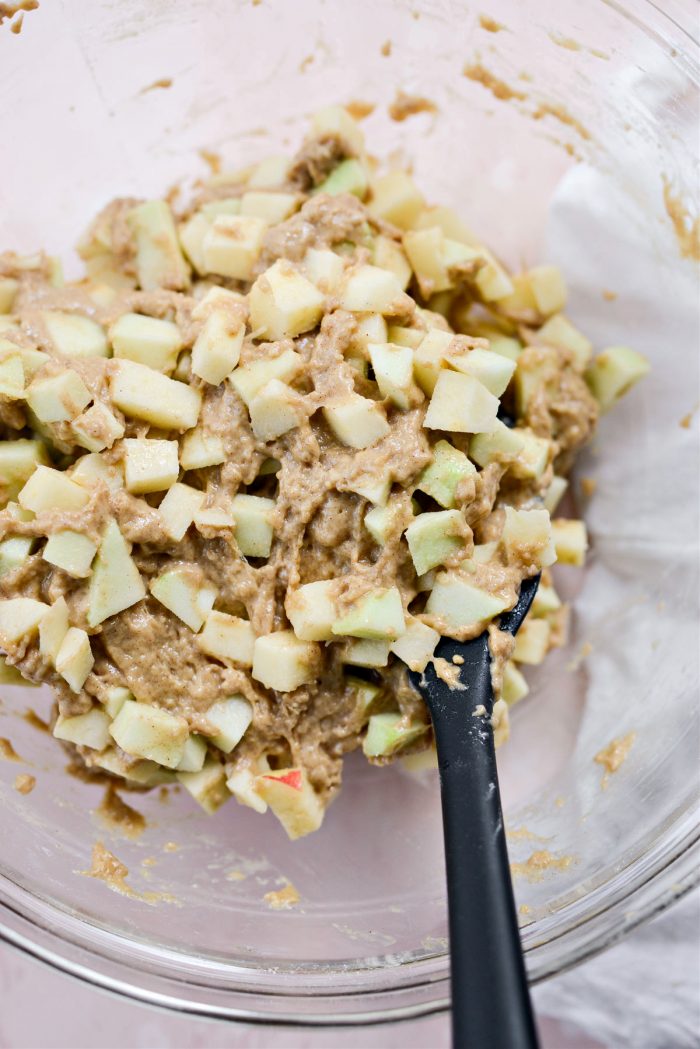 Add in 1 small, cored, peeled and diced honeycrisp and granny smith. It was 10 ounces total once diced. Fold those into the batter.
Preheat your air fryer to 390° or 400°.
What Is Air Frying?
An air fryer is a counter top appliance that requires less oil (anything from a few spritz to 1 tablespoon) yet produces crispy food that rivals most deep fried foods. By using circulating hot air, it moves at a high speed so the food tends to cook in a fraction of the time.
There are a bunch of different makes and models of air fryers. My husband did the research (as he's known to do) and found this air fryer [affiliate] to be one of the best. But do your research and purchase one that fits your lifestyle.
How is Air Frying Healthier?
Air frying is healthier because only a thin layer of oil coats the food and when the hot air comes in contact it will crisp. Saving you a ton of fat and calories (without sacrificing any flavor!) because food is not being submerged in a vat of hot oil.
Keep in mind, not all air fryers are equal. Some preheat and some do not. Some are smaller than others therefore you may need to work in smaller batches to air fry.
For more Air Fryer recipes, click here for my growing collection.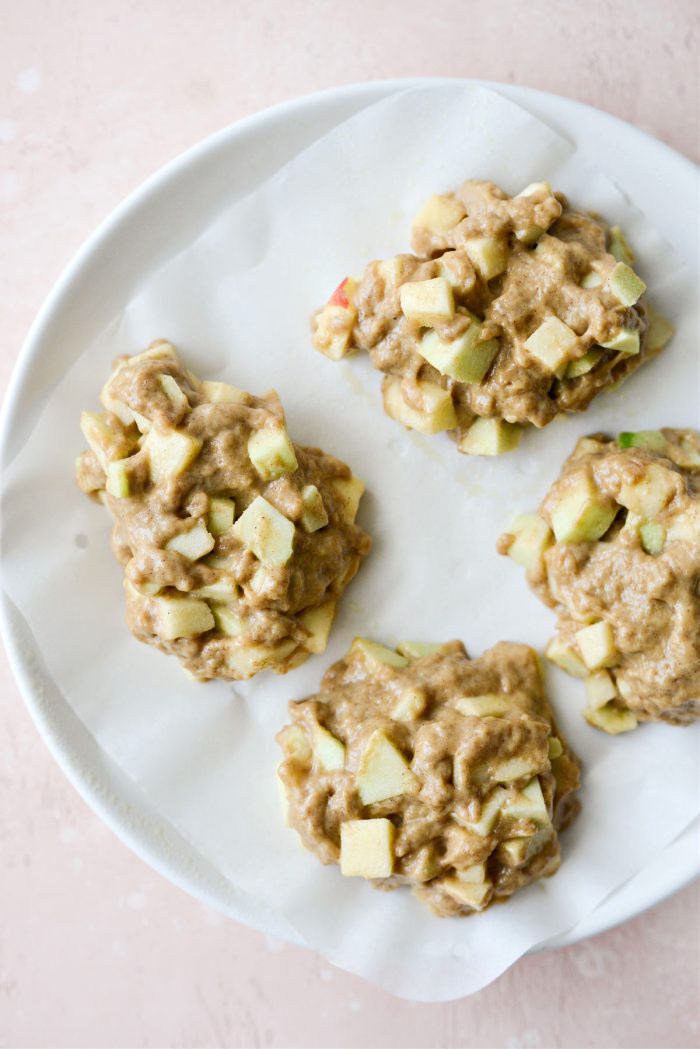 Lightly spray a piece of parchment (specifically made for your air fryer) with nonstick spray. Place it on to a small plate and add 4 (1/4 cup each) mounds of the fritter batter onto the parchment.
Slide the parchment (with the fritters) onto your air fryer insert and lightly spray the tops with nonstick spray. For thist I'm using ghee oil.
Air fry for 6 minutes.
Carefully turn the fritters over, and continue air frying for 1 to 2 more minutes or until golden.
Transfer the fritters to a wire rack set into a rimmed metal baking sheet and repeat with the remaining dough.
Make The Glaze:
To a small skillet add 4 tablespoons butter. Heat over medium to medium-low, stirring often, until the butter browns and smells nutty.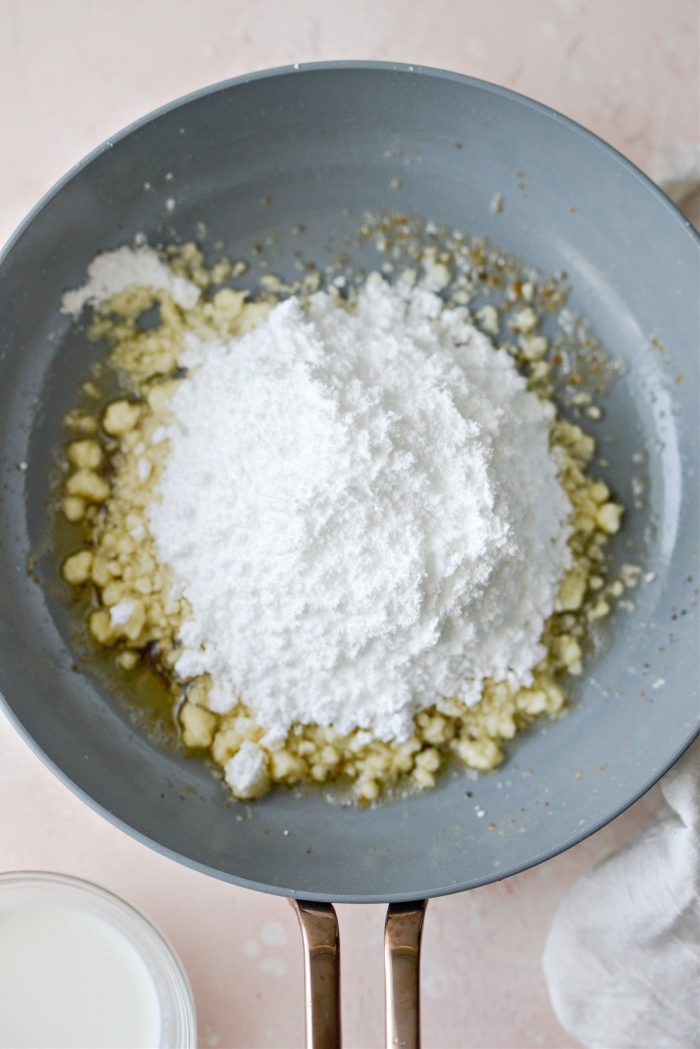 Remove off of the heat and add in 1 cup sifted powdered sugar.
Whisk while pouring in 1 to 3 tablespoons of half & half or milk.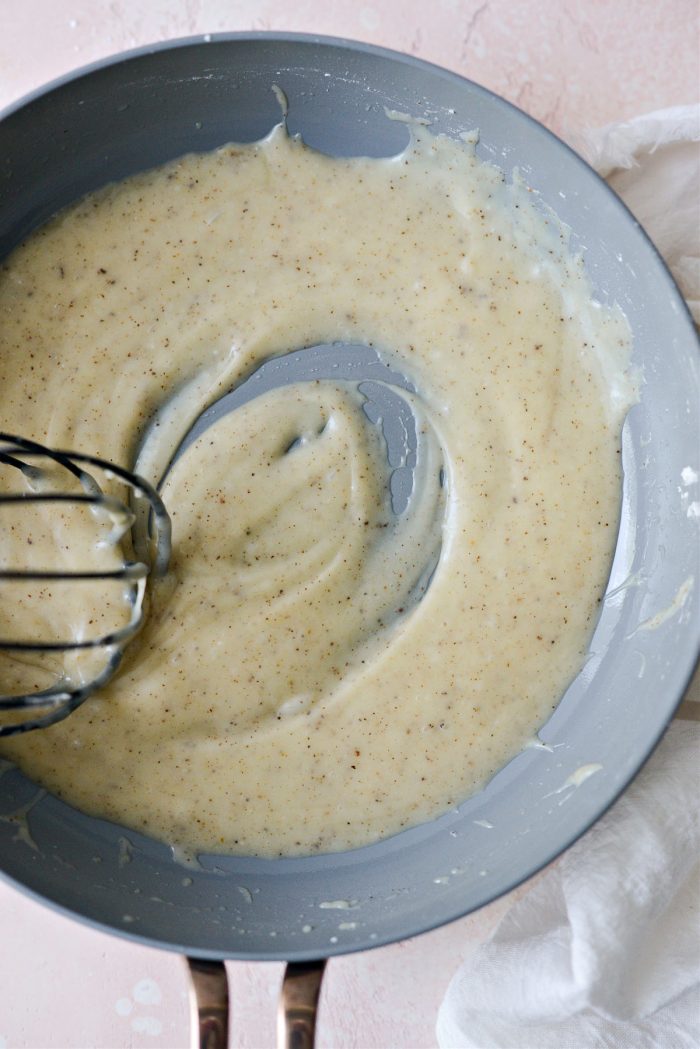 Lastly, add in a splash of vanilla extract. Continue whisking until smooth.
Spoon the brown butter glaze over top of each fritter.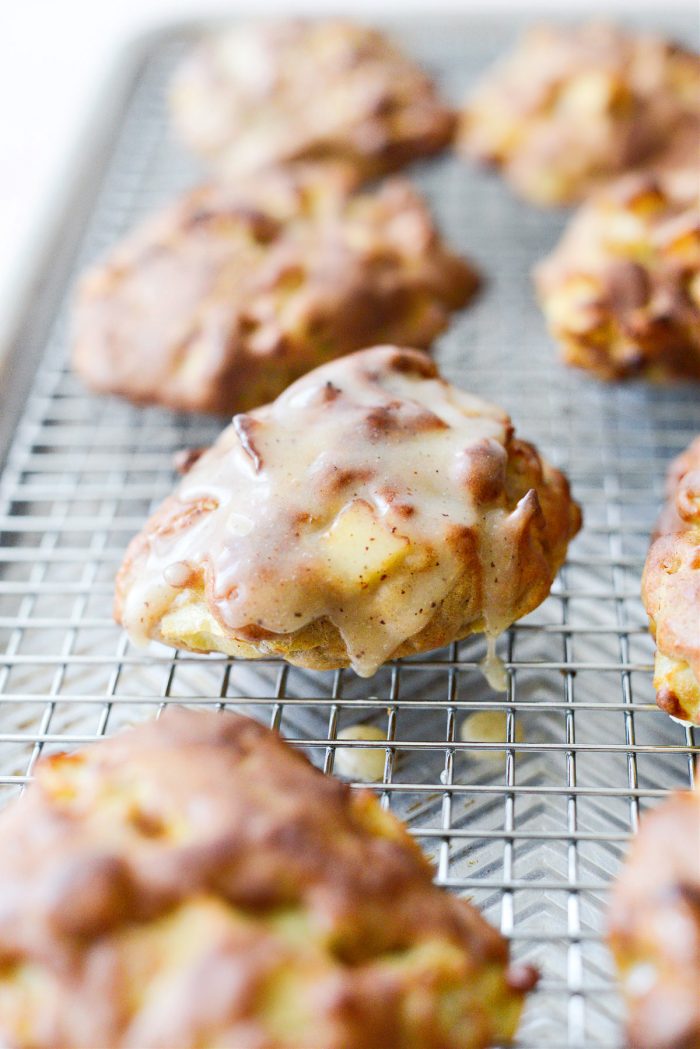 Let the glaze cool.
Or don't. 😉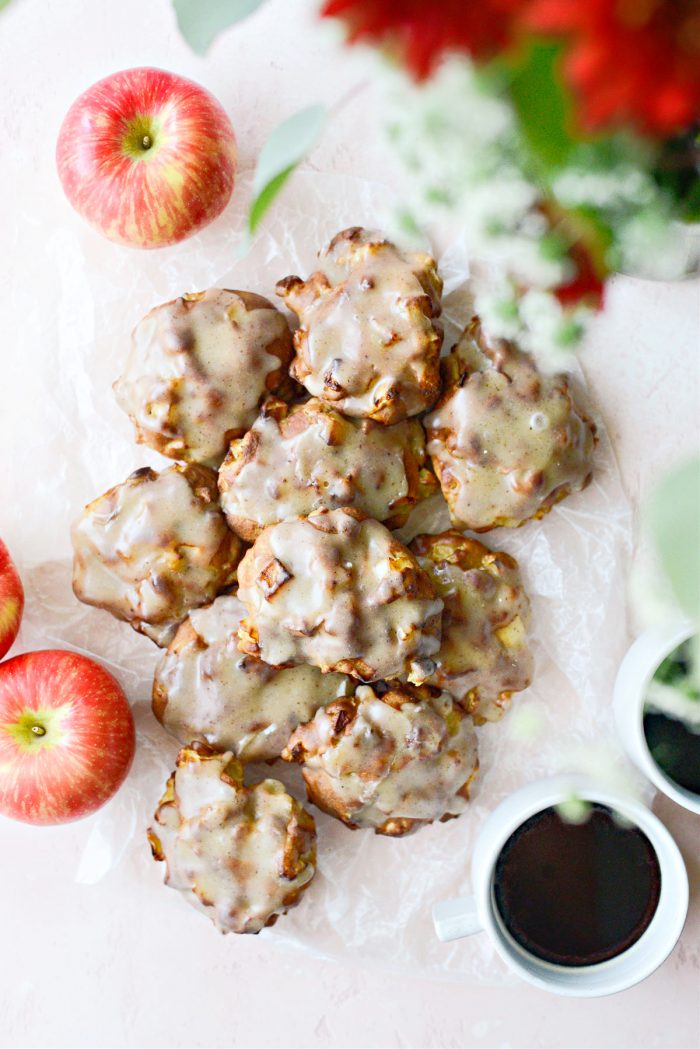 Enjoy! And if you give this Air Fryer Apple Fritters recipe a try, let me know! Snap a photo and tag me on twitter or instagram!
recipe respectfully adapted from TasteofHome.com

This post may contain affiliate links.