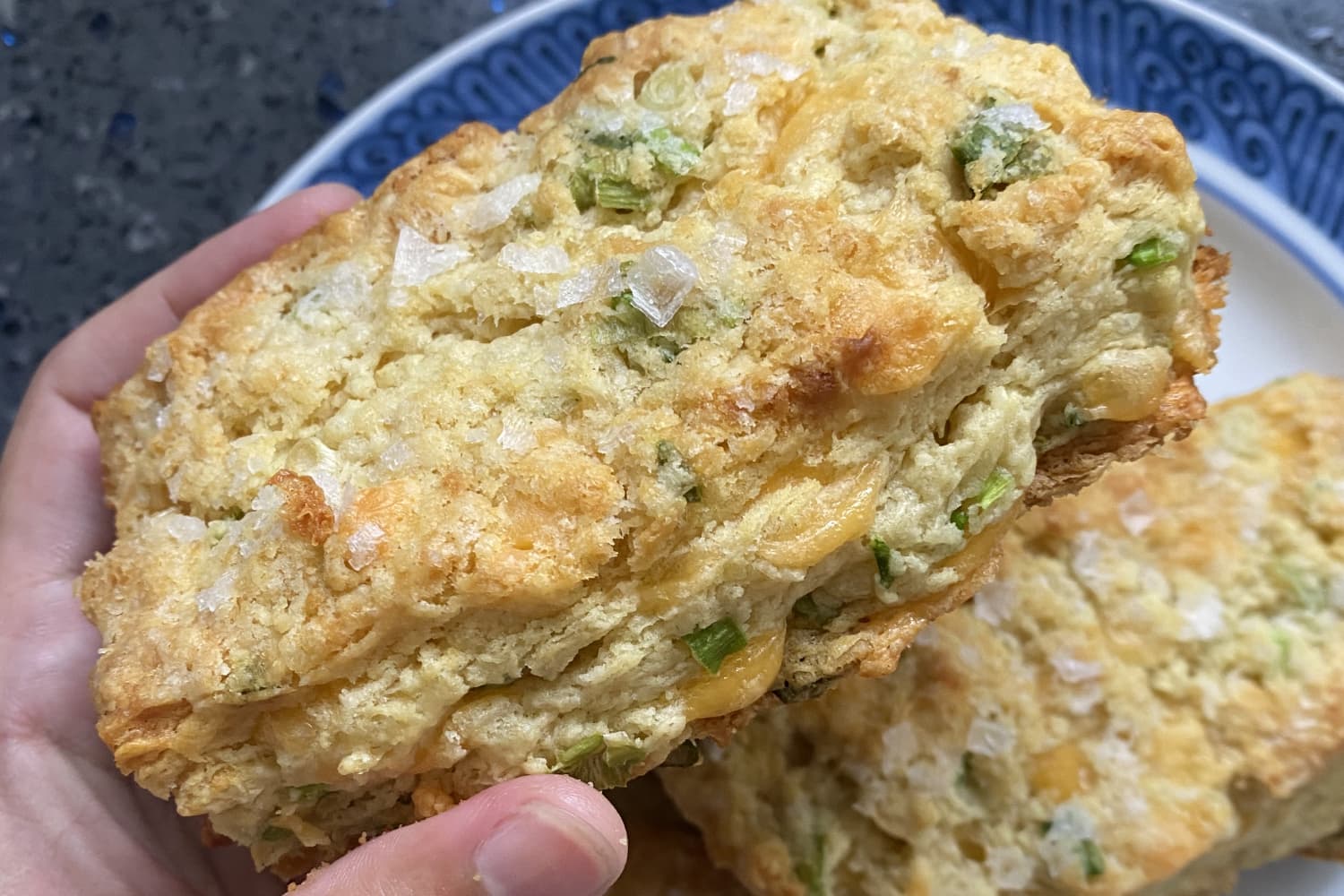 I used to suck at making biscuits. No matter how many times I tried or what recipe I used, something always went wrong: I would add too much buttermilk, overmix the dough, or forget I don't own a biscuit cutter. While they would still bake up buttery, they were usually flat and small, and a far cry from the tall and fluffy biscuits of my dreams.
But everything changed after I made Mei Lin's Cheddar Scallion Biscuits. I knew I'd struck gold when I took my first bite: the golden-brown edges shattered into buttery layers, and the soft and fluffy interior, speckled with bright golden cheese and green onion, gave off little puffs of steam. And they had height for days. These are the only biscuits that matter, and the only ones I'll ever make from now on.
How to Make Mei Lin's Cheddar Scallion Biscuits
Chef Mei was Top Chef's season 12 winner, and these days she's making XO sauce and Szechuan hot chicken in Los Angeles. During quarantine, she began to miss Gramercy Tavern's famous angel biscuits: a hybrid of a traditional biscuit and a Parker House roll. In a quest to recreate them, she developed these cheddar scallion biscuits that combined all of her favorite elements: soft texture, buttery flavor, and very impressive height. She shared her recipe on Instagram with a step-by-step story that's still saved in her highlights.
If you'd like to convert the dry ingredients from grams to teaspoons and cups, I'm sharing my estimated conversions below. They're not exact, but they've worked for me every time. Once you've gathered your ingredients, head to her Instagram stories to learn how to make them.
If You Make Chef Mei's Cheddar Scallion Biscuits, a Few Tips
1. Weigh the ingredients. Getting a digital scale has changed the way I bake and cook. It's a good investment towards more consistent results in your baked goods — and these cheesy biscuits are a great way to put it to use. If you don't have one, follow my suggestions above.
2. Keep the dough cold. This is crucial to flaky biscuits: The colder temperature ensures the butter bakes into flaky layers once laminated. The butter and cheese have to be frozen, so stick 'em in the freezer the night before you're baking. The buttermilk needs to come straight from the fridge. And once you've formed the dough, that final 30 minutes in the freezer is what takes these biscuits from good to great. Throughout the process, use a bench scraper to minimize the amount of direct contact your hands have with the dough.
3. Fold, fold, fold away! The second step to making flaky biscuits? Folding the dough at least six times to create those layers. Lamination is why croissant layers flake away with one small touch, and why these biscuits have such distinctive layers even while raw. One fold is technically made up of two: Taking an edge, folding it part of the way down, then do it again from the other side. (Look at Chef Mei's story highlight for a visual reference!) Repeat five more times and your biscuits layers are complete.
4. Cut off every side. Be sure to completely cut off each side of the dough slab so the layers can rise to their full potential. But don't throw out the scraps! Bake them separately for an extra chef snack for yourself, or, if you're like me and obsess over tiny things, make smaller biscuits for the most adorable breakfast sandwiches.
5. Make it your own. Chef Mei has riffed on the recipe by adding bacon and Chinese sausage (which sounds so divine). She recommends any low-moisture add-ins, so many cheeses are totally fair game. But if you don't want anything added in, that's fine too. Biscuits this beautiful can simply go bare.
At Kitchn, our editors develop and debut brand-new recipes on the site every single week. But at home, we also have our own tried-and-true dishes that we make over and over again — because quite simply? We love them. Kitchn Love Letters is a series that shares our favorite, over-and-over recipes.