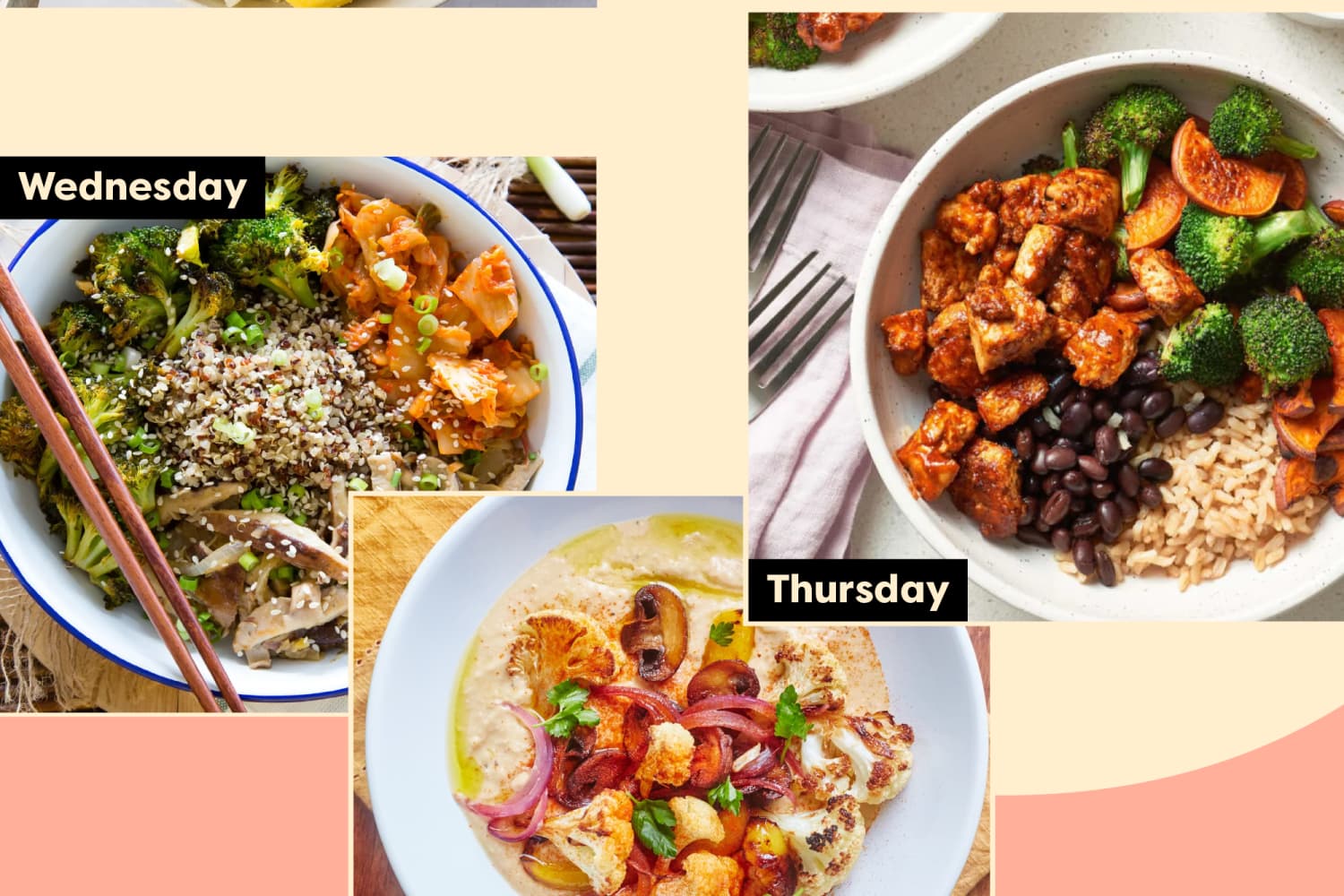 We independently select these products—if you buy from one of our links, we may earn a commission.
Anytime I want to stack my meal plan with easy, feel-good dinners that are deeply nourishing and centered around vegetables, I turn to power bowls. In fact, I love these one-bowl meals so much that I wrote a cookbook about them. They check all the right boxes: They can be (mostly) prepped in advance (which makes getting dinner on the table midweek a whole lot more manageable), are easily adaptable, make great lunch leftovers, and make a great choice for dinner whether you have a goal to eat more vegetables or are following a plant-based diet. Plus, eating from a bowl is just more fun.
These five feel-good dinners put vegetables at the center of the bowl and lean on plant-based proteins (like beans, tofu, and whole grains), along with good fats (like avocado and olives), to make sure each one is filling.
Monday: Sweet Potato Quinoa Bowls with Crispy Chickpeas and Chopped Pesto
Kick off the week with a dinner that's packed with a mix of big flavors and textures. Many of the bowl's components can be made in advance, so that when dinnertime rolls around all that's left to do is reheat (if you like) and assemble. While quinoa is used as the base, any whole grain will work — farro, brown rice, and wild rice are nice alternatives. Whatever you choose, it's a good idea to make extra to use for bowls later in the week. Also, if you're avoiding dairy, this bowl is just as tasty without the feta.
Tuesday: Spicy Buffalo Cauliflower Bowls with Avocado and Green Tahini
To cut down on dinner prep, start with smart grocery store shortcuts like frozen brown rice that can be heated in the microwave and pre-shredded cabbage or a bag of coleslaw mix. A high oven temp keeps the cook time to a minimum, and more importantly promises extra-crispy cauliflower bites.
Get the recipe: Spicy Buffalo Cauliflower Bowls with Avocado and Green Tahini
Wednesday: Quinoa Bowl with Kimchi, Miso Mushrooms, and Crispy Broccoli
If you got a jump on dinner by making extra quinoa or rice earlier in the week, give it a quick reheat while the broccoli roasts and the mushrooms cook on the stovetop. If you're vegan, be sure to double check the label on the kimchi to make sure it doesn't contain any shellfish, anchovies, or fish sauce.
Get the recipe: Quinoa Bowl with Kimchi, Miso Mushrooms, and Crispy Broccoli
Thursday: BBQ Tofu Salad Bowls
The beauty of tonight's dinner is that everything cooks up on a single sheet pan. Talk about easy cooking and easy cleanup! While the tofu and vegetables roast, cook up a pot of rice or reheat the leftovers from earlier in the week.
Get the recipe: BBQ Tofu Salad Bowls
Friday: Smoky Roasted Vegetable Hummus Bowl
There's no better (or easier!) way to cap off the week and clean all the leftovers out of the fridge than with a hummus bowl. If you're feeling motivated, go ahead and blitz together a batch of homemade hummus; otherwise grab a tub of your favorite store-bought stuff. Pile on any leftover roasted or fresh veggies and any grains.
Get the recipe: Smoky Roasted Vegetable Hummus Bowl
New to meal planning? Start here.
Click below to get more tips, insights, and ideas from our Meal Plan Club crew and readers like you.
Meal planning isn't always easy — especially if you're just getting started. But we're firm believers that it's the secret to stress-free weeknight dinners. We want to help you find inspiration and ease some of the pain points that come with getting dinner on the table night after night, whether you're cooking one or a family of four or five. Every week we share a new meal plan solution specifically customized for you from reader requests or from a guest contributor, for Next Week's Meal Plan!