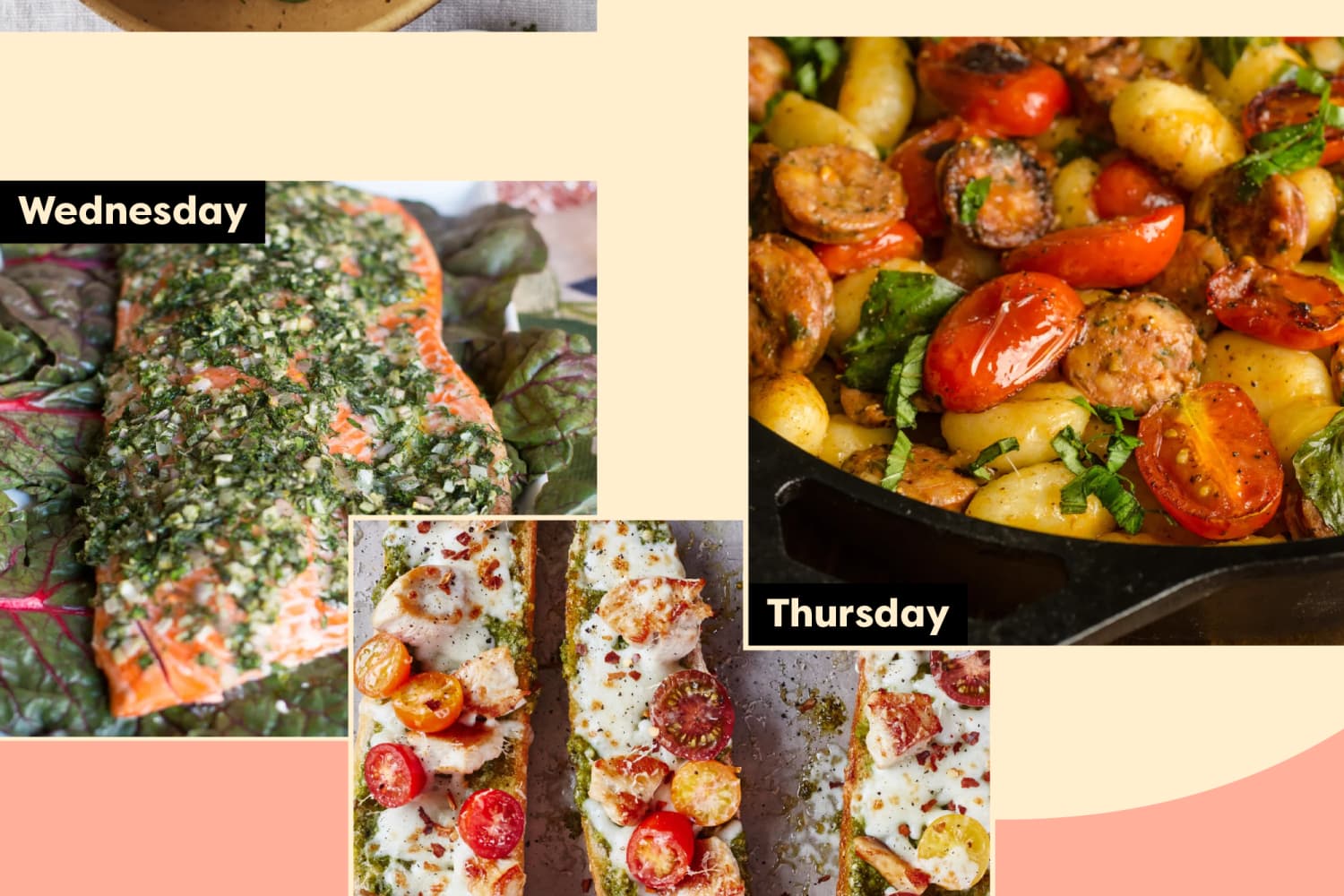 One of my favorite ways to guarantee quick and easy weeknight meals, plus keep my grocery budget in check, is sticking with dinners that require just a few ingredients. This week's dinner lineup features family-friendly, five-ingredient meals that also happen to lean hard on pantry ingredients. In fact, there's a good chance you already have a bunch of the ingredients for these meals on hand.
When the recipes in the dinner rotation require limited ingredients, the grocery list is shorter, and the prep work and cleanup are kept to a minimum. And when said five-ingredient dinners include creamy pasta, salsa chicken tacos, and French bread pizza, you're in for some deliciously comforting meals the whole table will enjoy.
Monday: Creamy Greek Yogurt Pasta
This comforting creamy pasta is reminiscent of fettuccine Alfredo, but uses Greek yogurt in place of cream for a wholesome and tangy twist. I have a box of spaghetti in the pantry that I'll use in place of fettuccine (any long-strand pasta will work here). And when I combine the sauce with the pasta, I plan to toss in the remainder of a container of somewhat wilted baby spinach to add some veggies to dinner and clean out the fridge.
Get the recipe: Creamy Greek Yogurt Pasta
Tuesday: Instant Pot Salsa Chicken Tacos
This chicken is one of the easiest dinners I know, and a favorite of mine when I don't feel like cooking. I just toss a pack of chicken breasts and jar of salsa in my Instant Pot, then shred the meat when it's finished cooking. I'll warm the tortillas just before it's time to eat, and we'll load our tacos with Greek yogurt, sliced avocado, and fresh cilantro. We'll use the leftovers for lunch later in the week.
Get the recipe: Instant Pot Salsa Chicken
Wednesday: Foolproof Salmon Baked with Olive Oil & Herbs
Not only is this salmon totally foolproof, but it also requires minimal prep and hands-off cooking, and works with any herbs you have handy. I plan to use some leftover parsley and cilantro hanging out in the crisper.
Get the recipe: Foolproof Salmon Baked with Olive Oil & Herbs
Thursday: Gnocchi Skillet with Chicken Sausage & Tomatoes
This skillet dinner is one of my favorite reasons to keep chicken sausage on hand. The recipe calls for just three links, but I always use the full package. It bulks up dinner a little more, and if by chance there are leftovers, it makes a great lunch the next day.
Get the recipe: Gnocchi Skillet with Chicken Sausage & Tomatoes
Friday: French Bread Pesto Pizza
The nostalgic comfort that comes with French bread pizza cannot be beat, in my book. Plus it makes for an incredibly easy DIY pizza night at home. We'll top our pizzas with our favorite store-bought pesto, shredded mozzarella, and whatever veggies are left over in the crisper.
Get the recipe: French Bread Pesto Pizza
New to meal planning? Start here.
Click below to get more tips, insights, and ideas from our Meal Plan Club crew and readers like you.
Meal planning isn't always easy — especially if you're just getting started. But we're firm believers that it's the secret to stress-free weeknight dinners. We want to help you find inspiration and ease some of the pain points that come with getting dinner on the table night after night, whether you're cooking one or a family of four or five. Every week we share a new meal plan solution specifically customized for you from reader requests or from a guest contributor, for Next Week's Meal Plan!