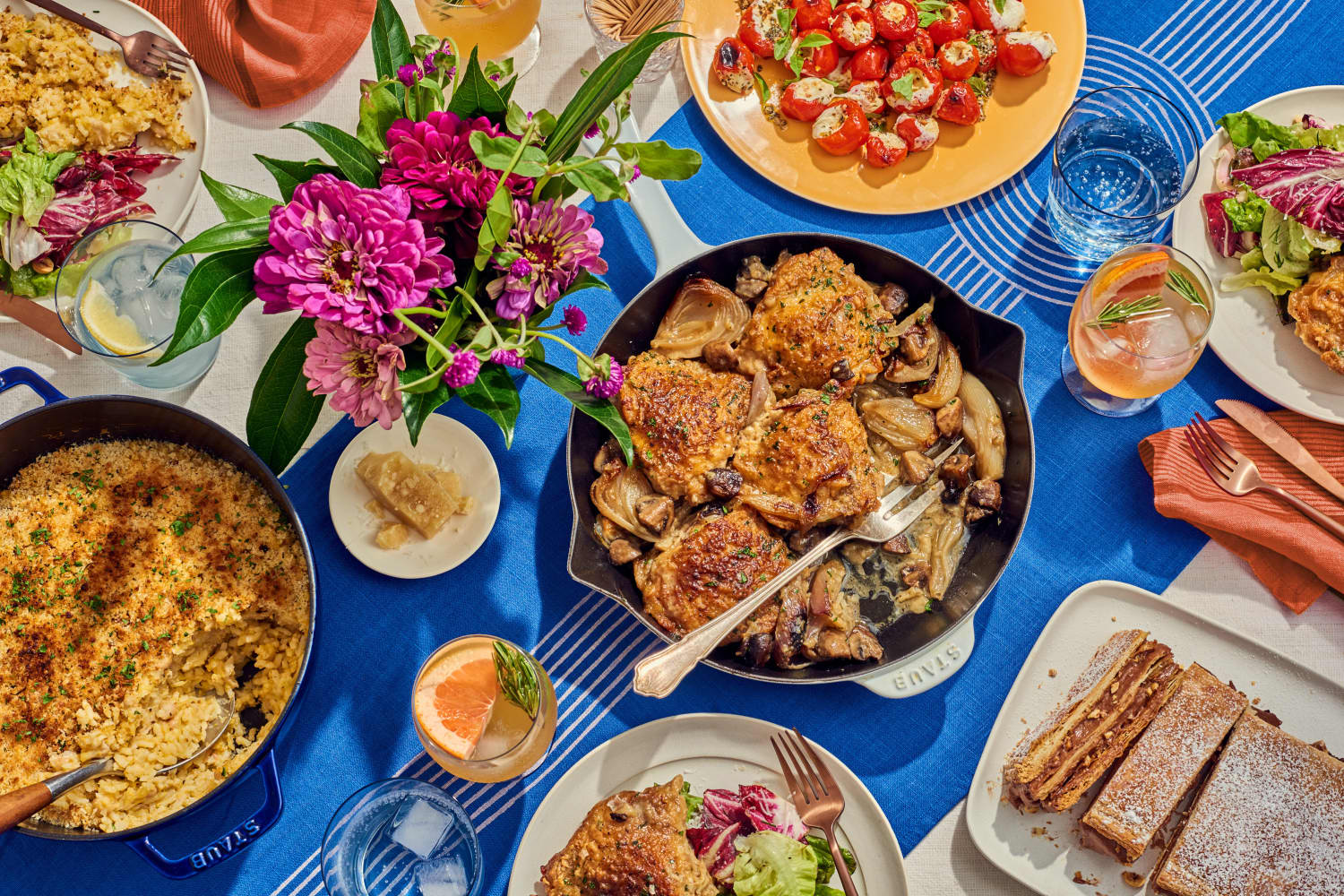 For many home cooks, a stress-free dinner party sounds like an oxymoron. If you relax and mingle, the food is likely getting cold. And if you prepare dishes à la minute, you're missing out on your own party. Our solve? These six easy showstoppers, each created specifically with dinner-party success in mind.
To make sure these dishes deliver, we created some criteria. All of the recipes needed to feel interesting and fresh, while still being broadly appealing. They had to be easy to pull off, yet look impressive. Each needed a make-ahead component and to dirty as few dishes as possible. They also needed to be easy to eat, play well with a variety of other dishes, and accommodate as many diets as possible. All were created to be vibrant but not too seasonal, so that they can be made year-round. It took some time to create a lineup of dishes that checked all of those boxes, but we did it! Read on for the ultimate dinner party dishes. Try them at your place and let us know how we did.
1. The Ultimate Dinner Party Drink: Sangria Shrub Punch
This drink practically makes itself: You'll mix grapefruit-rosemary sugar with chunks of grapefruit, let it infuse overnight, then stir in apple cider vinegar. That tangy, fruit-infused mixture is the shrub (and can be prepped ahead and refrigerated for up to six months!). When your guests begin to arrive, you'll pour the shrub into a pitcher and top it off with sparkling wine — or sparkling water to make it non-alcoholic. Serving it in a pretty glass carafe or pitcher is both festive and practical: Guests can pour their own glasses, so you're not stuck playing bartender.
2. The Ultimate Dinner Party Appetizer: Mozzarella-Stuffed Peppadew Peppers
Tangy-sweet Peppadew peppers come prepped and ready for stuffing, making them a party-perfect ingredient. Here, we stuff them with marinated mozzarella and stick them under the broiler until the cheese melts. These little guys go great with cocktails and are a wild ride for your tastebuds: First, you get hit with the juicy, slightly spicy bite of the pepper; then, you're greeted with creamy marinated mozzarella cheese. You can stuff the peppers ahead of time and store them in the fridge, then broil just before serving.
3. The Ultimate Dinner Party Salad: Mile-High Salad with Hazelnuts, Parmesan, and Red Wine Vinaigrette
We dare you to find a more dramatic salad! Piling up the pretty greens will wow your guests, but this sassy side delivers on flavor, too. The combination of frilly, green butter lettuce and red-and-white striped radicchio looks great on the plate and plays beautifully with the tangy dressing, toasty nuts, and salty cheese. To prep it ahead of time, whisk up the vinaigrette, grate the cheese, toast the nuts, and wash and dry the lettuce, leaving you with minimal day-of work.
4. The Ultimate Dinner Party Main: Mustard and Wine-Braised Chicken Thighs with Mushrooms and Shallots
This simple, inexpensive chicken dinner — which can go straight from oven to table — is all about easy elegance. The chicken cooks up juicy with a crispy skin, while the shallots turn meltingly tender as they cook in the rendered fat. Adding lots of earthy mushrooms makes this a main and side in one. Plus, bone-in, skin-on thighs are harder to overcook than breasts, which means that dinner won't be ruined if you lose track of time chatting.
5. The Ultimate Dinner Party Vegetarian Main: Baked Risotto with White Beans, Herbs, and Lemon
Homemade risotto is impressive and feels fancy, but it's often weighed down with cheese. This one, packed with fresh herbs and lemon juice, is quite the opposite: It's fresh and vibrant, and suitable for vegans and vegetarians alike. White beans add creaminess without the need for dairy, and a crispy panko topping adds textural contrast. Plus, it bakes in the oven, so you don't have to spend the evening standing at the stove stirring.
6. The Ultimate Dinner Party Dessert: Nutella Napoleon
This French-inspired dessert is the sweetest ending to an evening with friends. The rich and creamy Nutella filling comes together with just three ingredients, and is sandwiched between layers of flaky puff pastry. A final showering of powdered sugar makes it look like it came from a fancy bakery. Assemble the whole thing up to four hours in advance, and relax knowing dessert is done.