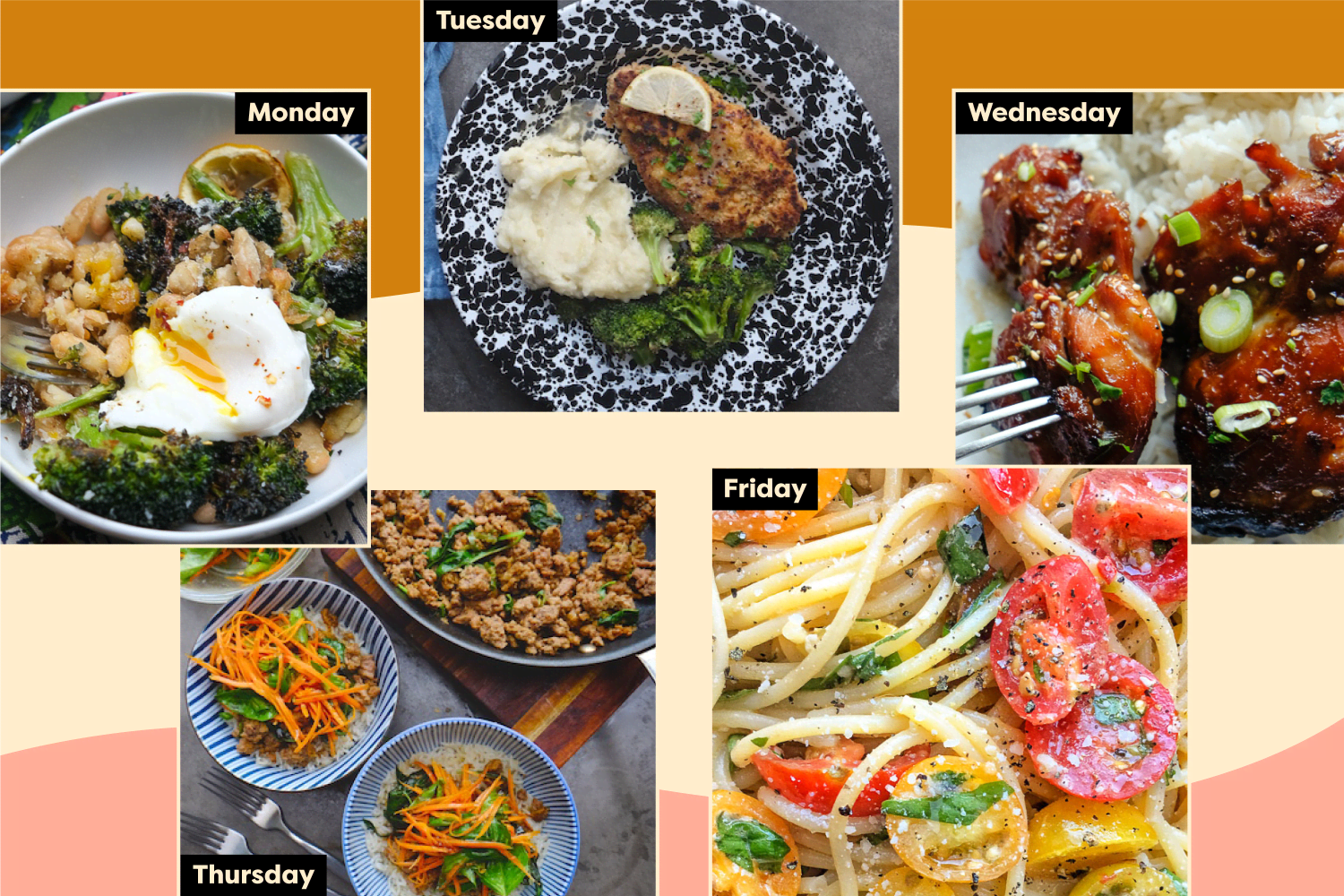 For Tracy Benjamin, the food writer and photographer behind the longtime blog Shutterbean, meal planning and meal prep are essential parts of feeding her family throughout the week. She leans on easy recipes — family favorites that can be prepped in advance — but she always tries to add something fresh to keep things interesting. That's just the thing we're after on busy weeknights now that school is back in session. Here, Tracy explains what she does.
A Week of Fun and Easy Back-to-School Dinners from Tracy Benjamin
My meal planning is simple. Because every week has its challenges and we need to be able to adjust to them, I keep it easy and do as much ahead of time as I can. My family doesn't always like me surprising them with new recipes, so over the years I've learned how to adapt some of their favorite meals so they don't feel played out and boring. No matter what, I try to start the week with #shutterbeanmealprep so I can clean out my fridge and have a few options for lunch and healthy snacks when we start the week.
Monday: Roasted Broccoli and White Beans
If I have broccoli to use up, this is one of my favorite Monday meals. Simply toss broccoli and canned, drained white beans in a garlic olive oil, and roast. Add a poached egg on top with a hearty spoonful of grated Parmesan cheese and a squeeze of lemon. It's a good way to start the week on a healthy note.
When I was growing up, my mom would usually have the weeknight news on and something bubbling over the stove. On the days when I want to relax and get lost in the joy of cooking, I make this chicken piccata with mashed potatoes and a seasonal sautéed or roasted green vegetable. There's something therapeutic about dredging chicken in an egg wash and breadcrumb mixture, then hearing it sizzle in oil in a pan. It's also a good way to help my son learn to cook: My mom used to make me do the dredging, and now I have him help!
Wednesday: Chicken Teriyaki
Prep this dish ahead of time and all you have to do when you get home from work is get the rice cooker going and bake the marinated chicken. Sometimes I make a container of leftovers to use in my son's lunch the next day. Any way I can avoid rushing in the morning making lunch works for me.
I make this dish so often that I could do it in my sleep! (Something that's a necessity when you're living life on the go and you have very little time to get dinner on the table.) If we're extra hungry, I add a fried egg on top.
Friday: Quick Tomato Basil Pasta
If you grow your own tomatoes during the summer or have access to a farmers market, this pasta should be in your weeknight rotation. Everything comes together easily and highlights the flavor of the fresh vine-ripened tomatoes, which should be celebrated as much as possible during the summer, when they're ripe.
Thanks so much, Tracy! Follow her around the Internet on Instagram and Twitter and find more of her delicious, family-friendly recipes and meal prep inspiration on her site, Shutterbean.
New to meal planning? Start here.
Click below to get more tips, insights, and ideas from our Meal Plan Club crew and readers like you.
Meal planning isn't always easy — especially if you're just getting started. But we're firm believers that it's the secret to stress-free weeknight dinners. We want to help you find inspiration and ease some of the pain points that come with getting dinner on the table night after night, whether you're cooking one or a family of four or five. Every week we share a new meal plan solution specifically customized for you from reader requests or from a guest contributor, for Next Week's Meal Plan!