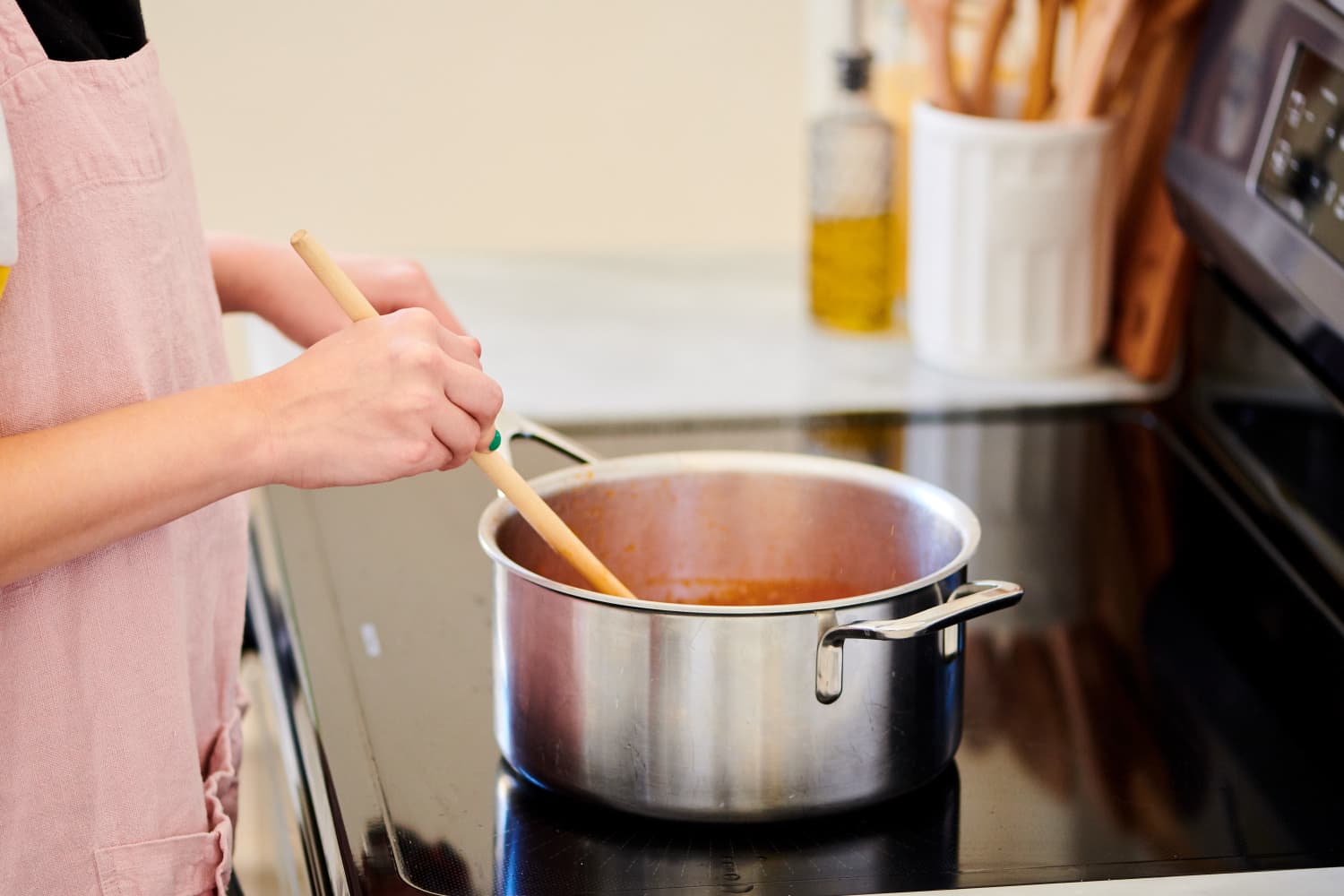 We independently select these products—if you buy from one of our links, we may earn a commission.
For decades, I've dreamed of having a beautiful kitchen, stocked with high-quality and aesthetically cohesive tools and gear. But now that I have a space of my own, after years of living with roommates, the reality is that I treat my kitchen like the back-of-house in a restaurant: filled with indestructible, cheap cookware and laid out for efficient cooking.
And, honestly, it's perfect.
Restaurant supply stores, as you might suspect, sell commercial kitchen equipment at wholesale prices. Navigating the narrow aisles, you'll find all the trappings of an industrial kitchen: stockpots you could bathe in, cutting boards the size of your kitchen table, mixing bowls that never seem to dent or ding. You'll also find all those little restaurant items whose origins you never really stopped to consider, like bus bins and those brown, pebbly textured plastic cups you'd find at a pizza parlor.
And they're perfect for stocking a kitchen like mine. See, my kitchen is just not what I had hoped for. Rather, it's just a 3×6-foot space that's, well, less than special. My kitchen will never be anything more than just a place to quickly prepare food. (Even with the smartest rental hacks out there.) It's a place that's just meant to be functional — essentially like a restaurant kitchen. So I may as well stock it with restaurant-quality gear. Gear that can do the work. Gear that won't cost as much as my rent.
I know what you're thinking, and no, you don't need to be running a commercial operation to stock your kitchen with cheap, durable necessities. Let's take a look at the restaurant gear I have.
My most-loved restaurant supply purchases are, by far, my stainless aluminum pots and pans. They can do almost anything fancier pans can do, including going from stovetop to blazing-hot oven.
This might sound excessive, but I bought a ton of quarter-sized sheet pans and it was the best choice I've ever made. These perfectly sized pans are great for cooking, of course, but also for mise en place, and organizing your fridge into sections.
While I have a few special, expensive knives in my drawer, my basics — like bread and paring knives — are of the cheaper variety. If you're not as into knives or are just getting into the cutlery game, buying restaurant knives is a great way to learn about knife skills and sharpening without making a huge investment.
Deli containers are used in restaurants for prep and as takeout vessels because they're easy to clean, durable, and inexpensive. You can start a collection if you have a deep takeout habit, but you can also just buy a bulk pack. They're amazing for decanting dry goods, storing leftovers, and transporting to-go cocktails for socially distanced park hangs.
All those little utensils you need to stock in a drawer and/or crock? I've scored all mine at restaurant supply stores. I'm talking the best fish spatula, an ice cream scoop for perfectly shaped cookies, wooden spoons, and more.
Do you have any of these tools? Tell us about them in the comments!