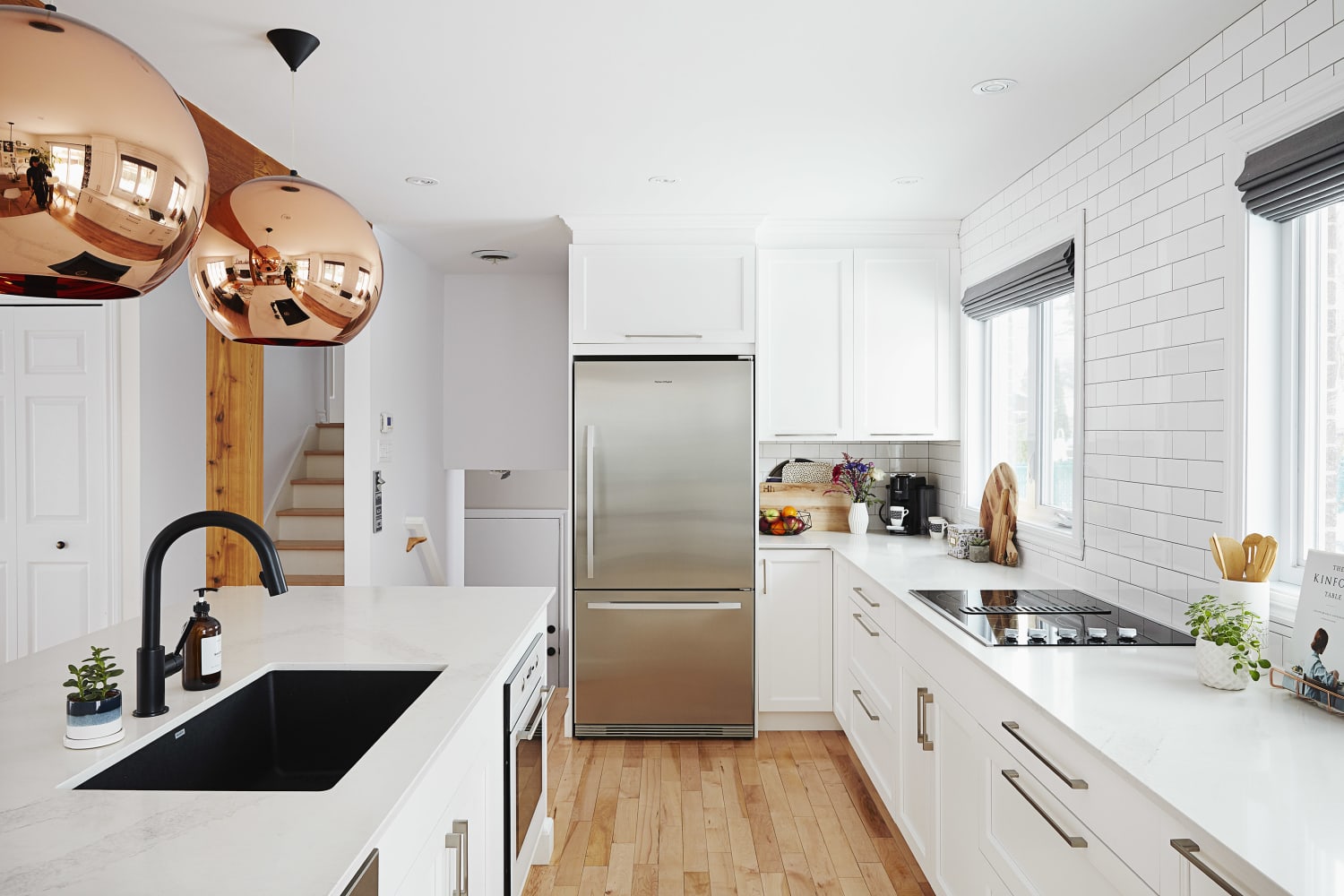 According to researchers affiliated with UCLA, people spend more time in their kitchens than in any other room in their home. It's a spot that bears the brunt of common household clutter, too. (Yes, eight-week-old Taco Bell coupon, I'm talking about you!) That said, the kitchen also plays heavily into overall resale value, so spiffying up this important space is a must if you're contemplating putting your home on the market.
One way to breathe new life into your kitchen? Giving your countertops some extra TLC. Kitchen countertops are packed with potential, and taking some time to style them is a fun and relatively inexpensive way to enhance the ambiance of the kitchen while creating a focal point in the room.
With that in mind, I asked four home staging experts for their tips on styling and upscaling kitchen countertops.
1. Declutter, depersonalize, and de-grime.
"The kitchen is one of the most important rooms in your house when selling. When styling your kitchen for sale, remember that it should look welcoming and lived in, but not personalized or cluttered. Make sure your kitchen countertops are sparkling clean."—Birgit Anich, CEO and creative director for BA Staging & Interiors
2. Consider a minor remodel.
"Built-in appliances free up countertop space in a practical way, so pre-plan your appliance setup as part of your countertop upgrading plan when possible. For the countertop materials, we recommend quartz, as it is modern and durable and easier to maintain than granite, and the price difference isn't too big to justify these benefits. For countertop color, make sure it matches with your kitchen cabinets. For example, if you have white cabinets, bright colored countertops will work better than dark ones, especially if you're looking for a modern appearance."—Shuang Su, design director at R3 Home Staging
3. Cut costs with a DIY project.
"If you're willing to get your hands dirty, there are some great paint methods that replicate a marble or granite countertop such as the Giani Carrara marble kit. Another option to achieve that show home kitchen look would be to apply a marble pattern contact paper to your counters. Both of these methods require precision and patience, but the outcome is well worth it."—Luise Morris, owner of Green Door Home Staging
4. Style and accessorize.
"We like to think outside of the box when styling a kitchen. Think about using a vintage vessel to store wooden utensils, leaning your favorite art piece against the backsplash, or using a cute tray to group together key cooking items like a salt cellar, mortar and pestle, and your best bottle of olive oil. A beautiful espresso machine is always a good styling piece, and a gorgeous vase filled with fresh blooms doesn't hurt!"—Renee Elliott, founder of Re: Creative